For some reason, I've started responding to those facebook offers to re-share photos from the same date in previous years. Recently I shared a shot of a brand new and unmounted pair of telemark bindings — Rottefella RT8s — from five years ago.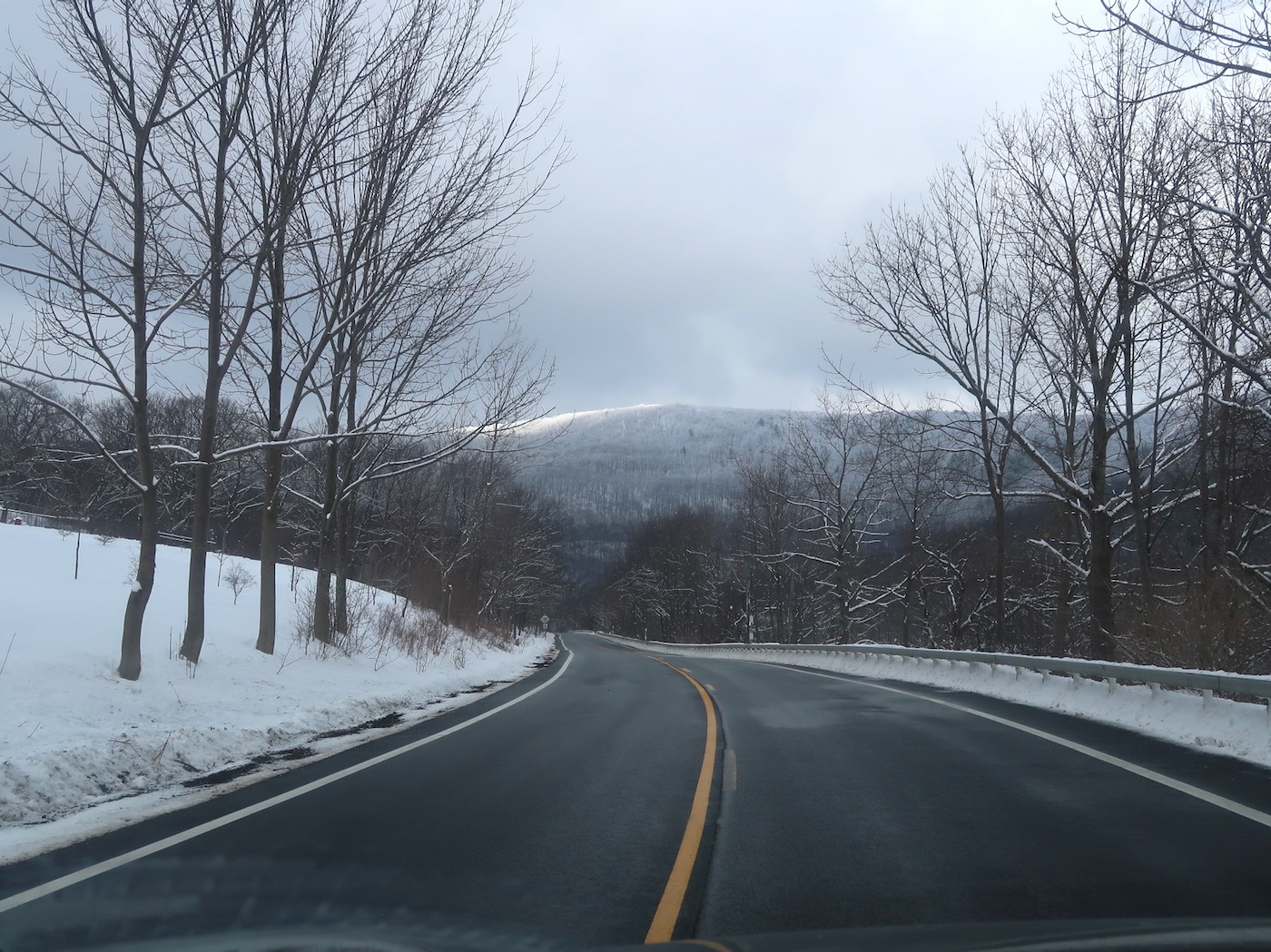 I'm not really sure why I shared it, other than I liked the picture. Brian, a fb friend I'd never met, commented "Dammit.. I can use Cobra parts right now."  I knew I'd probably never use them, so I offered them to him.
Brian lives in the capital district so theoretically I could do some kind of handoff on a trip to our place near Gore. But he had a different idea: He offered to meet me for some earned turns on the Taconic Crest Trail, near the NY/MA border.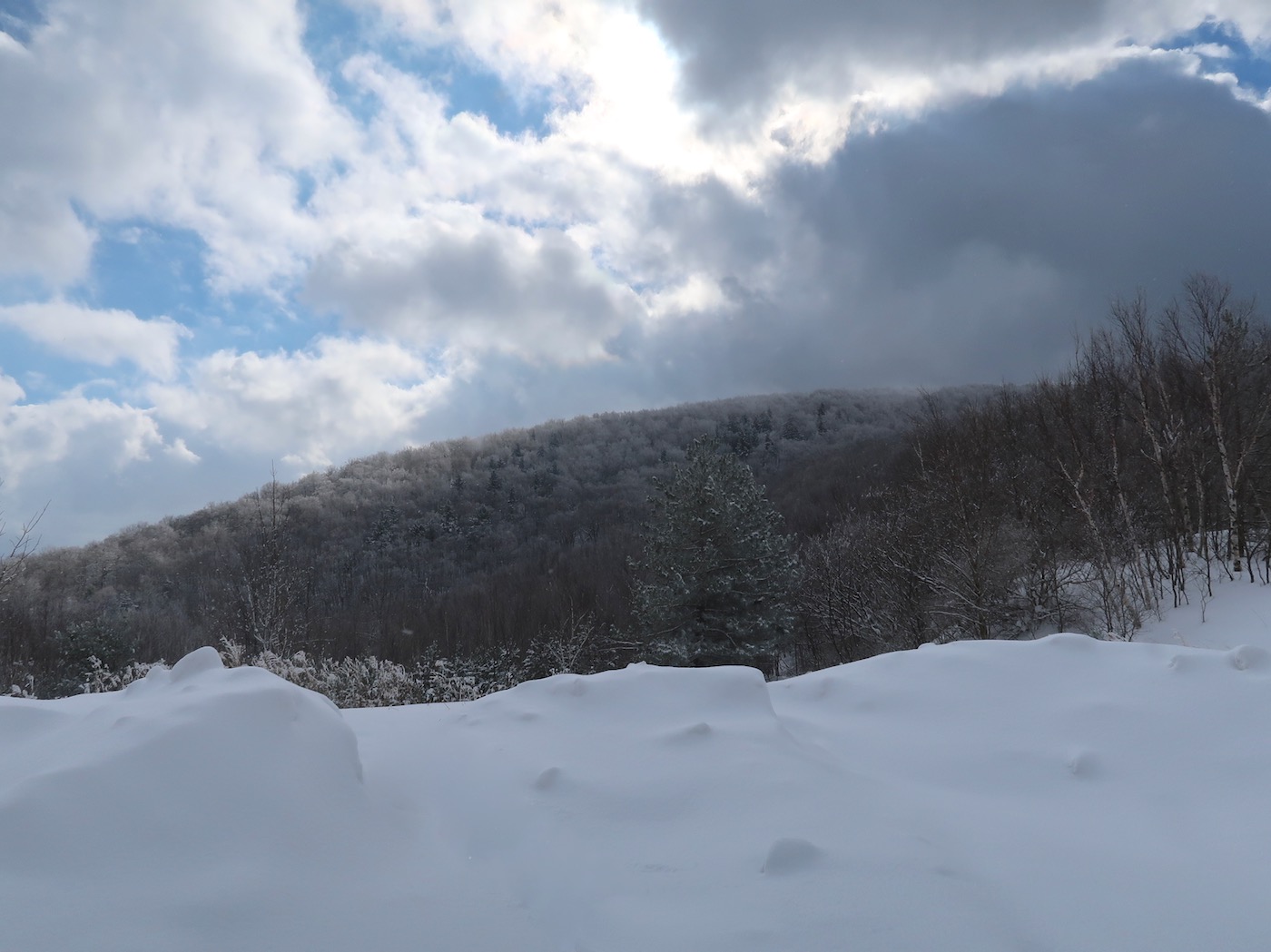 Snow was forecast Tuesday, but I couldn't get away. Throughout the day the radar did look promising. I got Wednesday off and drove deep into Eastern NY to meet Brian and his friend Alyson in a parking lot, near the northern end of the Taconic Crest Trail, at noon.
On a map the Taconics look like they should be snowy.  They are a line of mountains, a range, oriented north to south, almost a mini Green Mountain spine.  While they are a good distance from the lakes, there is almost nothing blocking them to the west.  On top of that — if there is any bad skiing out there right now — I'm not seeing it.
At the northern end of the trail, Petersburg Pass is part of the Taconic Ridge State Forest, near the Massachusetts border. I pulled in the unplowed parking area. To park a car you had to commit to a line and hit your spot.
My goal was to bang out three laps between noon and 4pm. Full disclosure I hadn't really done my research, I made this goal without any idea of how much vert was involved in a lap. We got our act together and headed up the skin track. After a few dozen yards of gradual pitch, the climb starts in earnest, at a steeper angle. We raised our heel lifters and moved up the hill.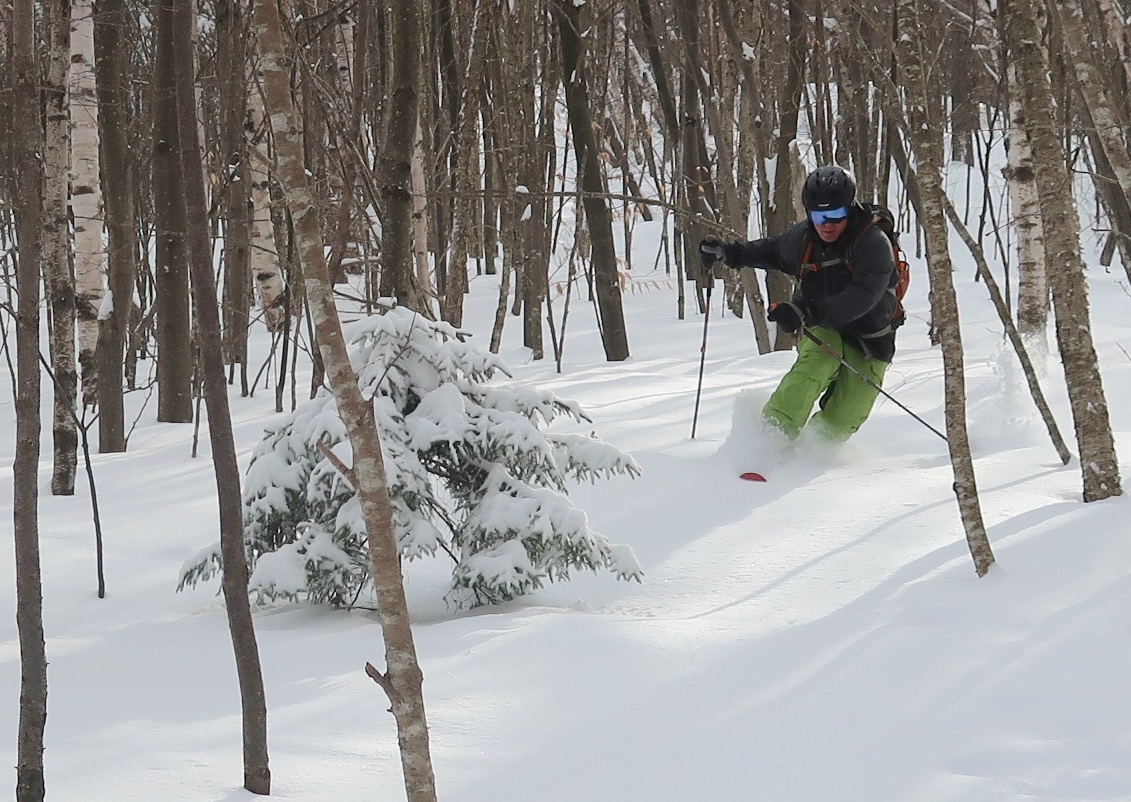 I wish I'd gotten a better shot of the skin track. I was pushing so hard on the first lap, I knew I'd lose momentum if I stopped to take pictures. I didn't want to slow anyone down. Suffice it to say the track was in excellent condition. Even better, the snow was light, consistent and almost completely unaffected by the wind.
On our first run, we followed tracks down the fall line on what must have been a trail from the old ski area on the site. On our second and third laps we went of the beaten path, and untracked wasn't too hard for us to find. Brian knows this part of the Taconic Park State Forest well and he took us to some great snow.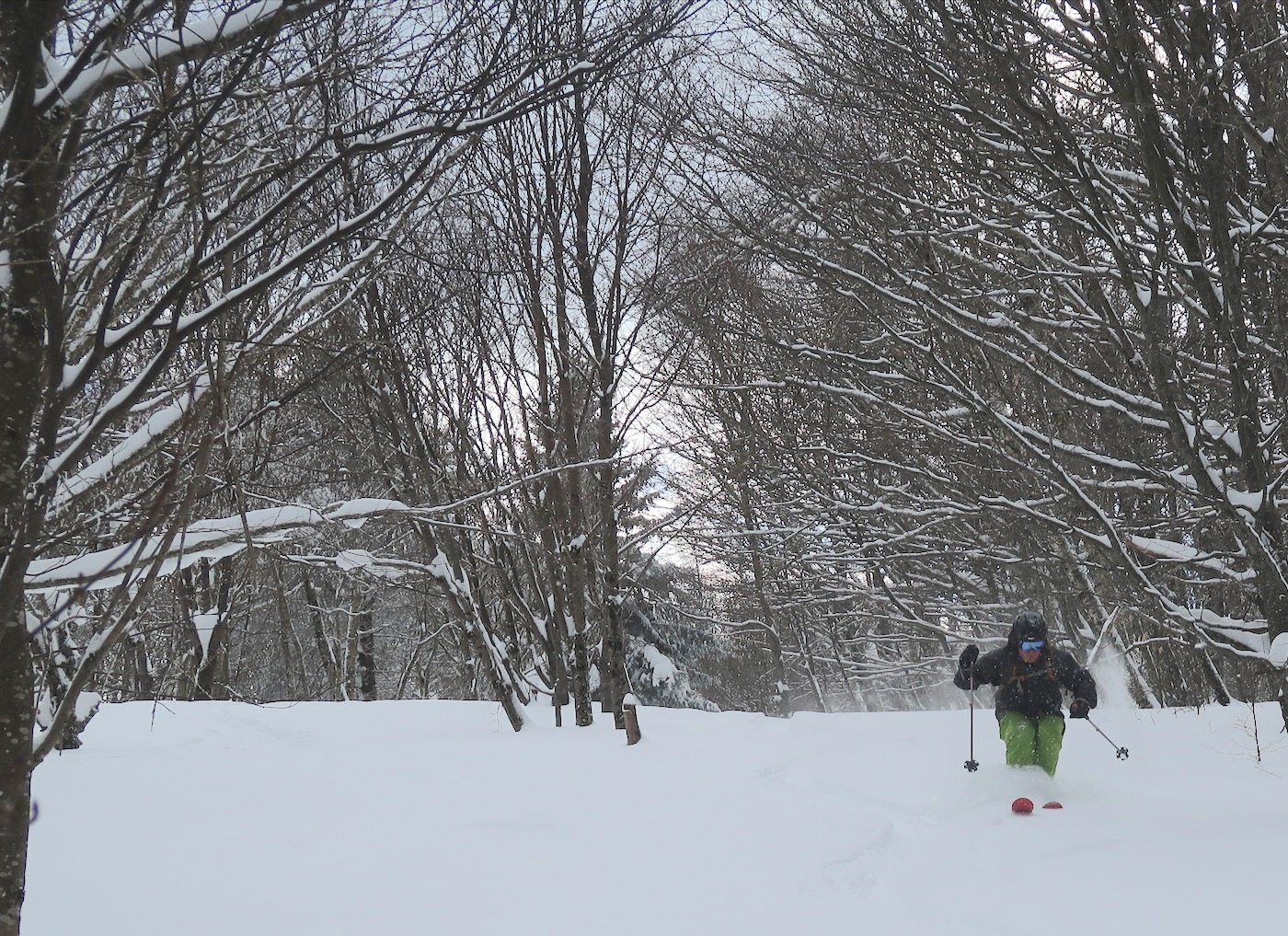 Conditions were very forgiving, and we charged our lines. Mount Raimer — the peak at the center of this area — has some nice relatively low angle, but steep enough terrain. The snow was as deep as anything I've skied this season.
The vertical we bit off was probably around 600 feet on each lap. But by skiing farther down, below the parking lot, you could probably ski 1000 feet of vertical or more. After our second lap, we took a break to eat, and after our third, we started our cars, broke down our gear, and talked about the skiing and the snow.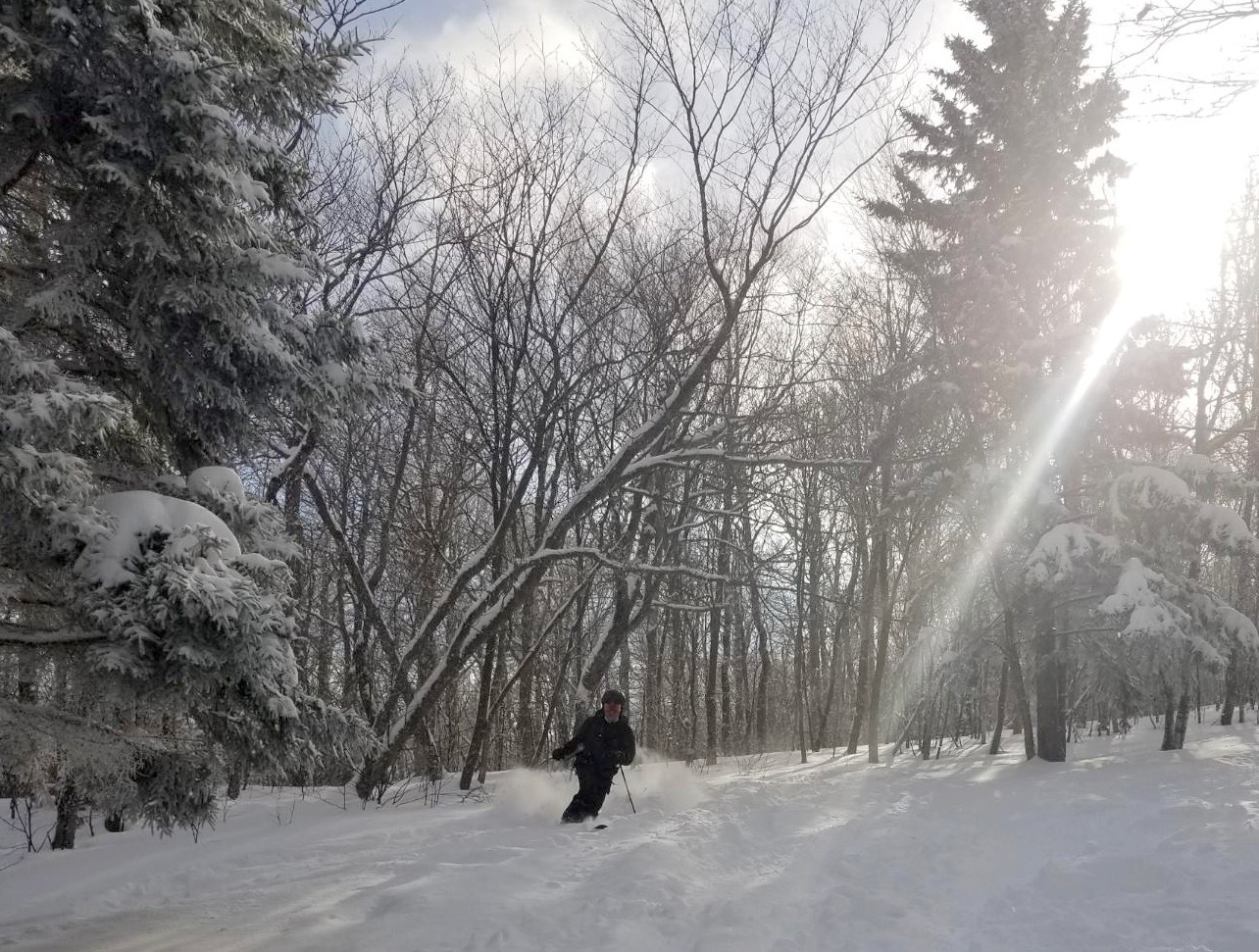 We bid our goodbyes and I made my way back towards Albany and NY Thruway in the late afternoon light. I was feeling pretty good about my first attempt at uphill after my illness. I'd been wondering about how I would do, and after the afternoon I came away thinking "I can do this."
Obviously this season has been up and down for me, or more accurately, up and down and then back up.  I've only been out 14 times, but seven of them I'm calling powder days. I may even rack this as my first new ski area of the year. Keep your chin up America, we are getting there.