As another week unfolded, things went true to routine, for this season. A healthy dose of overtime at work to get it all done, and a chance for snow in the forecast. I picked up the hotline to reach out to Scottski. He was thinking the same thing as I; McCauley on Friday.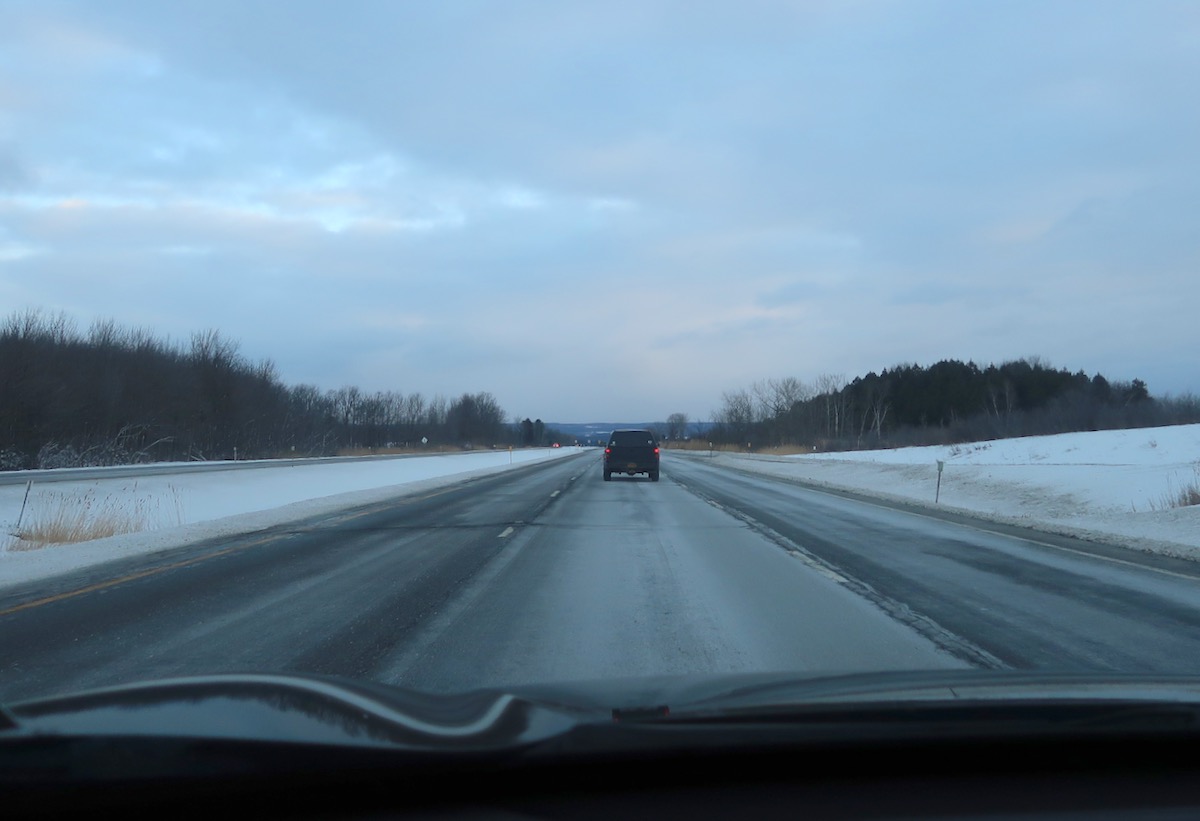 Scottski, Mogul Junkie, Lemmycaution and I all wanted to ski McCauley on Friday, but beyond that things were unsettled. Carpool options were complicated; ultimately only Scott and MJ shared and I drove solo. I had three days to ski, and our place, 60 miles east of McCauley, was top of mind. From there, both Whiteface and Snow Ridge — ground zero for the recent new snow — are within range.
After a short overnight nap at the Red Roof Inn in Utica, Scott and MJ and I drove north in two cars, on Route 12, towards Old Forge. There wasn't any new snow on the ground until we reached Forestport. As is often the case, as we drove east on Route 28 things started looking up. It was cold and snowy and there was a lot of snowmobile action.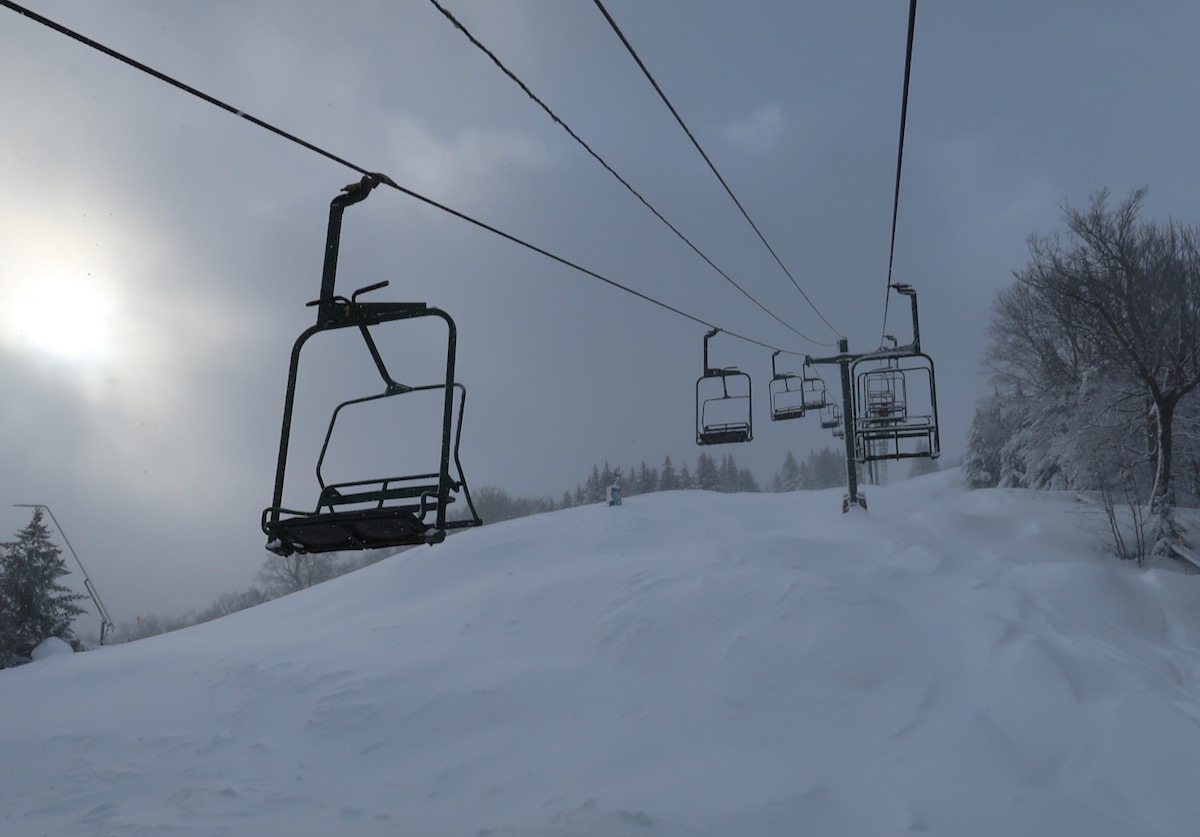 It was snowing lightly when we arrived. We bought our Crazy Friday Lift Tickets for $13, and were first after patrol on that beautiful Hall double chair. Riding up we were conflicted, straight down the steep front side or into the trees off Challenger? We faced the same question all day long.
To start, the trees won out, more than once.  Off Challenger, Barkeater is the steepest inbounds tree line and it has some big rocks.  Scott and MJ moved over just a bit, and grabbed that super fat line right next door. I dropped in a bit farther down; eventually we all ended up together in God's Land, I think.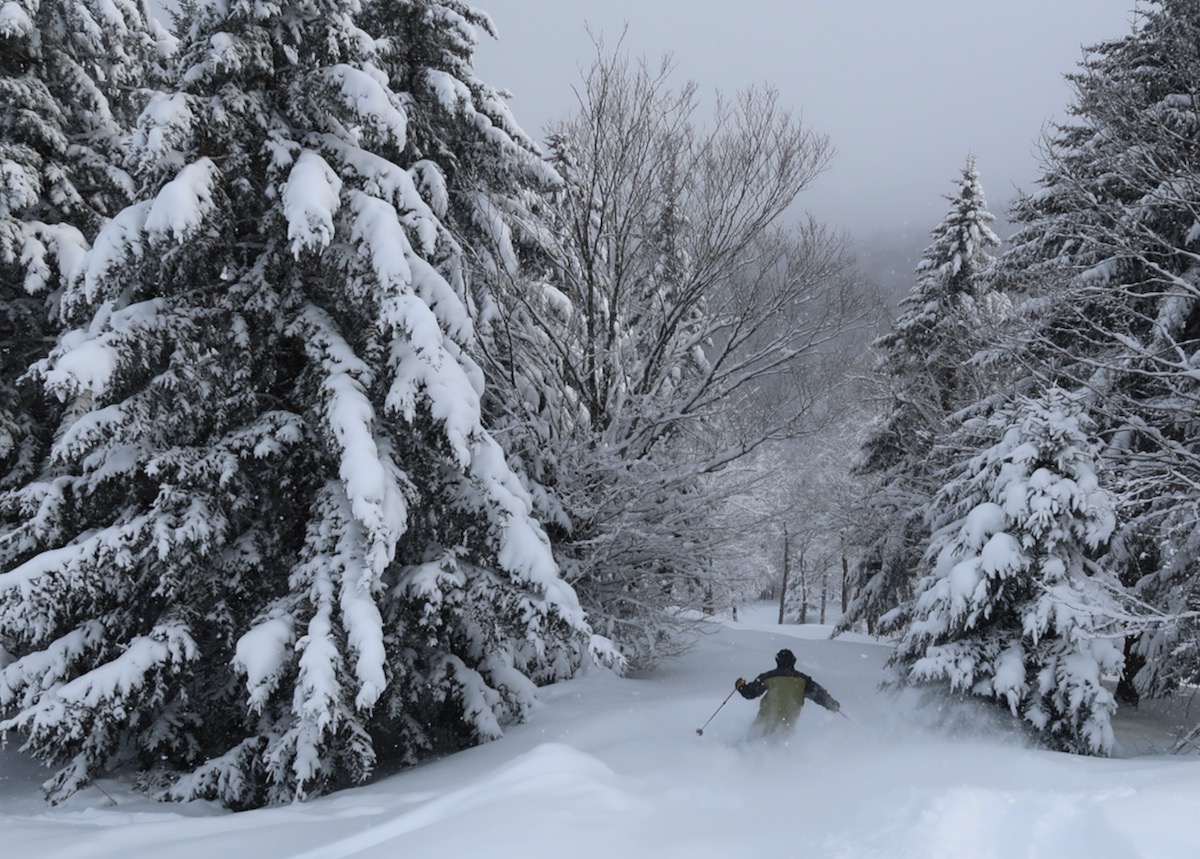 After Lemmycaution arrived there were four of us, plus Robert and Gang and Skiology Matt. We had a hard time staying together. In twos, we'd discuss on the lift, but our consensus building when gathered at the top was thin. On almost every run, somebody got sidetracked by something. It totally didn't matter, if you waited at the lift for a minute, someone you knew would ski up.
Eventually we made it over to Helmer's and Olympic and DeCamp. At the start, it was still untracked. To me the skiing was actually tougher for first tracks, than it was later in the day when it was cutup. The smooth windblown snow was very nice and surfy, but it covered some big undulations that were hard to anticipate in the flat light.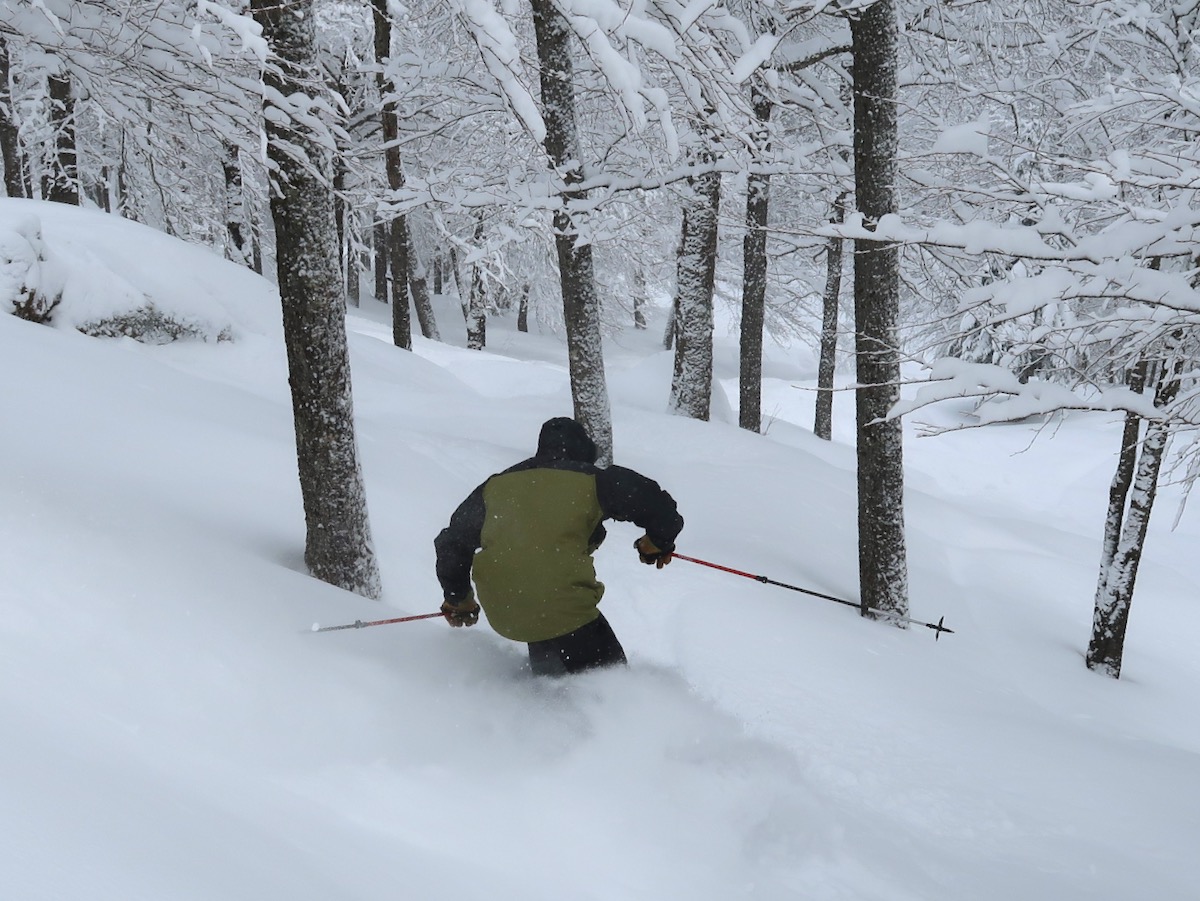 The heaviest part of the active lake effect band was grazing McCauley all day. Much of the time it was snowing lightly, but there were extended periods of steady snowfall, and a few full on nuke sessions. It may have snowed 2 inches during the day.
Eventually we learned to head for the steepest stuff when the sun was out. The bumps were huge and carvable with soft snow everywhere. I got into this groove where I was really exaggerating my pole plants, poking them into the top of the bumps and using them to pivot and jump into the next trough. Right or wrong it was a hoot, At times, I'm pretty sure I was singing out loud.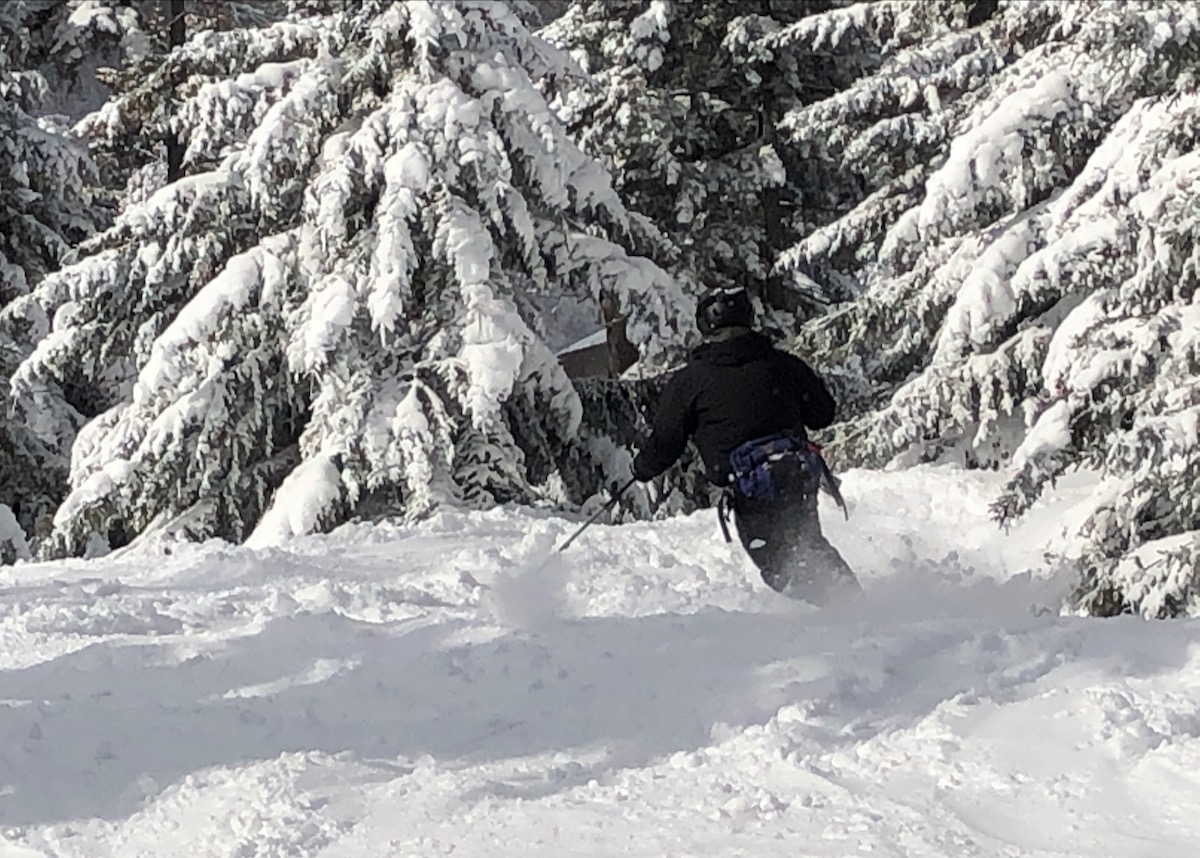 The trees and the steeps were excellent all day, and it made it hard to quit. We'd started at 8:30, had one break and skied steadily to 2:30, when we start to discuss "how many more." On two laps in a row, as I skied into the base lodge, it was full on dumping. We just couldn't stop.
At 3:50 we called it, and headed in to warm up, dry off and grab a bear. Lemmycaution tells me of Louie.  Apparently an all mountain skier from the 1968 Olympics was down in the ski shop doing base grinds for $20. Right now? Yup.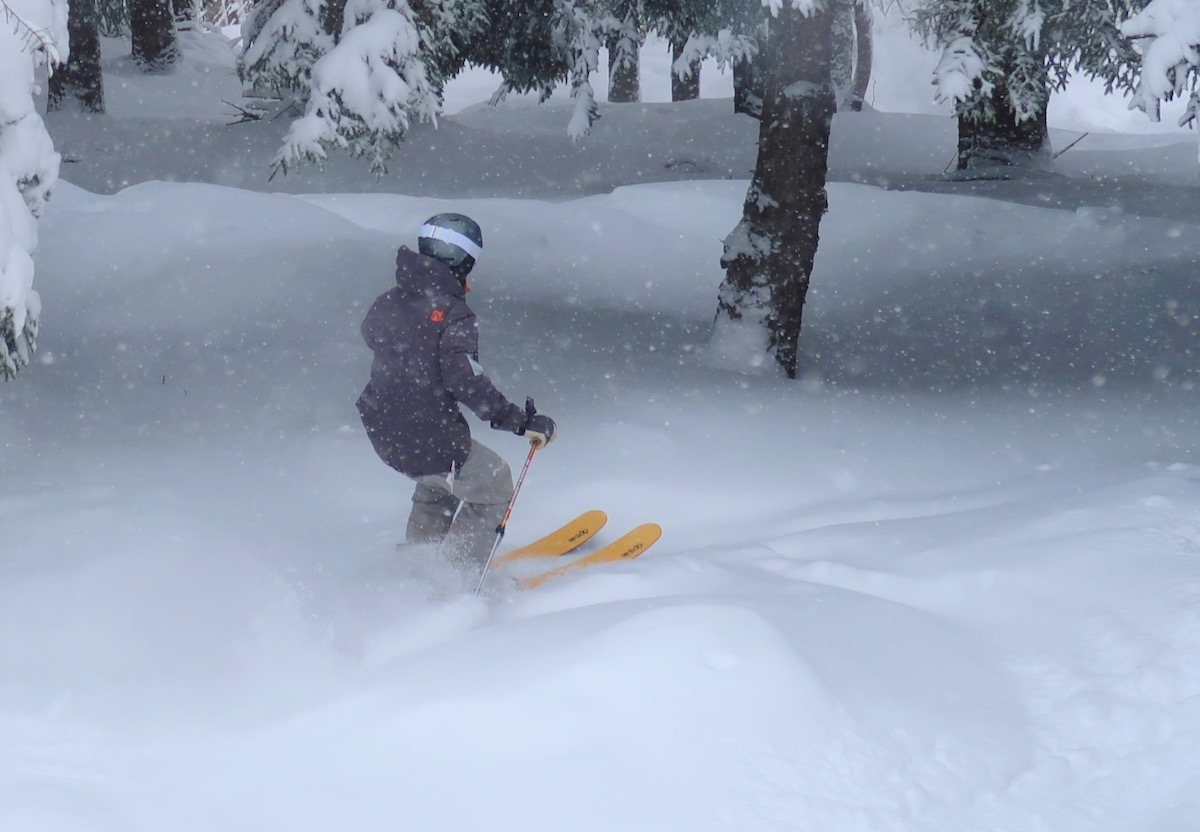 I headed down to Louie's Olympic Touch. Louie has been tuning skis at McCauley for the last 40 years, and it is a job he clearly cherishes. It was 4pm and I asked him if he was still working. Of course he was. Would he look over my skis, while I had a beer? That's why he was there, he explained.
Apparently the power company had planned a blackout of the mountain at 5pm. Louie had 3 tunes to do, in an hour before everything was shut down. I went back upstairs for a beer and to listen to the live music, that had started early because of the pending outage.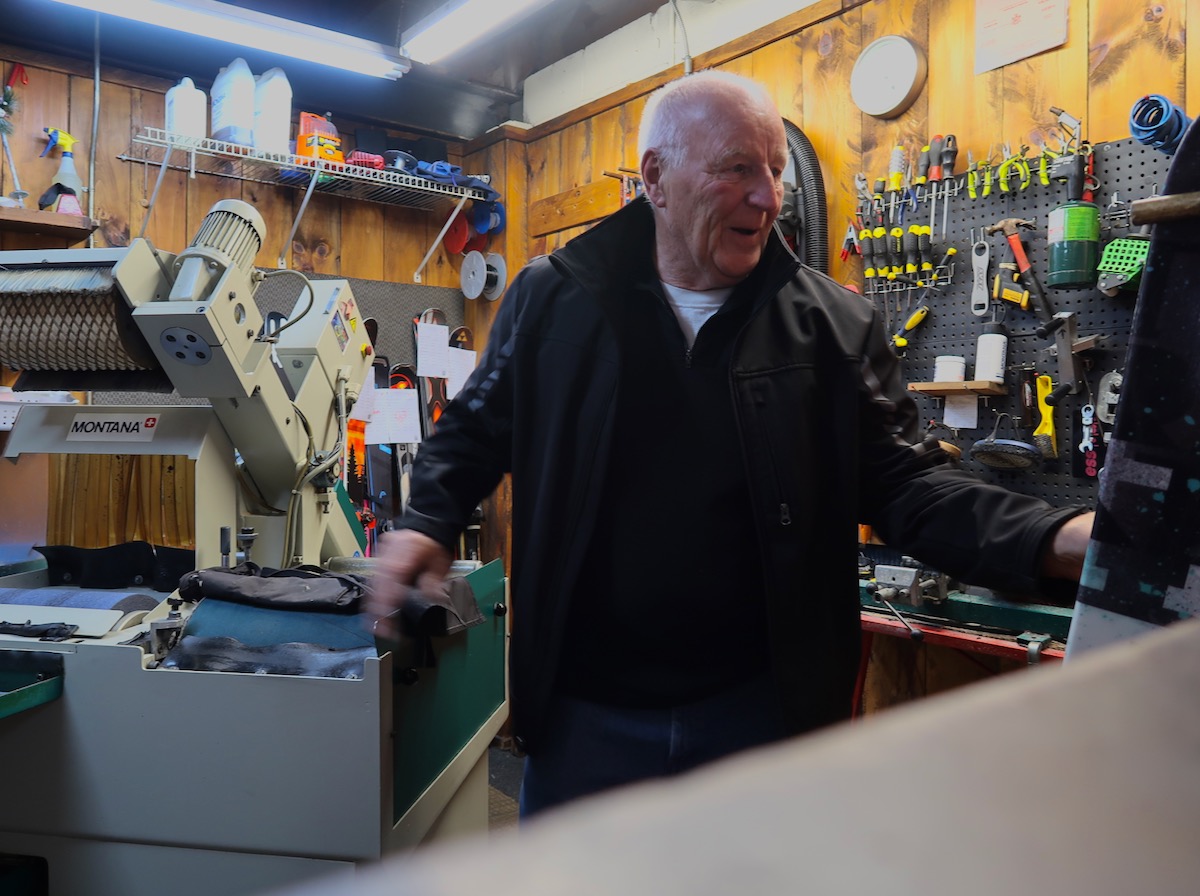 Just after 5pm the power went out, and eerily, another lake effect streamer engulfed the lodge, a white out at dusk. After it passed, I went down to check on my skis.  Louie hands them to me, and they look perfect. He said he got them done right before the lights went out. I paid him $20 cash for a full tune.
We had a tasty dinner at the Great Pines resort, a cool place on 28, a few miles east of the town of Old Forge.  At this point I knew both Whiteface and Snow Ridge were out of range. I'd skied hard all day, and by the time I got home and had a fire lit it would be late. I planned to sleep in until 6am, and ski Gore.
The question is always where can I find new snow within range? This time it was McCauley, the answer.