This past weekend may well have been the best of the season in the east. A storm that dropped 8-12 inches across most of the region, favored Stowe, Whiteface and Snow Ridge on Tug Hill with significantly more than that. Evan and I had the same thought: first chair at Snow Ridge on Saturday.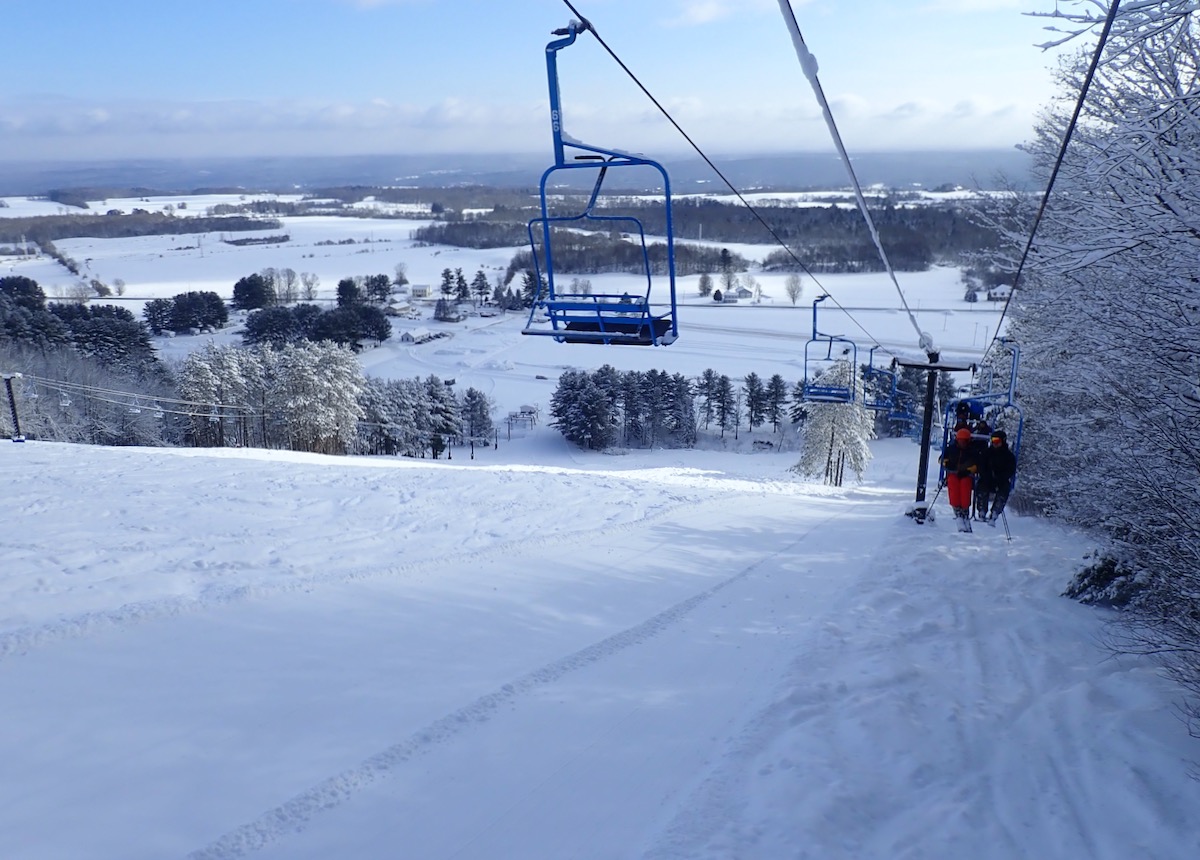 Friday, I took the afternoon off to ski McCauley, a taste of what was to come. After close that day, the lake effect band settled over Turin NY. Overnight another 6-8 inches fell, bringing the storm total for Snow Ridge to 29 inches.
One thing I was pretty sure of, it would be more work for us to grab first chair at Stowe or Whiteface on Saturday. At Snow Ridge it's pretty easy. We arrived 45 minutes before opening, and parked next to the three other cars that were there.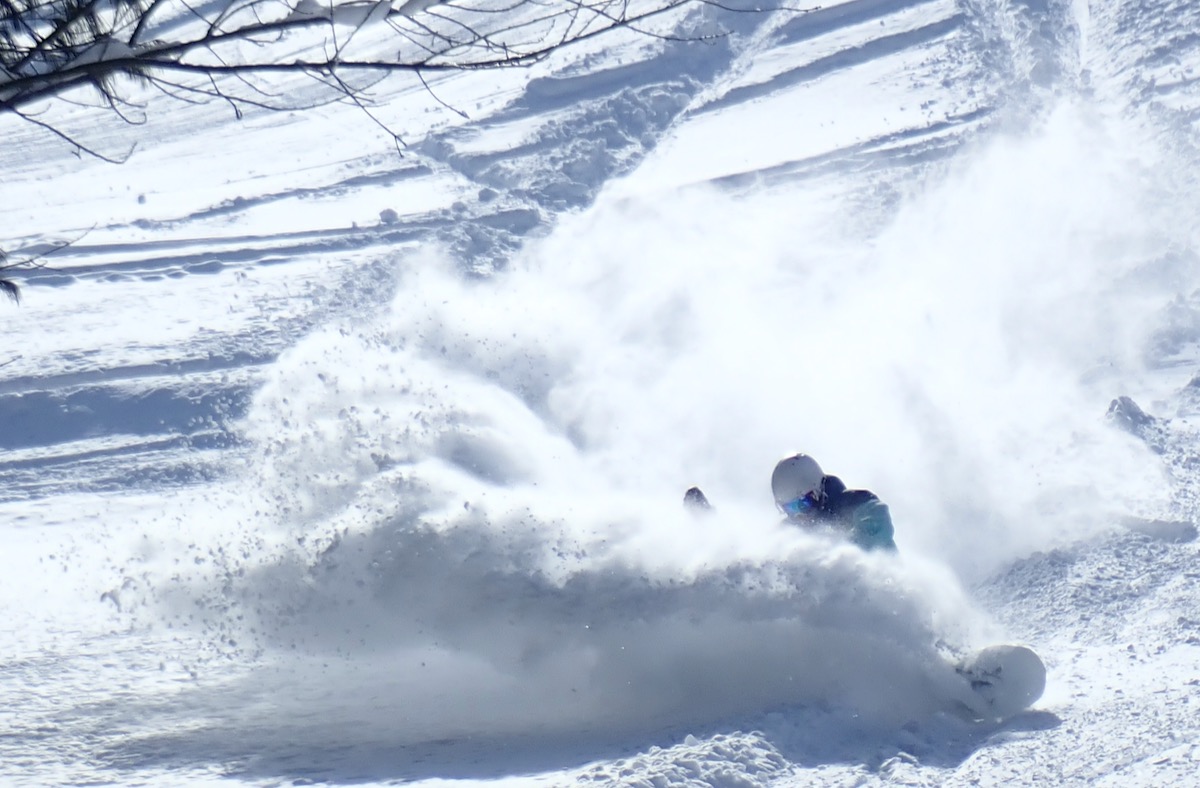 We got ready as quickly as we could and practically ran to the Ridge Runner. We had been soaking in the views of the fresh snow on the hill. Thick patches of untouched snow, creamy corduroy and a bluebird day. It was all too much. We got on the lift right after patrol and the best day of the season began.
The first runs down the North Slope were a dream. The sides had been groomed and a wide swath down the center was untouched. Six inches overnight and some cold wind had filled in the tracks from the previous day. We ripped through the powder field whooping delight.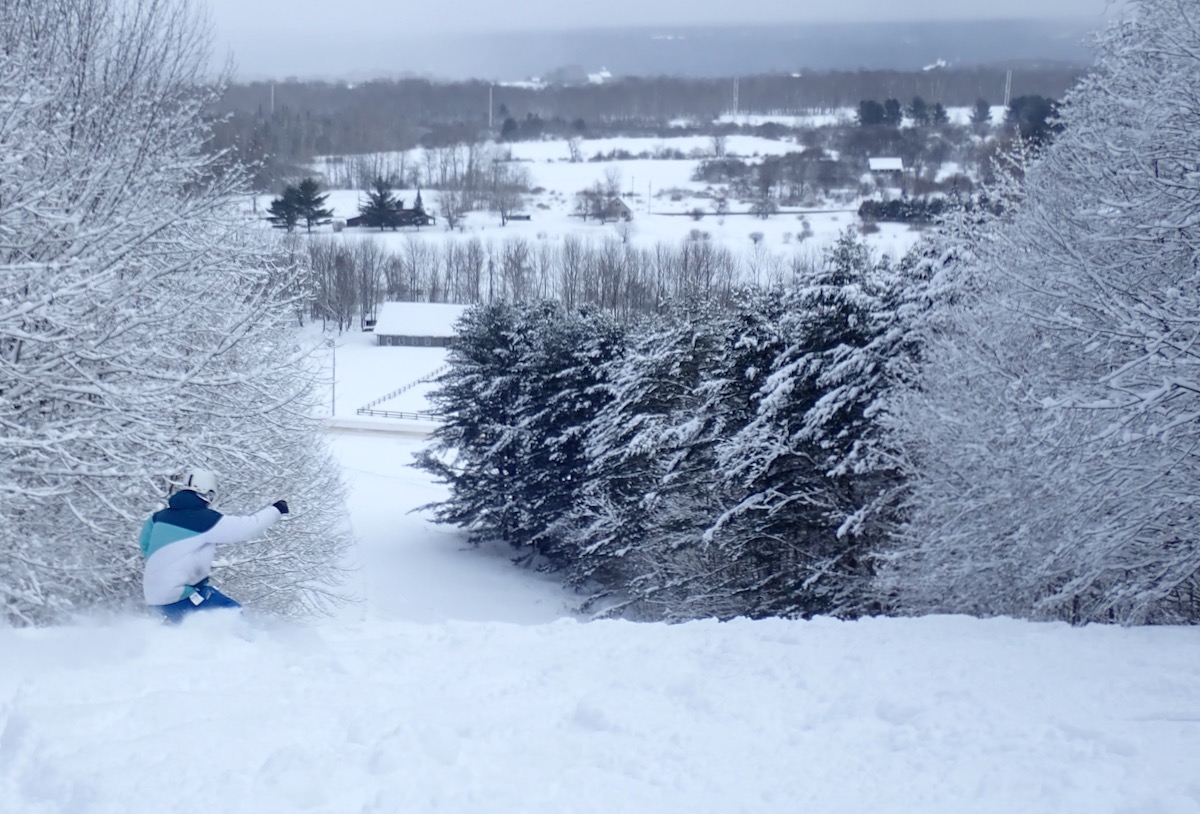 I've never experienced lake effect snow that was so light and fluffy. We slashed through everything without a care in the world. At the end of each run we were breathing heavy through snow caked smiles. At 10 am the North Chair started spinning and we started lapping Silversmith, Johannsen and Cruikshanks.
You can usually find me in the trees on powder days but the goods were everywhere. No need to go looking for stashes when you could see fresh lines from the chair lift.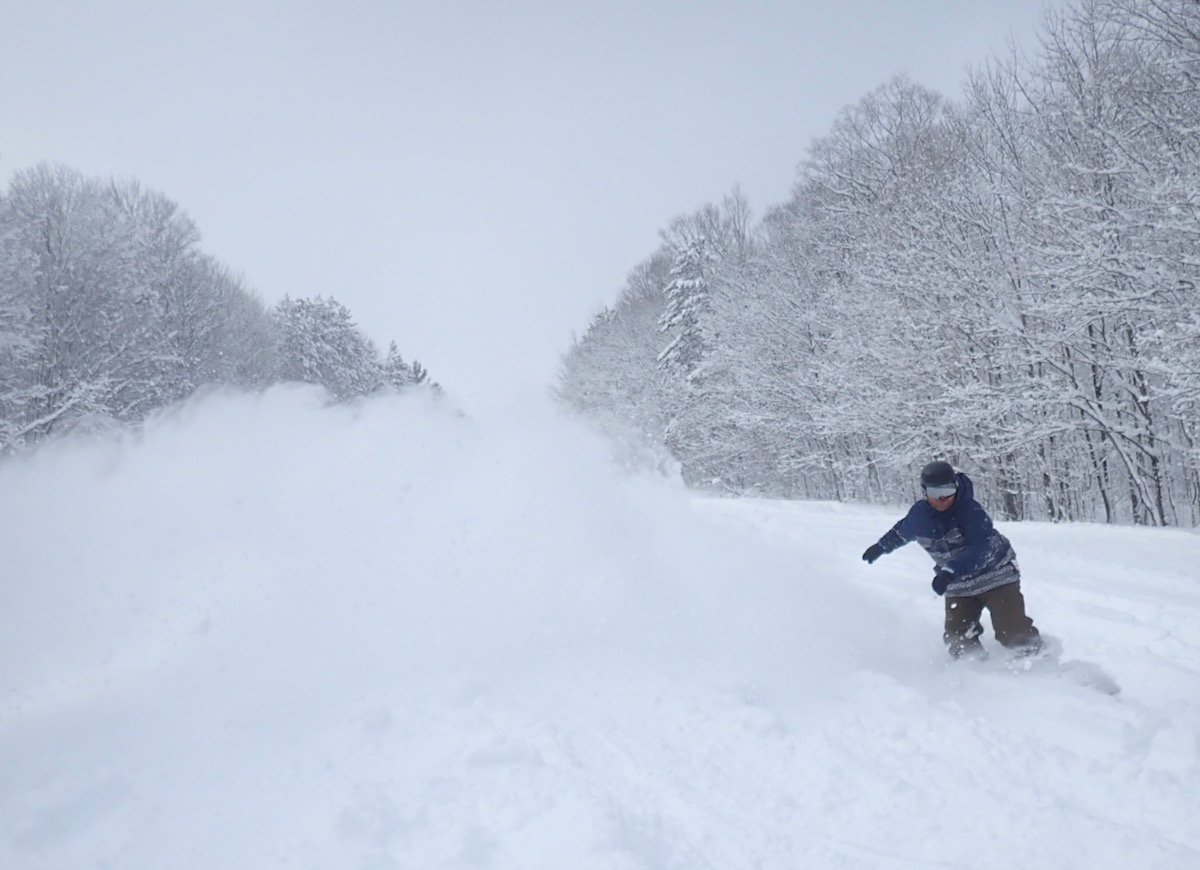 If Snow Ridge is an ice cream sundae, then the Snow Pocket is the cherry on top. The Snow Pocket Tbar hadn't spun all week and 29 inches of untouched snow remained unclaimed. After a short warm up and water break around 10:30, Evan and I bombed Kuerstiener in hopes of being first in line.
The lift was early and spinning when we got to it, 11 people were ahead of us claiming first tracks. But who's counting, nothing could ruin the mood. There was plenty of snow to go around, with Von Allman and Black River run providing the best pitch to enjoy it.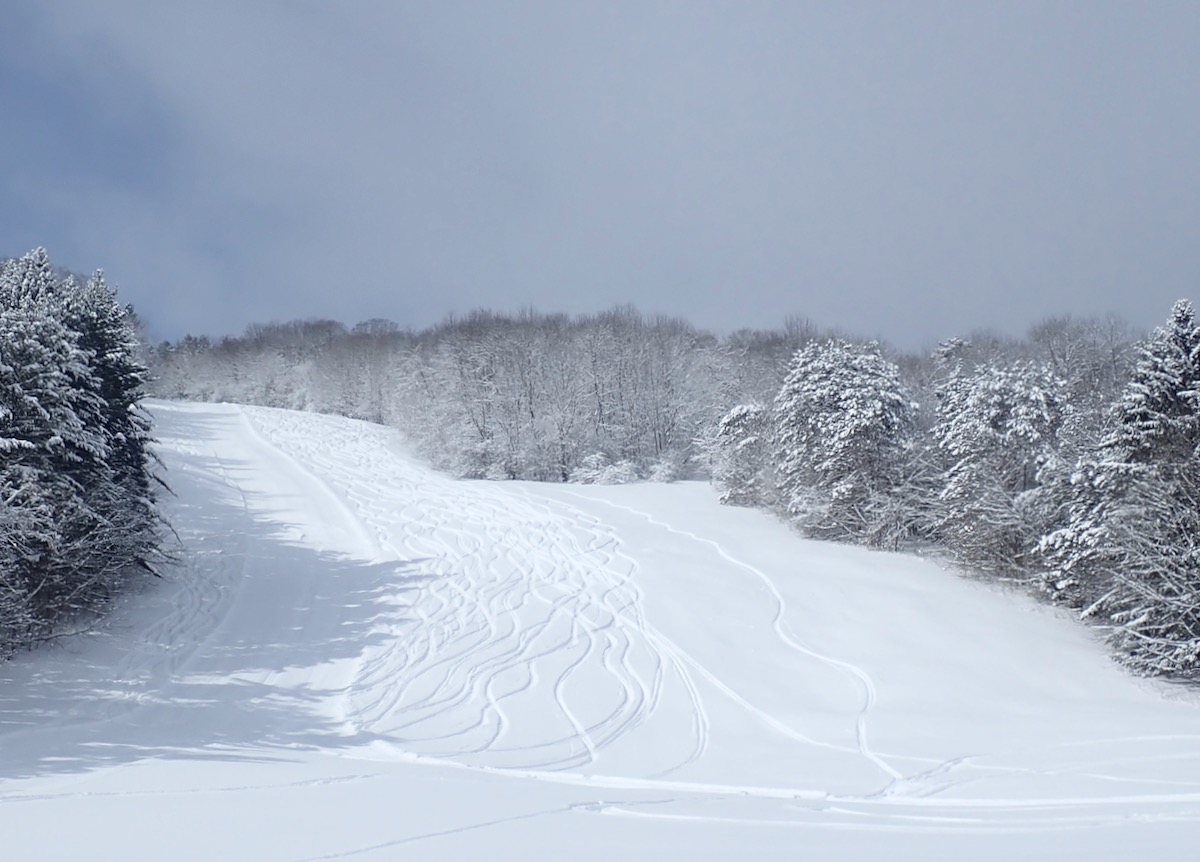 We staked our claim. We lapped that snow pocket t-bar till we could barely make it up and eventually decided it was time for lunch.
Tavern230 was busy on Saturday afternoon, with a diverse crowd of skiers and snowmobilers. We found a table, grabbed drinks and ordered the Full Send Wings.
I spotted owner Nick drying glasses for the bar. Always hard at work, he had been up since 4 am grooming and getting the slopes ready. No complaints, he was excited about the snow and upcoming events. The Big Air Comp is this weekend and Pond Skimming is scheduled for the end of the month.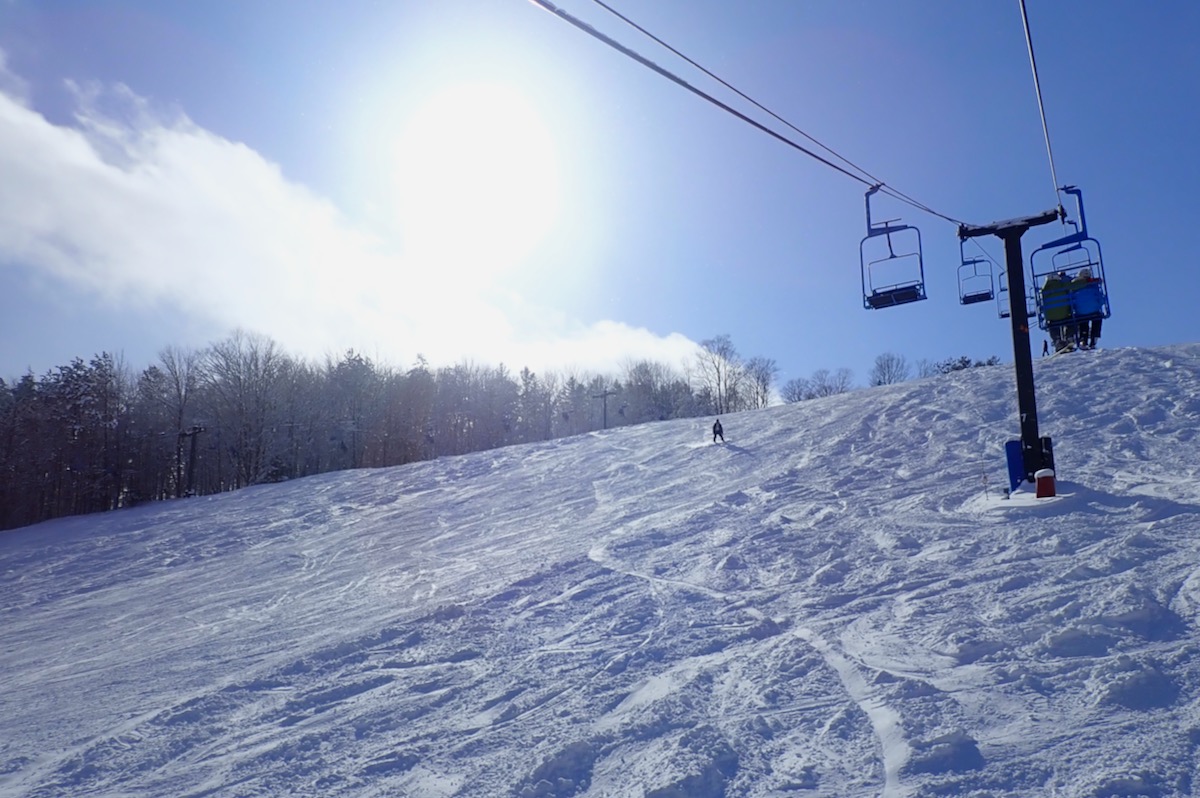 After lunch, we were feeling it in our legs, so we split our time on the two main chair lifts, a break from the Tbar. We pressed on, motivated by the knee deep snow and cold smoke face shots. We made it to the last chair at 4pm. On a day like this how could you not?
Pro Tip: Go to Snow Ridge a little early the next time a lake effect is in, and you can ride some crisp powder. And don't forget, Snow Pocket spins at 1. 😉