Working at my desk, I catch my mind drifting off to fluffy, marshmallow-laden landscapes. Often it's Plattekill I envision, the closest good powder skiing for us in northern NJ. For me, nothing closer comes close.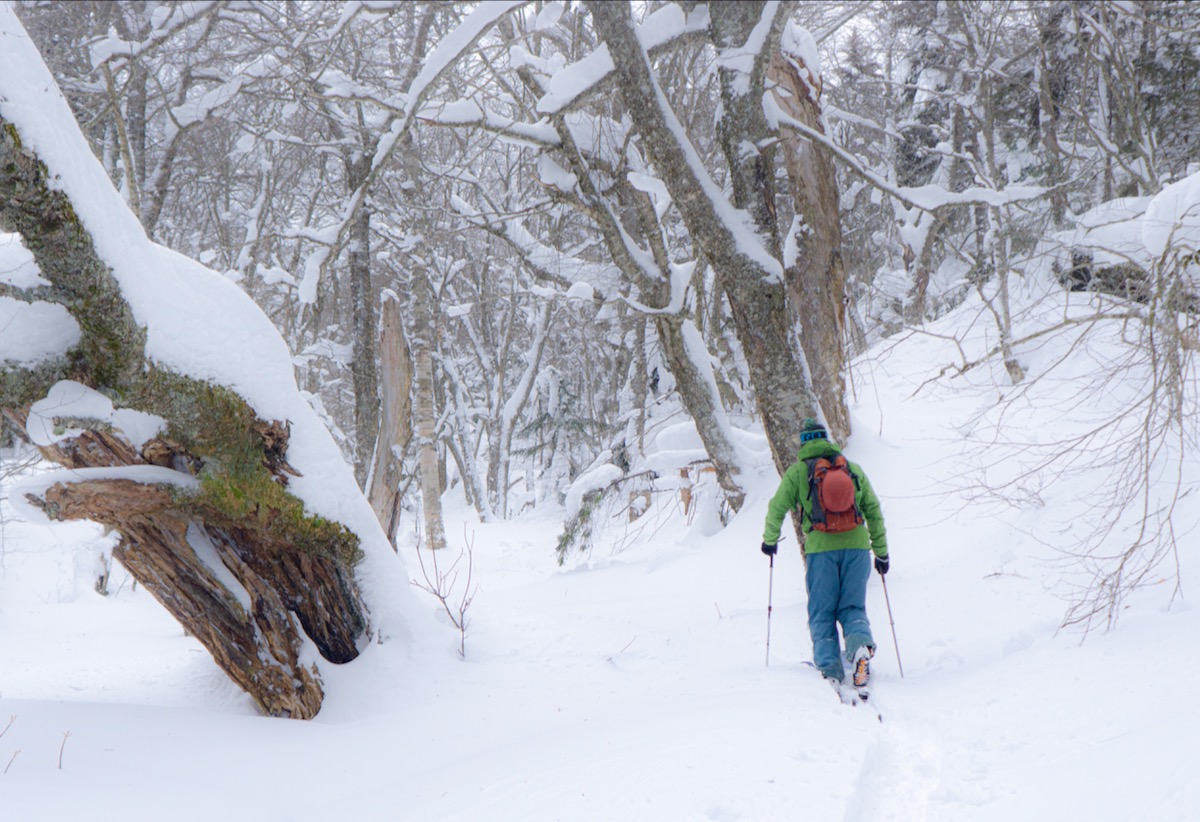 But over the last couple years, like others here, I'm driving further to find snow. In early February, winter storm "Kade" brought me to Smuggs. My most recent excursion was deep into northern VT, touring the backcountry near Jay Peak, for the first time.
Last week was winter break for schools in NJ. I'm a teacher and this was my best window for adventure. The last few years featured great trips to British Columbia with good snow and a tight crew.
But this year, for a variety of reasons, I was on my own. And my regular up-for-anything-anytime ski buddy just bought a house so his schedule was cooked. This left me with few options.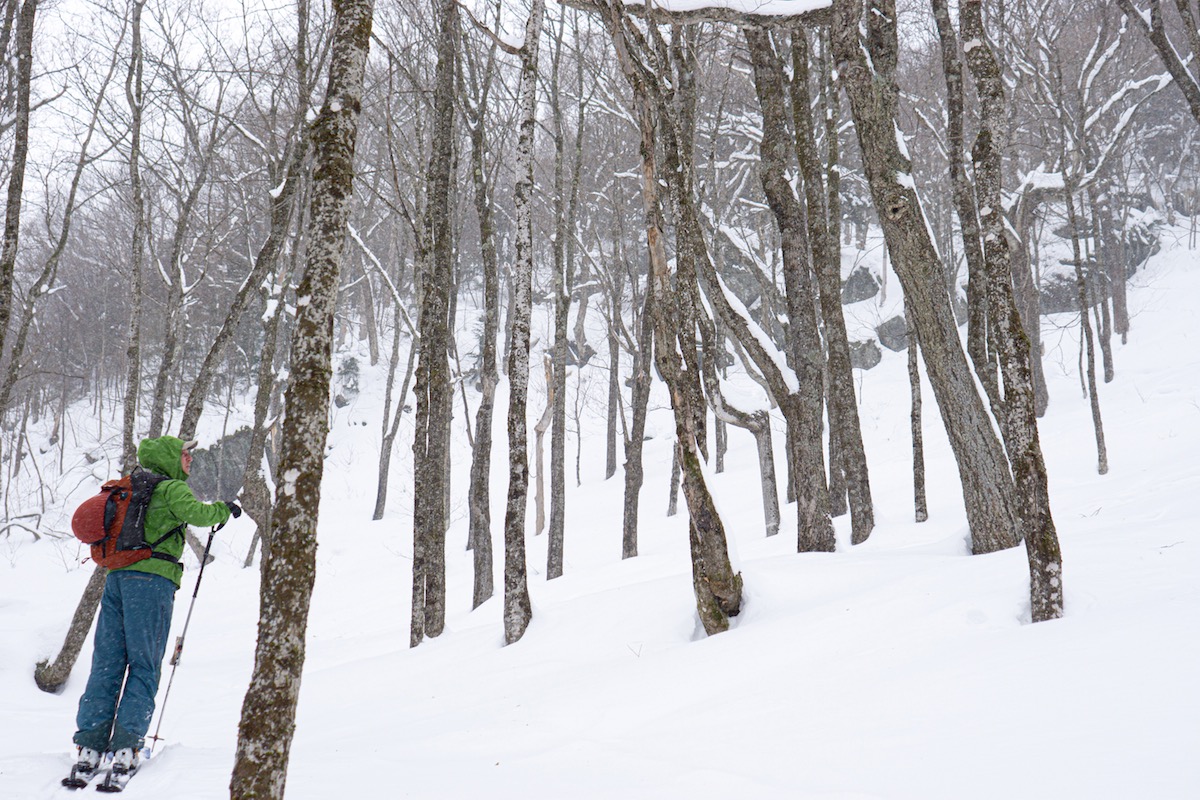 Several days before my arrival, winter storm "Kade" and the residual Jay Cloud blessed Jay and the surrounding peaks with nearly 40 inches of snow. After the snowfall I watched the weather, and daytime highs looked cold enough to preserve the snow. I held out slim hope that I could get someone to join me. I booked a room in a lodge run by a local backcountry guru.
I haven't really skied backcountry, ever. My only experience earning turns is with snowshoes, poaching resorts before first chair. I wanted to try ski touring but I needed a partner. But I couldn't convince anyone that it would be worth the drive, to climb with snowshoes, for snow that was several days old.
When I arrived Monday night I spoke with the lodge owner, a PA transplant who couldn't resist the pull of the Northeast Kingdom. We discussed all things skiing, including touring spots, avalanches, snow storms, Mt. Washington, Plattekill and Elk Mountain.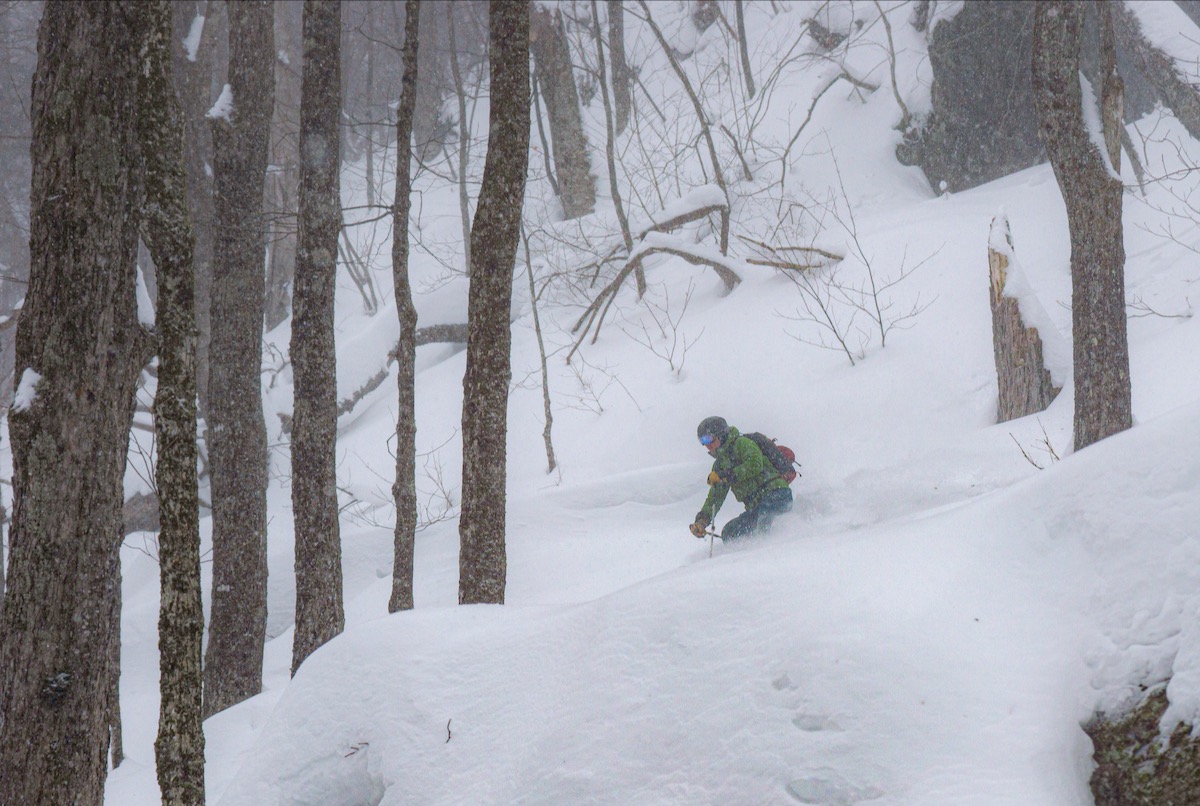 He seemed confident that wind protected aspects would ski beautifully. He was a little hesitant about my old school snowshoes, but he agreed to take me.  As he told me, a "dud" of a storm was rolling through Tuesday into Wednesday bringing a few inches of snow. Strong south and west winds were forecast, so we'd stick to the north and northeast slopes.
Our tour got underway in the midst of the storm and it was snowing steadily.  On the sheltered aspect we chose, winds were calm. My guide broke trail, which allowed my tennis rackets to slide right along. On some of the steeper sections of the skin track the shoes took quite a bit of maneuvering and some technical effort to get by. It definitely slowed us down; I need to start saving for a split board.
On the up track, I couldn't control the stoke. Everywhere I looked were flawless glades, pillows, cliffs, and tree tubes with bottomless snow. It was like Doctor Seuss land or something, I don't even know how to describe it. Zones were wide open.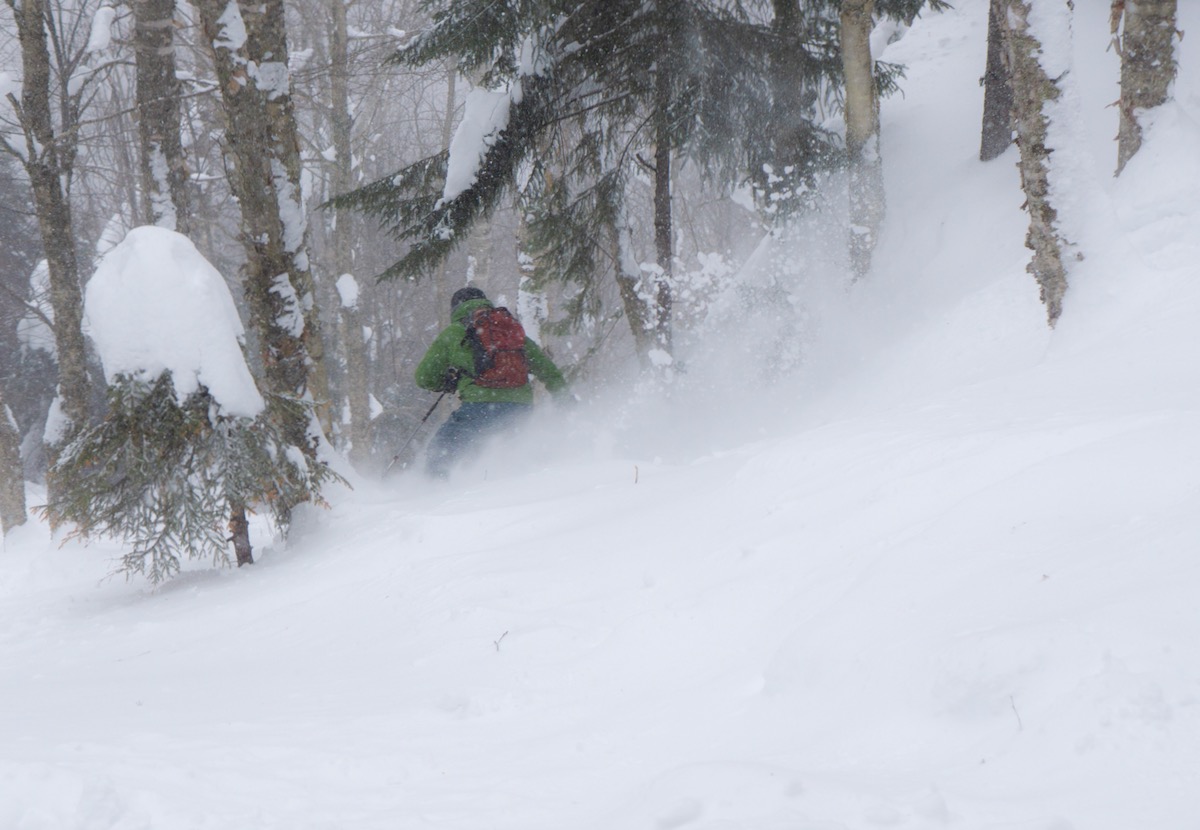 Finding lines along the ridge was like hunting down dinner. Salivating on the approach, and gorged on the run out back to the car. Nothing beats putting in the work to earn five of the finest, freshest, artisanal northern Vermont glade runs.
I'm a surfer and I described them as point break glades. Some were over a minute long and offered up some fantastic tubes, turns, and down the line flow. We were both supremely stoked by the conditions. The wind and new snow definitely helped and some sections skied as if a foot had fallen overnight.
One thing I've learned this year is not to judge a season based on number of days skied or by the snow at your local hill. I've only got nine days notched so far but most were in top tier conditions at McCauley, Plattekill, Smuggs and Jay.
Thank you so much to my guide for showing me the backcountry on this trip.