When I was a little kid living on a farm, I'd play by myself in a big tractor tire that served as a sandbox. I developed a reputation for playing alone. "Harvey doesn't need playmates, he's happy all by himself!" It wasn't true, down inside I didn't like it, but I didn't know myself well enough to push back.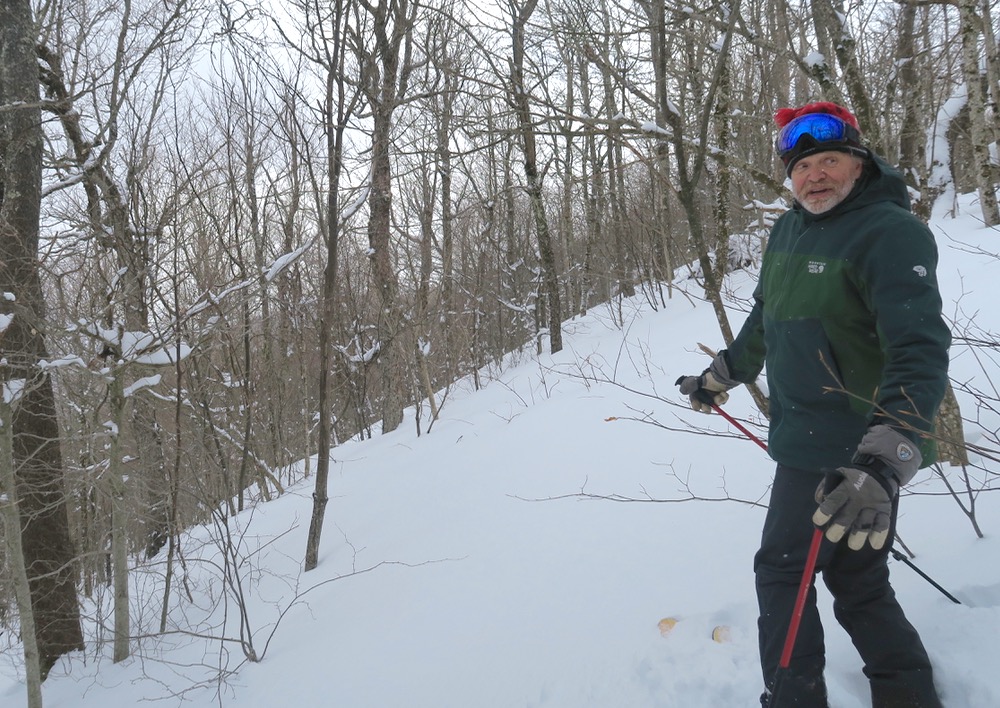 As I got older, I got more proactive. In high school, I joined the cross country team and made best friends for life. Twenty five years after that, I discovered skiing, and it took me another two decades to learn the lesson all over again, in a new setting. A single life-changing event twenty years ago — a solo backcountry ski tour — delayed my embrace of this lesson.
In March of 1998, I had a plan to go winter camping with my regular backcountry ski partner. For reasons I didn't fully understand at the time, he backed out at the last minute. I was primed and ready to go, so I looked in the mirror and asked myself "can you handle this alone?"
I did it. I skied out into the Siamese Ponds Wilderness in a raging storm that dumped deep snow and then ushered in a sharp cold front and windy weather. The adventure required a singular focus on survival, and I did a lot of talking to myself, ostensibly to encourage good decision-making.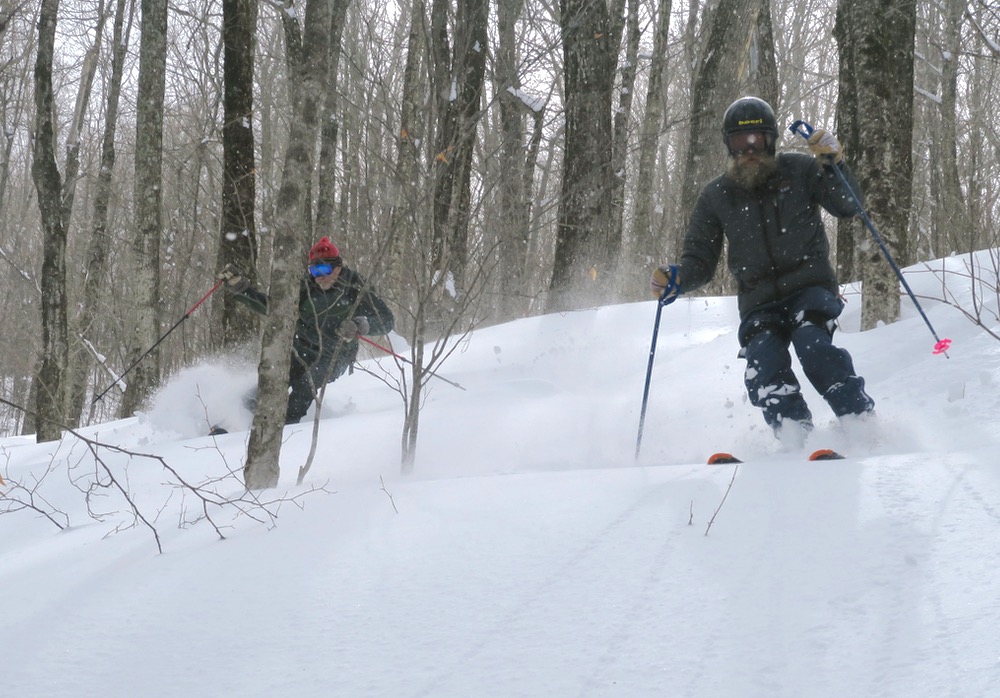 I was proud of the achievement and chronicled it in my very first blog post: My First Winter Solo. Even the title implied that I planned to do more skiing by myself in the future. I was in a different place at that time and looking back on it now, I've decided I don't want to go back there.
This month I had my first-ever day a Magic, the day after a big pile of beautiful new snow fell on the hill. Conditions were spectacular, but what put it into my top ten was the company. A core crew, some might say the core Magic crew, welcomed me and treated my like one of their own. It was so much fun.
That night, I drove to our place in North River, and next day I skied at Gore. So much of my focus and planning had gone into the trip to Magic, that I didn't take the time to line up a ski partner for the next day. The problem was compounded by the fact that so many of my friends at Gore are locals, who ski mid-week and work weekends.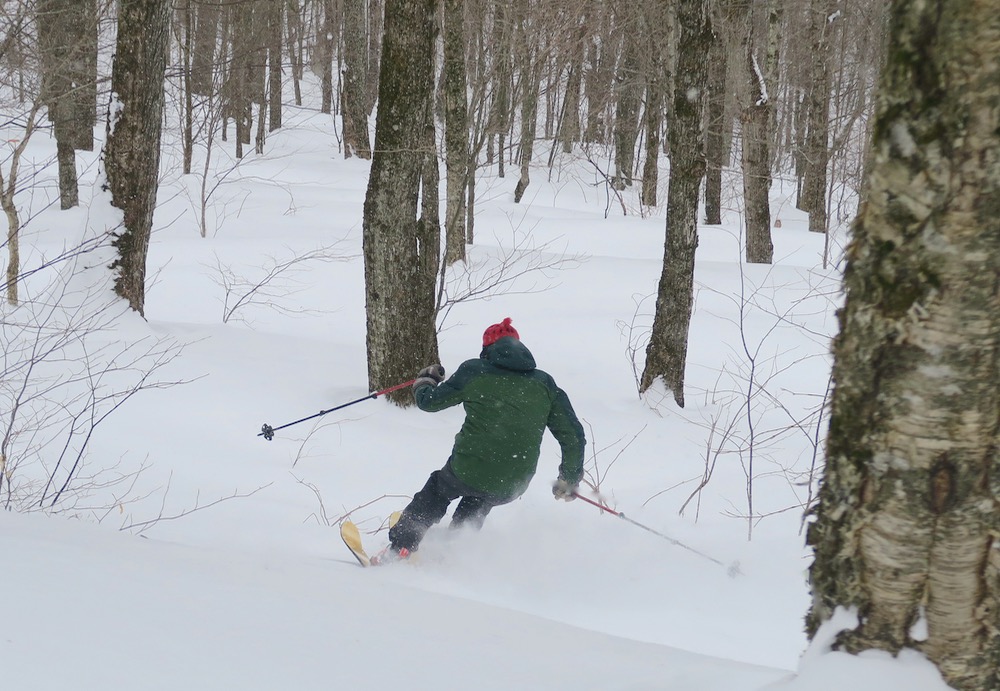 I skied the morning alone, uninspired, and a bit down. I've never really felt this way before. I left the mountain at about 1pm and headed back to our cabin, to sleep. I woke in the late afternoon, skied in our woods, and then headed into town for dinner. Again, solo.
I crashed early and woke before dawn to drive to Plattekill on Sunday morning, arriving before first chair. I booted up and as I was heading out I ran into Chris who informed me of his plans to venture into the sidecountry. "Lap the double until I come out, ski under the chair, so we don't miss each other."
We had an incredible morning in the woods. Chris had to jump midday, and as I got back to the lodge at noon, it was deja vu all over again. I ran into Sean Riley and he repeated the same conversation. "Hey Harvey, come back into the woods with me." The adventure continued all day, until the sun went behind the mountain.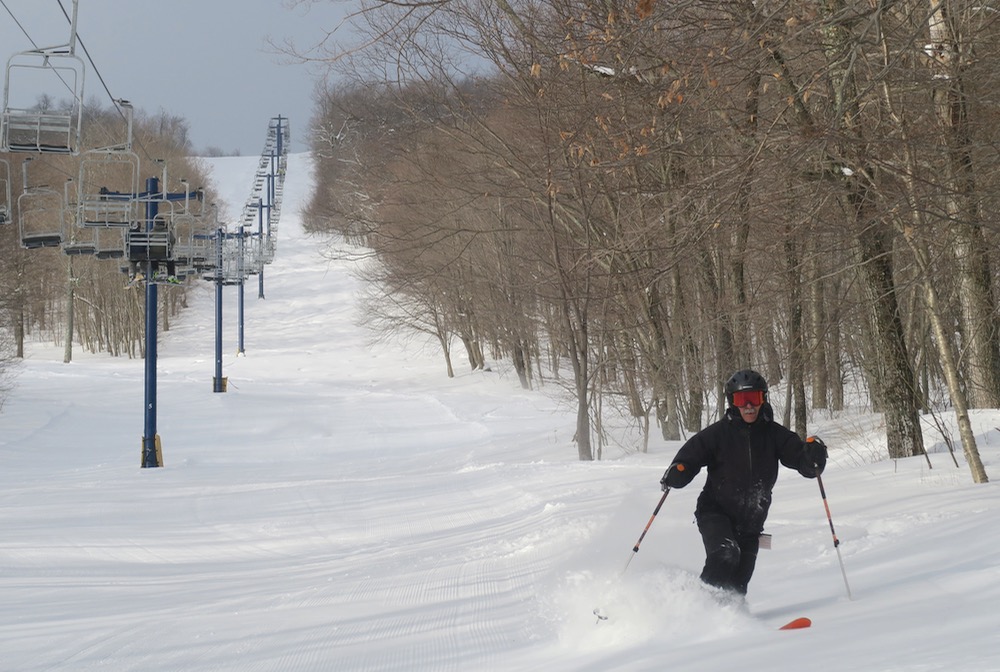 The contrast from Friday at Magic, to Saturday at Gore, and then back to Plattekill on Sunday was striking. I'd had two days that ended with me driving away from the mountain singing at the top of my lungs in the car, and one day that left me down. The next weekend the pattern was repeated and now I can't deny that the truth about how I feel.
I know there are practical reasons to ski with a partner.  When the snow is deep and soft we tend to venture farther out, and the consequences of any kind of accident rise. Having a partner, or more precisely having two partners, can help mitigate the risk. This weekend I fell on my shoulder in some deep snow. I was grateful to have Ed with me to size me up, make sure I was ok, and ski out with me.
Still, I'm being disingenuous if I don't acknowledge that what is really driving this change. There's nothing more exciting than connecting with a knowledgeable mountain guide with fire in his eye. The excitement is an added adventure, all it's own. For me, the March '18 parade of storms will be remembered as the best in a long time. Thanks to Chris, Riley, MMP, Rusty and all who've led the way.