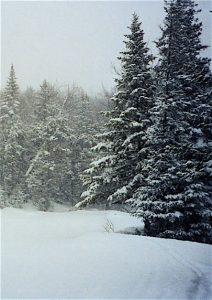 I didn't plan a solo trip. It was early March in 1998. There had been a lot of snow that season but in the last 10 days a front had come through. Rain had fallen before the frontal passage and brutal cold had followed. All that snow was locked in, beneath an tough crusty layer.
My regular ski partner and I had been watching the weather, hoping for some new snow, so we could get back into the woods. The plan was for a two or three night overnight in the Siamese Ponds Wilderness. Made to order, early in the week, a low came across the southern tier of the US, turned north off the coast and headed towards nor'easter land. The call was for a lot of snow, starting to fall Friday morning.
By Wednesday I was ready to go. The plan was for me to head towards the mountains Thursday afternoon, stay at my friend's place that night and head out after enough snow had fallen on top of that bulletproof crust.
Thursday morning my buddy called. He'd been out snowboarding with some riders on Wednesday and he was sore. He said be couldn't make it the trip. DAMN IT. I was so ready to ski and so frustrated. I did everything I could to convince him to change his mind. But his mind was made up.
---
Looked like I wasn't skiing at all that weekend. To have that much snow falling on the Siamese without being there — it was torture.
But I thought, what if I go solo? I could get up at 4am and make the five hour drive. If it started to snow around daybreak there could be enough snow down by the time I arrived to head out. I was jazzed to try out my new Moss Outland — a bomber one man winter tent. My first solo camping trip was going down in winter.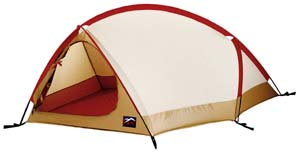 Actually that first part worked like a dream. When I got to the Adirondack Northway it started to snow at a good clip. When I arrived in North River there were 3 or 4 inches on the ground.
In the past there wasn't really a legitimate trailhead near the Old Farm Road on 13th lake. People headed into the backcountry tend to park at the Garnet Hill Ski Shop, which is really not fair to the owners of the lodge. Basically you're using a private parking to access state land. That year I'd bought a Garnet Hill Lodge seasons pass, which I'd leave on the dashboard. A quasi-parking permit as I abandoned it to head into the woods.
If you've ever done any solo winter camping you know you're carrying a big pack. Not quite ready to head out, I dragged my monster load into the ski shop to get some cocoa and collect myself. I got some interesting looks from people. I'll never forget one guy asking me if I was headed out overnight. Hard to imagine what you'd do with a pack like that on a day ski. I gave him a smartass answer: "No I just like skiing with a pack."
I headed out onto Garnet Hill's trail system on a trail called "Wilderness." It leads to the trailhead and is groomed until you get to state land. That morning it was had been groomed before 4 inches of fairly dense powder fell on top. Easy, nice skiing even with a pack.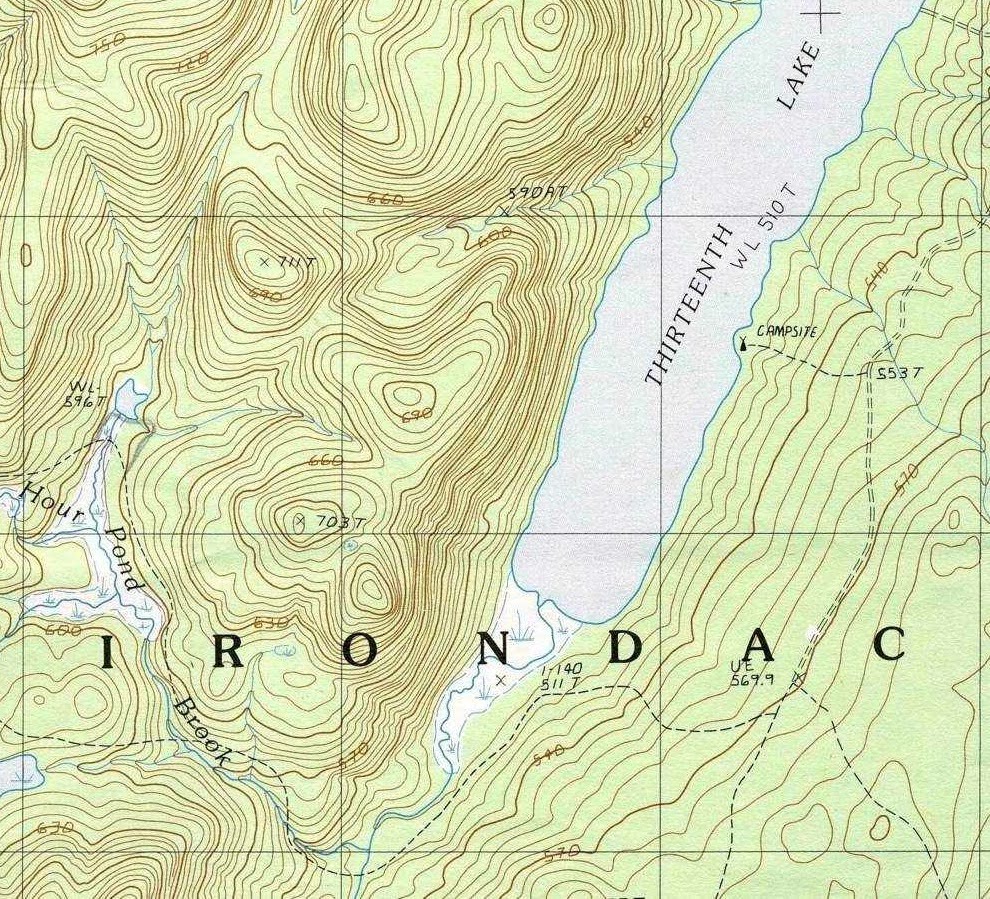 I was excited and anxious. I was quietly talking to myself the whole way out to the trail head. I had all the gear. I knew I could survive. But I was alone. I just kept imagining the newspaper article detailing my demise. I know that's not exactly a rational thought process.
I cruised through the farm clearing and it was really starting to snow hard. I made the turn towards Puffer Pond, and I remember thinking there must be 5-6 inches of new snow on the ground already. The storm was starting to wind up. The National Weather Service had called for more than 18 inches. And those kinds of numbers never account for elevation. We were going to get a lot of snow.
---
There's a different sort of skiing you do when you are camping vs regular day trips into the backcountry. You want to stay in control to an even higher degree. You don't want to fall or sweat too much. Staying dry is one of the keys to being safe and happy.
There's a pretty decent size hill when you head West on the Puffer Pond trail, down about 200′ toward lake level. I was talking myself through my wedge turns, trying to control my load down the hill.
About halfway down, I realized something was wrong. My right binding bail had popped open and I was losing my ski. While I continued to plunge down the hill, I was maintaining balance on my left ski. But I knew it was likely to end badly. I did what I had to — I crashed as safely as I could.
Getting out of my pack and up wasn't easy. When I did get up, I was soaked. So much for maintaining composure. I was glad no one had seen my crash. I walked back uphill to retrieve my other ski.
I skied across the short flats at the south end of the lake and then up the steep hill that parallels the Hour Pond outlet. That first uphill pitch is probably 150′ of vertical. I did it with a combination of side-step and side-step traverse. It was just too steep and my pack was too heavy to herringbone.
When I got up to the top, I was soaked with sweat. I pulled out my pack towel and wiped down my face and neck. I knew the only thing to do at this point was to keep my towel dry — ski hard the rest of the day to stay warm — set up camp, dry off and then put on dry longjohns.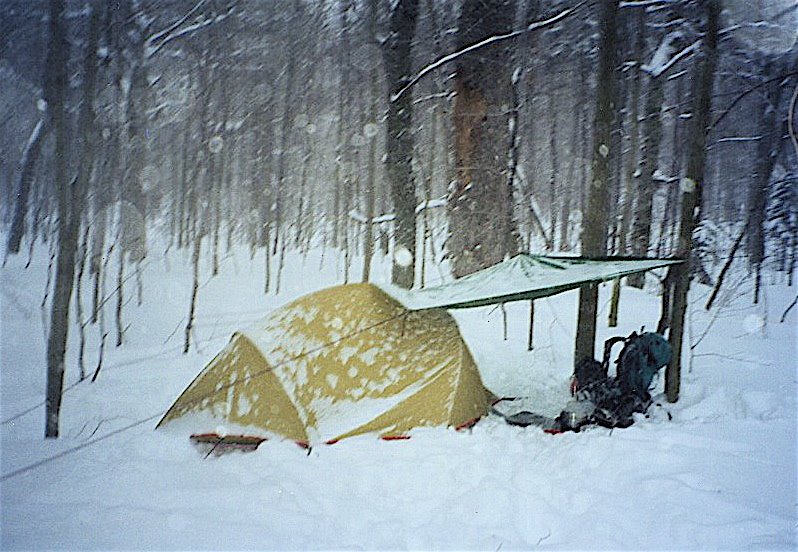 I skied up along the outlet and across the bridge over the stream and made it to the junction of the Hour Pond and Puffer Pond Trails. I stopped for "lunch" —a cliff bar, a quarter Nalgene of water. I took a leak. "Keep your pee clear" was a mantra. Well hydrated people stay warmer. I'd been skiing over 2 hours and I was halfway to Hour Pond from the trailhead. That gets me in after 3pm if I push on… a pretty late arrival time for winter camping.
The second part of the ski to Hour always seems to take longer than the map would indicate. You climb up and around the flanks of the hills on the southwest corner of Thirteenth Lake. Down to your left, through the trees you can see the Hour Pond outlet. Eventually you start to descend through some pretty thick stuff. If it's your first time out that way you get the feeling you are heading down to the pond. But you are actually coming to an impressive beaver dam and swamp. As I skied across the beaver dam the wind was howling.
Left at the end of the dam, up and down over the boulders on the shoulder of Beaver Hill and on to Hour Pond. As I came to Hour, it was 3:45 pm and I knew I had to get my tent set up. I kept thinking, do I really want to cross this pond?
It had been pretty cold in the last week. Logic would say the ice should be ok. Go ahead, cross the pond, stay away from the outlet. Taking the long way around would burn most of the remaining light. And I was using a new tent that I'd never setup, except in the back yard. I compromised by making an arc across the ice while I stayed way off the outlet, where the ice would be thinner.
I kept looking back in my tracks to look for tell-tale gray that would indicate water coming up through the ice. Many times, especially with a large weight of snow on top, water can be forced up through the ice. In these situations it's unlikely that you'd ever go through, but it can be disconcerting to end up ankle deep in water when your skiing on a pond.
---
---
I was excited about my new tent. I'd read a review that said it was quiet in a 75-mph wind. I wanted to put it to the test. I got the tent up. I spent most of the remaining light trying to rig some kind tarp for a front porch that would allow me to melt snow. The Outland has a minimal vestibule.
I did boil some water and top-off two water bottles. But I completely ignored my plans for dinner. I just couldn't eat. I stuffed down another cliff bar. And sipped tea. I had nothing to read, but I did have a waterproof notebook from EMS and I took some notes about the day. I came across that book recently and it inspired me to put all of this down.
Mummy bags are supposed to be the best thing for staying warm. But when you winter camp in temps below 10 degrees, you've got to sleep with a bunch of items to keep them warm. Your boots and your water can't freeze. I've got a mummy with an extra large foot compartment to make room for all that stuff. It's not exactly relaxing unless you can get in just the right position.
I tried to sleep but it was only 6:30. I wasn't feeling tired. In the wind my tent was ultra silent. But my makeshift "front porch" was making an incredible racket. I knew I should take it down and just use it to cover my gear. I didn't and that was a mistake. All night, I had recurring dreams that my tent was being ripped to shreds. I'd wake up and realize that the tent was fine and my tarp was taking a beating. Every time I woke, I'd bang the snow off the tent and try to get back to sleep.
In the morning, it was around 5 below, mostly clear, and still really windy. There was at least 30″ of new snow. With such a small tent, I dressed outside. I had to put my skis on as it was the only way to move around in the new snow. Even with skis, I was sinking in up to mid-thigh. I stamped out area around the tent so I could operate.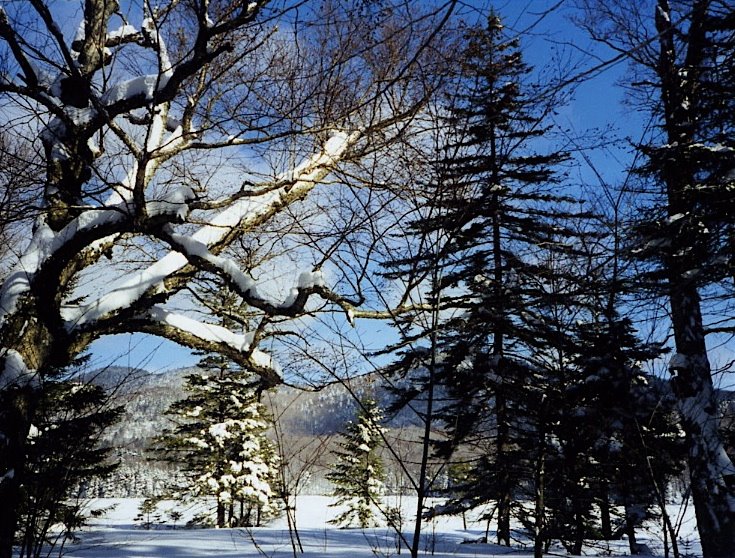 My toes were frozen. I knew that if I took the time to make tea and breakfast they would be in serious trouble. I had an idea. The next 3/4 of a mile of my route was a bushwack along the base of Bullhead over to the Puffer Pond trail. I'd never done it in winter and the last thing you want to do in 30″ of snow, with a huge pack, is go in the wrong direction. Or backtrack.
I decided to ski over towards the swamps near the trail without my pack. This would get me warm, and break that part of the trail without the weight of my pack. And I could enjoy some easy skiing back to my tent in my own tracks when I returned to grab my pack.
It was a good move. I got warm quickly and really enjoyed the effort getting over there. I came to the stream, and I thought I knew exactly where I was. I turned around, skied back and packed up. And again I barely ate anything. One oatmeal and one cocoa. I took the picture above, and headed out.
When I got back to the end of my tracks, I proceeded downstream. I came to a confluence that was tricky. I had to sidestep down into the creek bed, straddle some open water, and shift my weight to the other side. Then pull my other foot across, pull myself up and sidestep up and out of the small drainage. With a pack in deep snow. One thing is for sure — you don't want to get your skis wet when it zero degrees out.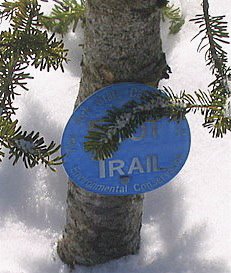 Crossing the main stream was much easier as it was flat, grassy and much slower running water, with thicker ice. Once on the other side I continued toward the trail. The first time through, I assumed I was at a spot I was familiar with right on the Puffer Pond trail. Certainly the map showed it to be so. But it wasn't. I went southwest. This was one of those situations where the trail was all around me, almost encircling me. I'd have to cross it even if I was 25 degrees off on my compass heading. I plowed ahead through the deep snow, working very hard.
As I pressed and then stopped as a scary thought occurred to me. With this much snow, it was possible that I could cross the trail without realizing it. The amount of snow that had fallen would cover any previous tracks, especially with the amount of wind we'd had overnight. And when the snow is that deep a lot of the witch hobble and ground cover was hidden, making every lane through the trees look like a trail. I stopped, panting, to get my bearings and try to think clearly. I looked up. And around. There it was. A blue trail marker. I was on the trail. Not sure if I stopped in that spot because I sensed something, or I was just lucky. Either way, I'll take it.
It was 11:30 when I found the Puffer Pond trail. I began the slog along the old road. This was the least exciting part of my route. My mind wandered. I thought about skiers coming through in the days ahead. Someone was going be working hard breaking trail and my tracks would join the trail coming out of nowhere. I'd love to hear that conversation.
Somewhere around the height-of-land between the Thirteenth Lake and Kings Flow drainages, I left the trail headed for a low shoulder on the flanks of Puffer Mountain. I'd done this bushwack before, once in the summer and once in the winter. If you get it right, you can't go wrong. It was close to 2pm. Eventually I found a nice campsite on a perch high above Twin Ponds. Behind me was a cliff face. In front of me…through thin hardwoods, were the Ponds, with Buck Meadow, Pine and Hayden mountains in the distance. I set up camp.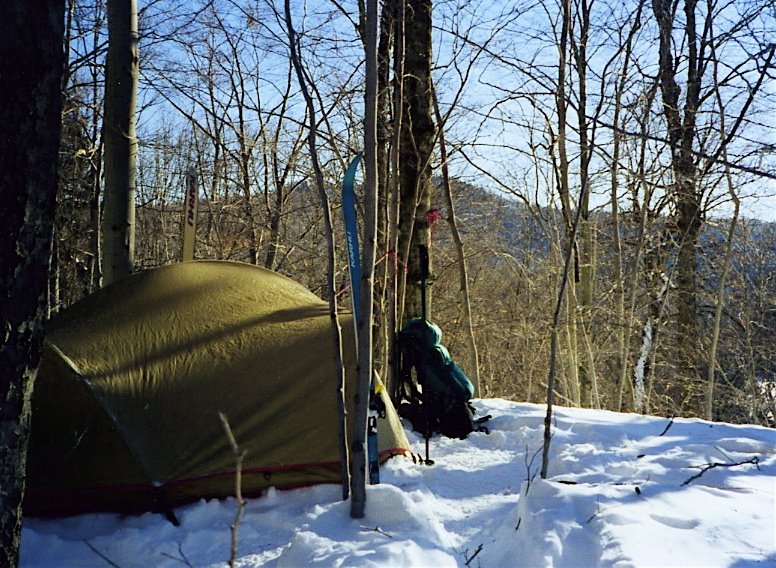 Feeling pretty confident, I brought out the food I'd been ignoring. Oatmeal, cocoa and some kind of freeze-dried creamed chicken. I ate, drank tea and had some cognac I had in a flask. After dinner, there was still some light. I put on all my layers. With only a buttbag and a piece of ensolite foam, I skied down to the ponds and skied along the eastern shore of the upper pond.
I found a big boulder and sat up against it to get out of the wind. I pulled out my flask, and watched the wind whip up snow tornados and push them across the upper pond. It was one of the most memorable moments I've ever had in the backcountry. Writing it down now for the first time, 10 years later, I can still remember it vividly.
That night it was even colder — down to 15 below. But the wind had died down. I was warm, content and I slept much more soundly than the night before. I was up before dawn making cocoa and oatmeal. I packed up and headed down to the upper pond in my tracks from the previous evening.
From here, I really felt I couldn't get lost. I went down along the eastern side of the upper and lower ponds carefully avoiding the current in the stream that connects both bodies of water. When I got to the outlet of the bottom pond I turned and snapped my last photo of Puffer Mountain and Twin Ponds.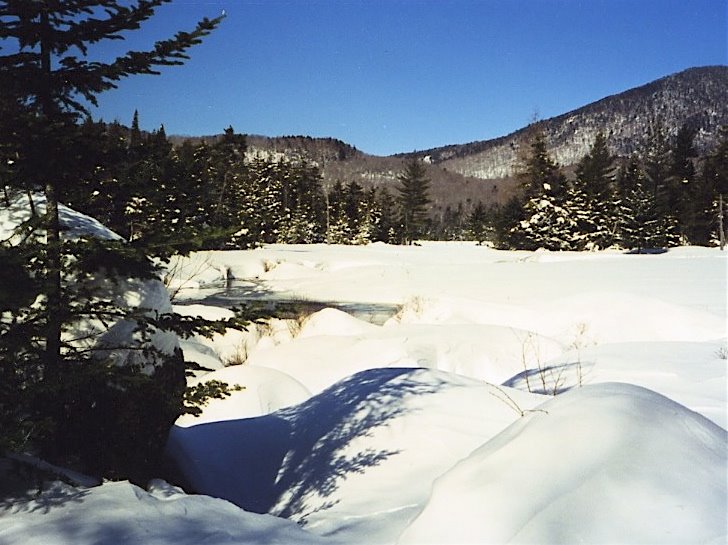 The ski down the outlet is fun. There's no route finding at all. You're loosing about 300 feet of elevation through wide open hardwoods, and here and there you can pick up parts of a hunter's path. The snow was starting to settle and in spots I was linking turns. To a nut like me, linking turns with 50 lbs on your back is fun.
I got to Buck Meadow before lunch time. I crossed the swamp without incident. It's probably not more than a few feet deep in it's deepest part and most of it is very shallow. There's an "official" hunters camp there with a woodpile, and tent spot and a place to hang a kill.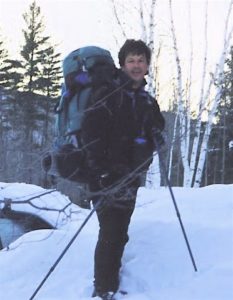 My plan was to hang out and spend the night. It was barely noon and I wanted to keep skiing. I kept thinking about the duck dinner special at Garnet Hill. I never unpacked. By 12:30 I was back in the woods, following a route I knew well.
At 2:45 I came to the height-of-land between the East Branch and Thirteenth Lake drainages. From there you can see the Highwinds Inn, the old garnet mine, Durant, Gore and Pete Gay mountains.
I floated down to the main trunk trail that goes between Garnet Hill and 11th Mountain. From here, I was surprised that it had been packed out by skiers.
I "flew" the last 2 miles back to the trail head, up to Garnet Hill and back to my car. I dumped my load, warmed up the car, drove up to the Lodge and ordered a beer and the duck.
My first winter solo was one of the great experiences of my life.