At our house, to reduce the impact of the bottle water we drink, we've invested in a system where the 5-gallon plastic bottles are reused. We're trying to remember to bring our own grocery bags to the store. Small steps.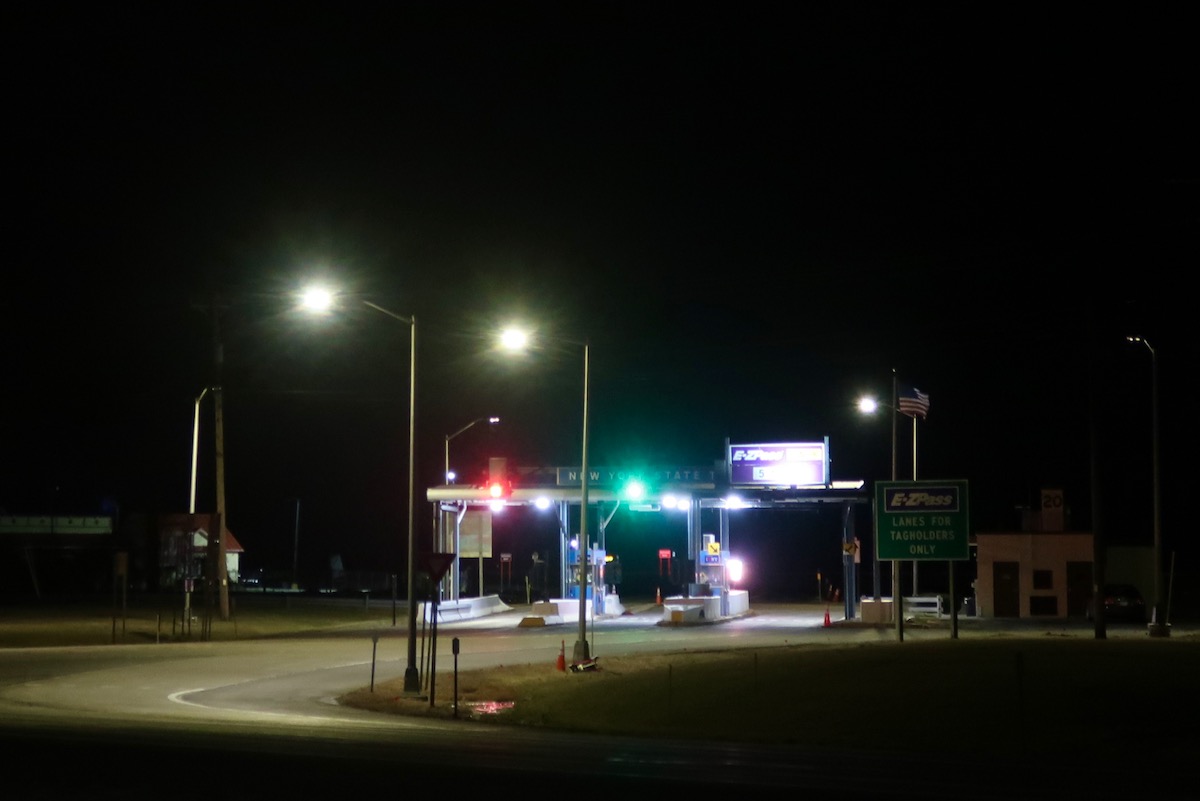 Of course, the elephant in the room is the impact of my skiing. There's no question it's costly, especially the driving. I've long thought about this, but never enacted any solutions. And, as I've become more addicted to our sport, I find myself driving farther for good snow.
For New Years I've resolved to carpool as much as I can. It's not a new or novel idea, but it should make a difference. Sharing a ride saves energy and engine wear, and it fits with my desire to ski with partners.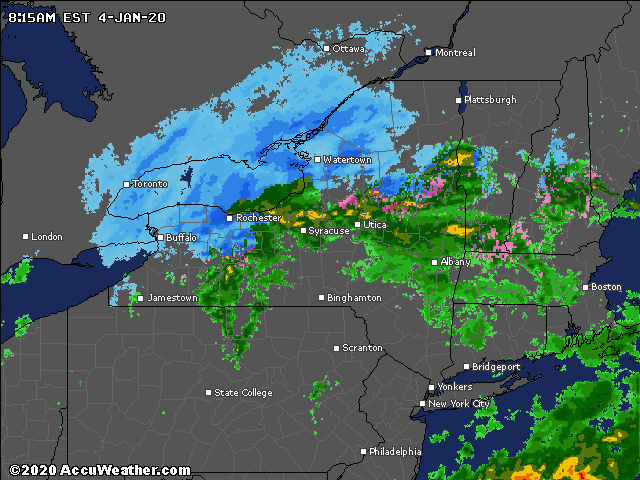 This season the weather has been a bit finicky and I've only got 9 ski days so far. Still if you include this trip to Gore on Sunday, four of those days have been better than excellent. I want to keep my streak going.
On Saturday, the forecast called for another borderline event. The Catskills were looking at rain, while the Adirondacks and Southern Vermont were to be on the southern edge of the frozen precip. I called Scottski to see if he'd come with me to Pico, to do a story on my first visit to the mountain.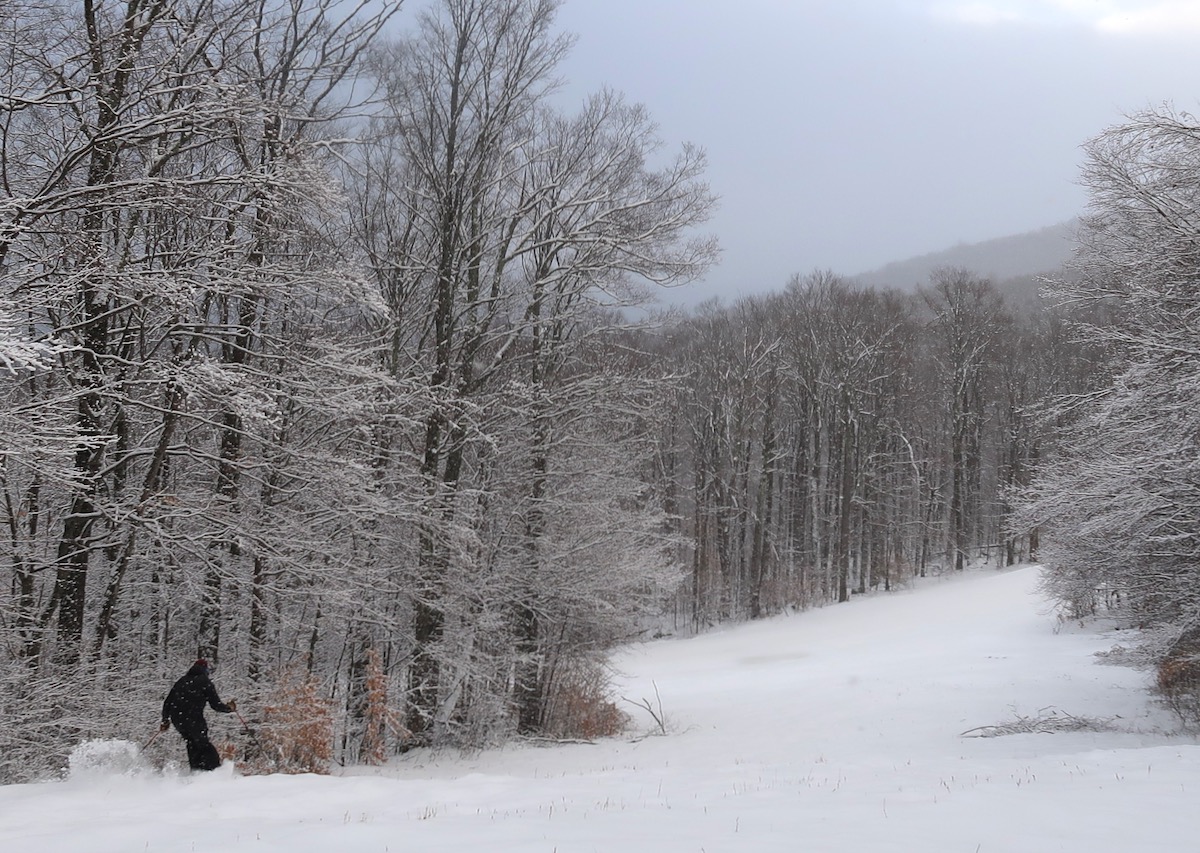 We talked about driving together. He told me about a Park and Ride close to his place, off NY Thruway exit 20 in Saugerties. We agreed to meet there at 5am, with our goal to make first chair at Pico.
During the day on Saturday, I followed the radar, the webcams and reports from the hills. It looked like Gore was getting snow and SoVT was just missing out.
We met up and threw Scott's gear in my car. Out on the highway we called an audible, setting our sights on Gore.  If we'd have been smart, we would also have set our GPS. Two like-minded skiers together really help to pass the time, but unfortunately we also passed our exit. I noticed exit 28 coming up on the horizon and gulped. Scott got us onto the exit ramp as I punched in Gore on Google Maps.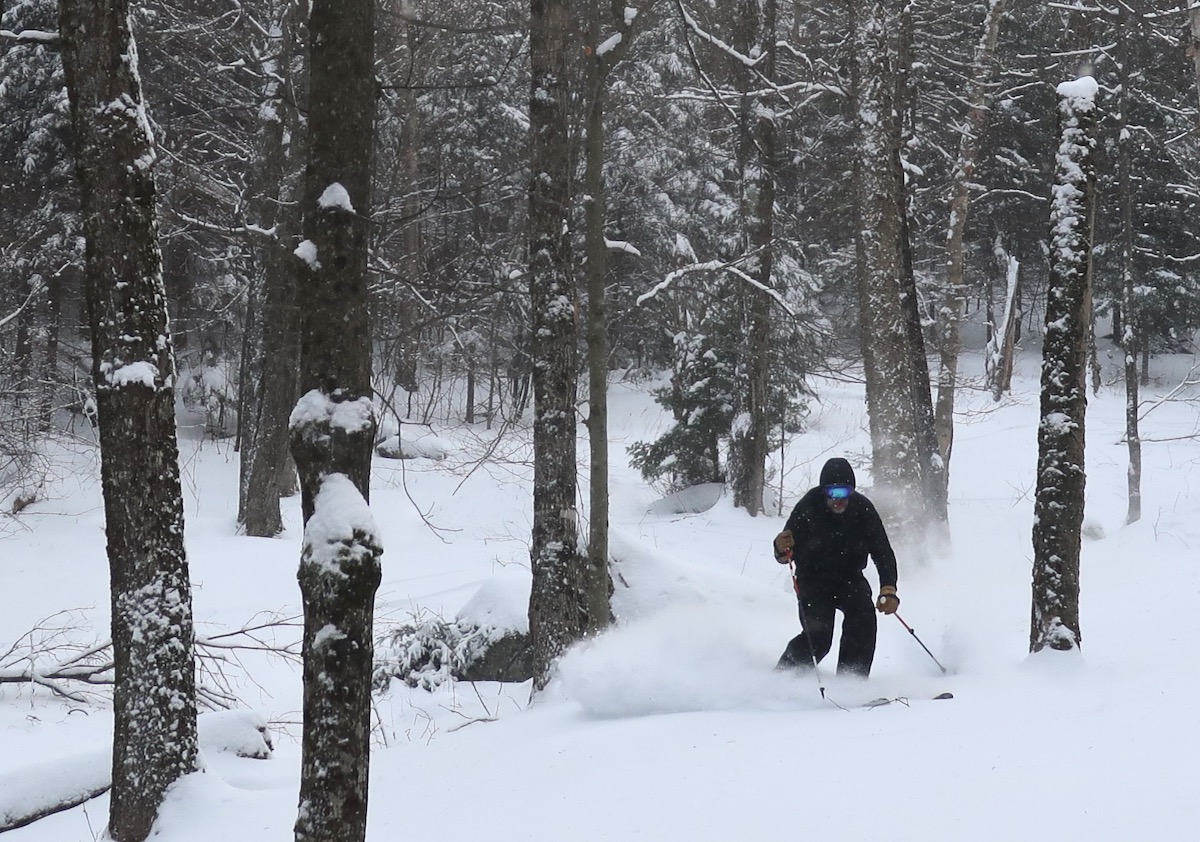 I was surprised to see that this colossal fail was costing us only 20 minutes. Our original 5am meetup time was designed to get us in line for first chair at Pico, which is a bit farther, so there was a bit of extra built into the schedule. The GPS had us arriving at Gore at 7:30, in plenty of time. As we drove into the Southern Adirondacks, we started to get excited, the roads and trees were covered in new snow.
We arrived in North Creek, booted up and then went to the ticket window to redeem the Gore ticket from Scott's Champlain Valley Card. We got in line for the gondola and grabbed the very first cabin.  Cord on the front side was carvable if a bit firm, but the wind was blowing and there were pockets of soft snow in stuffed in spots along the side of the trails.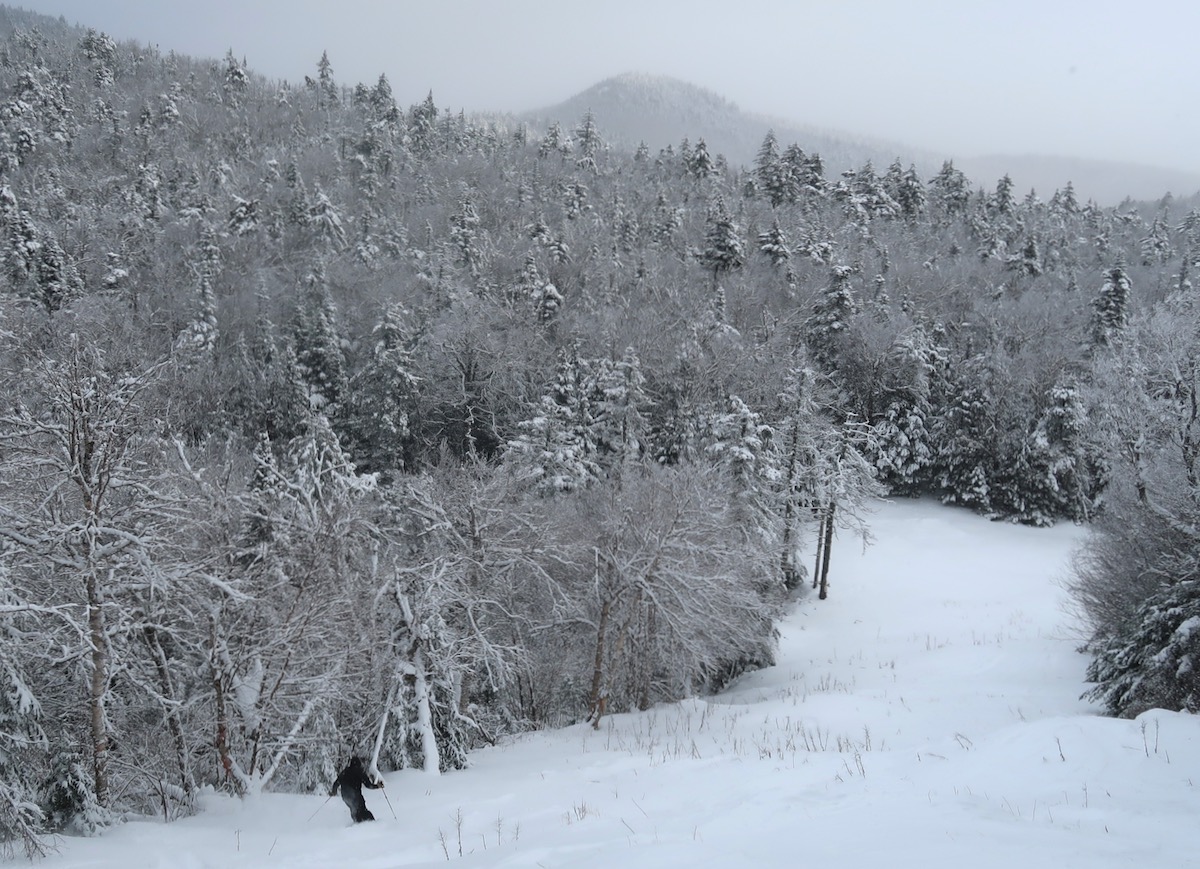 This was a different kind of day for me. Scott had only been to Gore once in his life, back in 1985. A lot has changed at Gore in 35 years and I wanted to show him around as best I could. Normally I'm a follower, relying on others to make the choices that determine the quality of the skiing. On this day it was all me.
I actually think I did a decent job.  I've found this true in other parts of my life: when you share what you know with someone who is new to the topic, you realize you know more than you thought.  Gore listed 70% of terrain open, so there were definitely some options. We worked our way around hitting all the spinning lifts.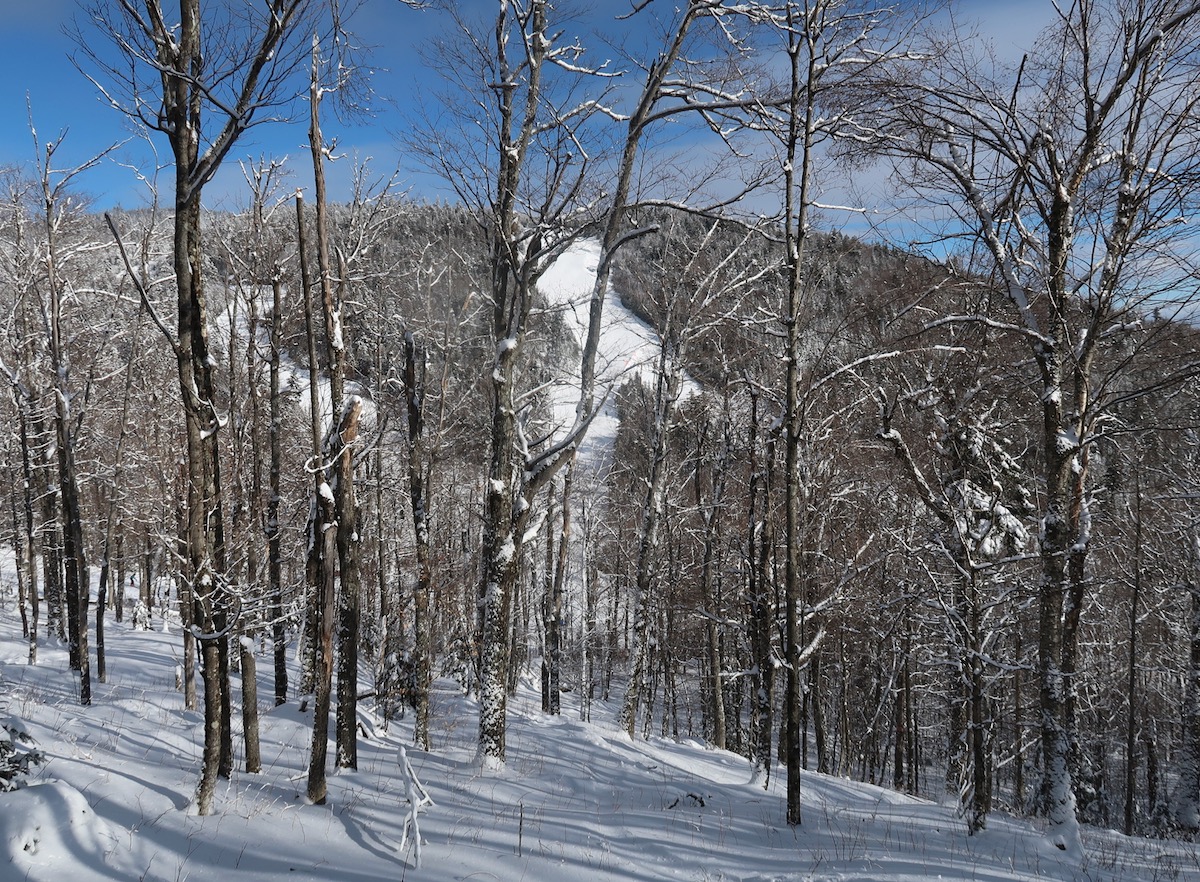 The best snow was ungroomed and we went after it wherever we could find it. We spent the most time on the Sunway Chair, riding the North, and up in the Dark Side. As the day wore, Gore dropped ropes in the places that made sense. Scott got wide-eyed when he saw the terrain under the liftline on the Dark Side and was impressed when Gore opened it.
For me personally, another part of the story was my third day on a new NTN boot and binding combo. I'd had two groomer days on my new gear over Christmas week, and it was no surprise that the setup performed very well under those conditions. The connection between boot and ski is so much more rigid than it is with a 75mm boot, which is ideal for firm surfaces.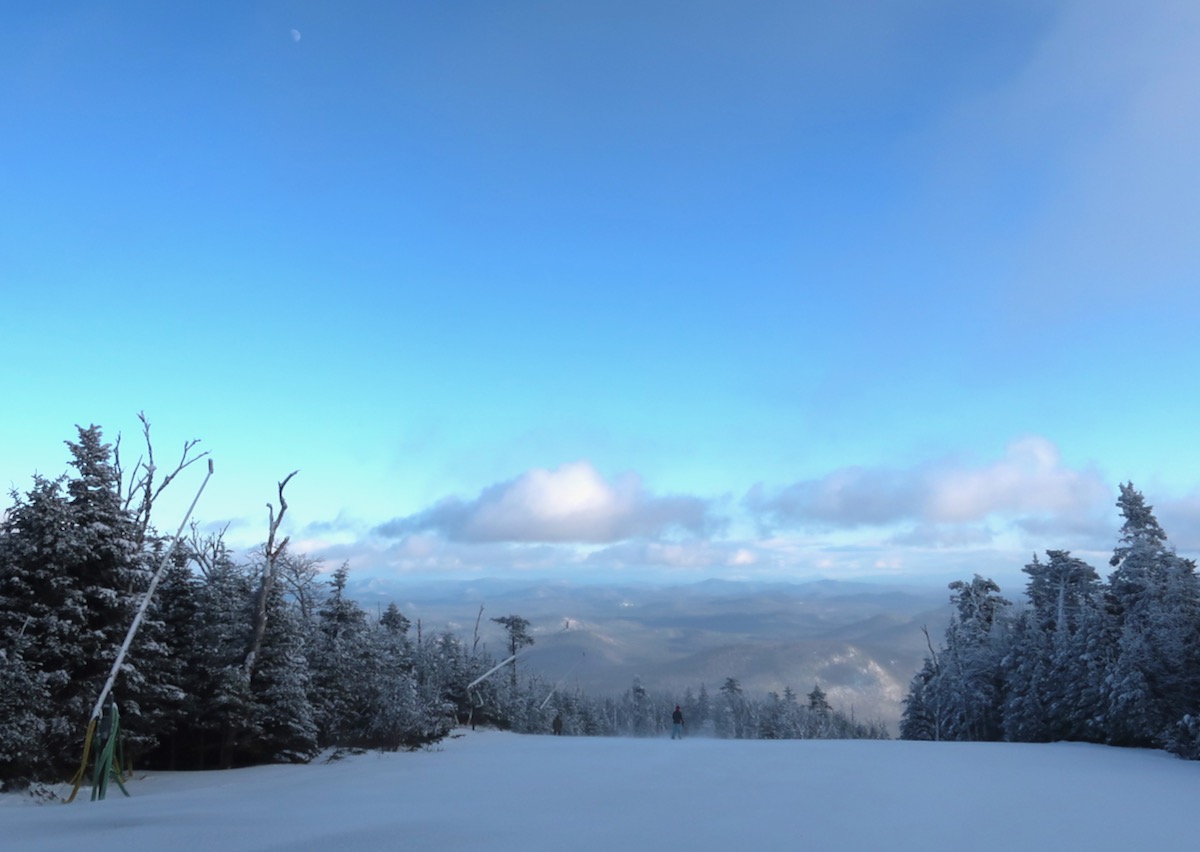 Still, I always assume everything is a compromise, and I didn't know if there was going to be a NTN downside in ungroomed snow.
Apparently there isn't. I found my ability to navigate tight spots was dramatically improved. In addition, I felt far less fatigue than I expected. We skied from 8:30 to 3:30 with one short break, and I felt great all day long. It's official, I'm all in on NTN. And of course Whiteroom.
The biggest thing I took from the day was a rekindled love for Gore. I've always known it's a great big mountain, and when it's open there is a lot to show off. Improved snowmaking is getting more of the mountain open sooner, even in a tough year.  Showing it to a friend, made me appreciate my first home hill just a little bit more.