We all know what's coming, there's no hiding from it. This week Scottski and I were looking to bank some powder euphoria for a rainy day. We needed some new snow and we needed it now.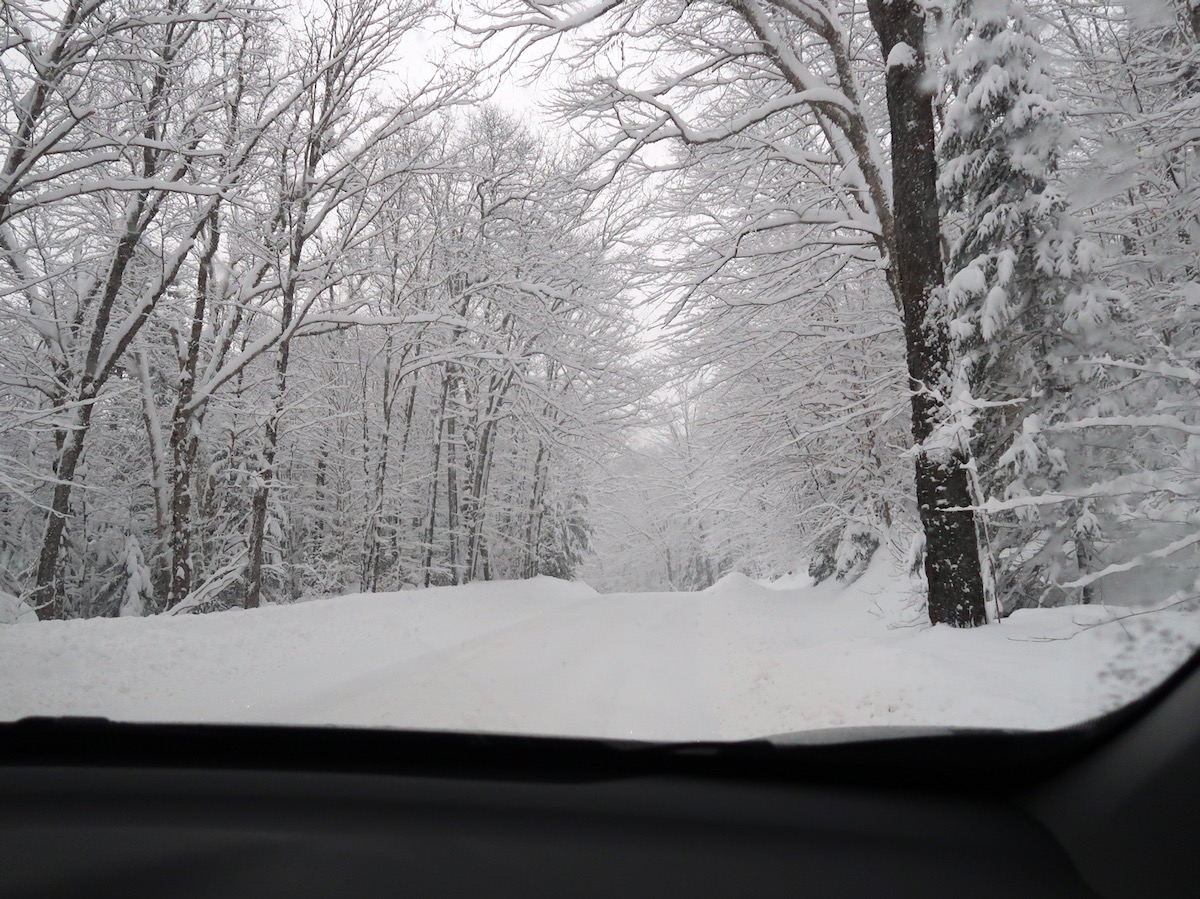 We considered a return to Gore, where they had picked up another 5 inches since our great day on Sunday. Other options included SoVT, Snow Ridge and McCauley. It was my birthday, so Scottski, Matt and Stu let me pick. I chose McCauley.
The same storm that put Gore in the sweet spot last weekend, rained on McCauley pretty good. We wondered if the mountain had been stripped down to bare earth.  Afterward, snow started to fall again and by Monday morning Big Mac reported seven inches of new snow since that soaking rainfall.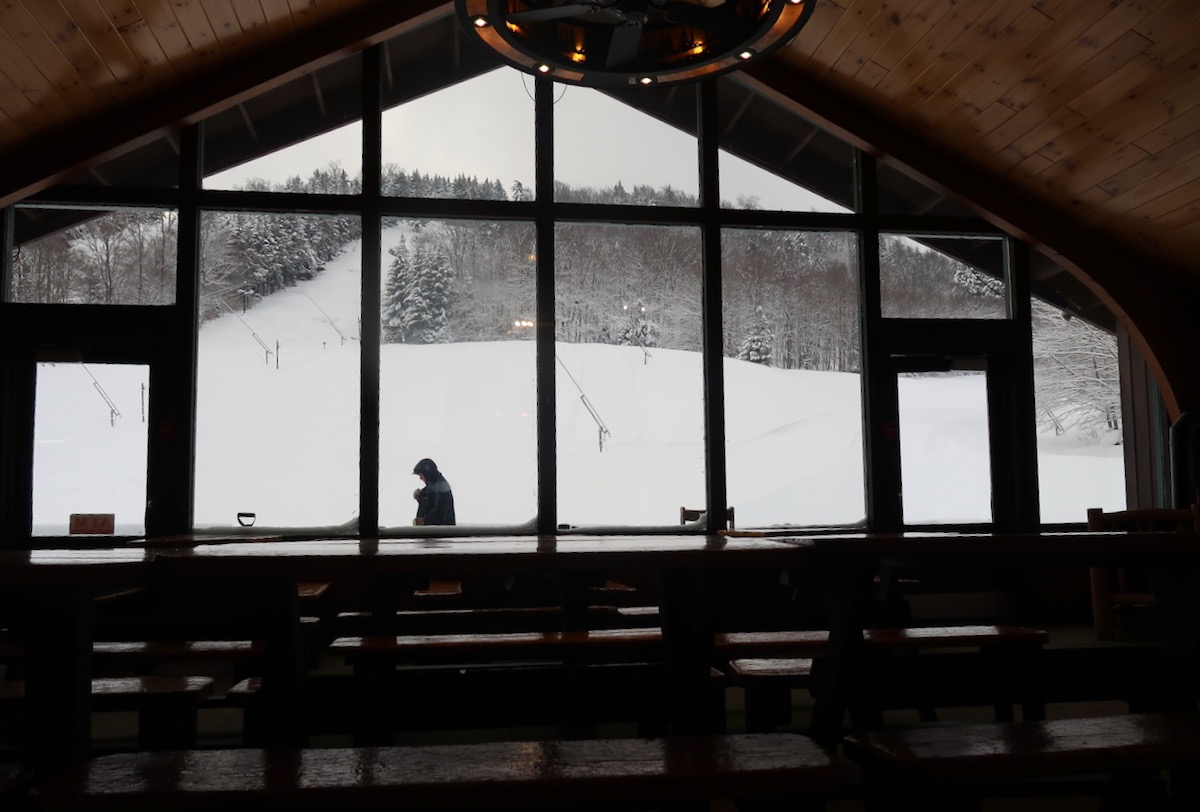 McCauley is closed on Tuesdays, so the Monday report was the last we'd see before we had to make our game-time decision in the early hours of Wednesday morning. We watch the radar closely. It snowed Monday, Monday night and Tuesday and the forecast was for more during the day on Wednesday.
We made plans to ski with Skiology Matt and Storm Skiing Stu. They said wanted to ski with us, regardless of where we ended up. Having Matt, the conditions guru, involved in the decision-making process was certainly an advantage. For his part, Stu brought his limitless enthusiasm for anything involving new untracked snow.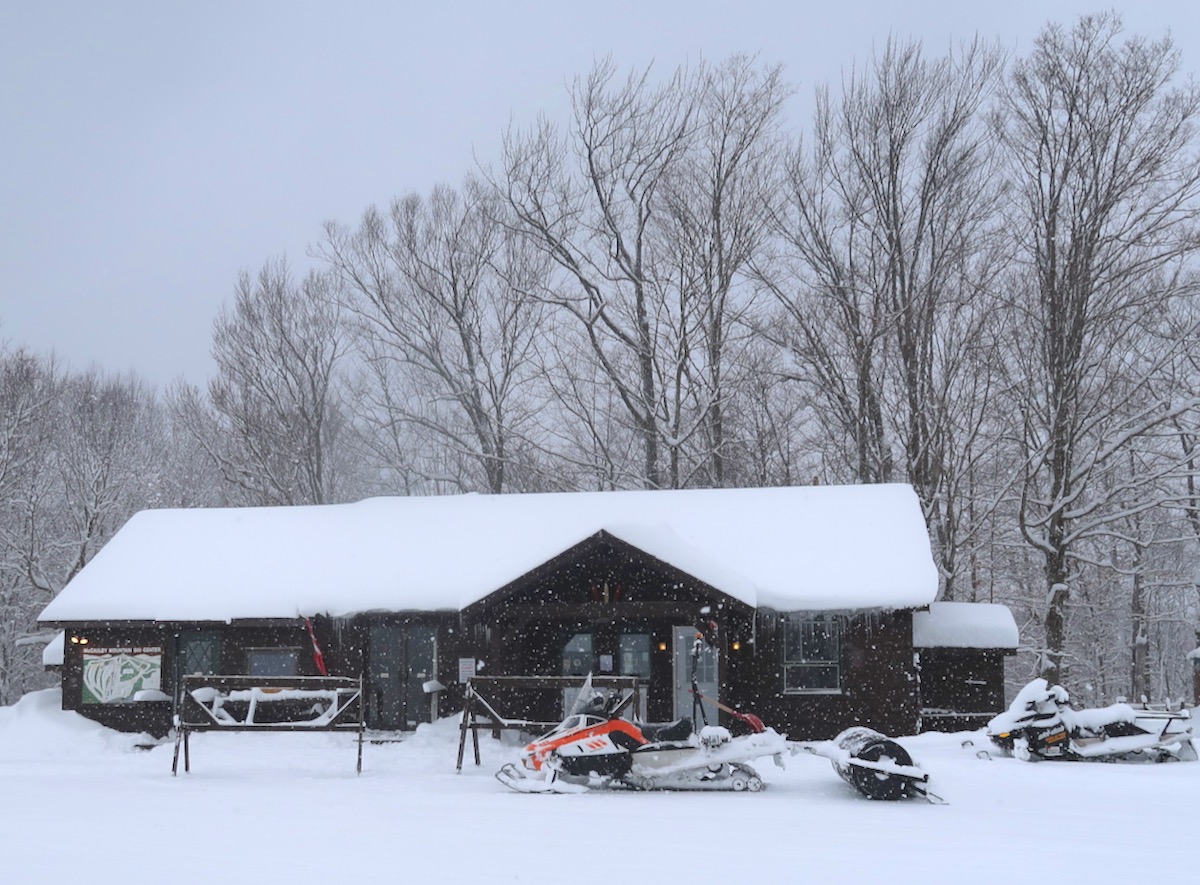 For the second time this week, Scottski and I started our adventure together at 5am at the Park and Ride in Saugerties NY. It's great for me to have a ski partner like Scott. We have the same goals, and a good chance to achieve them, when we work together.
As we drove past Albany, west into the Mohawk Valley, the ground was bare. When we reached Utica, we turned north on Route 12. Once into the southern Adirondacks, we started to see snow on the ground. In Forestport, as we turned on east on Route 28, the snowpack was deeper, and a few miles from Old Forge it started to snow. There was an intense band of snow coming off the lake, and McCauley was right in the middle of it.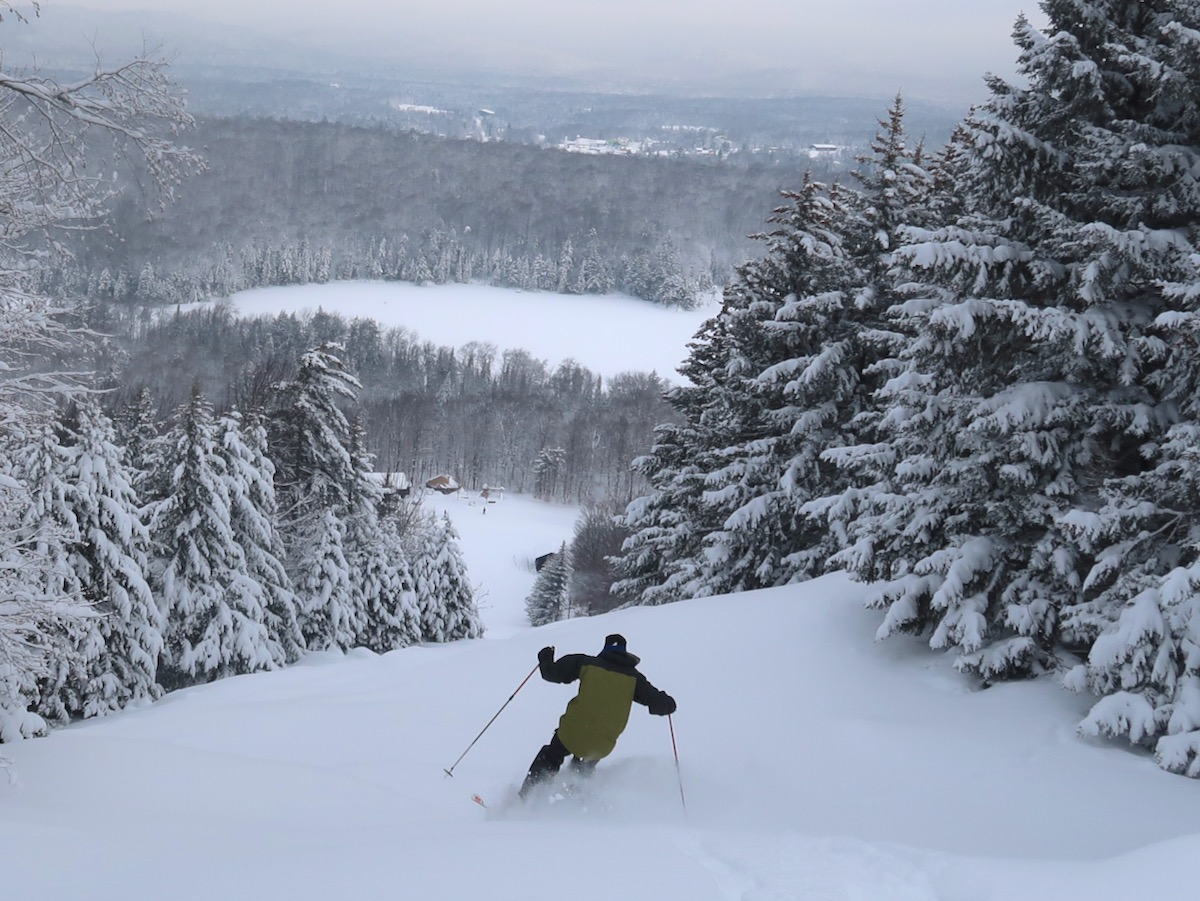 We arrived just after 8am, with first chair at 9. There was a foot of unplowed snow in the parking lot. We walked over to the lodge, booted up and went back outside to the ticket window. For the moment, it was partly sunny.
Stevie U, McCauley's affable GM, was in the yard and gave us a warm welcome. He said to us "if that chair starts to spin before we open for tickets, drop down and get on the lift, and tell them I said you could buy your ticket later." We'd entered fantasyland through the front gate.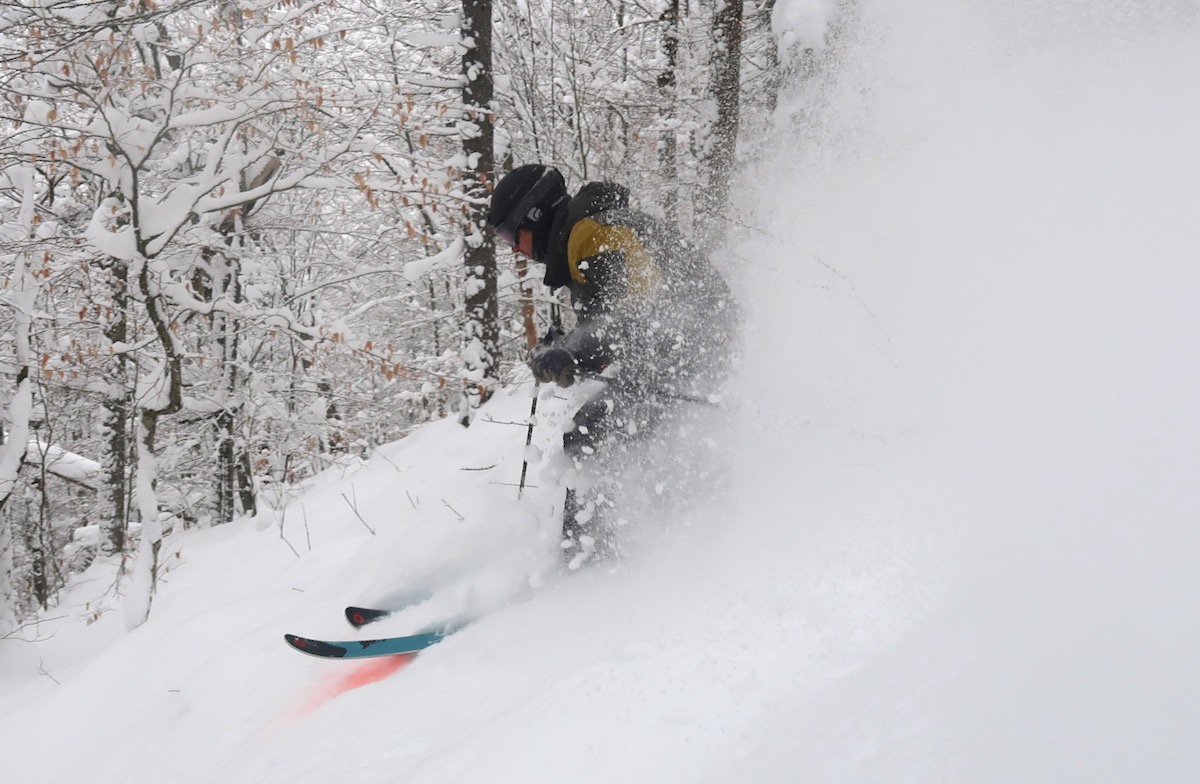 We rode that beautiful Hall lift, up and over Helmers, to the top. Everything looked deep. The locals we spoke to felt that, in places, there was no crust underneath, and in the steepest spots you might still hit bottom. Helmers was officially closed.
On our first runs Scott and I went left skiing DeCamp and Olympic. On the three front side expert trails, we found skiers left was relatively free of sharks. We followed a few simple rules. Ski fast, stay left and avoid the biggest rocks. For much of the first hour, there were maybe ten skiers on the hill. We conserved lines and barely crossed a track.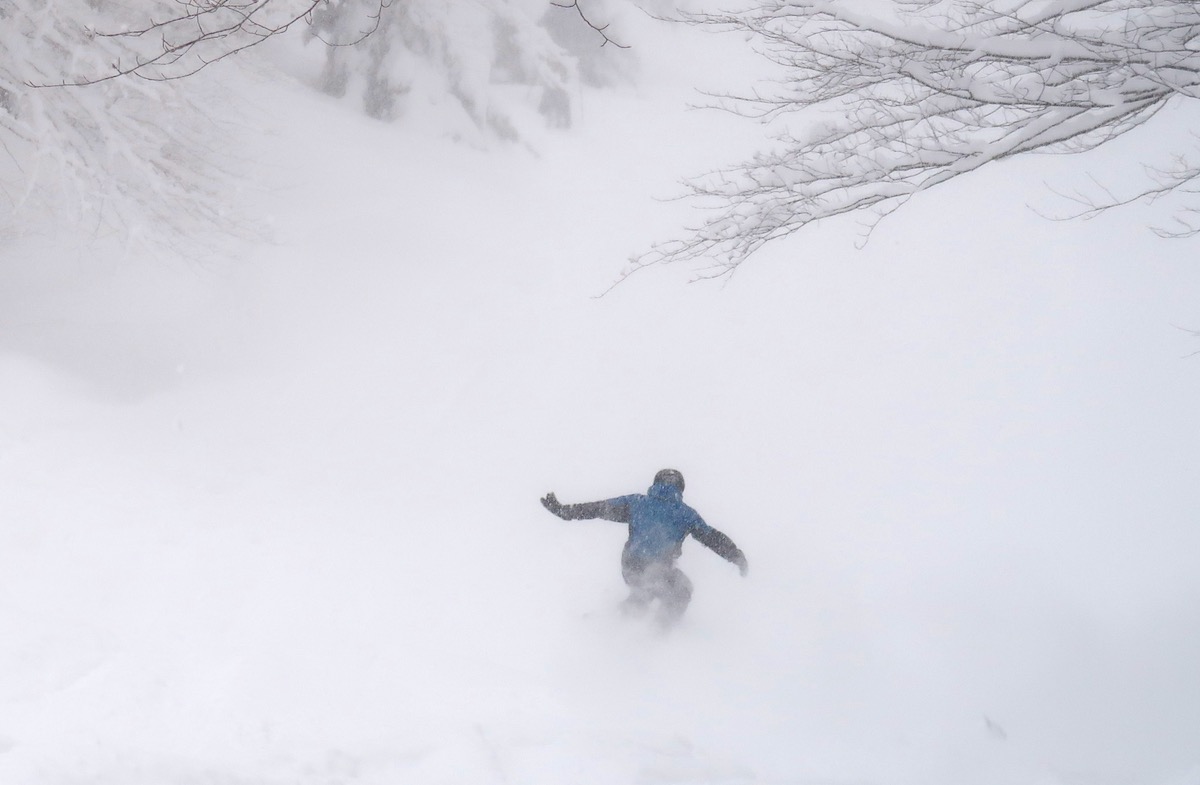 At 9:45 Stuart texted, they were behind us, coming up the lift. At the top we connected, and continued to ski those steeps. After some convincing the guys granted my request to go after the lower angle trees off Challenger.
Challenger provides access to much of the tree skiing down the front side. Ski straight downhill the liftline for a few feet, and then turn right on a green trail. Off the trail to the left are several acres of tree skiing. The sooner you drop in the steeper it is, ski farther down Challenger to access more mellow lines.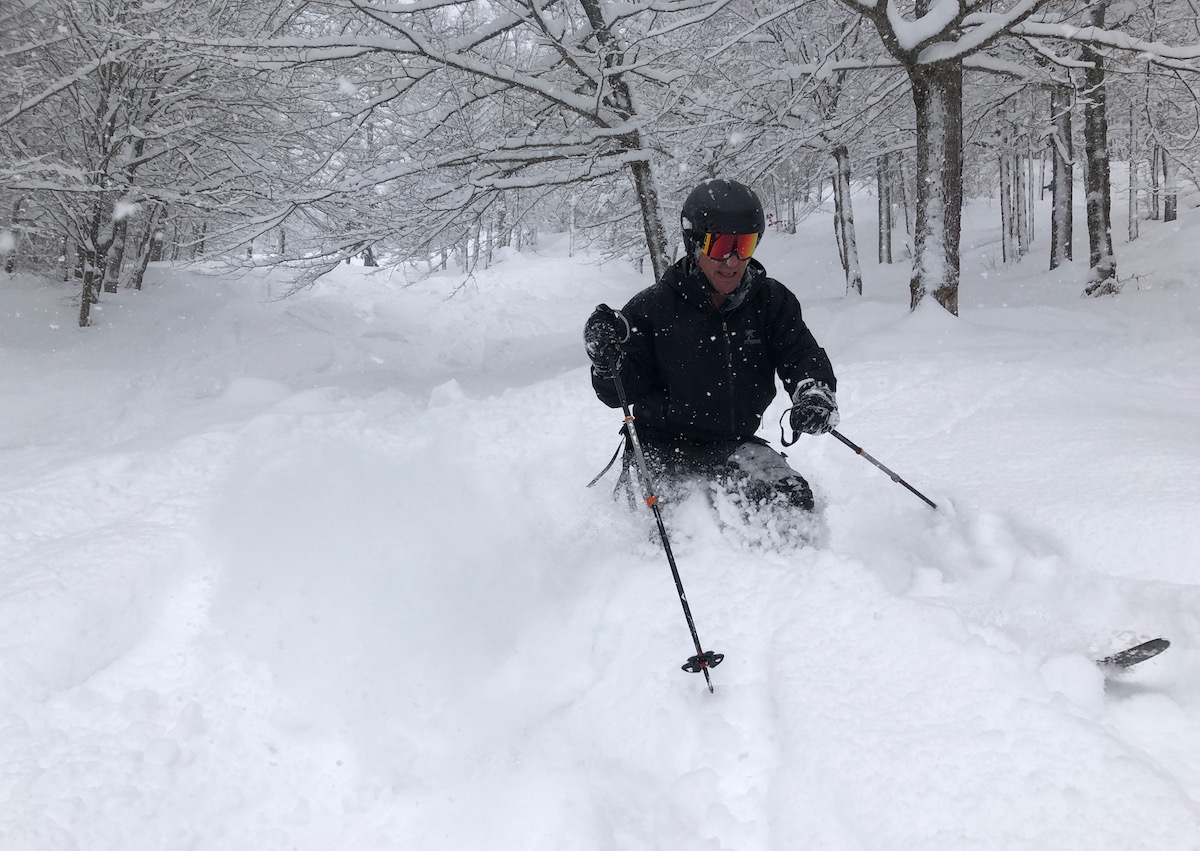 None could resist Barkeater, the steepest of the lines off that side. No doubt it is extremely tempting in great deep conditions. I pushed them to come down farther, but they could see no reason to pass up those steep and deep lines. I mean yeah, I do get it.
Eventually I did drag the guys down lower, and I think they were pleasantly surprised. After our first rip through God's Land Stu said "I'm sticking with you Harv." You could bound through those trees without a thought. There is a surprising amount of terrain in that section. Even at the end of the day, all along the length of Challenger, there were untracked lines to ski.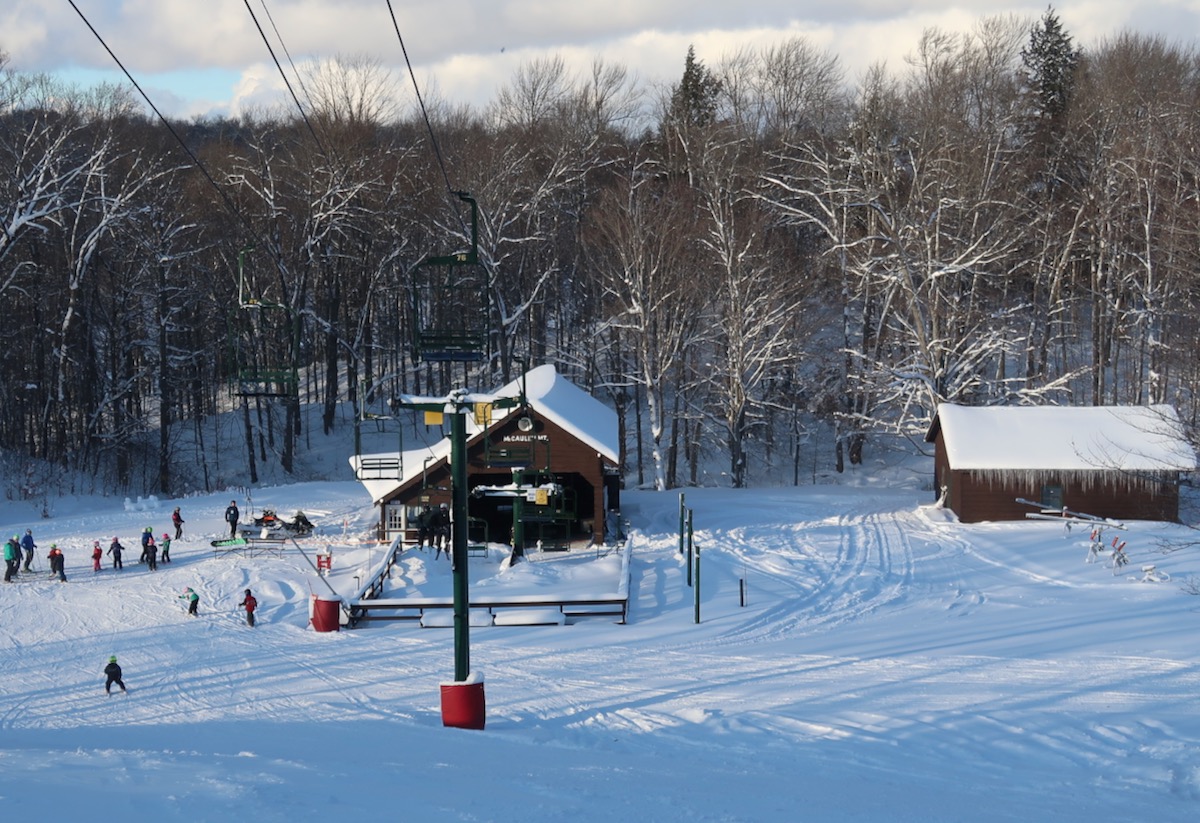 Throughout the day there were extended periods of heavy snowfall. We must have picked up another five or six inches after opening. At one point it was snowing so hard that we ducked into the trees, so we could see. Later we learned that the official 5-day total reported by the mountain was 27 inches.
It certainly felt that deep. The snow was surprisingly light too. Even cutup areas were exhilarating, easy to blast through and there was a bouncy quality to everything.
And the end of the day, with a long ride home ahead of us, we adjourned to the bar.  This was my fourth time at McCauley, but for the other guys, it was their first. Stuart said the day was possibly his best ever on the east coast. We raised a glass.
Way to go McCauley. New York represent!