At zero dark thirty on Sunday, I left NJ for Notchview Reservation in Windsor, Massachusetts. The mission: rendezvous with the usual suspects.
In Pittsfield, I stopped for breakfast at Otto's, across from the Berkshire County courthouse. Who ever heard of a Cuban omelet? It was tasty as well as novel, and the coffee was good. Then I set out for Notchview. Although I've skied there a half dozen times over the years, the last few miles are always a bit sketchy. "Hmmm, I think I turn right here."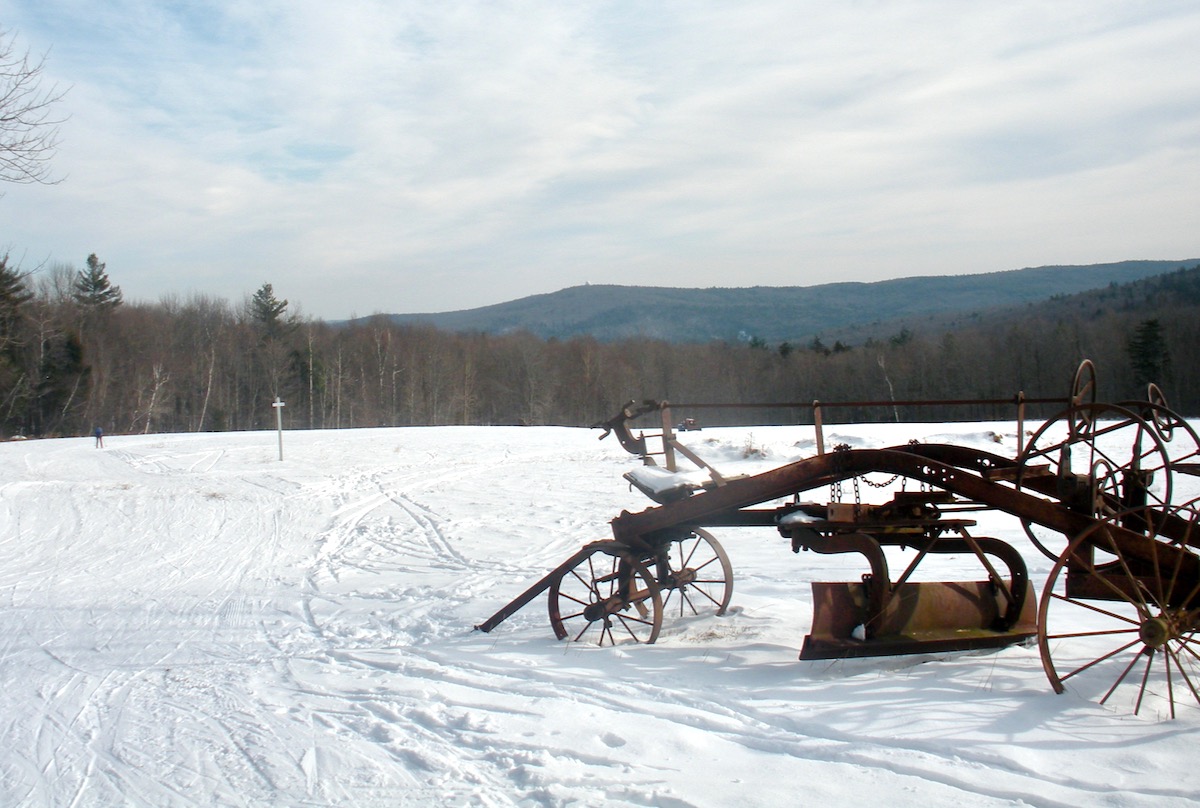 It's a long gradual climb through Dalton to Windsor. Situated atop a plateau, Notchview is 50 miles southeast of Vermont's Prospect Mountain, and 200 feet lower in elevation. The two ski centers share similar weather patterns.
Notchview is a 3000-acre property maintained by the Trustees of Reservations, a non-profit that manages multiple sites in Massachusetts for "public use and enjoyment, properties of exceptional scenic, historic, and ecological value." The bulk of Notchview was a bequest to the Trustees by the late Arthur D. Budd.
Bruce and Rob arrived a few minutes after I did. Members of the notorious Berkshire Boyz, I've been chasing after them in races for longer than I care to admit. We clipped in and set off.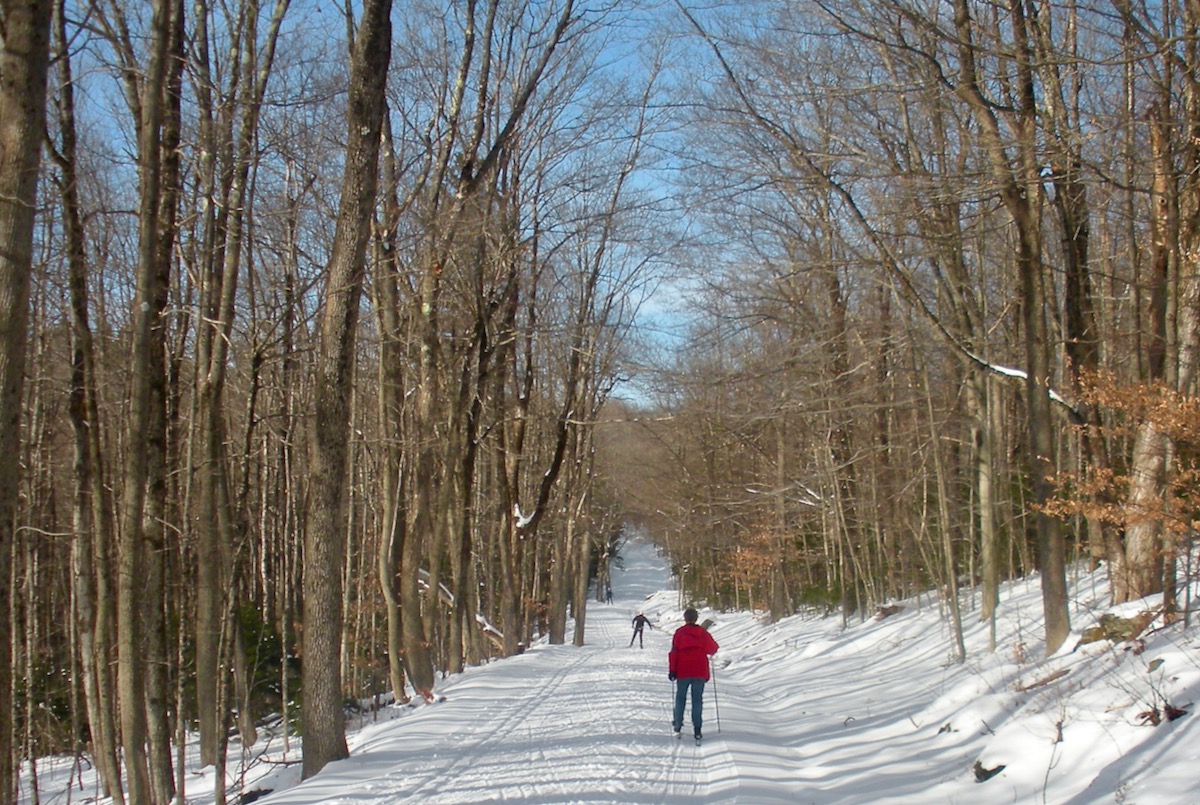 Leaving the lodge, the gradual downhill through open fields with apple trees was wicked fast on the cold early morning snow. There was just enough snow for decent coverage, with bits of grass poking up here and there. A crankin' left-right chicane led into the woods. Then we climbed up to a second field. The trail slithered downhill back into the woods. In flat light, it can be hard to follow, and I've seen that final turn into the woods eat more than one athlete during a race.
Old stone walls crisscross the property, through spruce, fir, and hardwood. Crumbling foundations and cellar holes testify to past efforts to farm this hardscrabble country. Some of the land shows signs of logging.
Gradually, we ended up on Bates Road, the highest point of Notchview's trail system. Bruce pointed out the notch in the low, folded hills to the south that gave this place its name. We plummeted back down to Shaw Road. Bruce and Rob had to keep it short, but as they headed back to the lodge, I ran into Joe and Lisa, and went back out with them.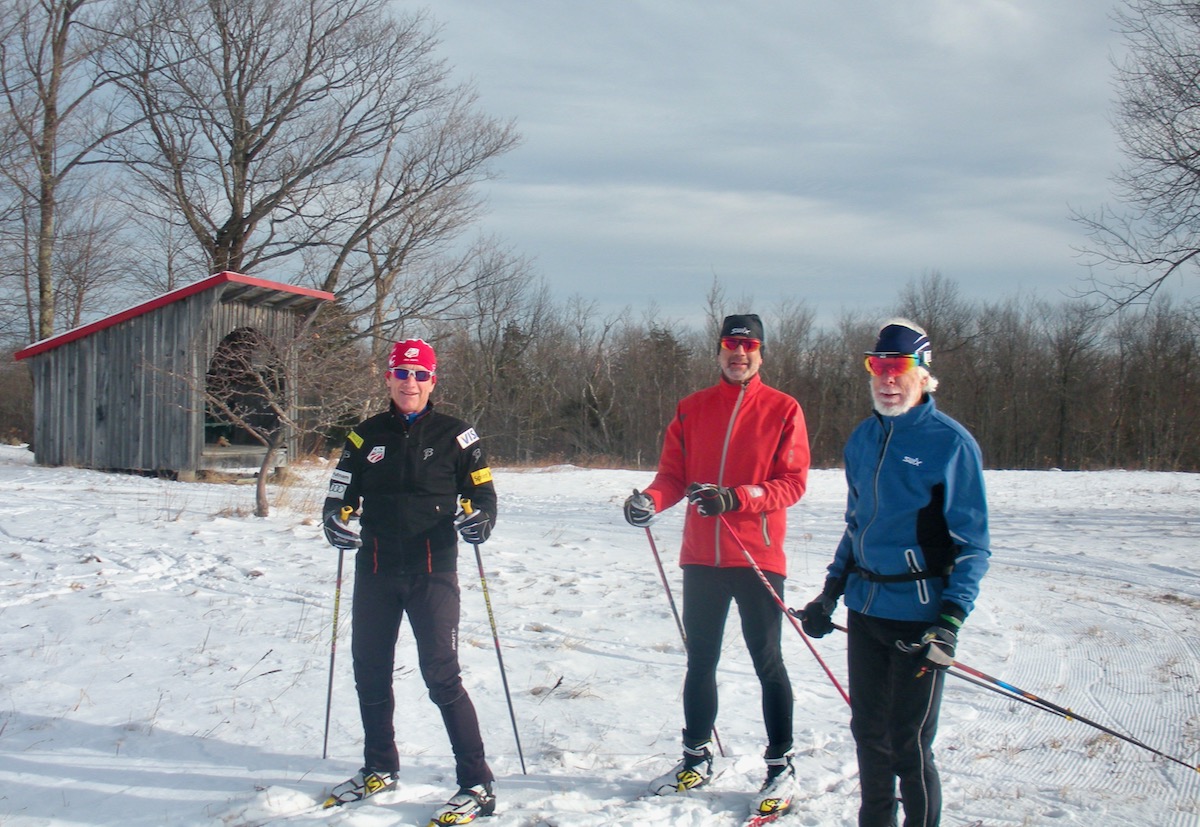 A second trip to Bates Road left me gassed and starving, so Joe and I descended back to the lodge. After lunch, I went back out, but didn't see any friends. After another 90 minutes, and I was fried, so I packed it in for the ride home.
In addition to its groomed trail system, Notchview has several backcountry trails where you can put in the tracks yourself. The lodge offers chili, yogurt, and hot drinks, but if you need a substantial lunch, I'd recommend brown bagging it.
Notchview has an only-in-New-England vibe: the combination of wooded trails with open fields and views for miles that one sees further north. For me, this part of the world — western Massachusetts and southwest Vermont — has a magical quality that I really can't describe. I've driven west from Interstate 91 on Route 2, a steady climb before the drop into North Adams, and it seems like a different world. I've gotten myself good and lost in Savoy State Forest and Monroe forest go to or leaving trail races.
The hills, the weather, the quality of light make it a special place for me.