What is the climate of New York State?
Using the Köppen Classification system, the climate of New York state is primarily humid continental, while the southeastern portion of the state — New York City, Westchester County and Long Island — lie in the warmer humid subtropical climate zone. The urban heat island in New York City is responsible for temperatures that average 5°F higher than the surrounding areas, especially at night.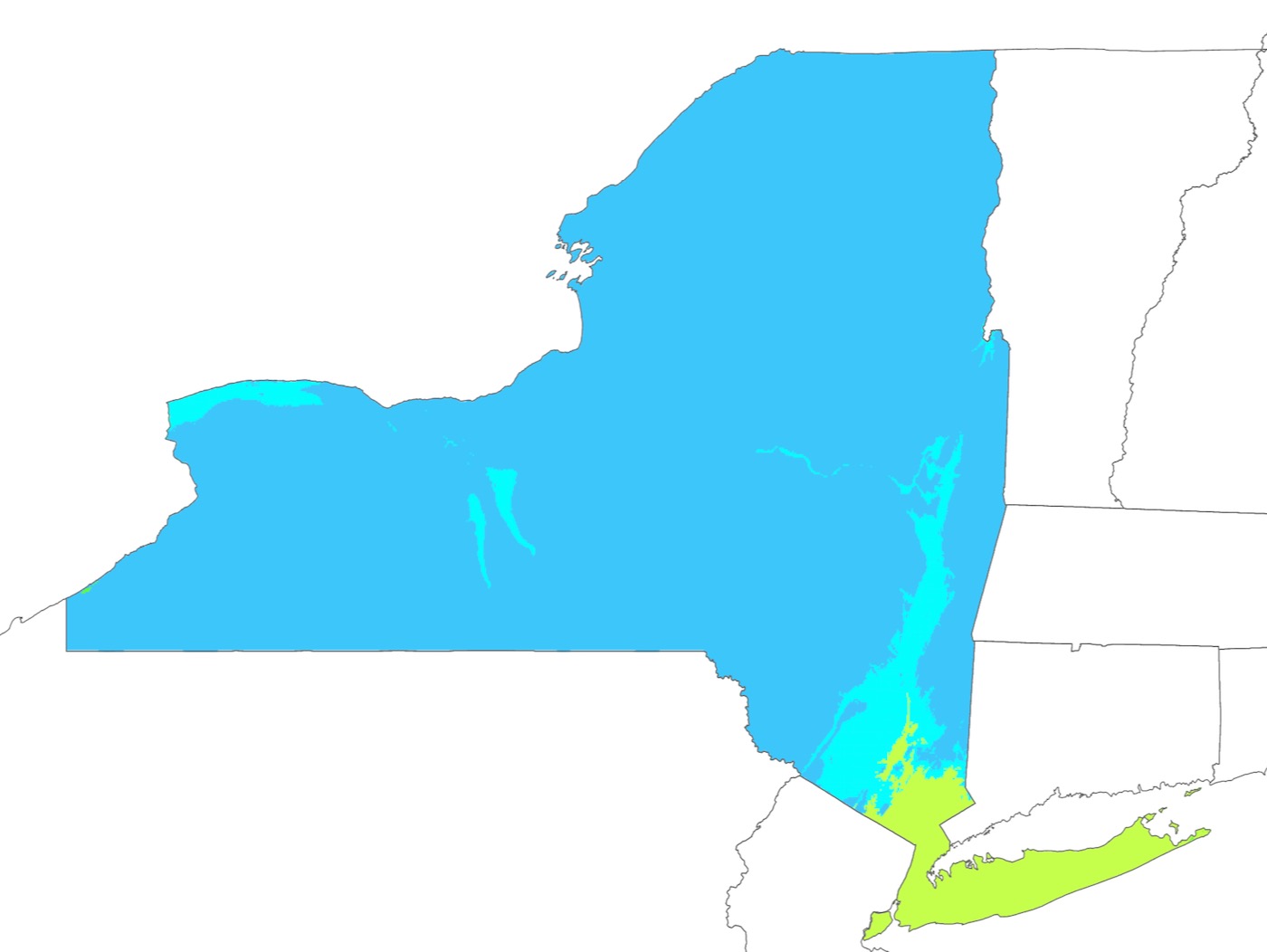 Generally two types of air masses impact New York state weather: warm and humid air from the southwest and a cold and dry air from the northwest. Upstate New York has warm summers and long and cold winters with significant snowfall. Downstate is warmer and more humid in the summer with cold and wet winters. Downstate winters are mild compared to those upstate due to lower elevation, lower latitude, and proximity to the Atlantic Ocean.
---
Temperatures and Seasons
The annual average temperature in New York is approximately 45°F across the state. It ranges from 39°F in the Adirondacks to 55°F in New York City.
Winter
Winter temperatures average below freezing during January and February in much of New York state, but several degrees above freezing along the Atlantic coastline, including New York City. Temperature differences between the warm coastal areas and northern inland regions can be 30°F or more.
Winter conditions prevail from November through April in northern New York, and from December through March in southern part of the state.  The Adirondacks are the coldest part of New York State, almost always below freezing in the winter. High temperatures are generally 20°F. Nights are can be frigid, often hovering around 0°F.
Most of Central New York,  the Mid-Hudson Valley, and the Catskills have temperatures that are milder, with highs between 30-35°F. Nights are cold but not frigid, around 20°F.
New York City, the lower Hudson Valley and Long Island are the warmest in New York state because of warmer ocean temperatures which keep highs for these areas around 40°F. Nights typically range between 20-25°F.
Summer
Summer in New York state varies significantly by region. In upstate New York, summer-like conditions prevail from June to early September, while areas in far southern New York and New York City have summer conditions from late May through late September.
The summer climate is cooler in the Adirondacks due to higher elevation and latitude. The Adirondacks typically experience pleasant dry weather in the summer, with temperatures ranging from 65°F-75°F. Evenings in the Adirondacks can be chilly, with temperatures ranging on average between 45°F-55°F.
Much of the rest of the state including Western New York, Central New York, the mid-Hudson Valley and the Catskills have more moderate temperatures but are usually humid, with high temperatures ranging 80°F-85°F.
New York City and the Lower Hudson Valley are more sultry with higher temperatures and dew points. Daytime highs are often above 85°F, but cooler near the ocean. Nights can be warm and muggy.
Heat Waves
In New York, heat waves are defined as at least 3 consecutive days with high temperatures above 90°F.  The longest heat wave in NY history occurred in New York City over 12 days beginning on August 23, 1954. A 10 day heat wave, beginning in NYC on July 7, 1993 was notable for 3 consecutive days above 100°F.
Heat waves are common in New York state, occurring on average, two times each summer. The Adirondacks is often spared oppressive temperatures during many heat waves.
Precipitation
New York precipitation amounts are relatively steady throughout the year. The statewide precipitation average is 46″ with the highest amounts of rain and snow falling downwind of Lake Ontario and Lake Erie, in Lewis, Oneida, Hamilton and Ulster Counties. The lowest amounts occur near New York's northern borders with Canada and Vermont, and New York's southern tier.
---
---
In the warmer months, thunderstorms accompany cold fronts from the northwest. Occasionally tropical storms move up the coast and impact the state in the summer and fall. Hurricanes reach the state about once every 20 years, with major hurricane impacts every 70 years. An average of ten tornadoes touch down in New York annually.
Snowfall
NY State snowfall varies by region.
Lake effect snow falls primarily in Western New York and the western slopes of the Adirondacks. These snow events can be very localized with some areas getting multiple feet of snow while others get none at all. Tug Hill and the Adirondacks see the most lake effect snowfall because of higher elevations and proximity to the lakes. Some areas see as much 200 inches per year or more.
Extratropical cyclones, known as nor'easters, can bring large amounts of the wintry precipitation to the New York during the cold season as they track parallel to the coastline.
Western and Central New York get between 75-150 inches per year depending on location of lake effect bands. The Catskills have average annual snowfall of 50-100 inches with much of it from nor'easters. The Finger Lakes can also generate some lake-effect precipitation.
New York City, Long Island, and The Hudson Valley see the least amount of snowfall  — less than 25 inches — because of lower elevations and proximity to the warm waters of the ocean. Here precipitation from nor'easters is often mixed with rain. In addition the mountains of New York shield the city from lake-effect snow.
Cloud Cover
Cold-air damming, between October and April, can produce cloudy skies and rain east of the mountains; Western New York is even more overcast compared to downstate due to proximity to the lakes. Southeastern sections of the state are sunnier with an average annual cloud cover of 60%, while western New York and Buffalo have cloud cover over 70%.
---
Sources:
• prism.oregonstate.edu
• www.weather-us.com
• wikipedia.org
• www.weather.gov/okx/
• nysc.eas.cornell.edu