The climate of New York is marked by relatively abundant snow. Over 60 percent of New York's area, the average snowfall is greater than 70 inches. Much of the winter precipitation in upstate New York falls as snow. The moderating influence of the Atlantic Ocean reduces annual snowfall totals below 35 inches in the New York metro area, and on Long Island.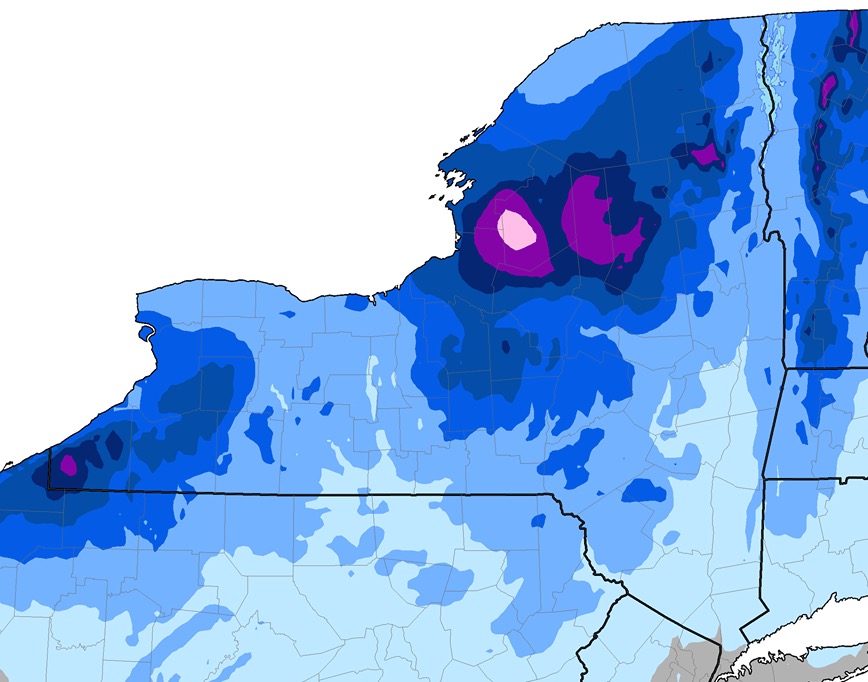 Topography, elevation, and proximity to large bodies of water result in a great variation of snowfall in the state's interior, even within relatively short distances. Maximum seasonal snowfall, averaging more than 175 inches, occurs on the western and southwestern slopes of the Adirondacks and Tug Hill. A secondary maximum of 150 to 180 inches prevails in the southwestern highlands, 10 to 30 miles inland from Lake Erie.
Three other areas of the state record heavy snow accumulations, averaging from 100 to 120 inches:
The uplands of southwestern Onondaga county
Northern Otsego and southern Herkimer counties
The Catskill highlands in Ulster, Delaware, and Sullivan counties
Snow in the Mountains
In the mountainous areas, snow measurements are taken in valley locations.  Ski areas almost always have relatively high base elevations — 1500 feet or more — and generally report higher totals.
In northern New York, the Adirondack region has an average seasonal snowfall in excess of 90 inches, but amounts decrease to 60 to 70 inches in the lowlands of the St. Lawrence Valley and to about 60 inches in the vicinity of Lake Champlain. In the Catskills, while temperatures are warmer, the same is also generally true, higher snow totals at the mountain bases then in the villages, and far more than falls in the Hudson Valley.
Whiteface, Gore, Plattekill and Holiday Valley all claim significantly higher totals then the associated villages below. Even after you account for marketing inflation, totals are usually higher than those reported at an official weather station in town. Elevation matters.
Lake Effect Snow in NY
Snow produced in the lee of Lakes Erie and Ontario is a prominent and important feature of New York's climate. As cold air crosses the unfrozen lakes, it's warmed in the lower layers, picks up moisture, and reaches the land in an unstable condition. Precipitation in the form of snow is released as the air moves inland over gradually sloping higher terrain.
Much of the state's lake effect falls on two
NY plateaus
; the Alleghany Plateau is east of Lake Erie and Tug Hill is east of Lake Ontario.
Heavy snow squalls can occur, generating from 1 to 2 feet of snow and occasionally 4 feet or more. Lake effect snowfall often extends into the Mohawk Valley and inland as far as the southern Finger Lakes and nearby southern tier of counties.
Counties to the lee of Lake Erie are subject to heaviest snow in November and December. As the lake surface gradually freezes by midwinter, these snows diminish.
Areas near Lake Ontario, especially those to the southeast and east, are exposed to severe snow squalls well into February. Ontario is deeper than Erie and generally retains considerable open water throughout the winter months.
In the snow belts of both lakes and the plateau regions of eastern and northern New York, monthly snowfall amounts in excess of 24 inches are experienced in most winters and accumulations of more than 50 inches within 2 consecutive months are not uncommon. Much of the total annual liquid precipitation is a result of snowfall in the mountains.
The NY Metro and Long Island
Monthly accumulations of between 3 to 10 inches usually occur in New York City and Long Island during the winter season, but occasionally the amounts may exceed 20 inches as a result of coastal nor'easters. According to the National Weather Service, the top five all-time snowfalls in Central Park all recorded totals above 20 inches.
New York's Snowfall Season
Snow cover usually begins to develop in the Adirondacks and northern lowlands by late November and remains until some time in April, depending upon late winter snowfall and early spring temperatures.
The Southern Plateau, Great Lakes Plain in southern portions of western upstate New York, and the Hudson Valley experience snow cover from about mid-December to mid-March, with maximum depths usually occurring in February. Bare ground does occur in the lower elevations of these regions during some winters.
From late December or early January through February, the coastal region of the state experiences alternating periods of measurable snow cover and bare ground.
Primary source: Cornell.edu. Maps from NWS BTV and NWS BUF.
---
---
New York State Snowfall by City
| | | |
| --- | --- | --- |
| City | Days of Snow | Avg Snowfall" |
| Old Forge | 69.5 | 177.3″ |
| Syracuse | 66.4 | 123.8″ |
| Watertown | 43.4 | 112.1″ |
| Lake Placid | 53.6 | 103.0″ |
| Rochester | 69.5 | 99.5″ |
| Jamestown | 42.5 | 97.5″ |
| Buffalo | 61.0 | 94.7″ |
| North Creek | –.- | 90.9″ |
| Utica | 56.5 | 88.3″ |
| Binghamton | 64.5 | 83.4″ |
| Niagara Falls | 52.8 | 76.1″ |
| Massena | 52.4 | 69.4″ |
| Glens Falls | 31.5 | 68.0″ |
| Ithaca | 43.9 | 64.4″ |
| Saratoga Springs | 26.8 | 62.4″ |
| Albany | 34.8 | 59.1″ |
| Elmira | 21.2 | 37.9″ |
| Poughkeepsie | 13.5 | 32.8″ |
| New York City, Central Park | 11.1 | 25.1″ |
Source: NOAA's 1981-2010 Climate Normals