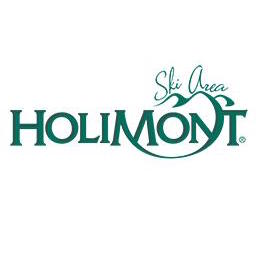 HoliMont Ski Area is a semi-private resort located in Ellicottville, New York. From the center of town, the "Greer" run can be seen overlooking the Village and is one of the oldest ski runs in Western New York, c. 1938. Its neighbor over the hill is Holiday Valley, another fine destination in Ellicottville. The resort has snowmaking on 100% of its trails except for the glades. There are 52 slopes serviced by 1 high-speed quad, 4-double chairs, a triple and a magic carpet. HoliMont is currently in the midst of an expansion dubbed "Westmont Ridge" that will have an additional lift and a chalet added in the future.
This is a family-oriented place to ski with many beginner and intermediate trails to choose from along with some nice expert terrain as well. It has a very active racing and freestyle program too. There is 700' vertical upon which to ski (daytime only!) and the snowmaking is second to none and has its own patented snowmaking process, which is used across the States and abroad. During the weekdays, the resort is open to the public, while during the weekends, it is members or their guests only that are permitted.
Some of the best skiing days of the year are during the week when you will never encounter a lift line requiring you to wait longer than 30 seconds to get back to the untracked snow as there will be very few people skiing. Beware-if you seek untracked snow, you'd best be in the lift line when the chairs begin to spin as the retired members are likely to beat you to the goods! Hint: "Exposition" opens first on weekends at 8:30, the rest open at 9.
The terrain varies from steep ("Greer") to mild ("Meadow") to beginner ("Chipmunk" and "Rabbits Run"). This is an area full of a lot of very accomplished, expert skiers, and a lot of telemark skiers. When it dumps, head for the glades located off "Punch Bowl," "Sunrise" or "Sunset" for fun. There are two terrain parks, one for beginner/intermediates while the other is for advanced/expert skiers. There is also a half-pipe and groomed cross-country skiing on-site.
The chalet is one that welcomes and encourages family picnics with plenty of shelving next to numerous electric outlets to plug in your crockpots/fondue pots for later. There are large gas grills out back always at the ready as well as a full menu cafeteria supplying breakfast and lunch items as well as hot drinks/wine/beer. The atmosphere is very friendly and welcoming. It is a resort where you do not need to worry about being separated from your children as this is a place where no such fears exist.
HoliMont is easily accessible via NYS Rte 90 to 219 South from the East and 90 to Rte 86 to 219 from the West. It is located approximately 50 miles south of Buffalo; and, 80 miles east of Erie, PA.
by Scott Printup
---
Holimont Trail Map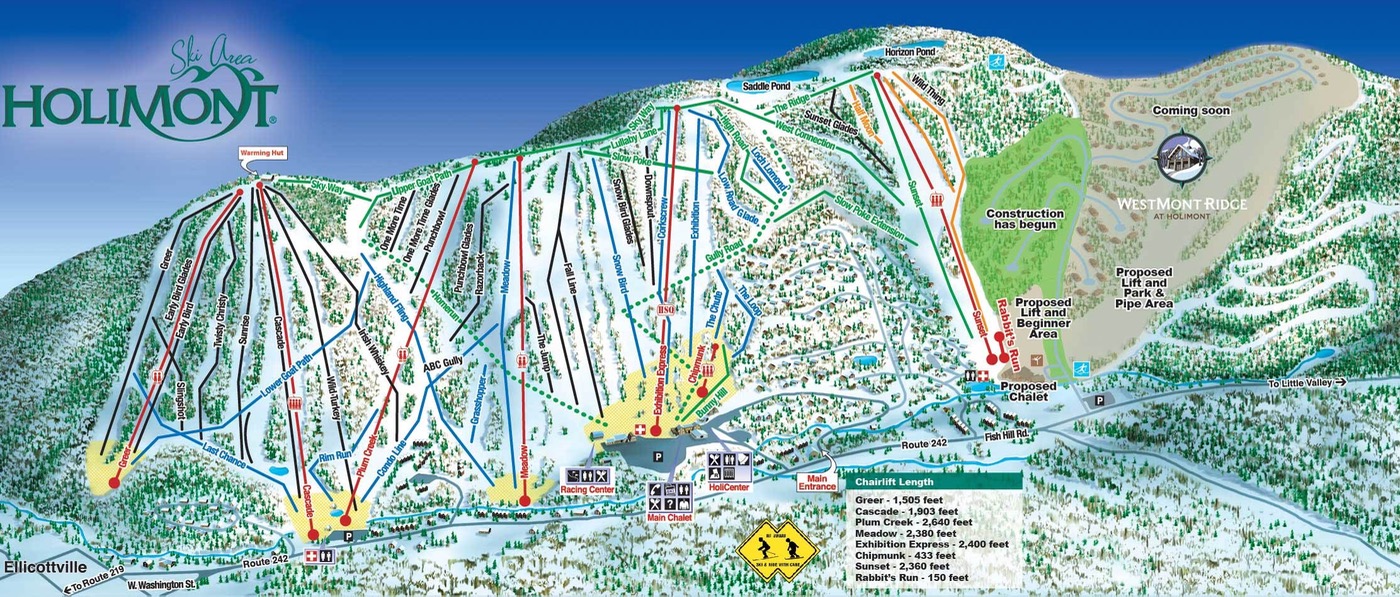 ---
Holimont Vertical Drop and Stats
| | |
| --- | --- |
| Summit Elevation | 2,260 feet |
| Base Elevation | 1,560 feet |
| Vertical Drop | 700 feet |
| # Trails | 52 trails |
| Trail Miles | XX miles |
| Longest Run | 7,920 feet |
| Skiable Area | 135 acres |
| # Lifts | 8 lifts |
| Uphill Capacity | 13,000 / hour |
| Annual Snowfall † | 180 inches |
| 10 Year Avg* | 110 inches |
| 10 Year High** | 147 inches |
† Advertised annual snowfall
* Reported average seasonal snow total 2012 – 2022
** Highest reported seasonal snow total 2012 – 2022
---
Holimont Ski Day Checklist