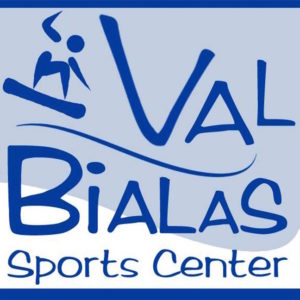 Val Bialas Ski Center, has 250 feet of vertical, with of three trails tucked in between the Utica Zoo and a private cemetery on the steep ridge above downtown Utica. Down at the bottom is the city's Parkway Center, with its tennis courts, indoor basketball court, senior-center gym, and a tiny chalet that most of the year is a community space.
If you've ever driven south off the Thruway toward New Hartford on a snowy day, you might have wondered what that white hill was. It's Val Bialas.
The city of Utica has not invested in snowmaking equipment for Val Bialas. As a skier, that's disappointing, but as a taxpayer, I can't say that's unreasonable for a city still recovering from losing its industrial base and with many far higher priorities. The city runs the chairlift and rope tow when the base builds up. That means, in the four years I've lived here, a few weekends a year. Once, on mild bluebird-sky Sunday, I bought a ticket; it was $15.
My go-to kit for the hill is Madshus Epochs, Alpina Alaskas and Voile three-pin bindings with the removable cable — a classic waxless XCD set-up that's a nice compromise between enough power to make sure turns and light enough to kick and glide to the top of the hill when the lift isn't running.
The zoo-side trail is a go-to warm up, with an undulating pitch and a nice, long run, all in view of the lions on the other side of the double fence.
The Cemetery trail beneath the chairlift evidently hadn't been recently mowed, and tall brush sticking up through the snow left it unfit to ski. This was in contrast to a Sunday morning in February, when, with afternoon obligations ruling out an out-of-town trip, I'd taken my big telemark rig out and enjoyed a few runs on untracked snow about a foot deep on a cold blue-sky day.
I've seen historical photos from, I'd guess, the early 1960s, when the zoo-side trail, also known as Big Val, was crowded with folks in long hickory planks, all looking like they were living it up in their hometown. Word is Val had a heyday during the big winters of the '70s. It must have been something.
Val may not worth the trouble for most skiers and snowboarders. The close-by hills of Woods Valley, Snow Ridge and McCauley offer more challenge and bang for not only the buck but the effort to gather the gear and drive a bit. This is no destination resort.
And while we can dream of a starter hill for city kids along the lines of Steamboat's Howelsen Hill or Buck Hill in the Twin Cities, there's no rental gear, and without snowmaking, opening is far too inconsistent to plan lessons and learn-to-ski programs.
The city has a groomer and when the snow is good, sometimes smoothes out a swath from the lodge up the main trails and through the vast Conkling Park, which includes the Robert Trent Jones-designed Valley View golf course and the South Woods Switchbacks, a gravel path that traverses up a hill for a great cross country venue in good snow periods. We could, in theory, have a little small-urban Whitegrass Touring Center on our hands.
---
---
Val Bialas serves its purpose. There are better conditions and longer, more exhilarating runs up in the Dacks, but this little outing requires no driving, no logistical juggling, no route-finding, no gas, no carbon emissions. It's an all-natural, all-earned, and at home.
The guys in REM sang about thirty years ago. "Stand in the place where you live!" In this, another season that's all about making the most of what's close at hand, it's a theme.
---
Val Bialas Trail Map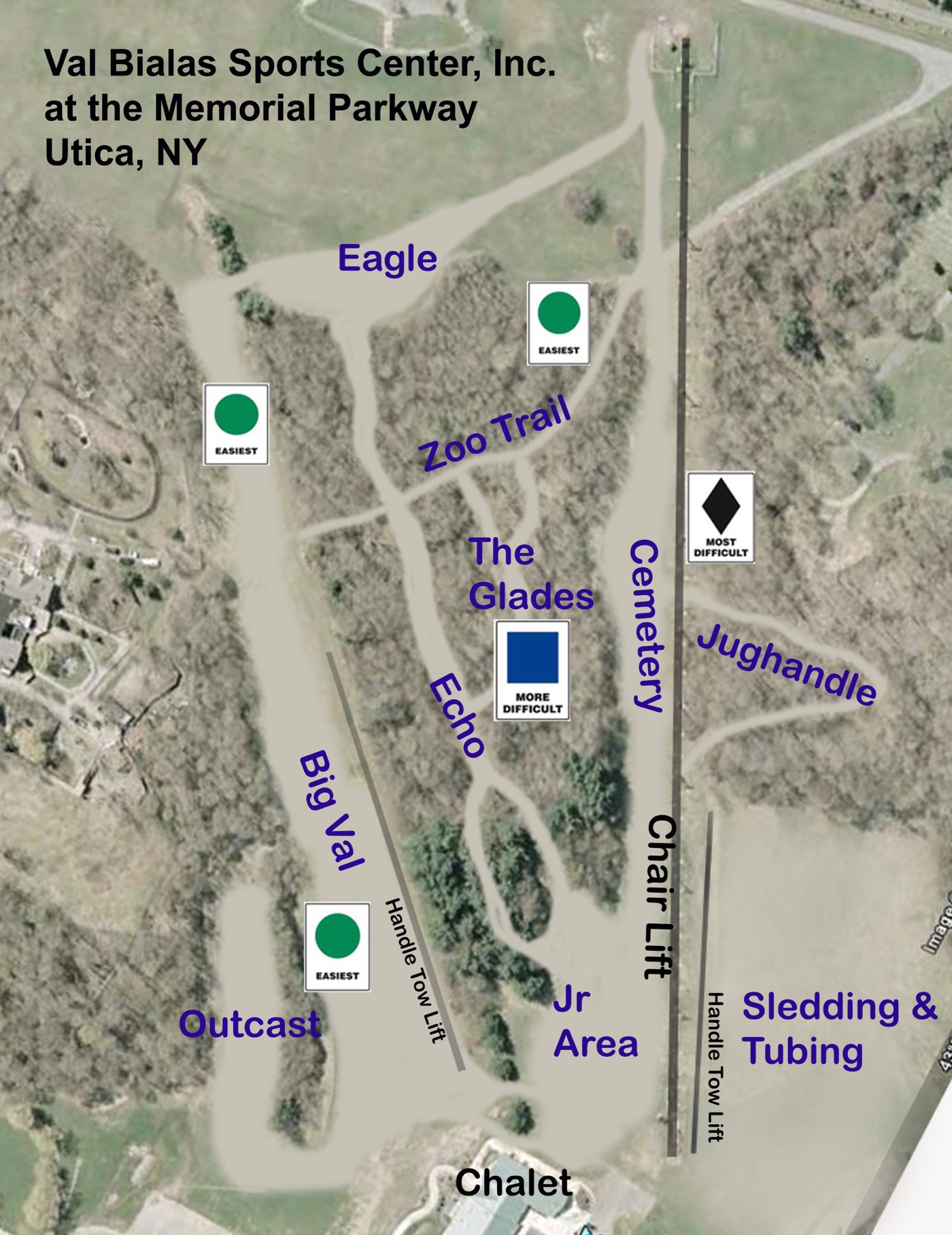 ---
Val Bialas Stats
| | |
| --- | --- |
| Summit Elevation | 820 feet |
| Base Elevation | 575 feet |
| Vertical Drop | 245 feet |
| # Trails | 5 trails |
| Trail Miles | 1.1 miles |
| Longest Run | XXX feet |
| Skiable Area | XX acres |
| # Lifts | 4 lifts |
| Uphill Capacity | XXX / hour |
| Annual Snowfall | 96 inches |