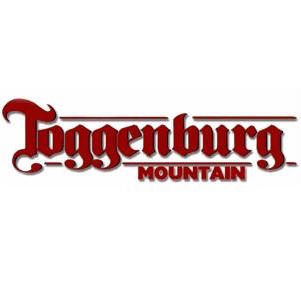 Toggenburg Mountain Ski Center was on Toggenburg Road just off NY Route 80, one mile east of the Village of Fabius. Family owned and operated, it was friendly mountain with many generations of skiers on the slopes. Togg was a clean and well maintained ski area and lodge. Parking was free and easy with drop off and handicap areas.
At Toggenburg, the vertical drop was 760 feet, the trails are 25% of the easiest variety, 50% more difficult, and 25% most difficult. Two double chairs right outside the lodge will move you quickly. A triple chair served the most difficult terrain and there you'd rarely find a line of more than a minute or two.
The ski school was well-run and they had an active ski patrol. Many packages options were available for your family to learn to ski or have all day supervision on the hill for young ones. During the week you'd find local schools with ski club programs.
Nastar had club racing and a timed course where you could take runs on for a small fee. This all made Togg a fun place for families. Ticket prices were normal for the area and discounts were available by joining a ski club or buying your passes at area ski shows preseason. Onondaga ski club members could ski any day with their pass with a saving of close to 40%.
The terrain park was nicely laid out and not over regulated. There is no extra charge for it.
Toggenburg had 21 trails, including two terrain parks, serviced by five lifts. Ski tuning, equipment rentals and childcare were available on site.
The Foggy Goggle Restaurant and Sports Bar was acclaimed as one of Central New York's finer eateries. You could find the normal mix of sports bar foods but also you will specials like oysters, Thai shrimp creations or a free range lamb burger. The Chili won many awards and the buffalo blue cheeseburger with shore string onion rings was always a hit. The cafeteria has the normal choices and food is better than most others. Toggenburg has wi-fi in the cafeteria and mezzanine. (The Foggy Goggle, however, was reserved for dining only.)
The "Chilly Choices" Ski Shop offered a nice selection of clothing and accessories.
---
---
In 2015 the owners of Greek Peak purchased Toggenburg. In July of 2021 they sold the mountain to Intermountain, the owners of Song Mountain and Labrador. Included in that sale was a covenant that dictated that Toggenburg could no longer be operated as a ski area. In addition there was a stipulation that employees of Togg couldn't be employed by Intermountain. This was met with great dismay by skiers and riders in Central NY. In October of 2022, New York state deemed this to be anti-competitive, unfair and illegal.
At this time Toggenburg remains closed. Prospects for reopening look slim, as much of the infrastructure has been sold off.
by John Henry and NYSkiBlog
---
Toggenburg Trail Map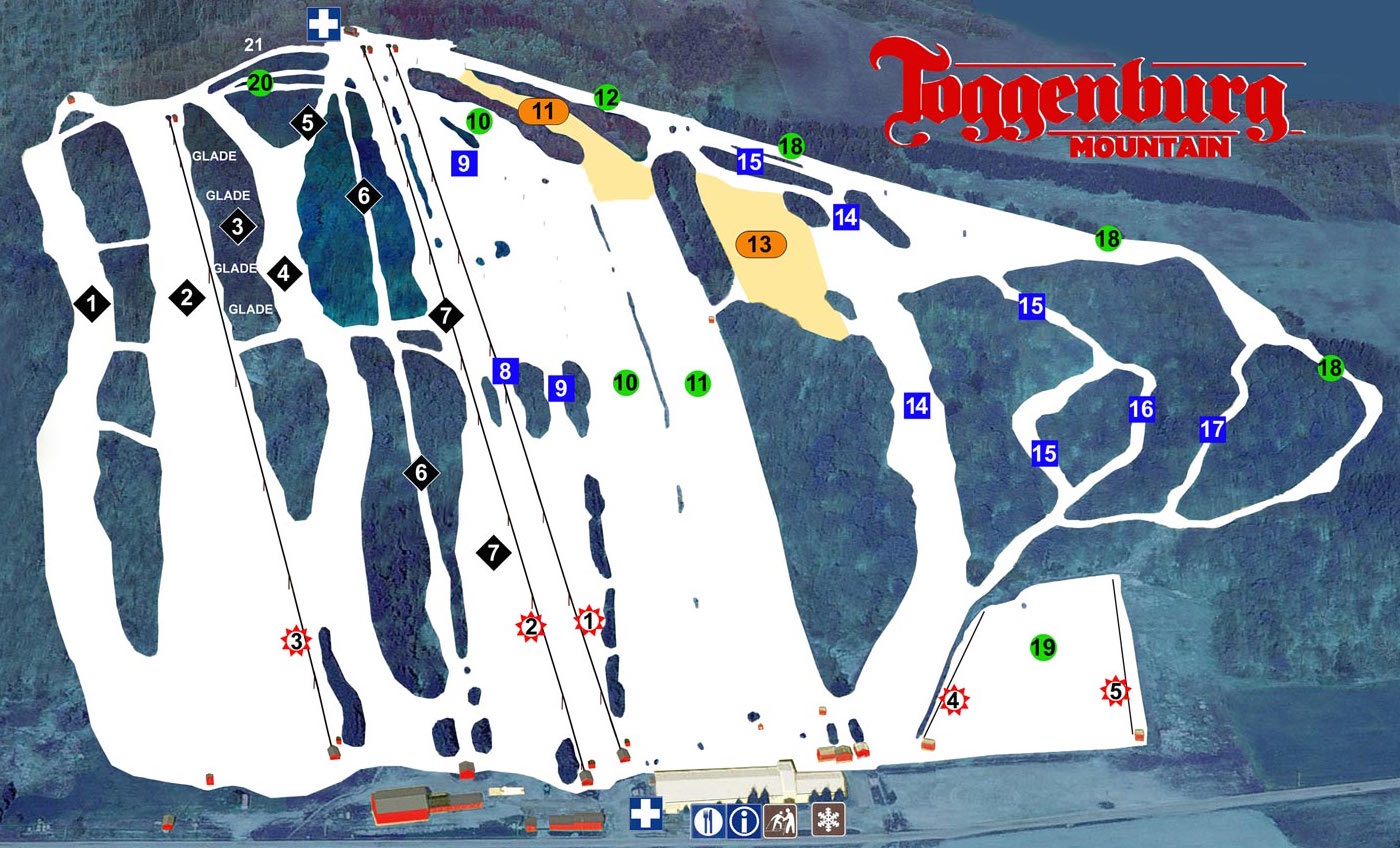 ---
Toggenburg Vertical Drop and Stats
| | |
| --- | --- |
| Summit Elevation | 1,780 feet |
| Base Elevation | 1,020 feet |
| Vertical Drop | 760 feet |
| # Trails | 22 |
| Trail Miles | XX |
| Longest Run | 5,280 feet |
| Skiable Area | 83 acres |
| # Lifts | 5 |
| Uphill Capacity | 6,400 / hour |
| Annual Snowfall | 120 inches |