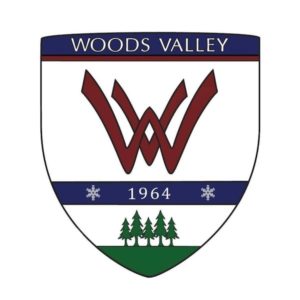 Overlooking Delta Lake and the Black River is Woods Valley. The privately owned resort has operated since 1964 and is still owned by the Woods family. The newly renovated lodge contains the Taproom 46 Bar, cafeteria, rental shop, gear shop and ski school.
Woods has invested heavily in its beginner areas, making it a good place to get started on skis or a board. Woods also has a large tubing area, equipped with a magic carpet for those not looking to ski. In 2020 Woods Valley purchased a new quad chairlift. Its location has yet to be determined but it will be installed in 2022.
The Woods Valley trail map features a 450' vertical drop over 21 trails, serviced by 2 doubles, a main chair and a beginner area. A T-bar runs in parallel with the main double and often spins on weekends to alleviate any liftlines. There is also a magic carpet servicing the beginner area next to the main lodge.
The hill is in a great location to receive lake effect snow and advertises 180 inches of snowfall per year. In case that isn't enough, snowmaking at Woods is very good, covering almost 100% of the mountain. To get full use out of all that snow, Woods Valley is open for night skiing Wednesday through Saturday. Note that Woods is closed on Mondays and Tuesdays except for holidays.
Woods Valley has a diverse mix of trails for all levels of experience. The beginner area called "Easy Acres" is well laid out and perfect for progressing from the Bunny Hill to the chair lift. Off of the main chair, Skiers right offers more greens like Round About and Fly Away. As you move to the center of the mountain the runs become more challenging. A ridge cuts through the middle of the slope providing higher angle runs like Bowl, Peppers and the Sting. Copy cat and Timmy's are the longest runs stretching all the way from top to bottom.
Recently the mountain has made an effort to expand its terrain including a few new gladed areas. Lower angle trees like Freya's and Deer glade are great for getting acclimated to tree skiing. For those looking to push themselves, the Valhalla/Vaklyrie and Rabbit Hole glades offer a big mountain experience. Combine these glades with the lake effect snow and limited crowds, and there is a bevy of face shots to go around. For the freestyle riders, Woods Valley offers two terrain parks. The lower park located on Copy Cat features larger progressive features. Up top, the snow park offers a variety of small to medium sized features for everyone.
---
---
Woods Valley is located off of State Route 46, a 15 minutes drive North of Rome NY and an hour from Syracuse. Woods Valley is a sleeper resort, with no crowds and a relaxed family friendly atmosphere. The Taproom 46 is one of the best Apres bars in upstate NY. It is always busy with local artists and beer tasting. In addition it offers delicious affordable food and a variety of craft beers. For other things to do off the slopes check out Copper City Brewing in Rome or the beautiful Pixely Falls State Park.
For more, see our front page coverage on our Woods Valley Blog.
by Robert and Rosie
---
Woods Valley Trail Map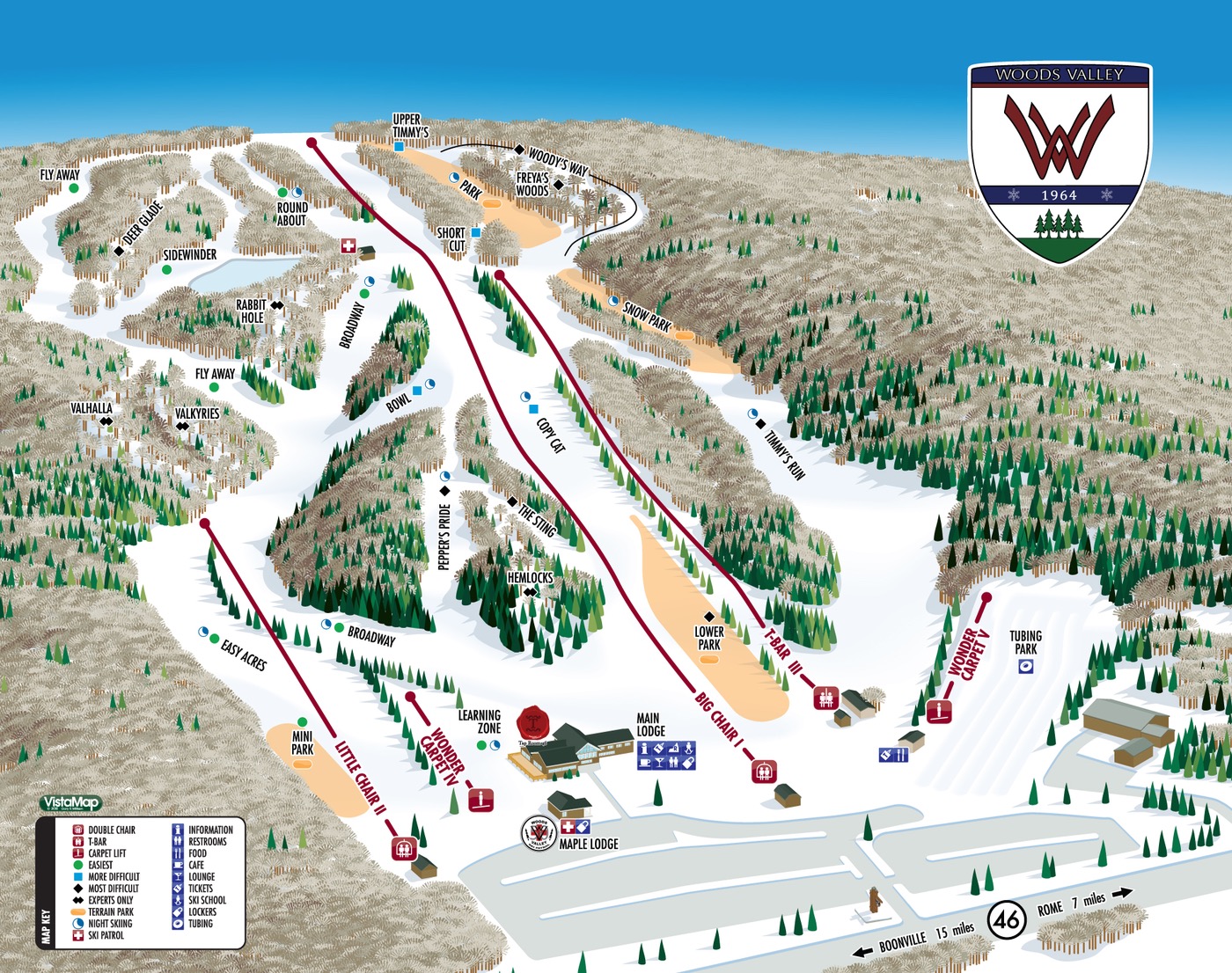 ---
Woods Valley Vertical Drop and Stats
| | |
| --- | --- |
| Summit Elevation | 1,400 feet |
| Base Elevation | 900 feet |
| Vertical Drop | 500 feet |
| # Trails | 14 trails |
| Trail Miles | 3 miles |
| Longest Run | 1580 feet |
| Skiable Area | 25 acres |
| # Lifts | 3 lifts |
| Uphill Capacity | 3,400 / hour |
| Annual Snowfall† | 180 inches |
| 10 Year Avg* | 63 inches |
| 10 Year High* | 93 inches |
† Advertised annual snowfall
* Mountain reported 2012 – 2022
** Uphill Capacity / Total Acres, scale from 10 – 130
---
Woods Ski Day Essentials