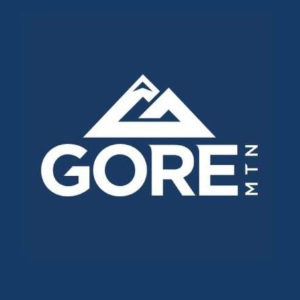 Gore Mountain is in the southern Adirondacks, on Peaceful Valley Road in North Creek, NY. The state run ski area offers four lodges, ski shop, rental shop, accessory and clothing shop, restaurants, cafeterias, demo center, repairs, a Snow Sports Center and a well-equipped Nordic Center. Child care is available for children from 6 months to 6 years.
The Gore Mountain trail map, vert and stats are impressive. The four peaks make up a big, spread out ski area, with 2562 feet of vertical drop and the most skiable acreage in New York.
Pods are spread out and traversing is required to access all parts of the mountain in a single day. The old joke is a comparison to Gore's sister mountain Whiteface, claiming that Gore has the "greatest horizontal in the East."  Critics will often point out that the full vert can't be easily accessed in a single run, but two of Gore's lifts serve 1500 foot pods and two others serve close to 1000.
Gore offers a real mix of terrain. Rumor, Lies and 46er are some of the steepest trails in the state. Runs under lift lines offer some classic fall line skiing. The "Dark Side" is a classic old school pod with short narrow runs, wall-to-wall tree skiing and a new lift. The lower mountain is loaded with nice blue cruisers in pods that face East and North.
Without question, Gore is the tree skiing capital of New York and trees are a major attraction. There are nearly 30 glades on the map, and many lines that remain off it. Every pod offers tree skiing. Beyond that Gore has a history and a culture of tree skiing that runs deep.
In the last three decades Gore has undergone a massive expansion. In 1996, the mountain gained access to the Hudson River as a nearly unlimited source of water for snowmaking.
Burnt Ridge, originally cherished sidecountry, was added to the map with a beautiful and modern high-speed quad by Poma. The BRQ services two long trails — Echo and Sagamore — plus four glades that are nearly a mile long. In the summer of 2022, Gore finally took steps to complete the Burnt Ridge pod by cutting a long planned trail from the top of the lift to Pipeline that will offer intermediates a direct route to the Ski Bowl or back to the quad. Our initial reporting shows the construction of the new trail will not negatively impact the best sections of Barkeater or Abenaki glades.
ORDA, the state agency that operates Gore, entered into a joint agreement with the Town of Johnsburg to bring one of the state's oldest ski areas — the North Creek Ski Bowl — back online. This has added even more tree skiing (and traversing) at the lowest elevations of the ski area. This terrain gives skiers a chance to enjoy trails that were cut and designed in the 1930s. The Ski Bowl also offers night skiing a with a terrain park served by a 150 vertical foot chairlift.
---
---
Gore has relatively easy access from the Northway (I-87). It is about an hour from northern sections of the Albany, NY, and 3 hours from northern sections of the NYC metro area. Despite this ease of access Gore remains uncrowded. The one lift that regularly has a line is the Gondola which starts at the main base area. The line rarely exceeds 10 minutes even at high peak times on a holiday weekend. Most other lifts tend to have light lines. Seven different areas spread riders out and keep the main base from too getting crowded.
To see our front page coverage, check out our Gore Blog.
by x10003q
---
Gore Mountain Trail Map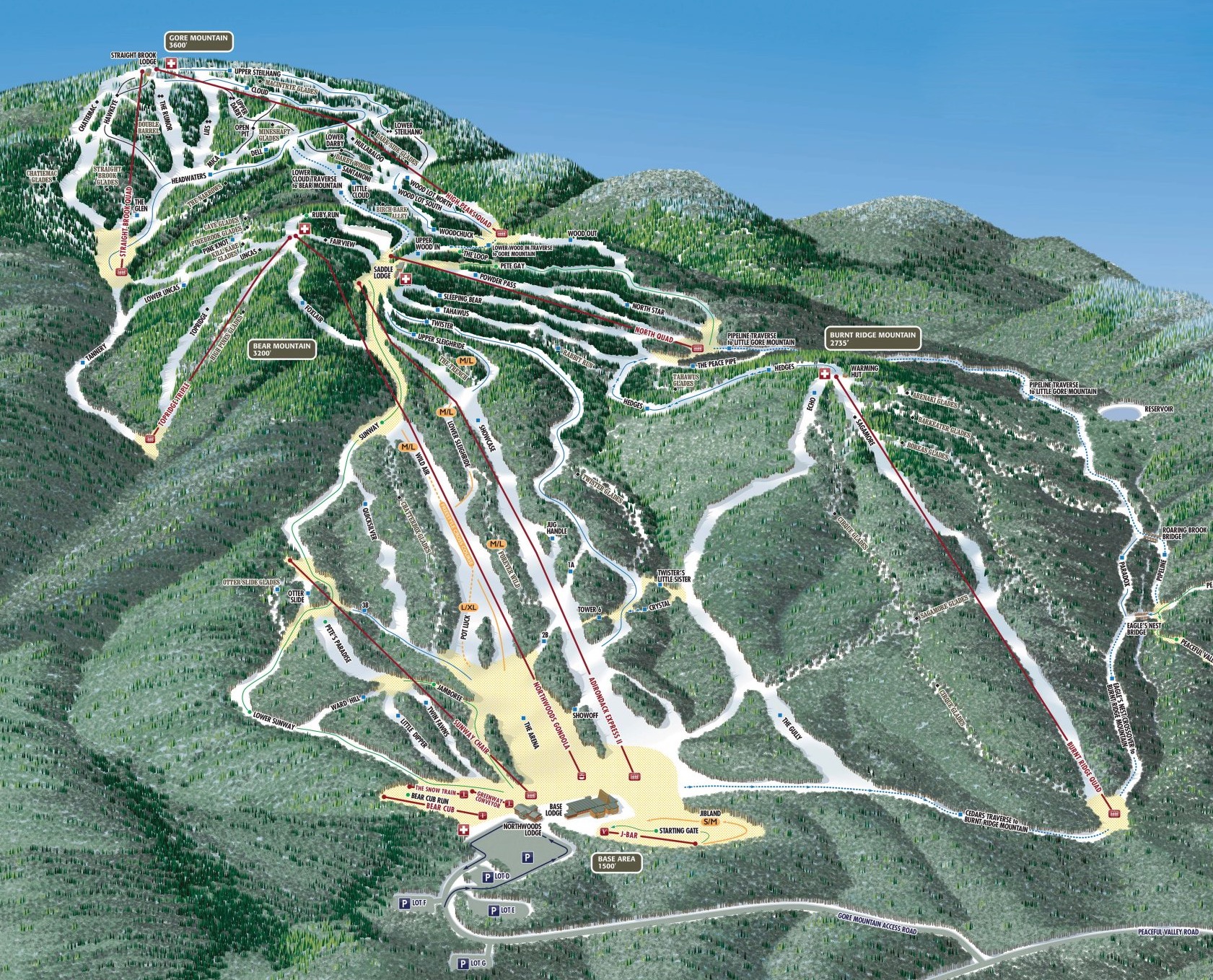 More on the North Creek Ski Bowl.
---
Gore Mountain Stats
| | |
| --- | --- |
| # Trails | 120 trails |
| Longest Run | 24,816 feet |
| Miles of Trail | 35.0 miles |
| Skiable Area | 448 acres |
| # Lifts | 14 lifts |
| Uphill Capacity | 21,800 / hour |
Gore Snowfall History
| | |
| --- | --- |
| Annual Average Snowfall† | 125 inches |
| 10 Year Snow Avg* | 117 inches |
| 10 Year Snow High* | 196 inches |
| NYSB 14 Year Snow Avg‡ | 121 inches |
| NYSB 14 Year Snow High‡ | 158 inches |
† Advertised annual snowfall
* Mountain reported 2012 – 2022
---
Gore Elevations and Vertical Drop
| | |
| --- | --- |
| Gore Mtn Summit | 3,560 feet |
| Ski Bowl Base | 998 feet |
| Total Vertical | 2,562 feet |
| Straightbrook Base | 2,660 feet |
| High Peaks Base | 2,760 feet |
| | |
| --- | --- |
| Bear Mtn Summit | 3,200 feet |
| Top Ridge Base | 2,202 feet |
| Top Ridge Vertical | 998 feet |
| | |
| --- | --- |
| Saddle Elevation | 3,000 feet |
| East Side Base | 1,500 feet |
| East Side Vertical | 1,500 feet |
| North Side Base | 2,250 feet |
| North Side Vertical | 750 feet |
| | |
| --- | --- |
| Burnt Ridge Summit | 2,735 feet |
| Burnt Ridge Base | 1,303 feet |
| Burnt Ridge Vertical | 1,432 feet |
| | |
| --- | --- |
| Ski Bowl Summit | 1,900 feet |
| Ski Bowl Base | 998 feet |
| Ski Bowl Vertical | 902 feet |
---
Gore Ski Day Essentials