"Did you see how much air I got?"
"I stuck the landing! I stuck the landing!"
When I rolled into Wild Wings, half a dozen kids were taking turns skating down a hill in front of the base lodge and doing tricks off a berm at the edge of their parking lot. Catching air, 180s, you name it. Olympian Andy Newell inspired a generation with his video Generation X Ski, part of which featured him doing tricks on cross-country skis in a halfpipe.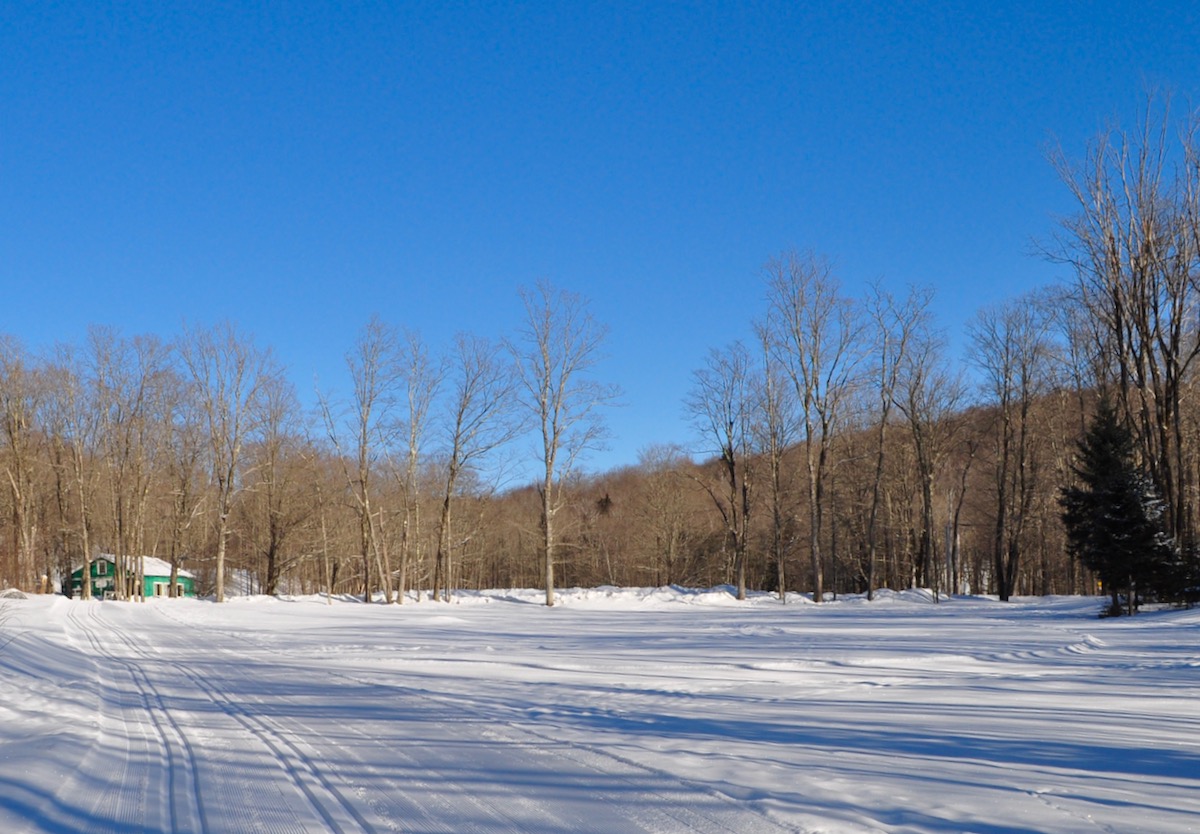 Five years ago, we arrived at Wild Wings in late afternoon, and skied for 45 minutes as it grew dark. Low clouds and mist in the pines cast a mysterioso vibe that had me itching to return.
Located in Peru, VT, Wild Wings is just a bit far for a day trip, and I couldn't seem to cobble together another weekend in that part of Vermont. One Sunday this February, I threw caution to the wind and drove up. After passing Bromley, I turned off Route 11 and drove to the end of a dirt road.
Unlike five years ago, Sunday was an intense bluebird day. Snow hanging in the trees, animal tracks, and the far mountains were etched in sharp relief.
Wild Wings features 22 km of trails groomed for classic skiing, with six groomed for skating. Wanting to hit all of them, I didn't fritter away time in the lodge. I crayoned hard wax on to my skis and headed out.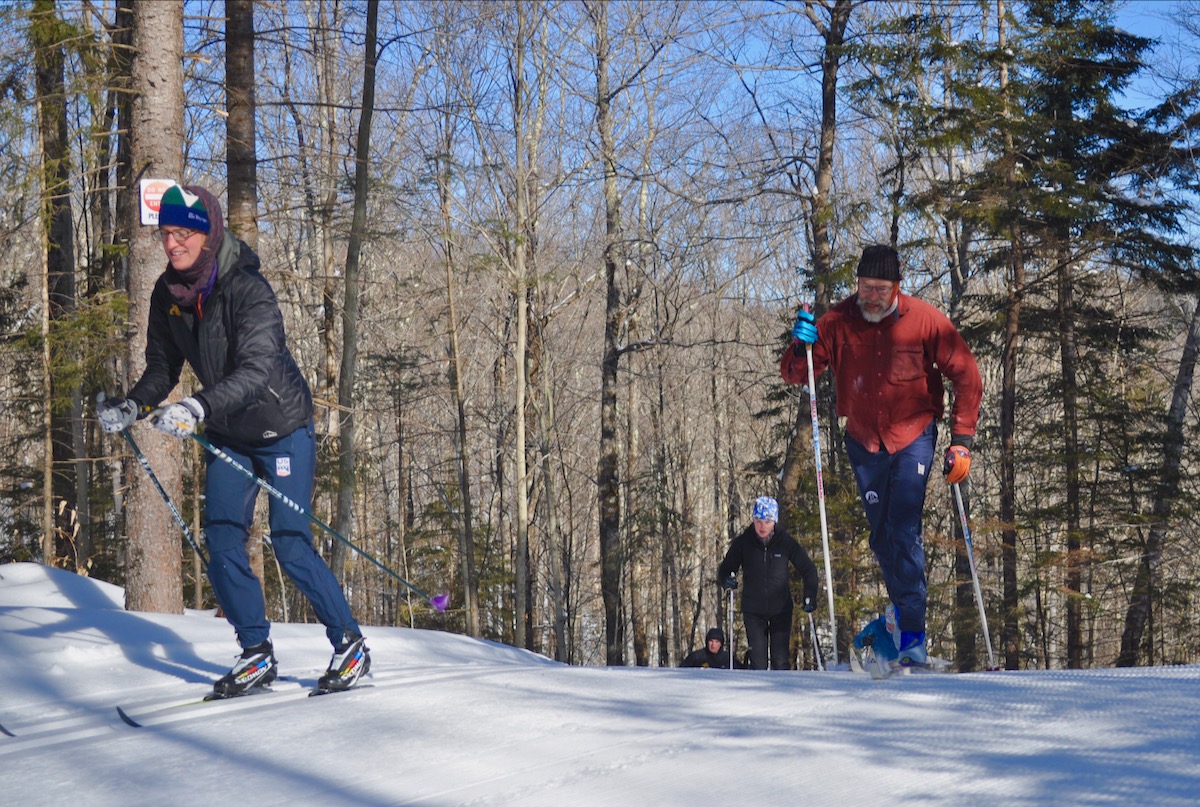 Woodcock crosses North Road, bringing you to Snow Goose. Mellow, rolling trails that wend through mixed hardwood and pine forest. All the trails are one-way.
Coming back from Snow Goose, I skied past the lodge, crossed another dirt road, and headed out Chickadee. At 6.5 km, it's the longest trail in the system. From the road, I herringboned a stiff climb that leveled after 50 vertical feet, but continued to gradually go up. A touch narrower than the trails I'd skied earlier, it seemed like I was going through a corridor of pine trees.
I skied in solitude for what seemed like forever before another road crossing. It wasn't forever, but I was taking my time, trying to maximally grok* this wonderful place.
Crossing the road again, I descended back to the base for lunch. An old barn serves as the ski shop and lodge, warmed by a wood stove. In an email, Ian Black, one of the proprietors, wrote that the area was settled by one Joseph Stiles in the mid 1800s.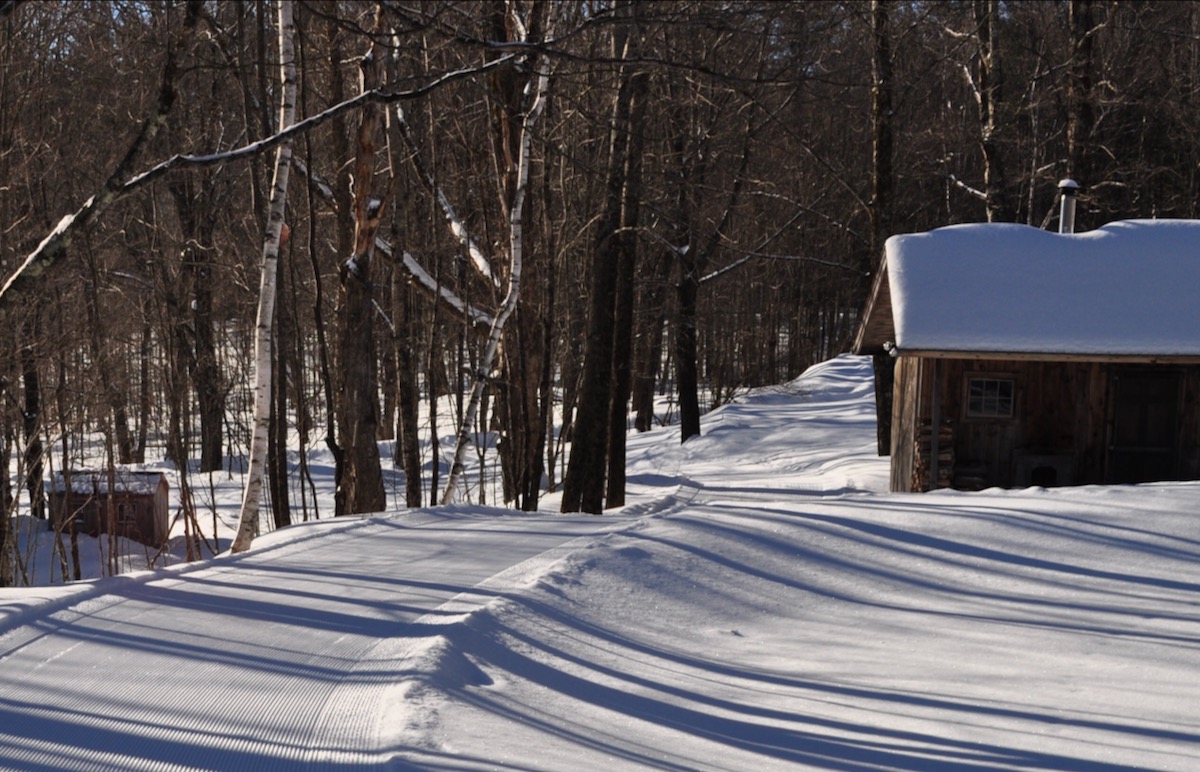 Ian Black wrote in an email:
"About 60% of our trails travel on the Green Mountain National Forest. About 20-25% on neighboring private land, and our family owns the rest – it's about 450 acres in total. Upper Blue Jay is within 15' of the Peru Peak Wilderness at one point.

Styles Peak, the summit of which is directly west of Wild Wings, is named after Mr Stiles (spelling changed). The mountain ridge to our west (basically Styles and Peru Peak, connected by some high ground) helps protect us from the afternoon sun and warm west winds, helping us keep more snow during periods of warmer weather."
After eating and refilling my water bottle, I headed back out towards Middle Jay. The sun had warmed things up, and my wax slipped, so I stopped to apply something warmer. Middle Jay seemed to go diagonally across the contour lines of a mountain, with lots of up and down and challenging corners. Here I had my first fall of the day. Pro tip, don't change your mind about your line after you've committed.
When Middle Jay re-connected with Chickadee, I realized I was too gassed for the black diamond Upper Jay. But it was too beautiful a day to leave, so I went for another loop around Woodcock. I chatted with a family who'd skied Bromley the day before and were touring Wild Wings. "Am I doing this right?" the father asked.
"The guy who said, if you can walk, you can cross-country ski, should be shot," I replied. I explained and demonstrated kick, and he and his wife and daughter got it immediately. Whooping and hollering, they glided back to the lodge.
For all the cars in the parking lot, I saw very few people out in the woods. If you mainly ski alpine at Magic or Bromley and want to add variety to your weekend, check out Wild Wings. If you're a nordic skier and you've never visited Wild Wings, make plans to check it out.
*(Stranger in a Strange Land, Robert Heinlein.)