As a lad, I lamented the proximity of my birthday to Christmas. I felt that the energy for celebration was thin by the time my annual marker came around. But as a post middle-age skier, I find that the timing is perfect, allowing me to create a nice distraction from the march towards old guy.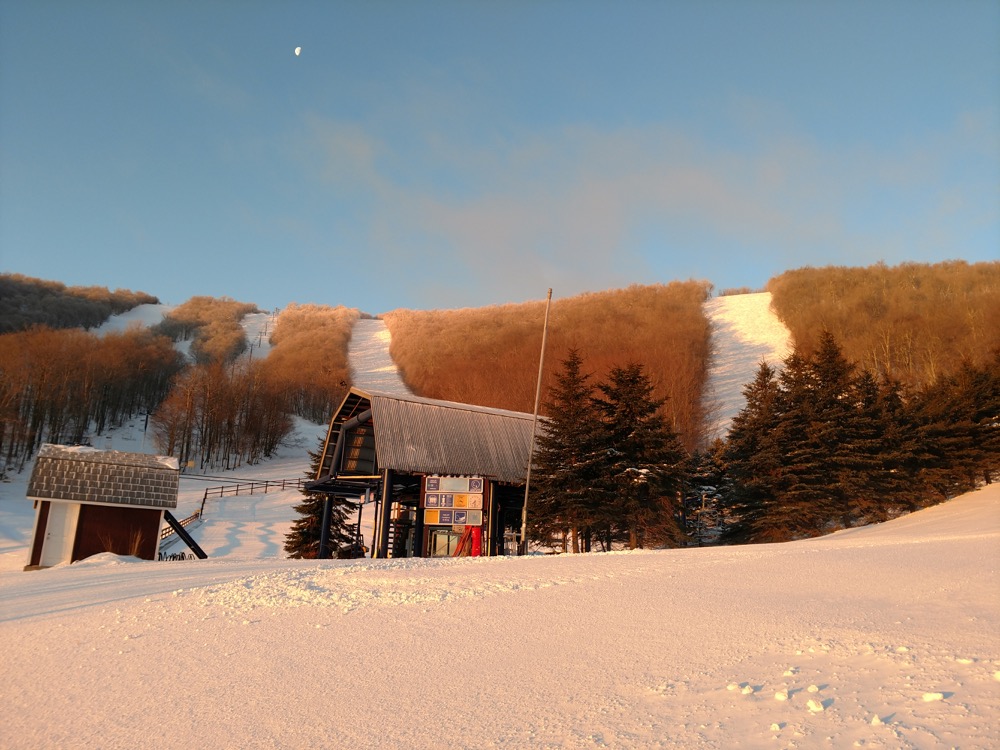 Now the convenient placement of my birthday, a week after New Years, is hard to deny. By then my girls have had their fill of skiing for a while. It's a weekend to roam New York, looking for the snow, terrain and vibe that keeps me young.
Plattekill has become an integral part of my strategy for reality denial and/or postponement. Often this is my first trip to Roxbury and I push everyone I know to come out to ski.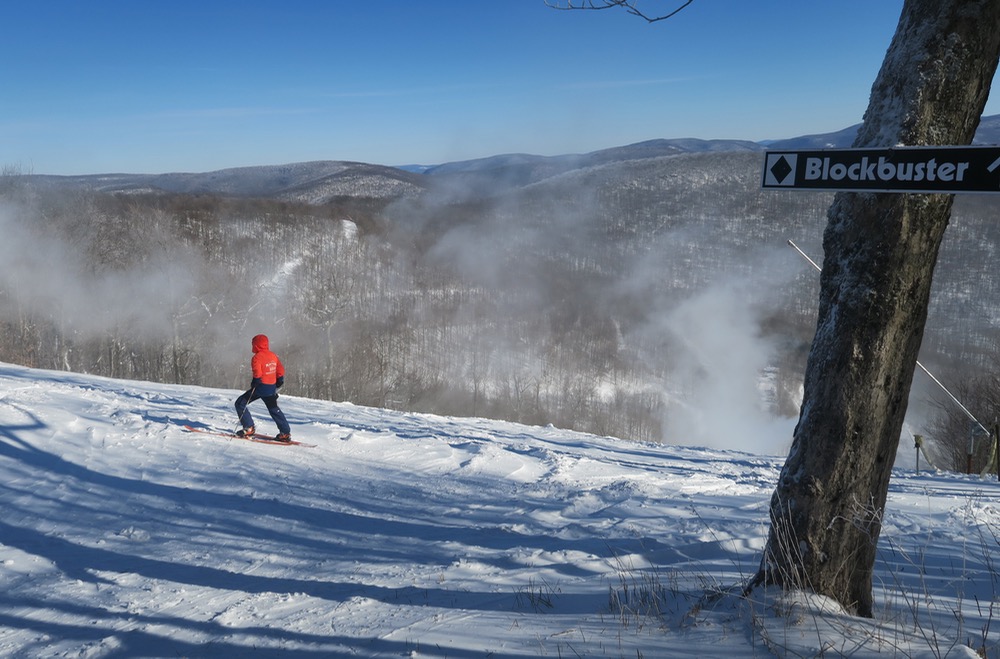 This year Plattekill was in especially fine form with a base of manmade on the main runs under the lifts, and enough natural on top of everything to open the entire mountain, if you were willing to bend at a few of the entrances. 🙂
I set my alarm for 3:30am, but in my excitement I woke up 15 minutes before it went off. I was early—even for me—arriving around 7:30. The lodge was empty, the only signs of life I saw were one unlocked door and nice warm fires burning in the first floor woodstove and the main area firepit.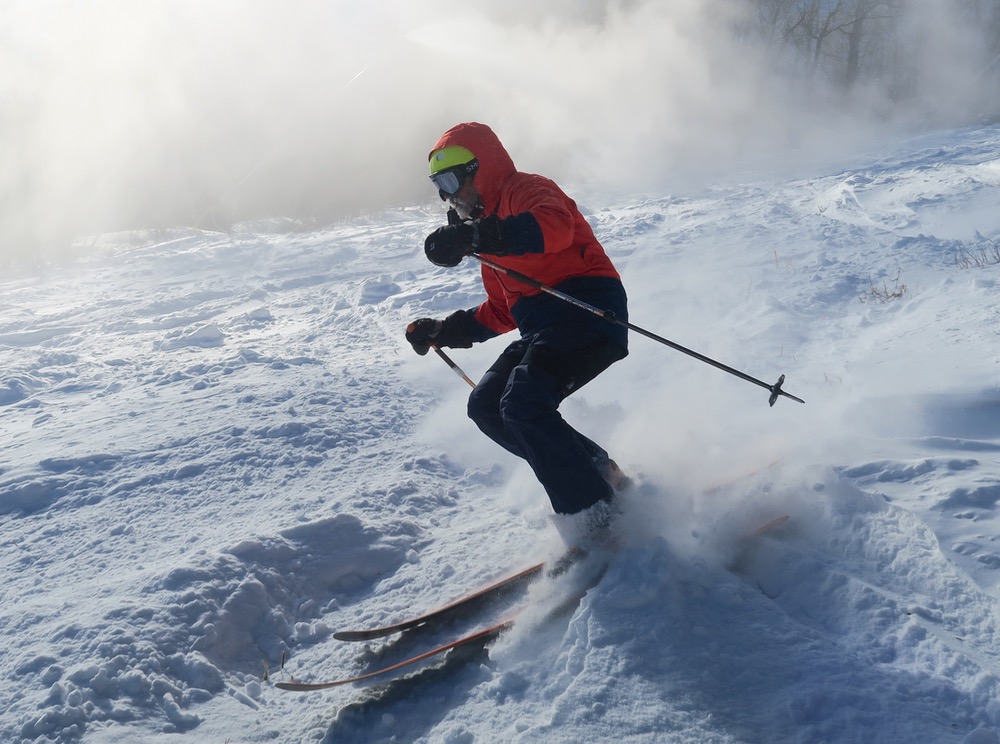 After I booted up, I sat in the comfy chair outside of the main office and relaxed. At 8am the lodge came to life. Laszlo came in, we shot the breeze for a while and I headed out to wait in "line" for the triple.
Plattekill is so much fun, and even more so when there is enough natural snow to cover the terrain that hasn't seen the guns yet. We skied the day away, mostly riding the all-natural off the double.  The groomers were excellent too, as a good percentage of the groomed base was natural. As the sun went down behind the mountain, we came back to the triple to catch the last rays, before heading in to convene the NYSB annual meeting.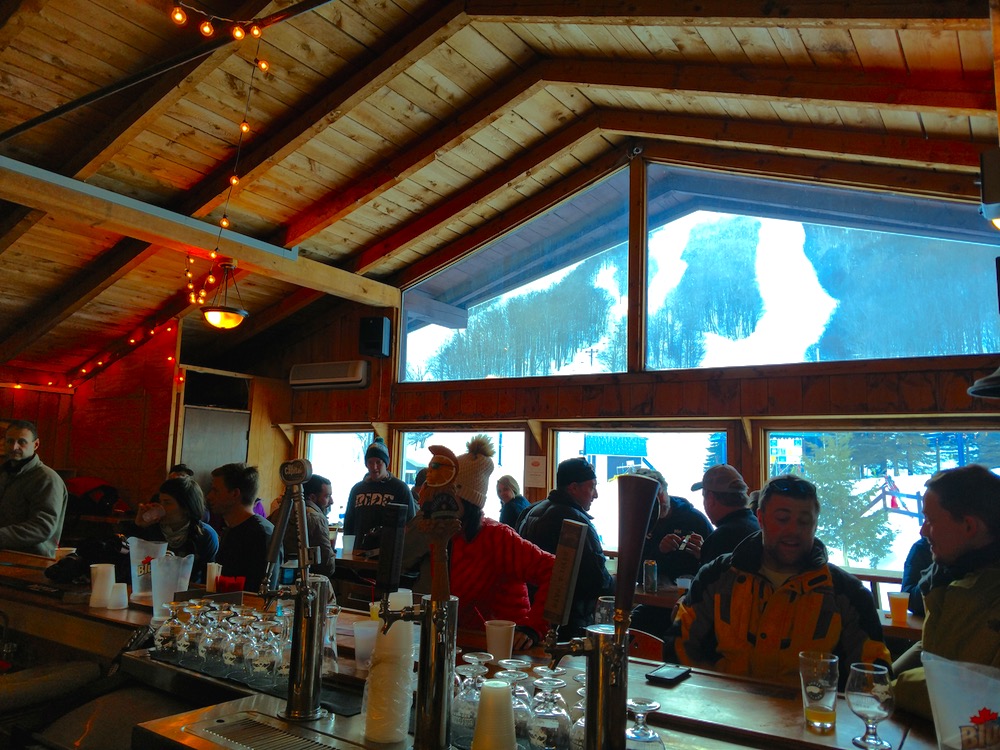 NYSkiBlog was well represented with notables including Catskills Freeheel, MC2 and Ace, tBatt, Jamesdeluxe, Marcski, Brownski and Junior, Gunny J and Gorgonzola. We raised a glass to New York, Plattekill and the new season. After the sun went below the horizon and we said our goodbyes and headed out.
---
My plan is always to ski at Plattekill on my birthday, January 8, or the closest operating day.  This year Sunday fell one day before the clock struck 59, so I needed something for the next day.  I just can't accept being back at my desk, at the witching hour. TBatt and I had decided on McCauley, and headed out from Roxbury, north on Route 30 toward the Adirondacks.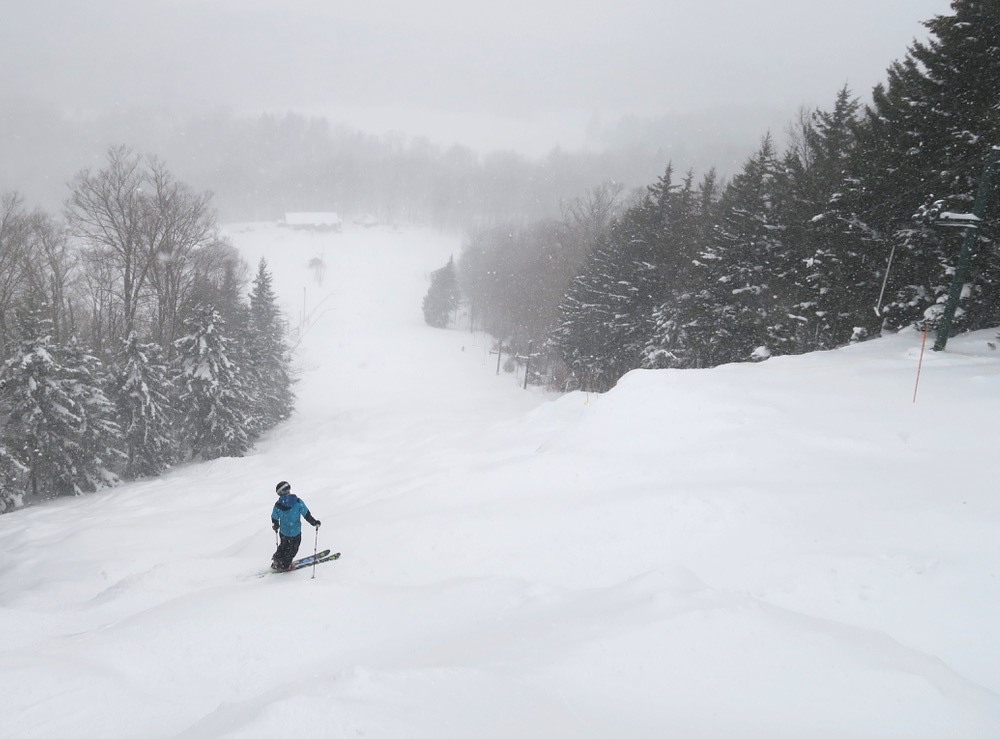 Sunday night I arrived in North Creek around 8pm. I relied on the kindness of a true friend who gave me a cold beverage and made me a delicious meal. Spending less than 12 hours in town and needing a good night sleep, left me little time for woodstoves and logistics required at HQ. Happy Birthday.
At 7am on Sunday I headed west towards Old Forge. Google maps asks for 90 minutes to complete the trip from North Creek, but invariably, when I am making that drive, there's lake effect in the forecast and the drive takes a bit longer. I arrived around 9am and tBatt was just behind me.  We booted up and as far as we could tell, we were first skiers on the lift at 9:30.  The mountain was empty.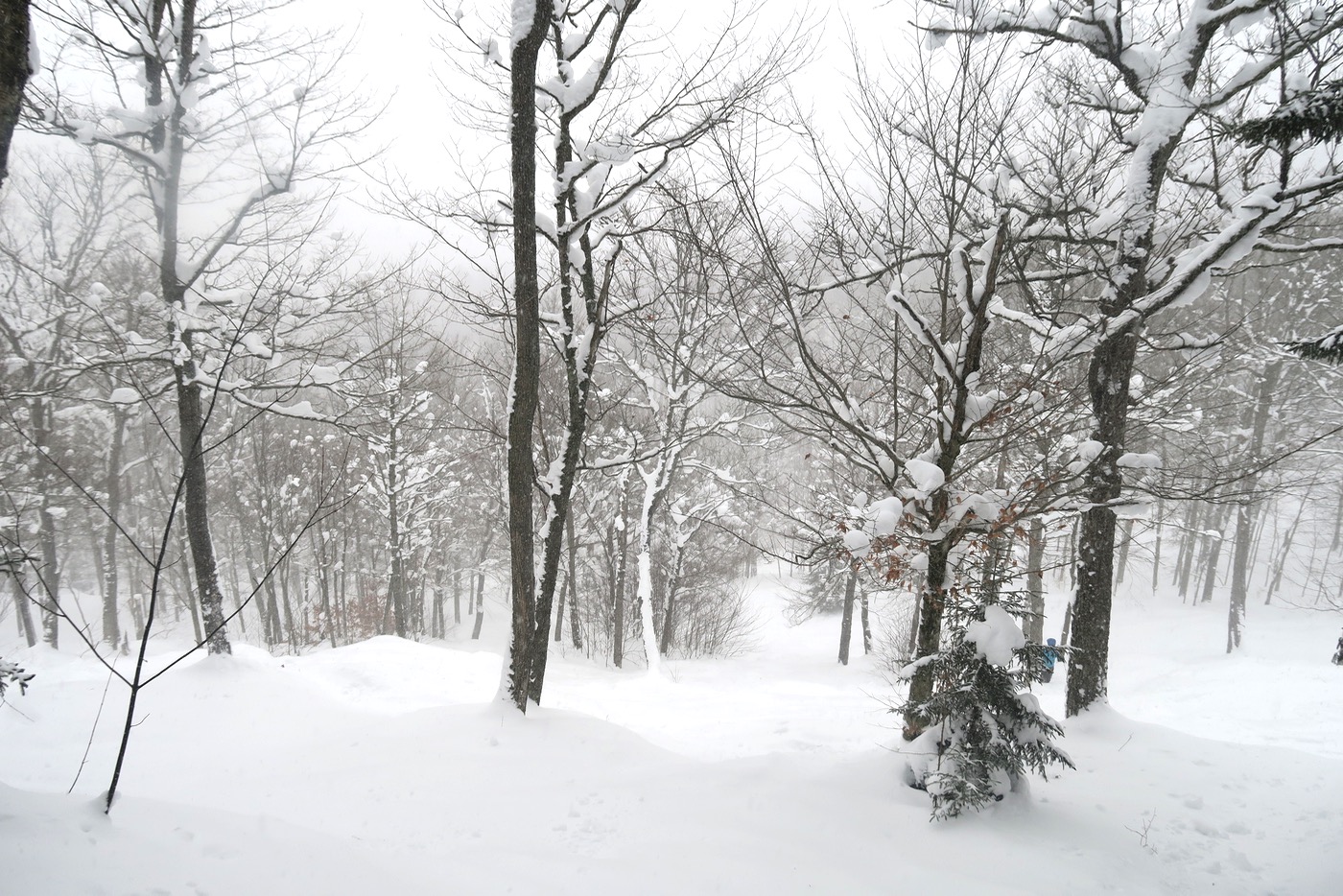 McCauley has had at least 40 inches since the last thaw before Christmas, and snowfall was predicted overnight Sunday and into the day Monday. When we arrived, all was calm, with an inch or two on top of the overnight grooming.
The trees off Challenger were in fine form with five or six inches on top of a deep base. All was calm when we started our day, but within 30 minutes or so it started to snow, and at times it was really coming down hard.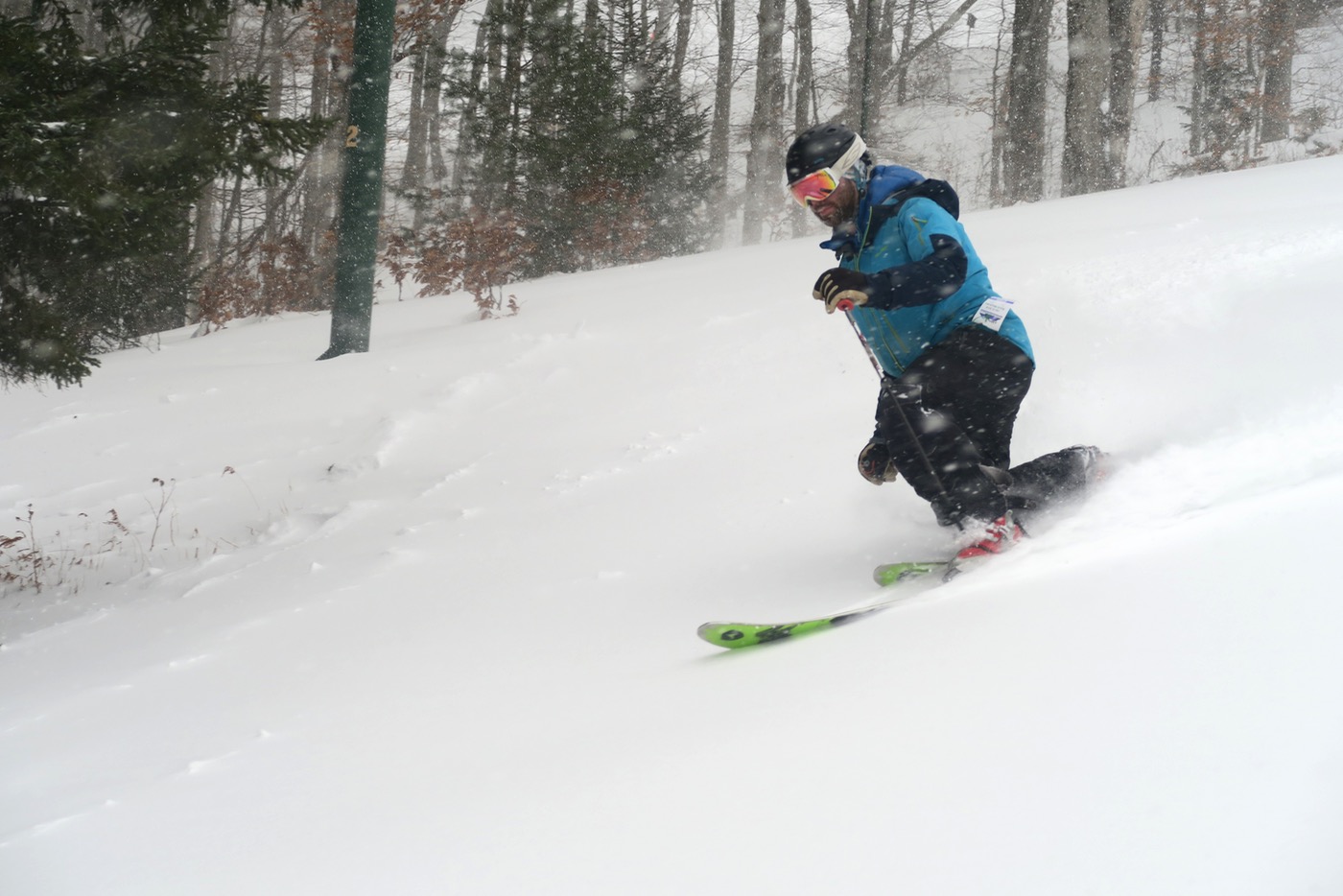 The wind had picked up and combined with the falling snow, our tracks on piste were getting filled in fast. Sidewinder, the blue trail that winds around the mountain's southwest side, was polished down to the corduroy on skier's right, while skier's left was loaded with eight or ten inches of dense, creamy windblown pow. We started by skiing it every other lap to give it a chance to fill in, but eventually found that it wasn't necessary. TBatt was dancin.
It was a long but satisfied drive home, with my new birthday present best-friend Sirius XM.
Another one is in the books and I think my strategy worked. I'm in a pretty good mood right now.