Last week I was going through my weather routine, studying the medium-term forecast, looking for answers to the same four questions. Is it going to snow? What is the best day to ski? Can I get the day off? And finally… where should I ski?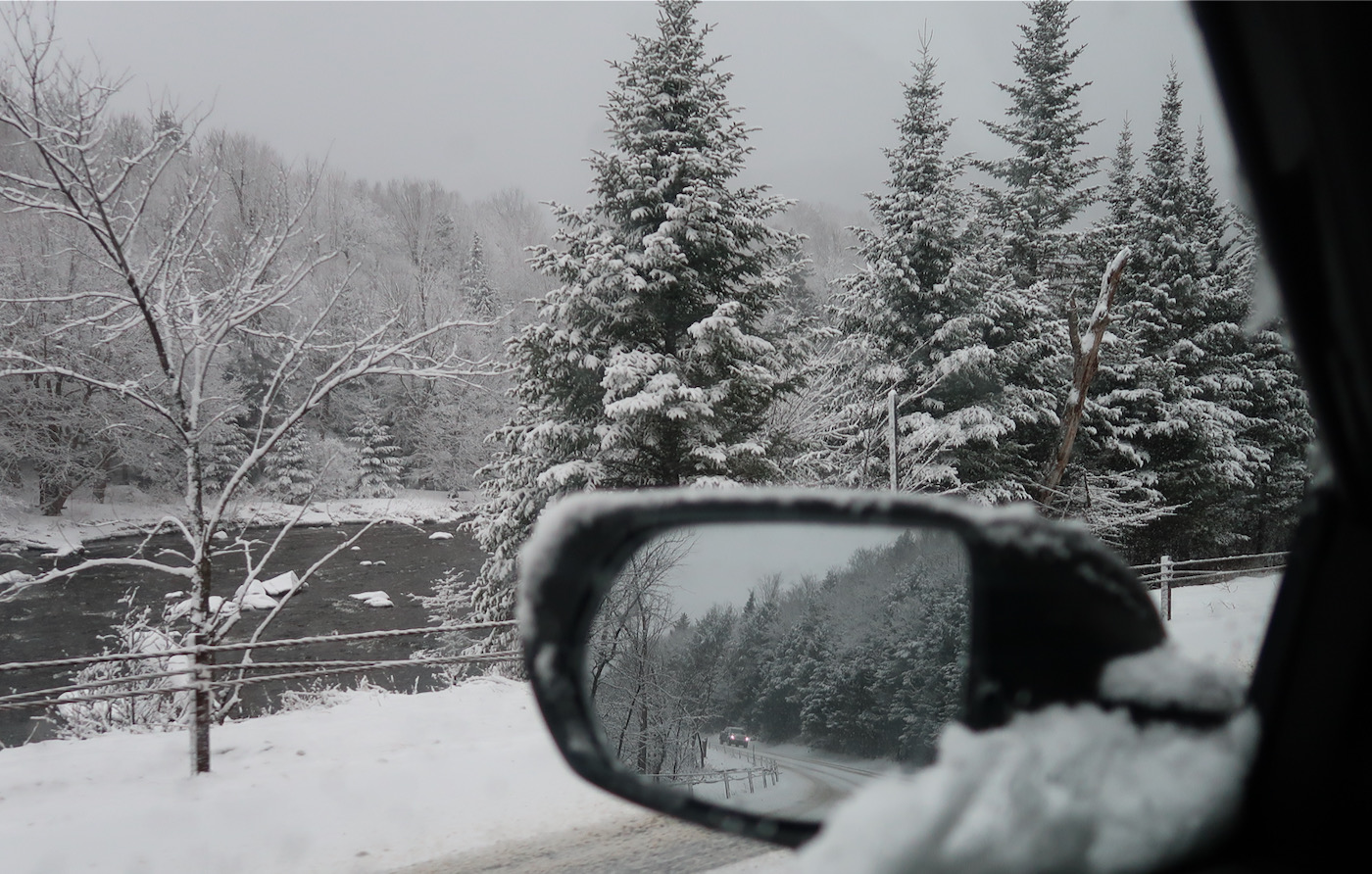 For several days, the GFS was highlighting a storm that would slide across New York on Saturday. The timing and intensity of the snowfall favored a Friday evening overnight stay near the mountains. So yea, where to ski?
The forecast had Plattekill close to the boundary with warm air, with the greatest potential for snow, and some chance of rain. Both Gore and Whiteface, farther to the north, were safer from the rain, with less potential for snow.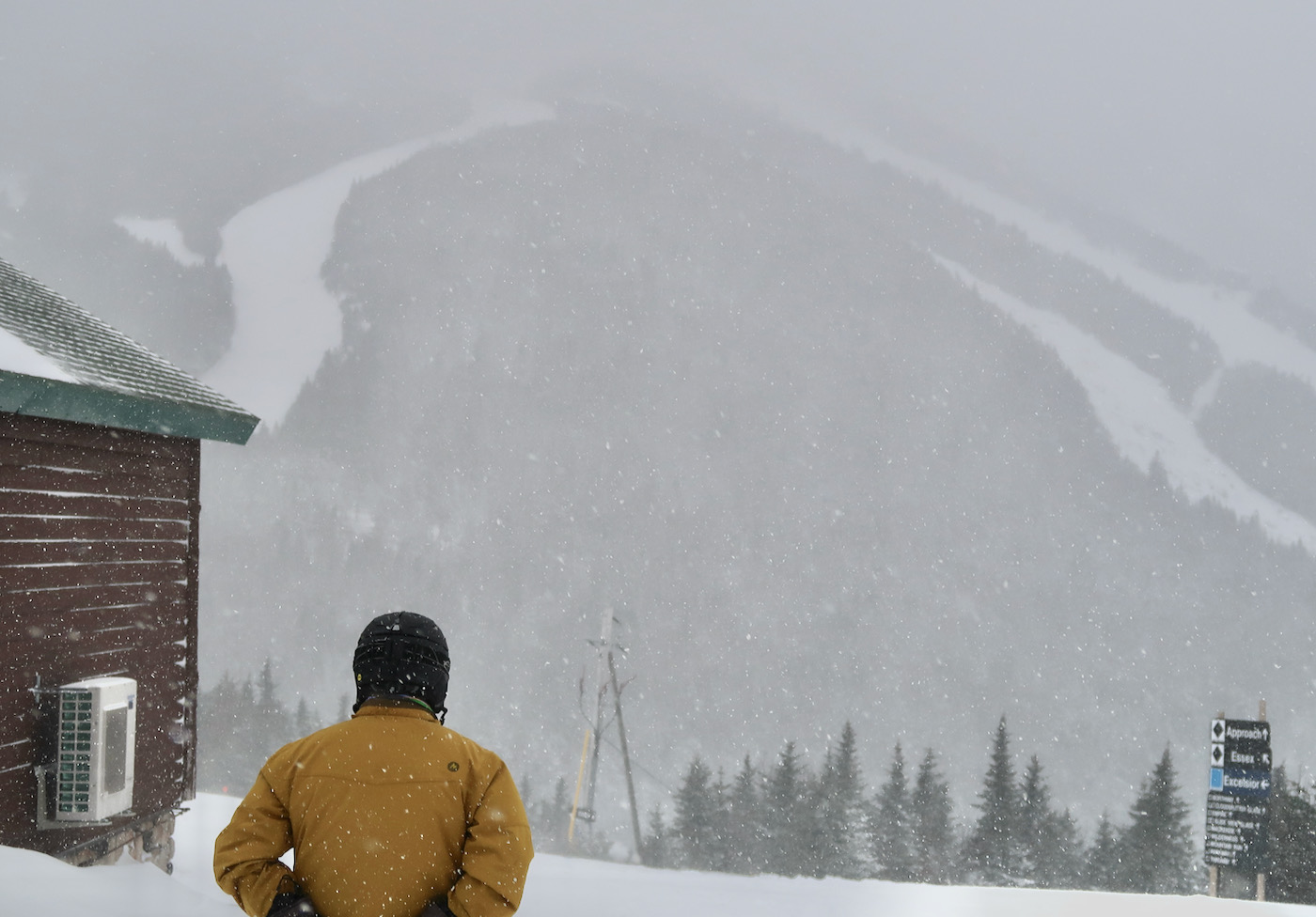 Most weather-nerd skiers are looking to answer a relatively "simple" question: where is the best skiing near me? Ideally at a mountain on a pass you already own right?
For me, there is another complication; what am I going to write about? I'd posted on Plattekill last week. I wrote about Gore the week before.
It's been a year since I'd skied Whiteface, and the time was right. I realized that after two decades of lift-served skiing in New York, I'd never skied Whiteface in a storm.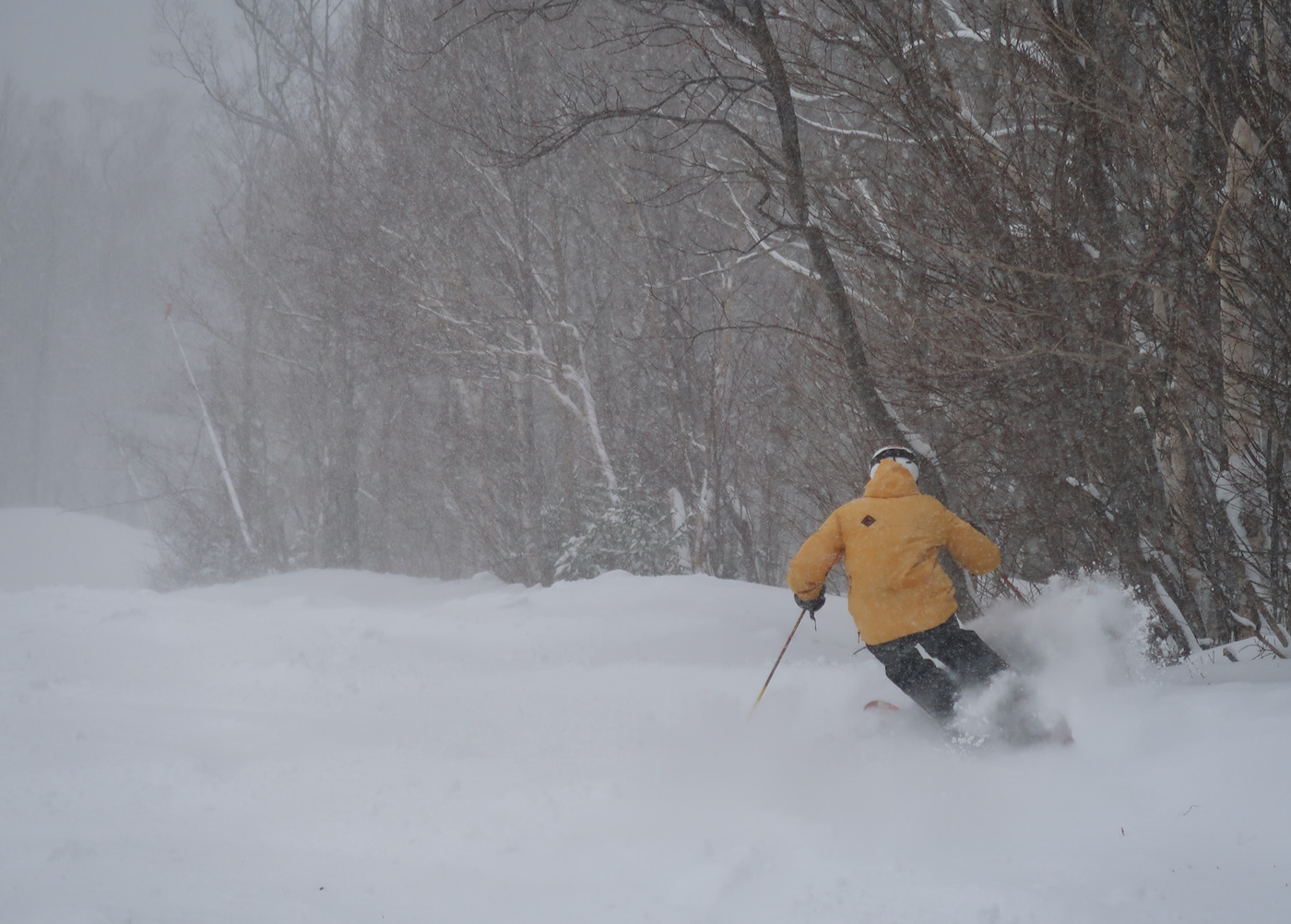 Relying on the kindness of strangers, or more accurately the kindness of internet buddies, I found a place to crash in Lake Placid Friday night. I left work and was on the road in the late afternoon.
Mike is an NYSkiBlog Forum member that I've "known" in an internet way for more than ten years. He volunteered to let me crash at the house they are building for their family. Construction is in progress and accommodations were modest, but for me it was great option, especially when compared to driving in the storm.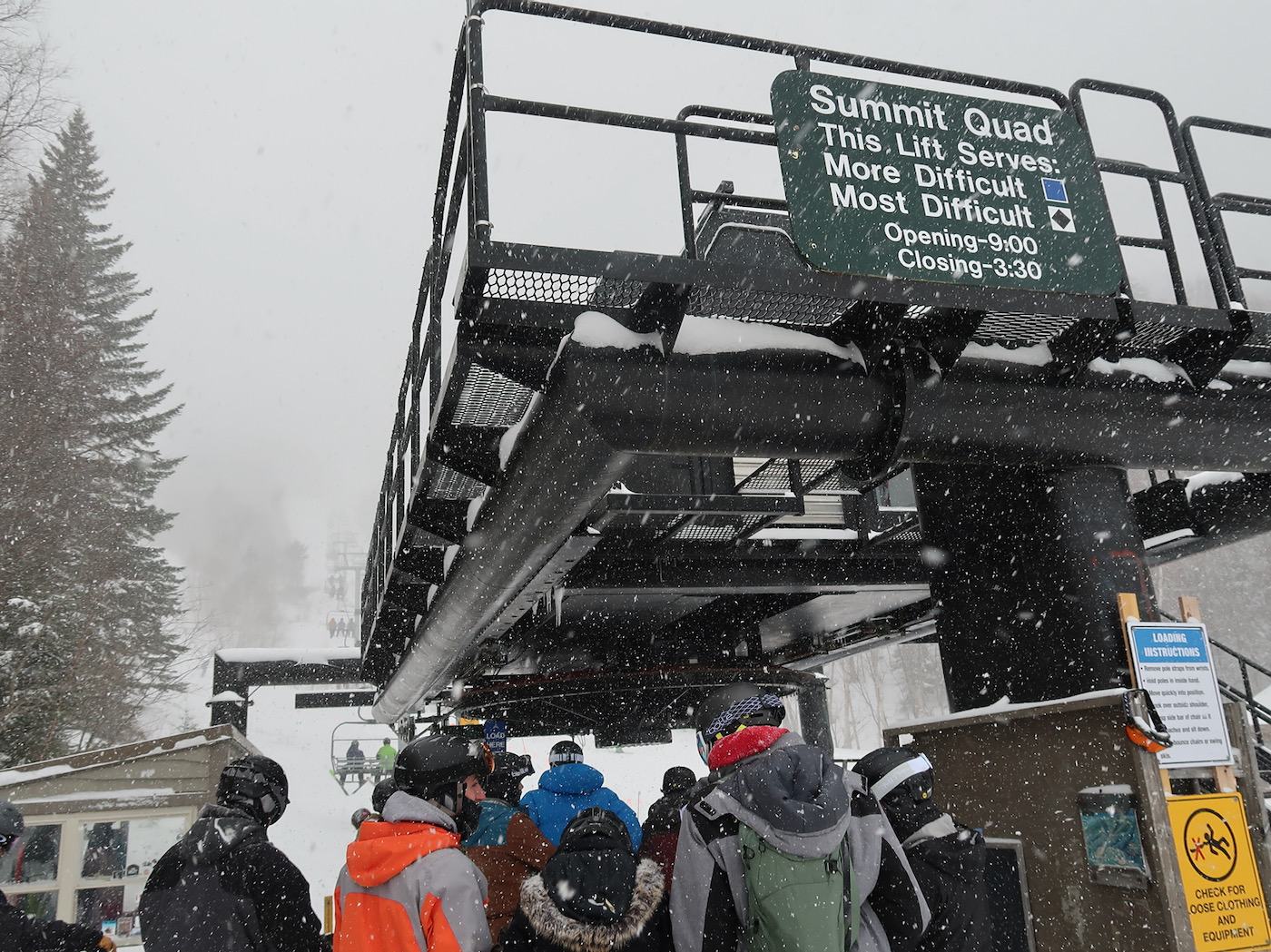 I arrived after 10pm. We said our first ever IRL hellos, raised an IPA, shot the shit until midnight and then crashed. In the morning John made us breakfast before we all headed off to the big mountain, about 10 miles away. It was snowing and two or three inches had fallen overnight.
Whiteface has a reputation for wind on storm days, maybe that's why I've never skied it in a storm. But after my visit to Jay Peak recently, my view of skiing in the wind has evolved. At Jay the upper mountain was shut both days we were there, but there was still plenty of great skiing in the trees down low.  I don't need everything open, if there is some good skiing, I'll be happy.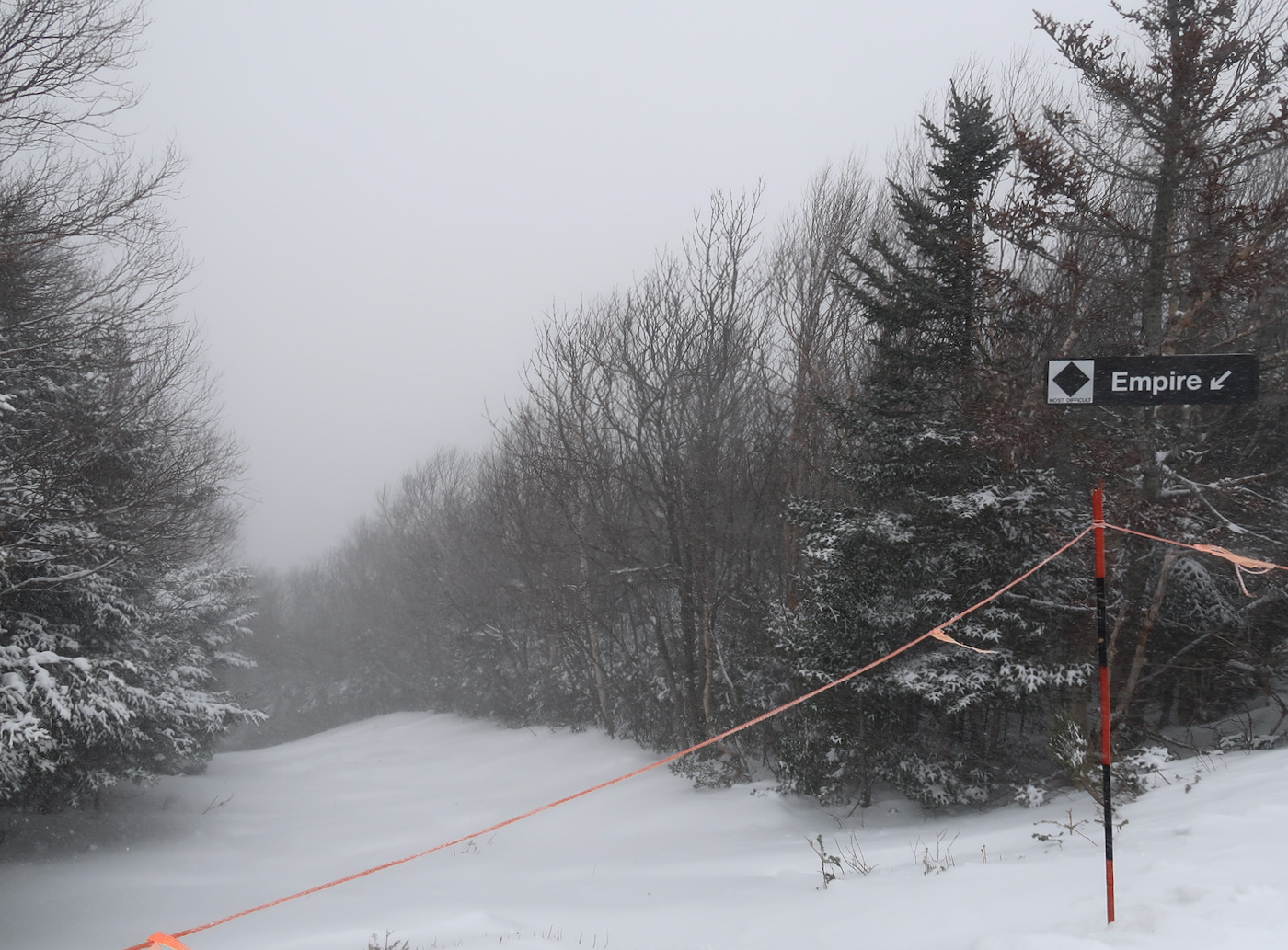 Like everything else that effects skiing, wind is an element that you factor in, and hope to use to your advantage. When it blows the snow moves around and it has to land somewhere. It always helps to ski with locals and people who know.
The forecast called for winds to pick up in the afternoon, but at first chair there was no wind down at the base.  The gondola had a longish, but not unreasonable line, before the upper mountain lifts started to spin. After a run down Essex and Northway, we rode the Facelift and then boarded the Summit quad.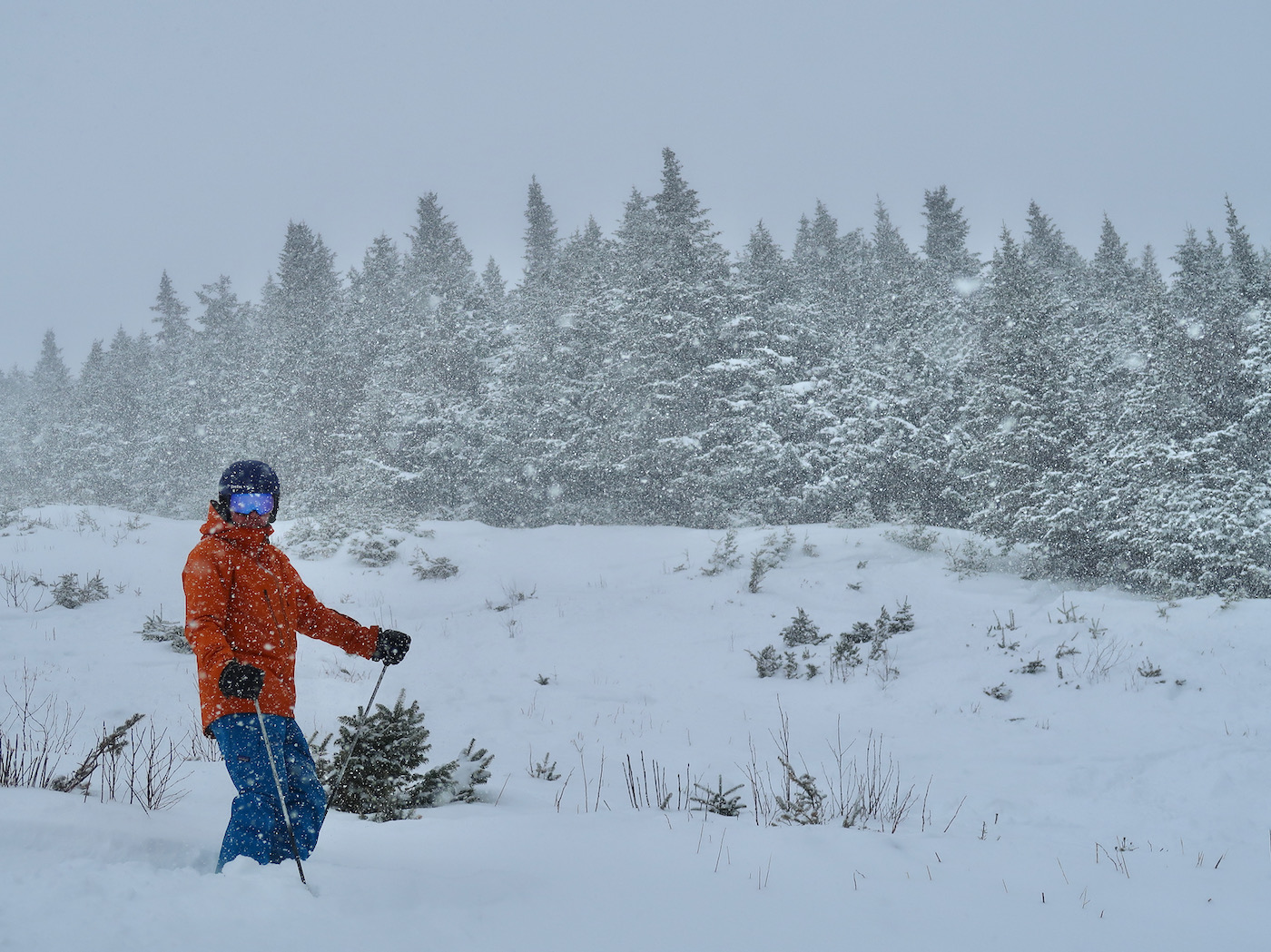 On the steepest terrain the reminders of recent inclement weather were unavoidable.  The new snow was excellent and made a huge difference, but the skiing was far from quiet. After a run on Skyward and Parons, we headed down to the Little Whiteface Double.
The double was down when we got there. We originally assumed the shutdown was wind related, but soon discovered that the gondola and the summit chair were still spinning. At times conditions were borderline whiteout, and at one point we were caught up in a huge swirl of blowing snow that came off the trees. With visibility zero, we all slammed on the brakes. It was just an instant, but it was scary.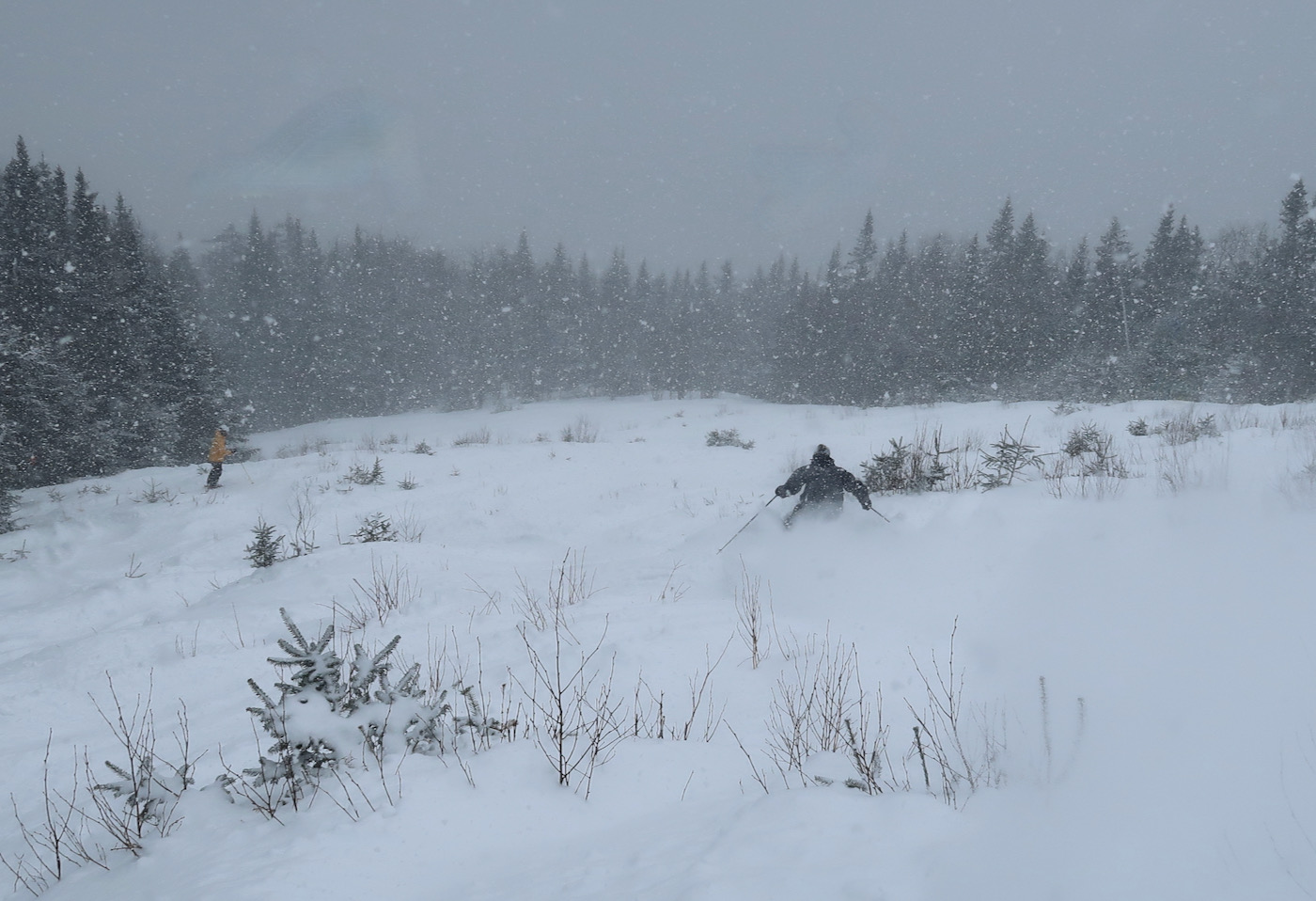 We took a break for lunch around 11:30 and then headed back out to the summit. If it was going to go down let's get some more, now.  The wind was blowing hard at times, and at others it wasn't blowing at all. I'm sure it was all about wind direction and terrain orientation, but I think even the Whiteface regulars I was skiing with found it odd.
The guys showed me Cloudspin via the Switchback. I loved it. It's free flowing, largely untrimmed, with small evergreens popping up across the trail, the snow was deep and soft, without too many sharks. I was in my element and lobbied to ski it over and over. A true blast.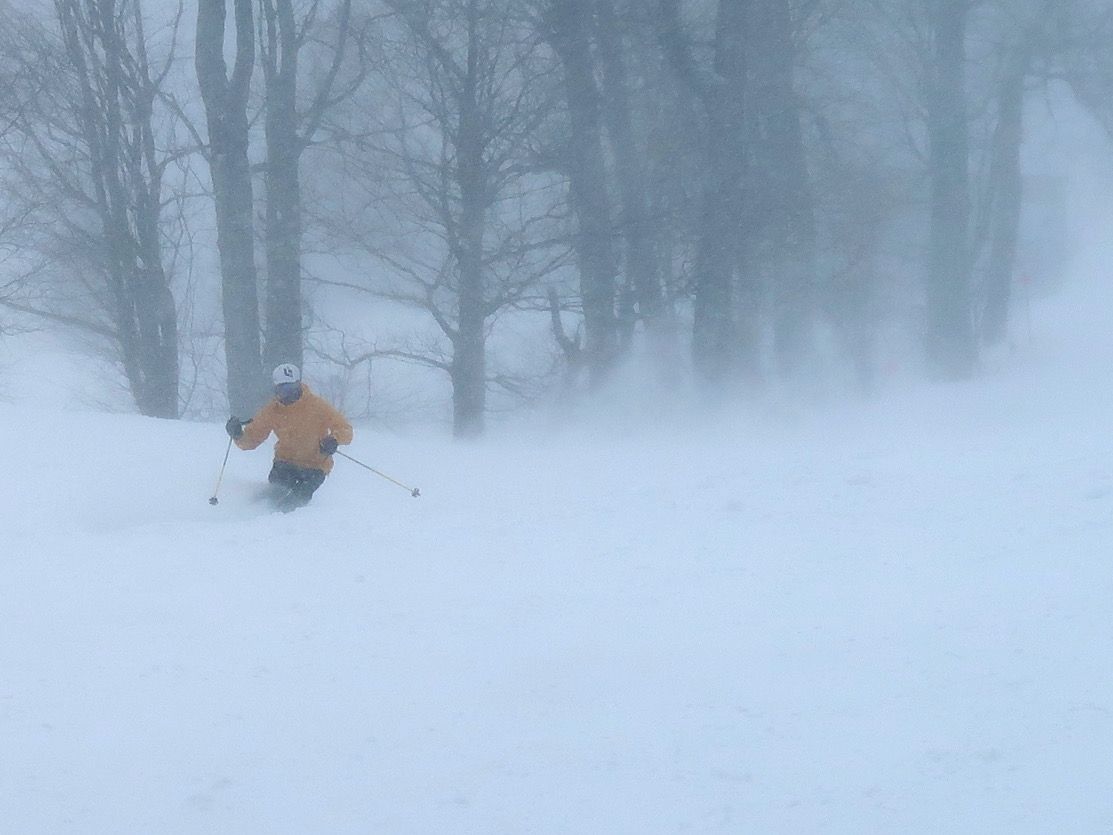 As the day wore on, our group got smaller. It's natural, when you can ski often, that you don't necessarily ski the whole day. For me, I'd come a long way and I wasn't leaving while it was snowing and lifts were spinning. Eventually it came down to Mike and me. As everyone else was heading down, I offered to drive him home at the end of the day, so we could ski on.
At 3pm we were making our way back down towards the base and we noticed the Little Whiteface Double spinning again.
With a race blocking traffic and the LWF lift down for most of the day, the terrain beneath the lift went un-skied as the snow piled up. We jumped on it, enjoying two dreamy rips down Mountain Run followed by a long cruise home through the Valley. Sincere thanks to Mike and Keith and Jon, for putting me up and showing me around. Great to meet after all these years.