Stuck on Ski Day 13 for two weeks, my not-so-secret OCD wasn't at all comfortable. But for reasons I don't understand, or maybe it was Thursday's monsoon, I wasn't feeling it for the drive north. Am I getting old? Please don't answer.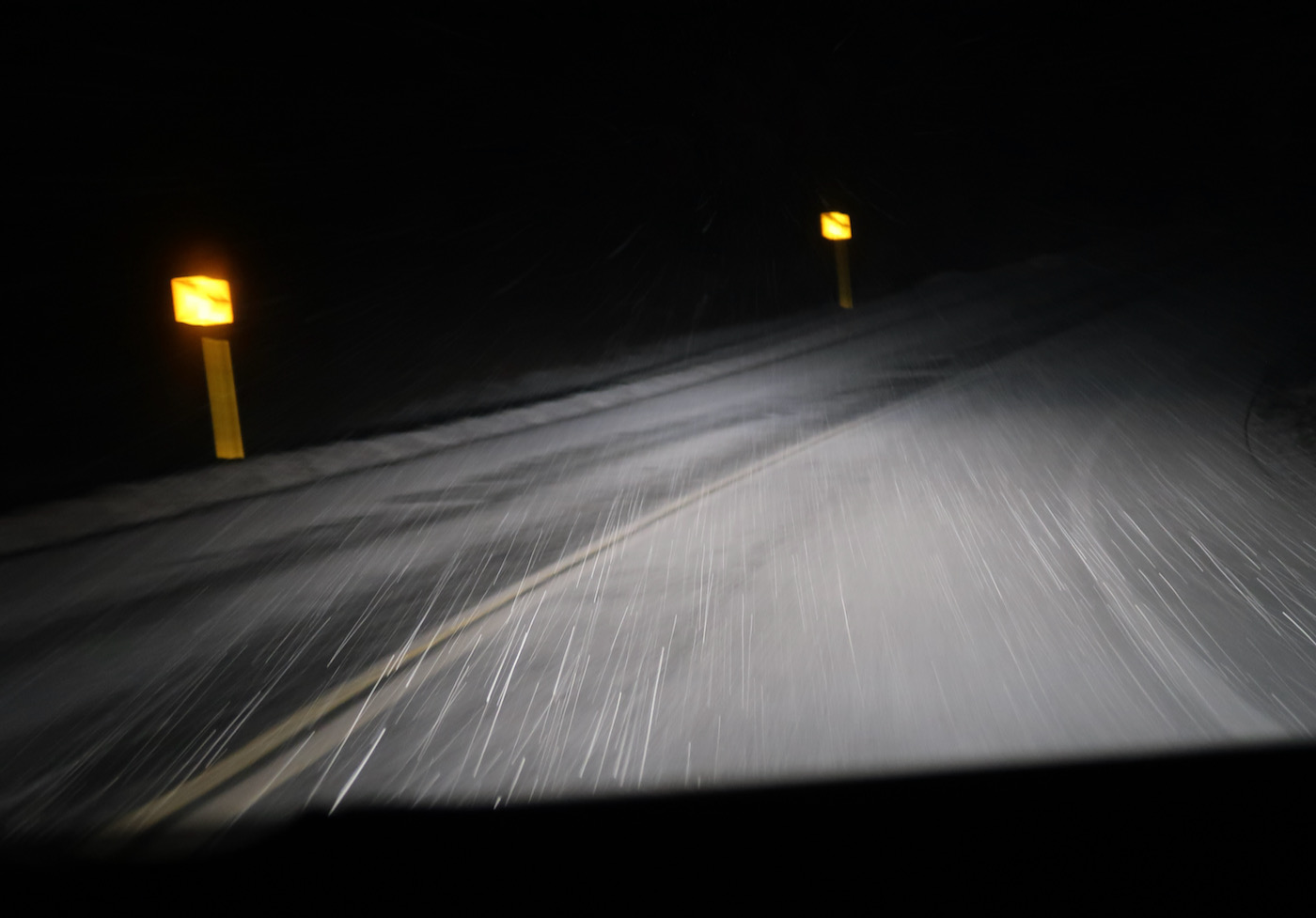 I want to add another New York ski area to my resume and I've been eyeing up options in Central NY.  But after Thursday's nuclear meltdown, Titus picked up 6+ inches of snow and looked like the best choice this side of Western NY.
When I heard from Sports Page — that the boots and bindings I'd ordered last June had finally come in — I used it as motivation.  Even if conditions were firm, I'd finally have my two ski quiver in place.
I left work at 2pm Friday and drove to Glens Falls to get my bindings mounted, and my boots fitted by the master, Rich Hill.  The service was really good, I was able to get it all done in an hour.  From there, I headed up to the cabin, arriving at 9pm.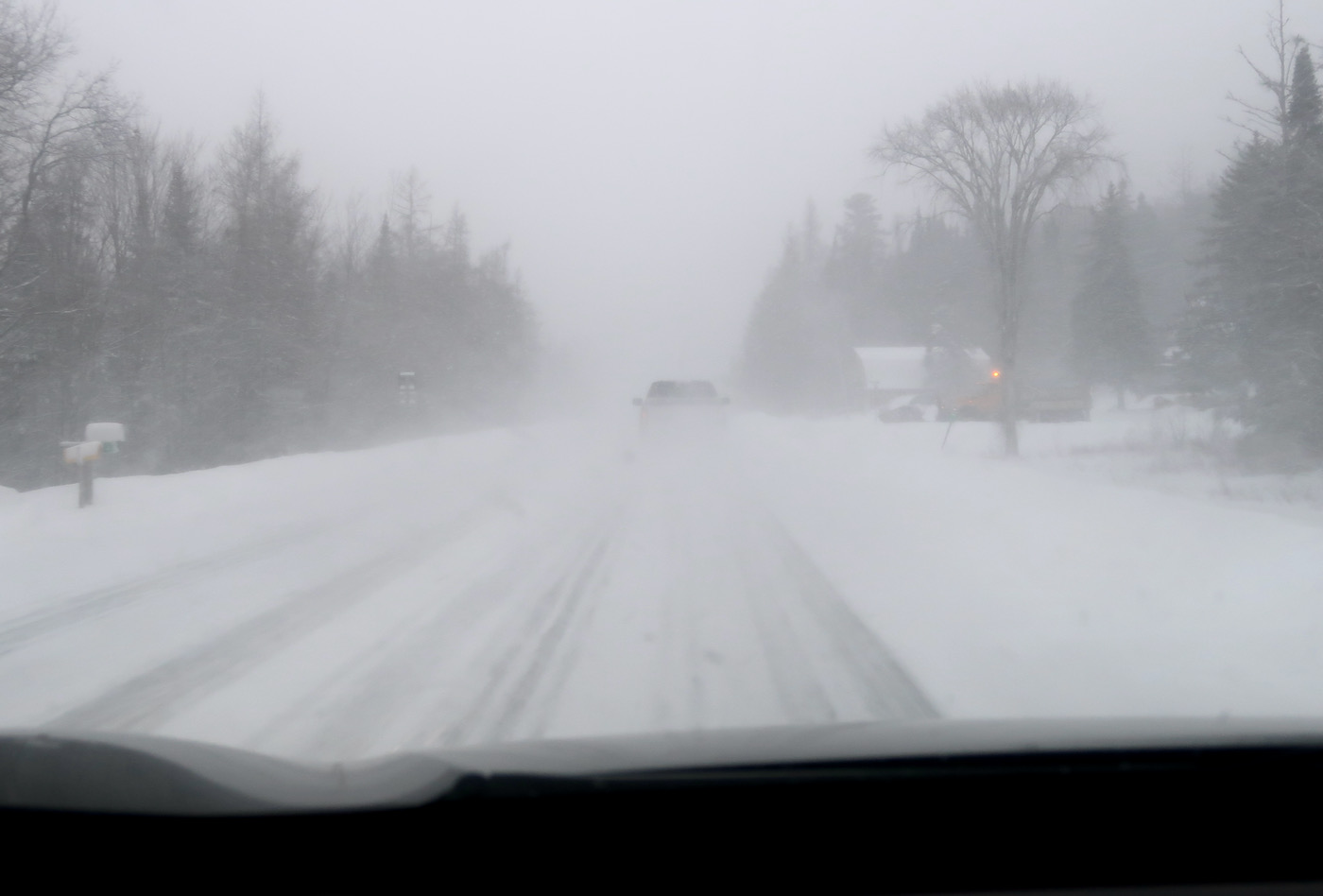 I'd planned ahead. With just a few hours to sleep before my 4:30 am Titus alarm, I brought enough water to drink, make coffee and wash up, so I didn't have to charge the plumbing. A time saving strategy for times when I'm just using the cabin to sleep. I'd be going without a proper breakfast, but sometimes you have to improvise.
Saturday morning it was ten degrees when I headed north toward Route 30. There was snow in the forecast for Titus but for some reason, I wasn't expecting much on the drive up to Malone. I was wrong. North of Indian Lake it started to snow, and by the time I got beyond Tupper Lake, I was driving in intermittent whiteout conditions. I could only hope that this was falling on the hill at Titus too.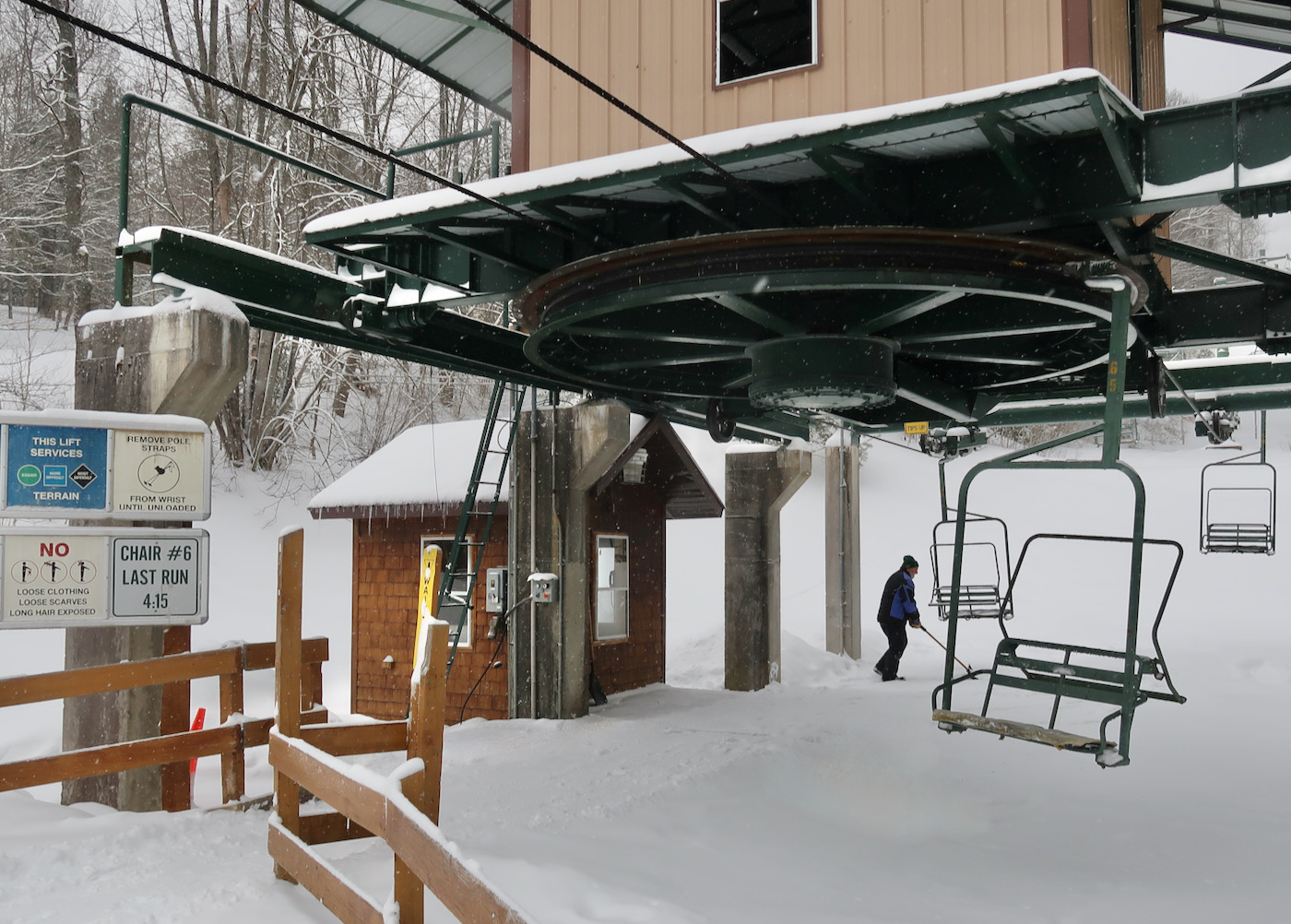 It was. When I arrived it was snowing steadily; it looked like four inches had fallen overnight. My plan was to meet Keukaboi for first chair at 9am, but by the time I was booted, it was 8:45 and there was no sign of him. The hill looked very snowy and nearly deserted, so I was itching to get on a lift.
I'd been texting with Bruce Monette (the 3rd) about directions earlier in the morning before I arrived. Google maps seemed a little confused about how to get Titus from the south. As I got closer, Google kept recommending nonsensical "short cuts" and was doing that thing where it spins around in circles when it can't figure out what direction you are traveling. W.T.F.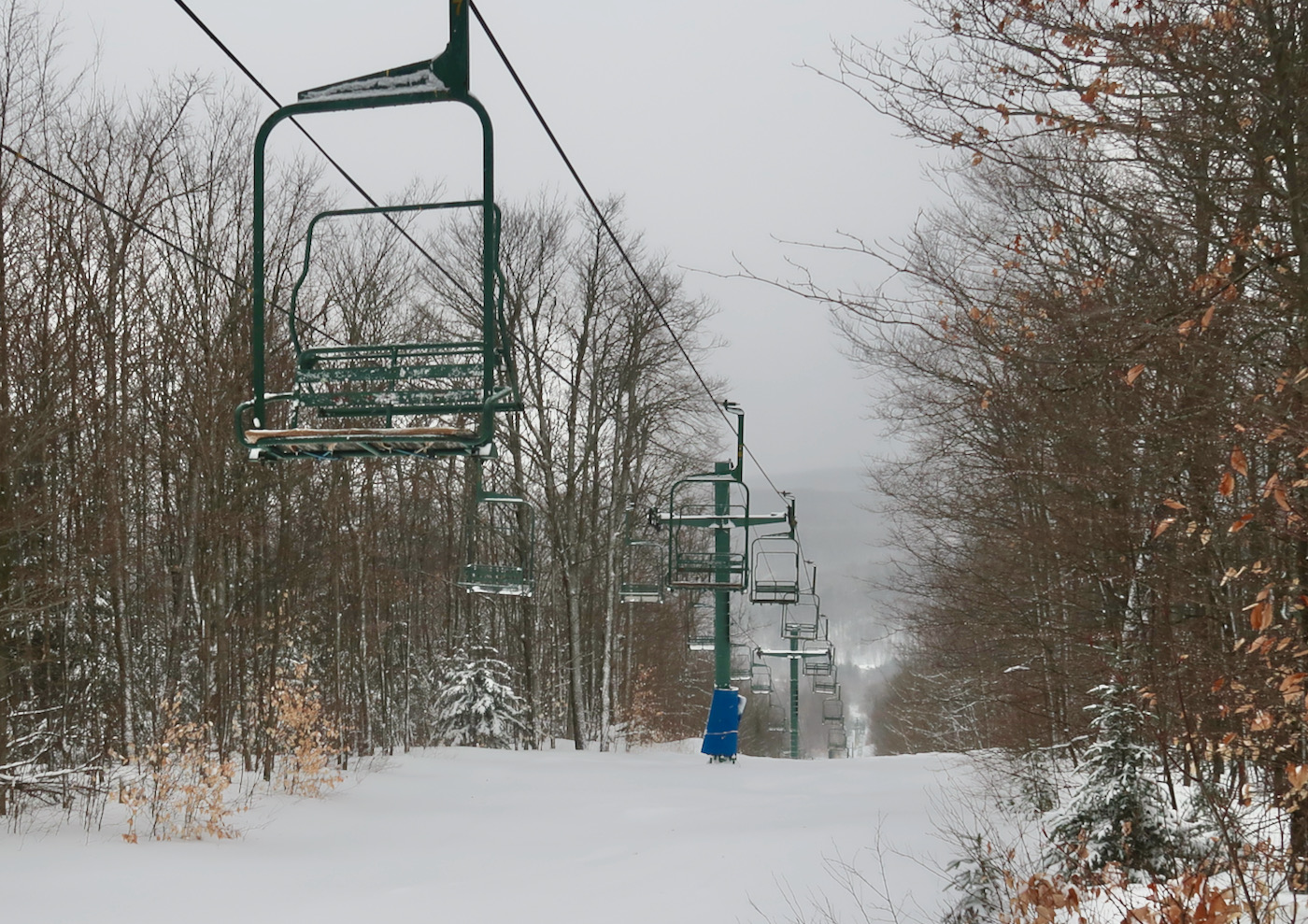 If you're new to Titus and maybe even if you aren't, you might want to start your day at the Lower Lodge. It is the main base area, with all services available.  If you do, use "Titus Mountain Lower Lodge" as your destination on maps, or you might end up at the upper mountain. My first time at Titus, I arrived at Upper, and I didn't know how to specify the main base area, which is nearly two miles away.  Take Route 30 to Fayette Road to Johnson Road. File that away if you like to make first chair.
I ran into Bruce in the ticket office, his family has owned Titus for more than a decade. He told me that my best shot at the full depth of untracked, 12-14 inches since Thursday, was on the upper mountain.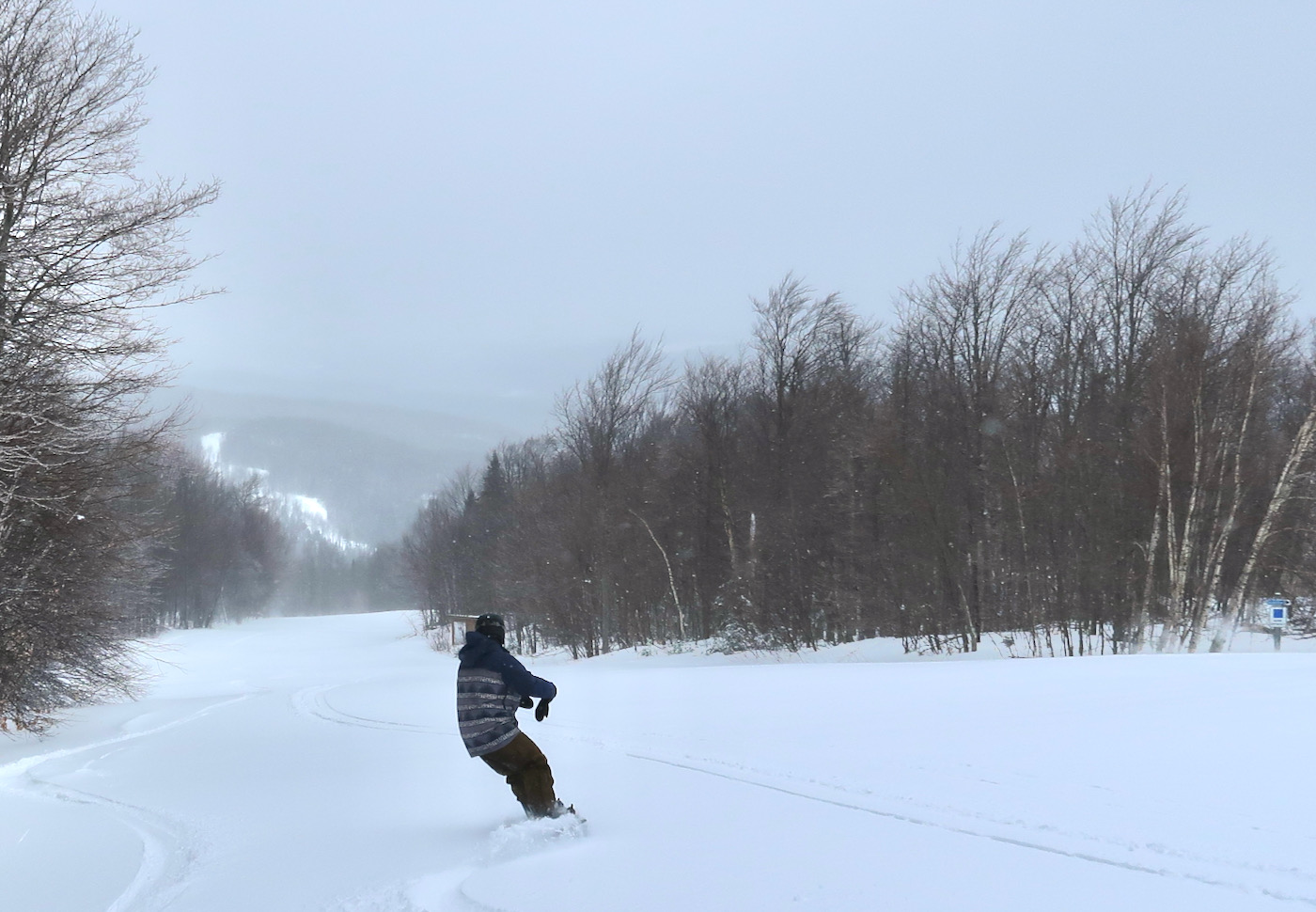 The rain storm and subsequent flash freeze had created an ice buildup in the skiers tunnel that crosses under Johnson Road to access Upper. With the tunnel out of action, only a few had skied that side on Friday. Bruce recommended Big Al's — the big blue square glade that comes off the summit.
I dropped down to Lift 6. The liftie told me I could load, but on my first run, I should come back down to the Lift 6, the tunnel still wasn't ready. I texted Robert, I was going up, and to meet me on the upper mountain. I'm not used to having a mobile signal while skiing, but there is a workable Verizon signal at Titus. As I rode up Lift 6 I was getting excited about my start on the middle mountain, the terrain under the lift was untracked.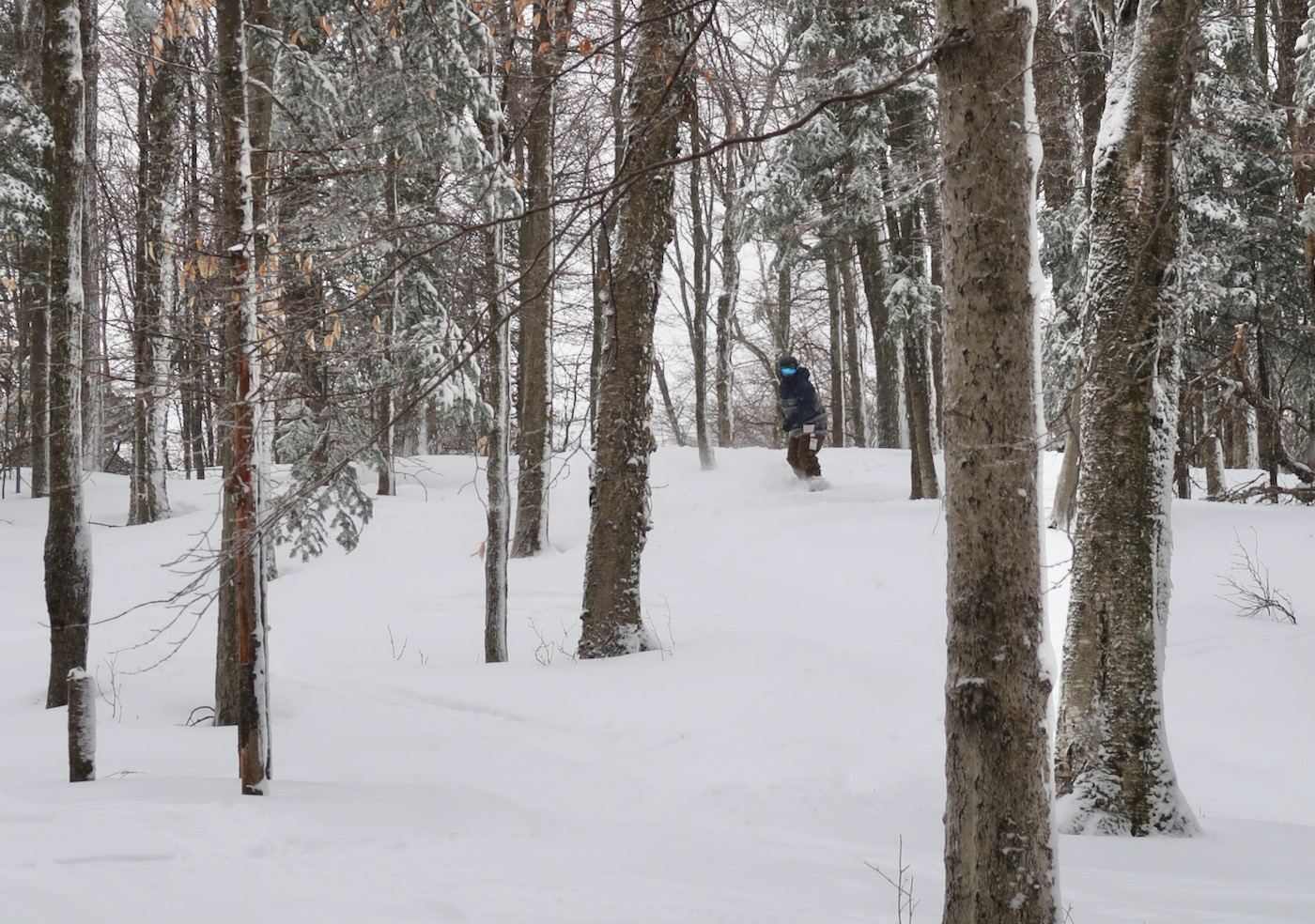 That first run was excellent. It was a dense, surfy, somewhat windblown pow. I came in contact with the firm surface underneath everything in a few of the steeper sections, but I was floating most of the time. At the bottom of the liftline, I was forced back out onto a groomed trail, corduroy with 4 inches on new snow top. Smile.
The next time up, I dropped down to Lift 8 and headed to the summit of the upper mountain.  From the chair I could see very few tracks on the open terrain. I figured if the trails were untracked, I'd save Big Al's trees for later. First on Sundance, all alone on the mountain, I kept to the left to conserve powder.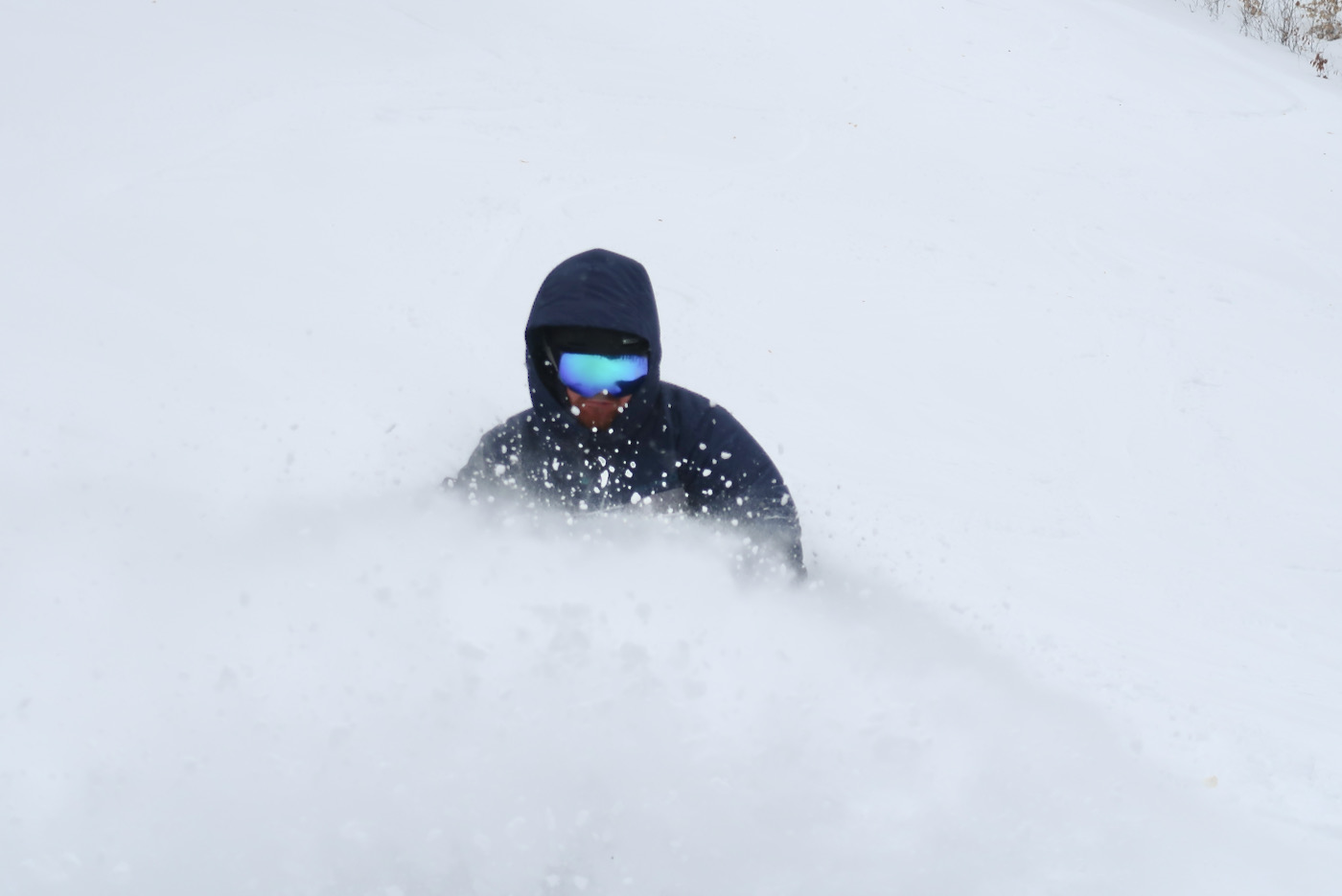 On the next lift ride, I called Robert. He was on Lift 6 and he agreed to wait for me at the bottom of Lift 8. He liked with the idea of tracking up the trails while we were still alone.  We did several laps on Sundance before we saw another skier on the lift. This was all surreal on Saturday of President's Weekend, forty-five minutes after opening. We moved on to Big Al's and Outer.
The terrain at Titus ranges from low angle to moderately steep and the new snow inspired some slow motion shit-eating grins.  The grooming team really knows how to lay down corduroy right where you need it, to keep you moving down the hill.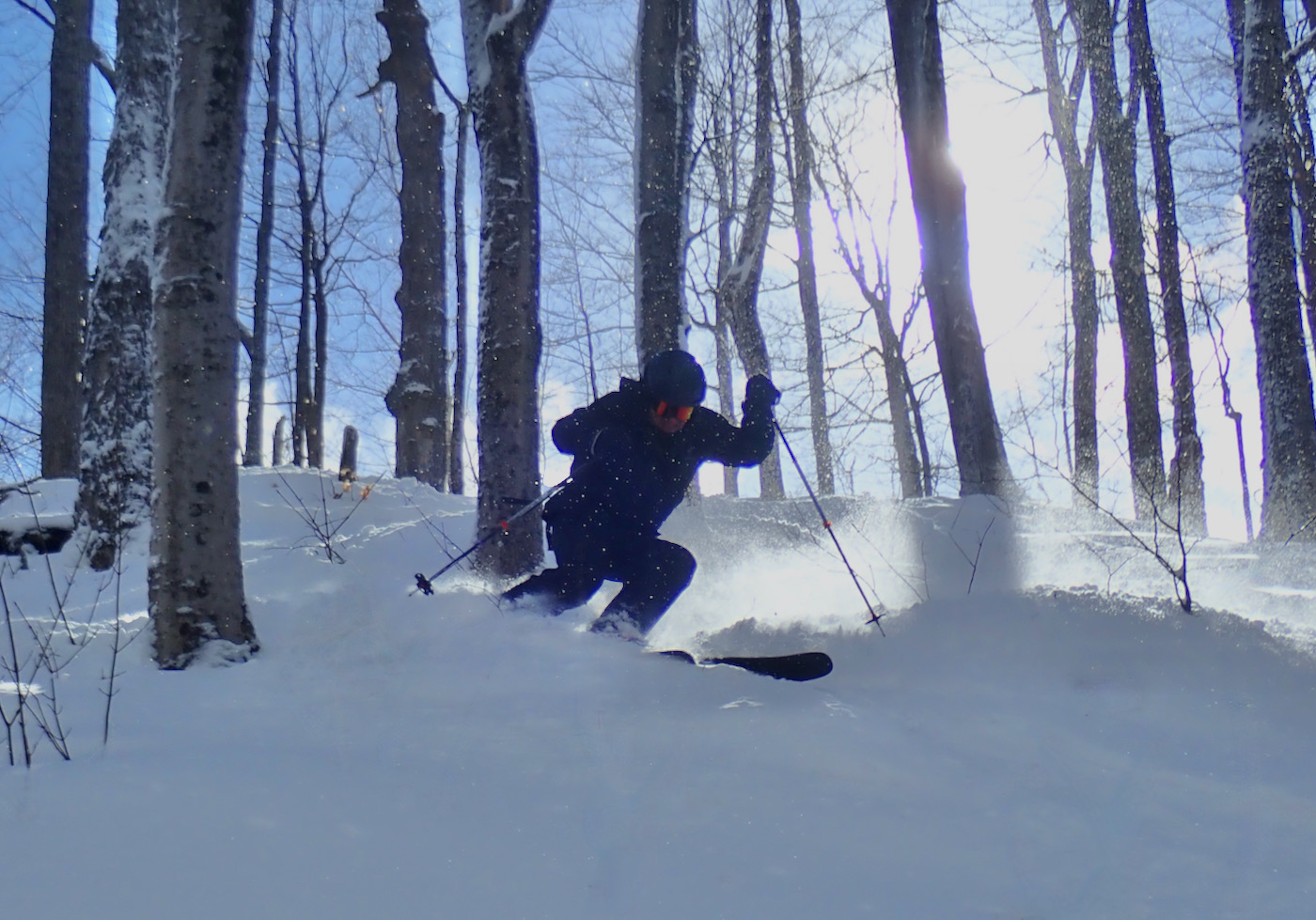 Eventually we came back down to middle mountain to ski Three Trees and Sweet Sugar Lue. We didn't stand behind another skier in line until 11:30, when we decided to get lunch. We each got the signature maple flavored wings and an IPA. Titus actually runs a commercial maple operation, and you dodge tubing in the woods and ski below it on the trails.
After we ate, we met Bruce Monette Jr, the big boss at Titus. He's friendly, energetic and he knows how to tell a story.  Like many independents in New York, in the last two years Titus has had increased interest from skiers looking for an experience beyond corporate skiing.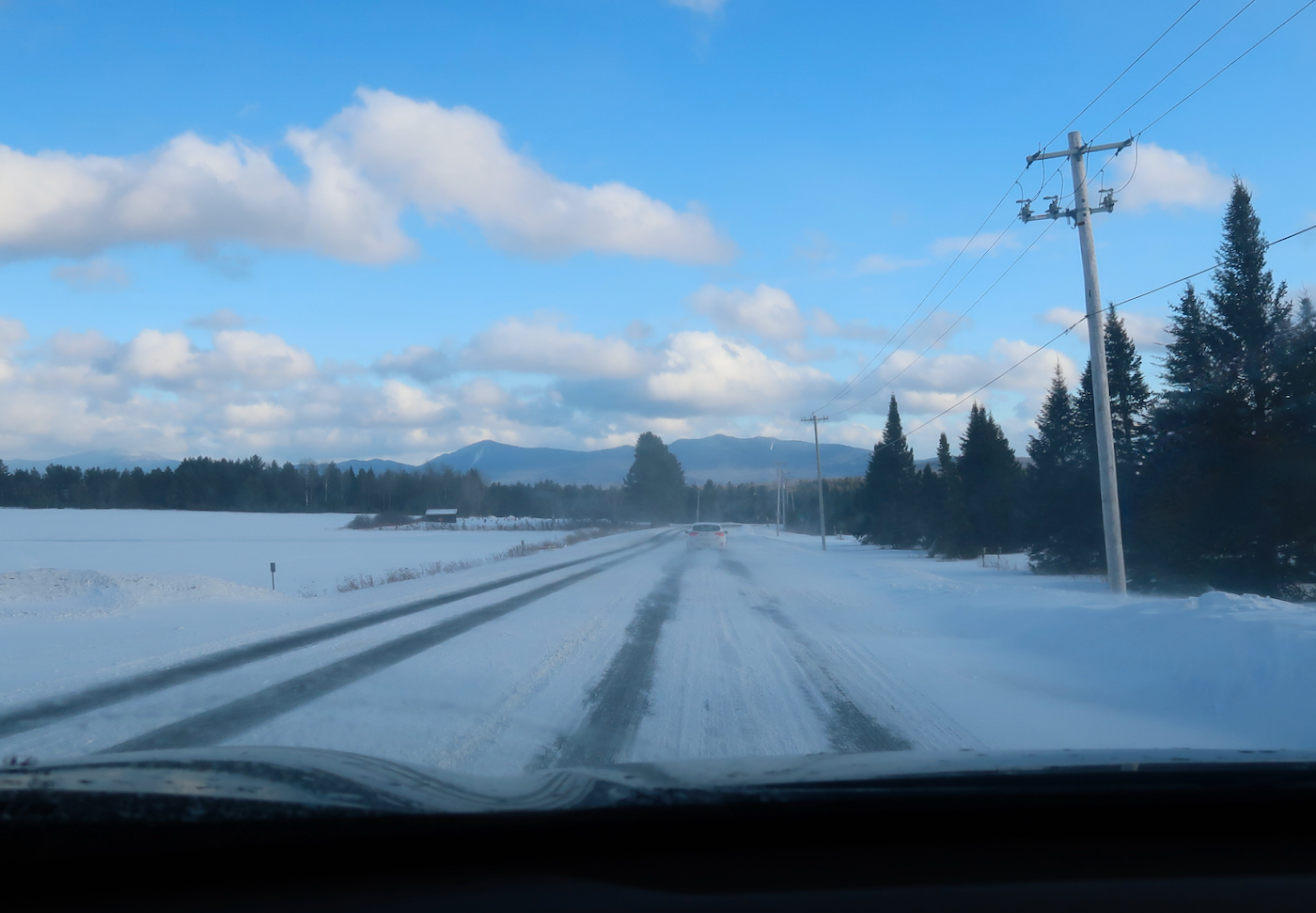 After lunch we headed back out to see what we could find on the lower mountain.  Our favorites were Promise to Barkeater, and Hideout.  We skied those two runs until 3:15 and then called it a day.  I bid goodbye to Robert, and punched my home address into the GPS.
I don't get to the High Peaks very often, but on this day they were on the way home.  To me, they really are spectacular even from a car on Route 86. As I drove off to the east I felt pretty good about the day, and getting my season back on track.  I still have a lot to accomplish.
---
NYSkiBlog is joining with The Indy Pass to bring exposure to independent mountains.
This piece is part of our effort. For more information visit the Indy Pass.
---