My alarm goes off Saturday morning at zero dark thirty. It's the day of the New York State Ski Racing Association (NYSSRA) Championships distance race. The Battle of Saratoga will be re-enacted at the Saratoga Biathlon Club, on the shores of the Great Sacandaga Lake.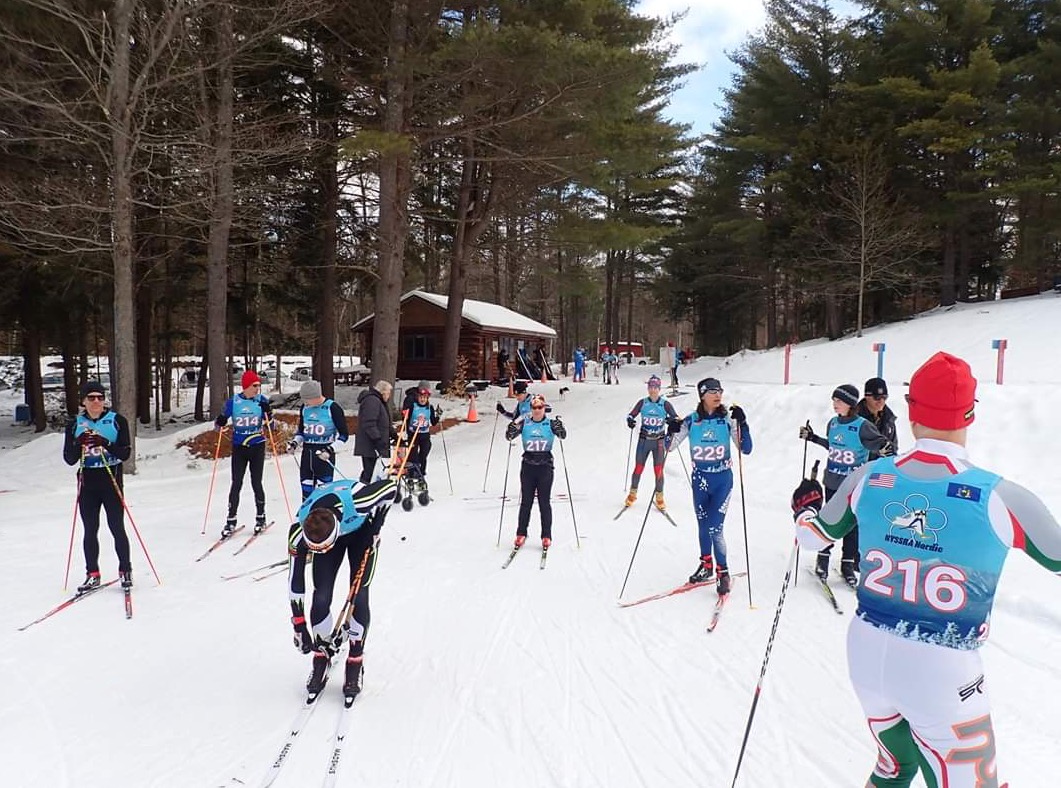 For a change, I was prepared for early departure. The ski prep was straightforward. I'd made a breakfast and a lunch the day before. All I had to do was get dressed, shave, slurp coffee and make sure I hadn't forgotten anything. You haven't lived 'til you've driven 260 miles and realized you left your ski boots at home.
Peru Nordic teammate Stan arrived from Philadelphia around 5 AM. Within 15 minutes, we were headed towards super slab.
Modern World Cup race venues are unsubtle, in-your-face, and brutish. Think Gore's nordic center or the new trail being constructed at Mount van Hoevenberg, to say nothing of what you see on EuroSport. The emphasis is on brutalismo climbs that reward a huge motor, and the ability to descend at warp speed while negotiating crankin' corners. As an aside: in 2013, athletes threatened to boycott a World Cup race in Sweden over safety concerns with one of the big downhills.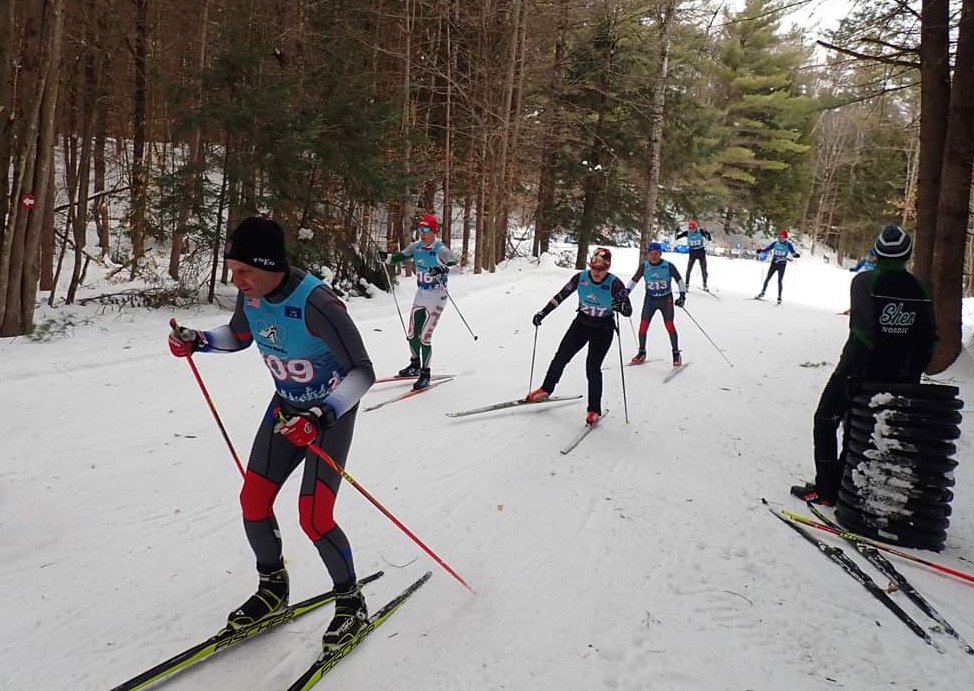 By contrast, Saratoga Biathlon's trail system is a throwback. Jim Schreiner cut these trails on his property in 1983 so his sons, Curt and Jim, could train.
"We had a group of kids in the Saratoga Biathlon Club. Actually, it was the Saratoga Biathlon Team at the time," said Curt Schreiner a few days after the race. "The father of one of the kids, Bud Adams, bulldozed all of our trails, so after we cut the trees down, we could ski on them. It took a couple months, two or three months altogether, with cutting all the trees down, bulldozing. The trail system is about five miles altogether."
Curt would go on represent the US in biathlon the 1988, 1992, and 1994 Winter Olympics. In 2017, he was inducted into the US Biathlon Hall of Fame.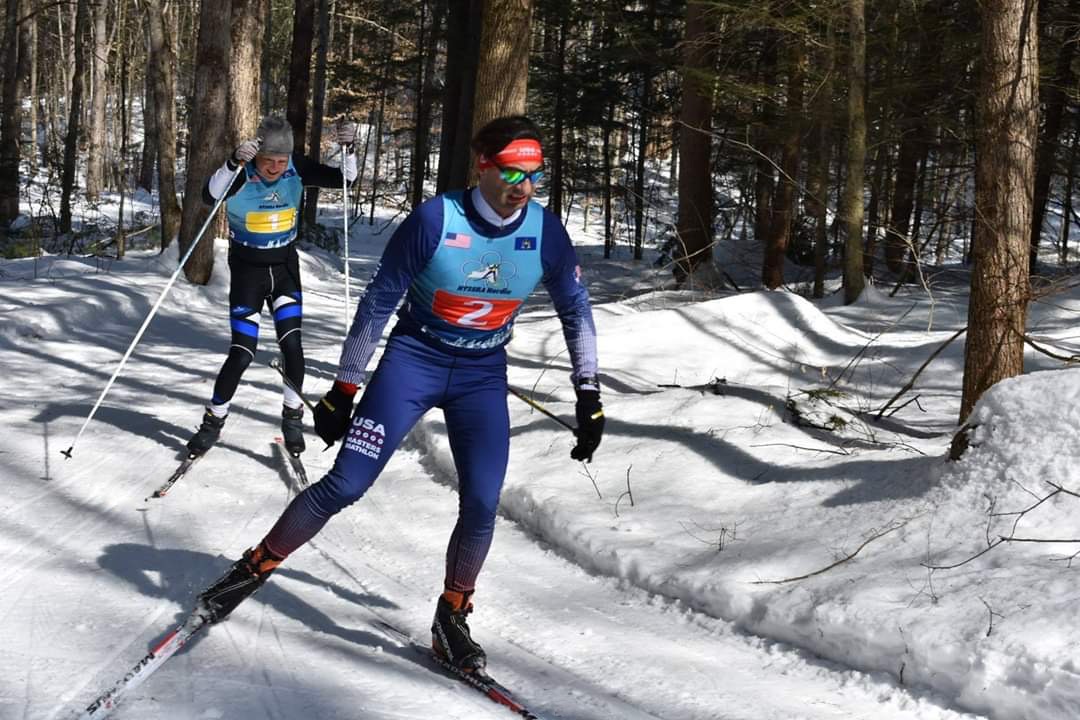 This low-key place is all business. You park right beside the stadium, which features a range with 15 shooting stations. There are a couple outhouses. Heated only by a wood stove, the lodge is a recent addition. Curt's parents still help run races.
The Saratoga Biathlon Club rewards technically proficient skiers rather than those who simply have huge motors. There are a few stiff climbs, but they're relatively short compared to the A climb at Gore. There are relentless transitions, downhills with blind corners, and constantly changing sidehill. The short steep climbs and longer, more gradual hills demand good pacing. There are few places to relax.
Saratoga Biathlon has one of only three biathlon ranges in New York. The others are in Lake Placid and Old Forge. I'm unsure how many ranges exist in New England.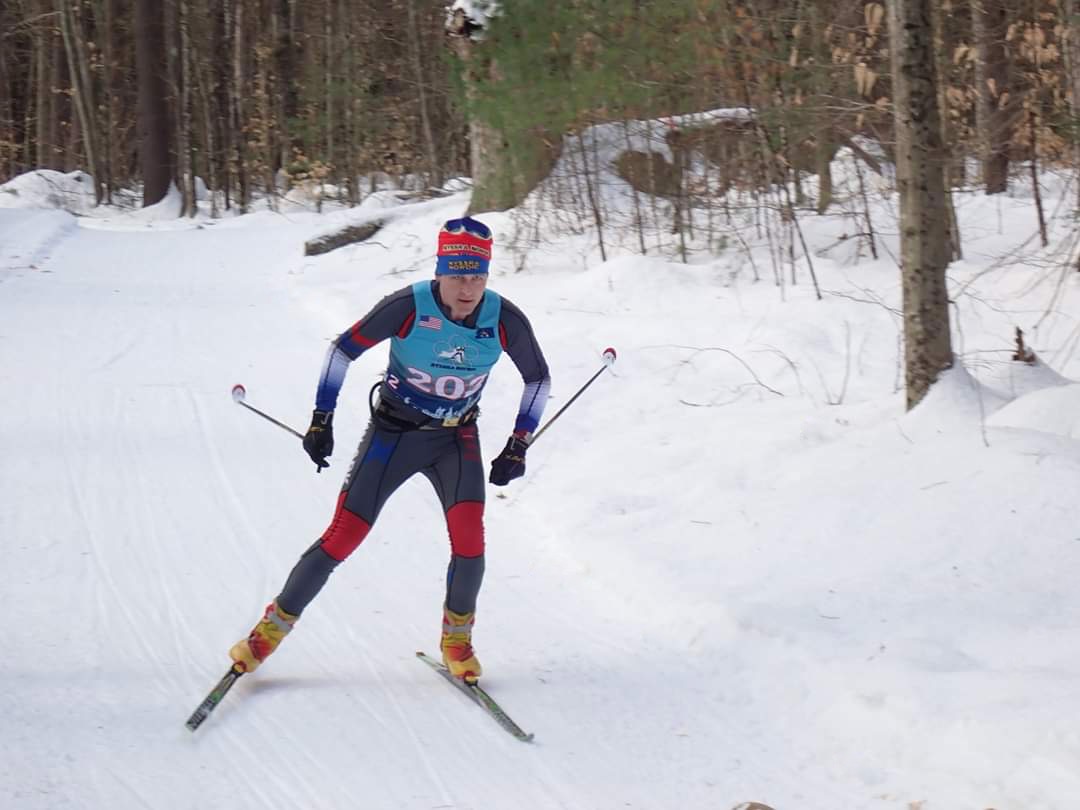 After an easy cruise north, we arrived. I collected my number, pulled on ski boots and went out to scope the race loop. The race would be four 5.5km loops for 22 km. One could opt for half distance, and U16 skiers went one lap. Snow hung off the trees, and the base was deep.
I was glad of the opportunity for a warmup, because I don't ski Saratoga Biathlon all that often. We assembled for the start, and went off promptly at 11 AM. Four 5.5 kilometer laps for a total of 22 k.
My race goal was to keep within shouting distance of Mark Chmielewicz, the big gun in my age group. For the first kilometer, I was within 20 meters of him, but he worked his way around my teammate Amanda, and Gerry Trupelli, pulling away. If I tried to mark him, I'd blow up. I settled down to skiing a sustainable pace. Mark went on to gap me by 8 minutes.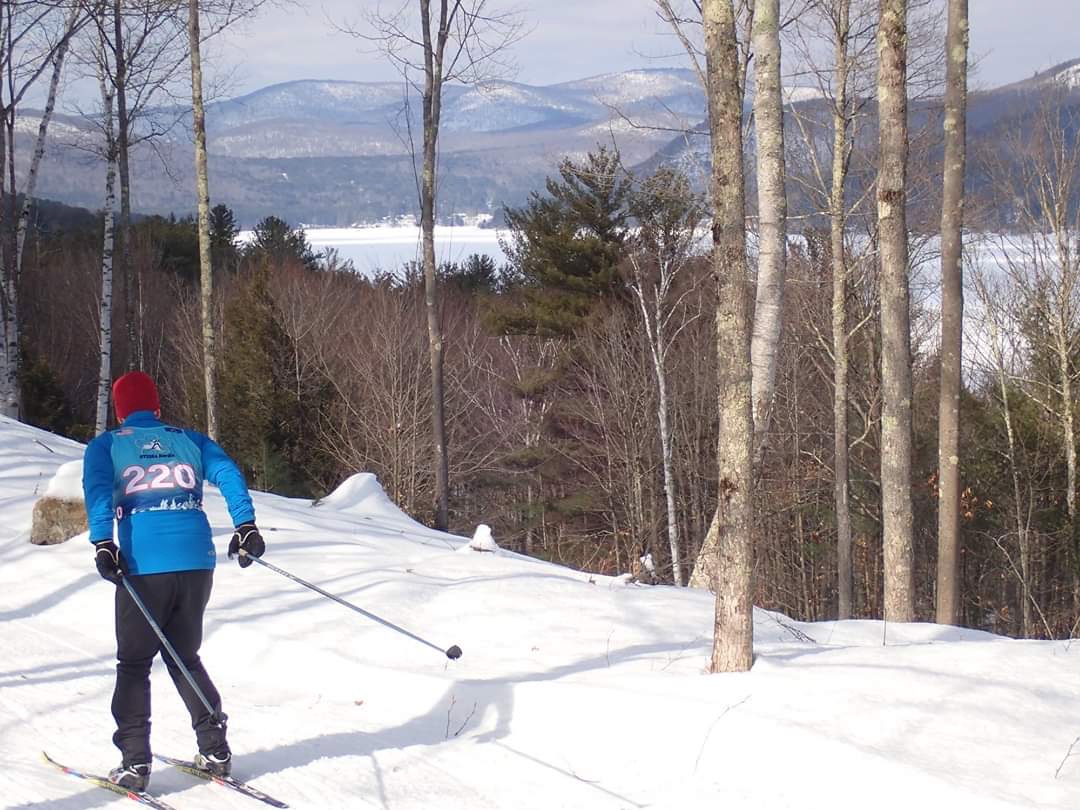 For the next couple of laps, Amanda and Gerry and I went back and forth. I pulled away from Amanda, but couldn't quite catch Gerry.
Midway up one of big hills, Amanda shrieked, not 10 meters behind me. It scared the crap outta me, was it a bobcat? No; it was Jason Hettenbaugh from Rochester Nordic, swooping down to lap us, on his way to win the 22 km race outright.
After Jason blew by, Amanda followed and pulled away from me for good. I concentrated on skiing smoothly. On the downhills, I tucked low and went as deep into the corners as I dared before checking speed.
In the last two kilometers, I began to get tired, but at that point I was past the big climbs. I cruised in to the finish, coughing that tubercular hack that means I put in a good effort.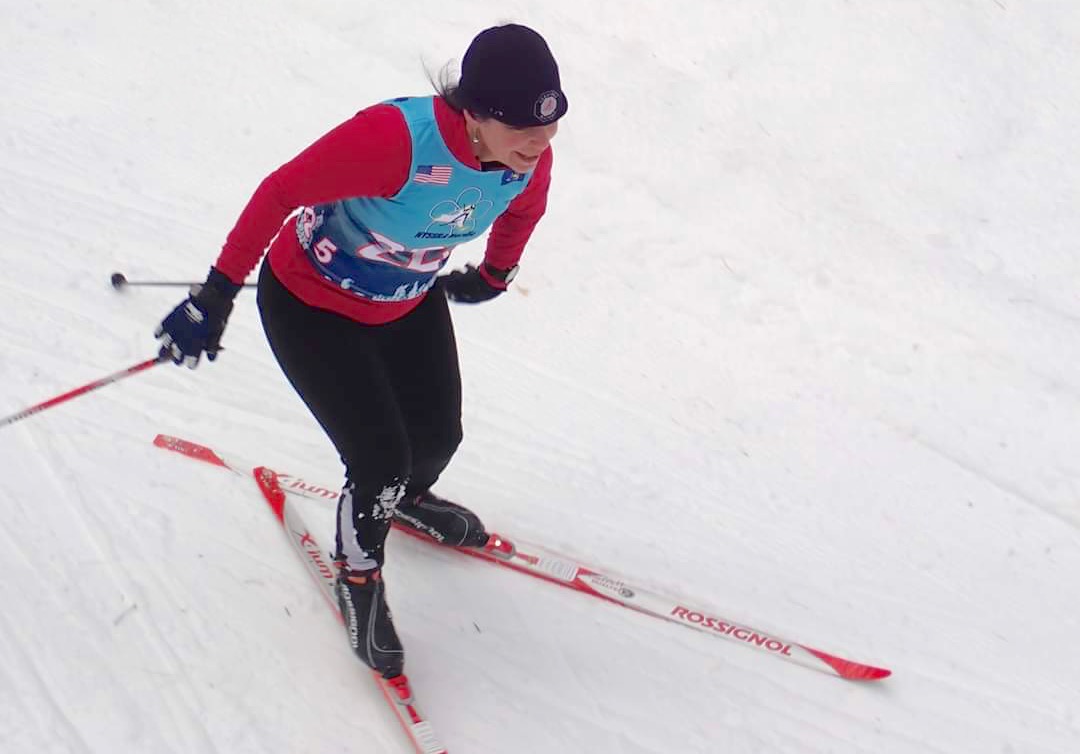 According to Curt, Saratoga Biathlon Club has around 100 members, with 15 or so who are into biathlon. The club puts on 8 to 10 events per year.
I asked Curt about opportunities for newcomers interested in biathlon. The most important thing, he said, is that a biathlon newbie should already know how to cross-country ski.
"We're a club," he said. "We have the range, and people can join the club and practice [shooting]. If someone is new, and they want to try it out, I try and work with them and have them try it out. I don't hold consistent practice days for people to come up and do it. You can either join the club and use the trail system, or you work it out with me to come and try it out."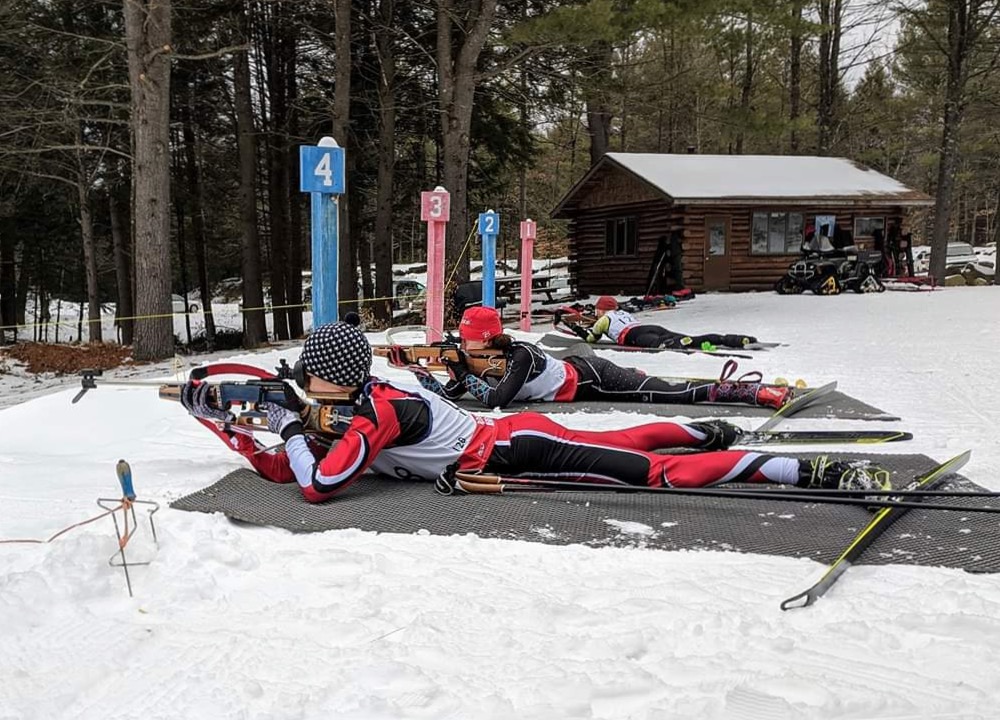 Schreiner stressed that Saratoga Biathlon is a family-run club, not a business. "I have to go down the range and help them out. If I get 20 or 30 people wanting to come down and try biathlon, it makes it really difficult for me."
If a newcomer doesn't have a biathlon rifle, Schreiner has rifles from his competition days that he might let him or her use. Schreiner also instructs newcomers in range safety before they go out. "When we have beginners, I give a safety clinic before we even start shooting."
Even after the heights of three Olympic Games, you can still hear the passion in Curt's voice as we spoke. He's dedicated to furthering biathlon and skiing. You need to check this place out.
---
All photos courtesy of Tom and Marque Moffett