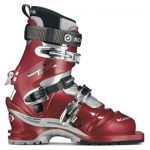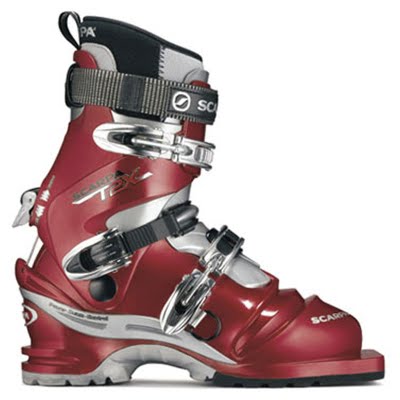 I've been eyeing up the Scarpa T2x for two years now. I got a Mountain Gear catalog last night and noticed that they've been discontinued. Replaced with something called the T2 ECO — a newer version made out of mazzola instead of dead dinosaurs. "Protect the backcountry while you ski it!" OK.
I truly have no business buying these bad boys. My old T2's are a little beat but basically ok. I've gone to a wider ski (Atomic RT-86) but still, I don't HAVE to have stiffer boots.
I'm sitting here in the office and I started Googling the T2Xs. Everyone's got them on sale because they are discontinued. Looking, looking, looking… of course NONE are in my size — a fairly average size 10 foot. Then I find some Wilderness Experience in Colorado – ONE PAIR IN MY SIZE.
It was almost completely involuntary. The credit card practically did all the work itself and I was an innocent bystander. I might have some real explaining to do but I'm covered. I just bought my wife a full new setup at Steiner's Sports a few weeks ago.
Now we need some colder temps!