Zelda and I spent the day in the car traveling in a driving rainstorm to visit Steiner's Sports. It was well worth the trip. We went to the Valatie store.  It's an unassuming building on the right as you come into town from I90.

We'd made the decision this off-season to move Zelda to alpine gear in the hope that we could spend more time skiing together and share more terrain. I know little about fixed-heel gear, but had always assumed the boots were less than comfortable. I've seen countless alpiners, unbuckle their boots at every opportunity. You really never see telefolk doing this and I came to the conclusion that the boots must be less comfortable.
On the recommendation of Highpeaksdrifter we decided to check out Steiner's, home to Garrick — the boot fitting master. Last month we picked out a pair of Technica Boots in the Glenmont store, and today they were waiting for us when we arrived for a 1pm appointment with Garrick.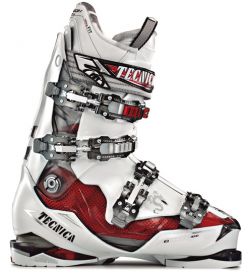 I really had no idea what a boot fitting was about. Basically almost everyone's body, their feet, ankles, legs and hips are completely out of whack. Ski boots are plastic footwear that really will only properly fit a mythical, symmetric body that only exists in a medical journal. The key is to figure out exactly HOW you are out of line, and modify each boot individually so that you can stand naturally and weight your skis evenly without stress or pain. It was quite an anatomy lesson.
The boot fitting took over two hours and included thermally molded footbeds, some cutting and removal of the top of the boot cuff, and multiple adjustments of the plane of the boot bottom so that my wife could stand naturally and flat at the same time. I was surprised to see such seemingly minor adjustments actually affect her stance. At the end she LOOKED centered over her boots. And she said she could definitely feel the difference. Time and turns will tell.
We moved over to the ski wall, and to my surprise Garrick recommended a wider than narrow ski — the K2 Free Luv:

These skis are 120/76/104 with a turning radius of 13 meters. According K2 they are 60/40 onpiste vs off. I don't see Zelda ever going off the groomers. The interesting thing is that Garrick made the recommendation based on her body geometry, not her ski level or aspirations. The thing about Garrick is that the guy just seems to know what he is doing. It had already been a long day, so we went with it and hit the road to battle some of the most intense rain I've ever driven in.
If you're an alpine skier from the capital district, and you want your boots to fit, check out Steiner's Sports and ask for Garrick.