Skis: I'd love to check out something a little stiffer and floatier than my K2 World Piste's. Those Atomics above – the RT 86 – to me, looks like the next step. I thinking they will be a little harder to handle in the trees, but better on hardpack and in powder. This ski will challenge the intermediate skier that is still left in me.

Measurements are 176 cm in length and cut at 128-86-114. I'm a quiver-of-one kind of guy. I don't want to have to think about what ski I am taking to the mountain. I want "my skis" to mean that one pair I've always got with me. I guess if I go to these RTs, I could run on a quiver of 1.5…bringing out the World Pistes when the trees are still good, but beaten out. Maybe. If I like these new skis, I'll probably use them all the time.

While we are in fantasy land… I'd like to get some powder specific skis for Zelda. I'm thinking of K2's Dawn Patrols, pictured above. I know most western skiers wouldn't consider skis that are 88m at the waist "powder" skis, but CB is skiing on She's Piste now…70 mm wide. My guess is if the transition is too radical she won't go for it. She's not super excited about powder now, and I'm hoping these boards will change her attitude.
Boots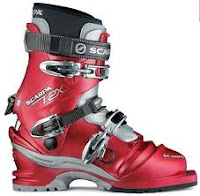 I won't need these boots if I don't get the skis. The Old T2s I've got are probably still up to the task of driving my World Pistes. Rog the Icelantic Skier told me that even my old T2s are up to the job of driving the RT86s. The Scarpa T2X is just a bit burlier than my T2s were when they were new. Odds are slim to none I'll buy the newer stiffer boot, but I want to. I'm a Scarpa guy…they just fit my feet perfectly.
Camera
I need a camera. Last year at Whiteface, there was an "incident." The battery in my camera was marginal and didn't last long in the cold. It wasn't even that cold. I was trying to squeeze a few extra pics out of a dying battery and the battery died with the lens extended. I put it back in my pocket with the lens extended and, later, I crashed. Needless to say, my camera is toast.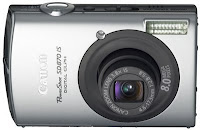 To feed my blogging addiction, I NEED a camera. Suggestions for a good ski camera are welcome. I've had a few suggestions including the Canon 870 and the Canon S3 IS.
While the S3 is definitely a nicer camera, the compact and simple shape of the 870 may make it more suited the apparent abuse my skiing style doles out. The problem with the 870 is it doesn't seem to have a view finder that allows you to see the framing in bright light. Which is basically all the time, when you're on the hill. More to come on cameras and maybe weather stations.