To continue to bring you stoke enhancing trip reports with pictures, I need a camera to replace my defunct Sony Cybershot DSC-P9.  I've posted on FirstTracks and AlpineZone to get input from skiers, to find out what they're using.  It seems like a lot of people are using Canons.  I've read through all that great input and posted a summary below.
First, my wish list:
A viewfinder. LCD displays seem worthless in bright light. At least on my Sony it was. It would be cool if the frame in the viewfinder matched up to the actual frame in the final photo.
Speed. Not sure what it takes but it drives me nuts when the camera is calculating and the shutter finally clicks after the action has passed. Am I asking for is low light performance?
Some amount of toughness, if possible.
Good color saturation and sharpness.
Small enough to fit reasonably in a fleece breast pocket.
Quick startup/powerup.
In the neighborhood of $350.
---
Some of the recommendations from threads I've posted on FirstTracks and AlpineZone:
Sony 130 or Sony 150 …. "some of last year's Sonys are still on the market that have view finders…. Sony forces you to buy their proprietary memory stick instead of using your existing card."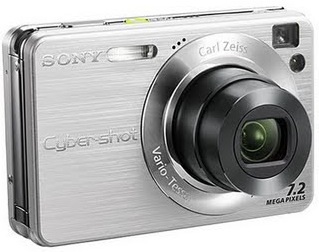 Canon PowerShot SD700 IS Digital ELPH …  "had great luck with this camera. I paid $349 for it a few years ago. Takes okay movies as well as excellent pictures. I has a small viewfinder but I never seem to use it. Fits in my pocket and is built like a tank. The SD1200 should be even better."
Canon SD790 …  "no viewfinder, but I've learned to live with it. It's small and compact, which is what I wanted. It takes great pictures as well. It also uses a standard mini-usb plug. My only complaint with this is you can't charge the battery via usb. You have to use an external charger.?
Canon 870 ELPH … "successor to the 800.  The 800 was Canon's first compact with wide angle. The wide angle and the image stabilizer were my key motivations in the purchase.  The 870 has 8 megapixels vs. 7 for the 800. I shoot at 5 megapixels in exchange for Canon's feature that extends the telephoto zoom range a bit if you lower the megapixels.  Canon made a mistake going to the 3-inch view screen on the 870 vs. the 2.5 inch screen on the 800 while removing the viewfinder. The new screens are brighter, but in snow glare I still prefer the viewfinder."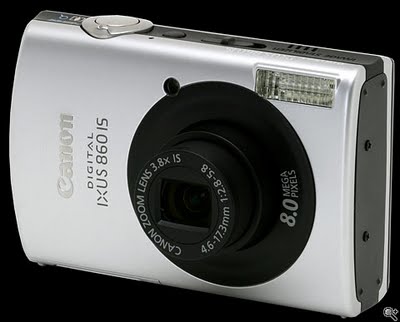 Canon PowerShot SD 1000 or 1100 or 1200 IS …  "has a viewfinder, but not one that will show the actual shot you may take (if you've zoomed in or out, etc.). Works well and fairly easy to learn. Small and flat – same size as a cell phone – so it fits nice in breast pocket of jacket. $180 at Best Buy last December. Comes in several colors – went with the blue; helpful to find the thing when it drops in the snow … it's fast, takes good shots, has a viewfinder, is compact, and built like a rock. My favorite feature is that you can turn off the lcd screen when the battery is low, and just use the view finder. On cold winter days, that can be really helpful."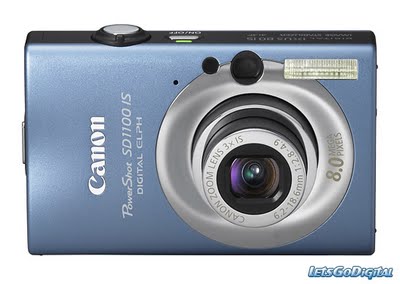 Canon PowerShot A Series with IS … "these cameras all have viewfinders, use regular AA batteries (another rarity which often comes in handy), and have really good picture quality for the buck."
Canon A720 IS …  "plenty of pixels (I think 8 MP), 6x optical zoom.  I run plain old AA alkaline batteries, which don't have the life or rechargability of some of the more exotic chemistries, but if I really get stuck, I can buy a pair at any ski resort.   It also has the usual list of software goodies like autofocus and various auto exposure modes – too many to list. I recommend it."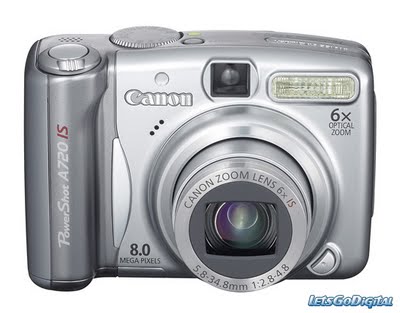 The new Canon G11 … "has a viewfinder and they've scaled back the mp so that it's supposed to be much improved with respect to noise in lower light. It's not real compact and it's not cheap."
Panasonic Lumix Series …  "one of the best small digital cameras. Panasonic is currently providing all of the bodies for the LEICA digital line, and in turn, Panasonic is using Leica lenses on all of their LUMIX cameras. The point and shoot LUMIX line is also great quality and has the LEICA lens. I would recommend the LUMIX DMC line (TZ5K)@$300."
Panasonic ZS3 (TZ5, TZ7) … "no viewfinder, but the LCD is very large and bright. It has an AMAZING auto mode for difficult shots in complex light. 25-300mm zoom. Relatively compact. Fast. Best of all it shoots 720p HD video with very good quality, and can zoom while filming. You could potentially shoot video and frame grab from it blogging….very easy to get action shots at 30fps."
Nikon Coolpix S550… "for a basic p/s but it works really well on the mountain. Video recorder is better then a lot of p/s camera's I've used, and the picture quality is outstanding!"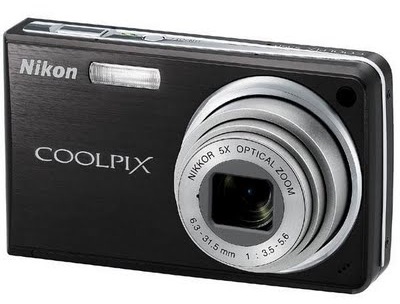 Don't forget
steves-digicams.com
. Great site for reviews….some of the stuff is pretty technical and overwhelming but if you focus on the conclusion section you should be in good shape.