I took time today to check out progress at the Ski Bowl. After buying some hearty roast beef sandwiches at Sarah's in town, we went over to Ski Bowl Park to eat. I gobbled mine down and left the womenfolk to relax, and use the playground. I took an hour to go explore. Not much progress on the Lodge. There were some guys working, but I would have thought they'd have gotten farther by now: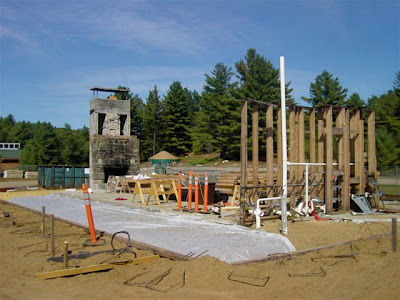 I tried to take a picture that put the location of the new liftline in context. With the marginal wide angle on my point and shoot…the best I could do was include the existing lift that serves the half-pipe.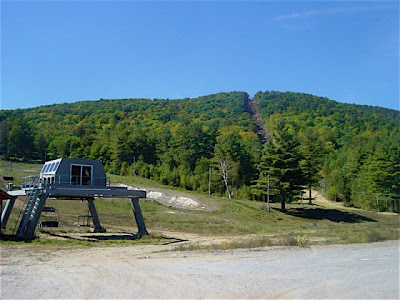 I started heading up. There are a few massive piles of sharp boulders that must be the remains of work with high explosives. If the work doesn't progress past this point this year, I'd recommend carefully reconsidering poaching over there on a powder day. The boulders are big and sharp, with huge gaps in between them.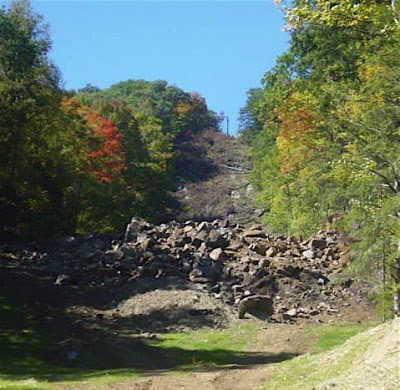 Farther up, it's dirt, brush and trees that have been dropped in place.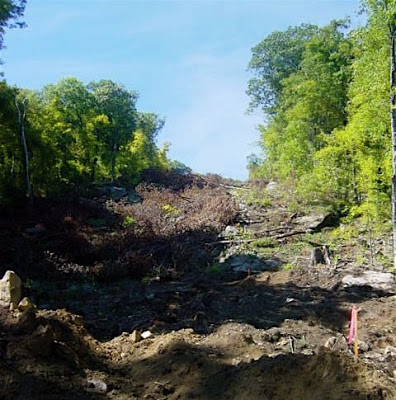 Skier's left is loaded with sweet, widely space hardwoods.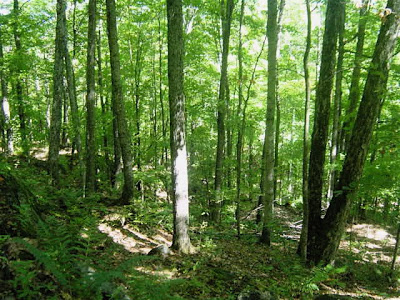 Near the top…the remains of the old liftie shack.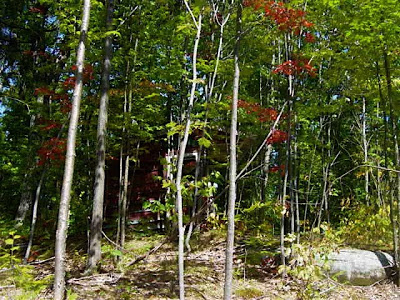 The new lift ends a few vertical feet higher than the old T-bar.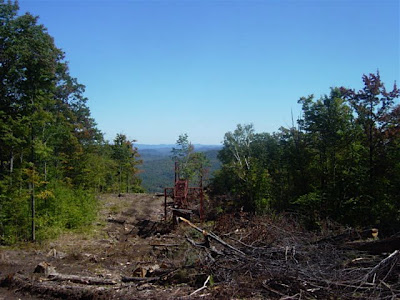 At the top off to skier's right, work is very far along on trails that take a more gradual route down back to the Bowl and I assume over to BRQ. I headed off down and came to an intersection. The trail that continued on the traverse was graded and seeded and looked to be complete: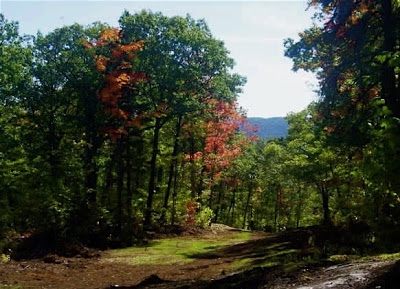 The trail that branched off to follow the fall line was similar to the liftline without the boulders…lots of brush.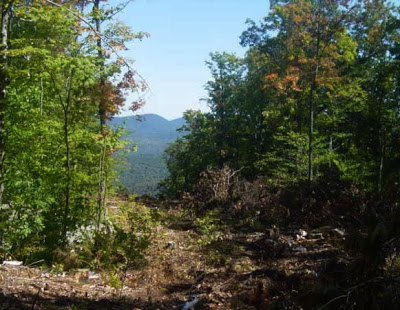 At this point it was clear that I was getting close to active construction and also the family would be expecting me back. I cut into the woods and traversed back towards the liftline. More awesome widely spaced hardwoods that wouldn't require much clearing to be skiable with good cover. (I do realize at this elevation that cover will be an issue.)
If anyone has a map to share of the original trails…I'd trade a cookie for it. One final comment. The exposed bedrock at the top of the liftline pitch…let's call it the headwall…I'm not sure I'd have the stones to ride a Tbar up that slope. I was blown away by the terrain covered by the original lift. Would LOVE to hear from anyone who rode it.