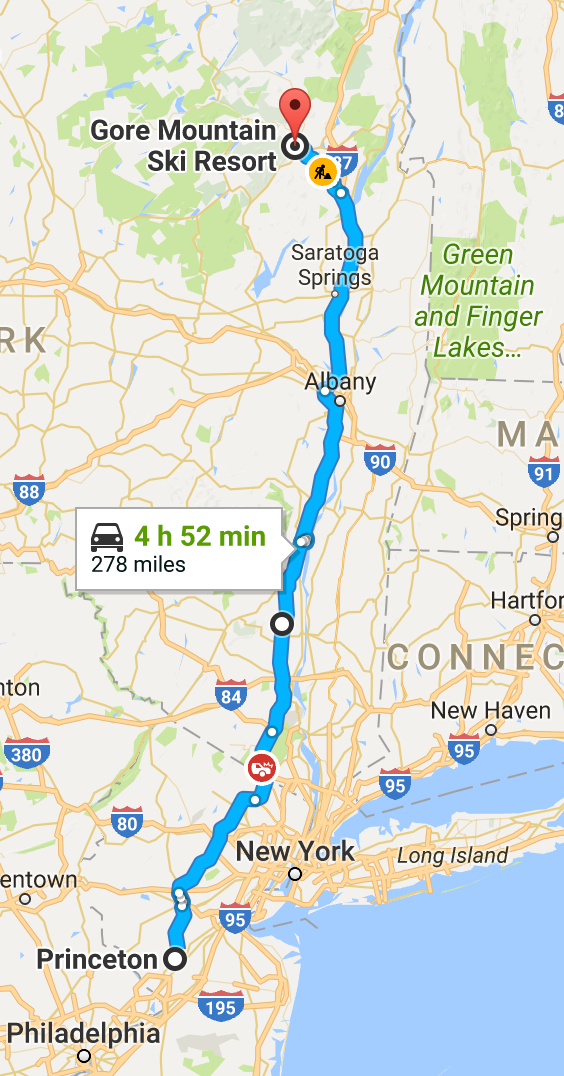 I saw an advertisement for a furniture company that appealed to me. The whole commercial was about how they built their own recycling plant and they take back all the packaging for your furniture, promising it will be recycled. (That's one part of new stuff I always hated — all those boxes and stryofoam peanuts by the curb.)
I went on the web to look them up and send them a note. I got sidetracked and ended up in a "chat" with a customer service rep. She was clearly personally invested in the company and said she had been "chasing a job with them for 2 years." They are in Syracuse.
Got me thinking about moving yet again. I did some mapquest: 3 hours from Syracuse to our place near Gore vs 4 hours 50 minutes from here in downtown NJ. It's a shorter and much easier drive with significantly less traffic.
While that would be a significant improvement in the drive to Gore, it's not really not that much better for all the Vermont resorts including Killington, Sugarbush, Stowe or Jay.
On the other hand Albany would be much closer to Gore and almost everything else. Basically 3.5 hours off my drive to anywhere, and even more if you go up along the Northway. Then I just start mapquesting everything.
All these times are from Central NJ:
Gore: 4 hours 30 minutes
Killington: 4 hours 50 minutes
Sugarbush: 6 hours 30 minutes
Stowe: 6 hours 45 minutes
Jay: 7 hours 30 minutes
It usually takes us 5 hours to Gore with one stop, going mostly close to the speed limit and with whatever traffic we hit. So if you add 1/2 hour to all the times, it just seems impossible to get to Killington in an extra 22 mins or Stowe in an extra 2 hours and 10 min. For figuring, use times from Albany by subtracting 3.5 hours and adding in your time to Albany. Are those times realistic?