Man it feels like a long road this season. There have been many moments of joy, and there has been a lot to accomplish in between. I've taken to calling it all logistics. It may be a little jaded, but it helps me get it done.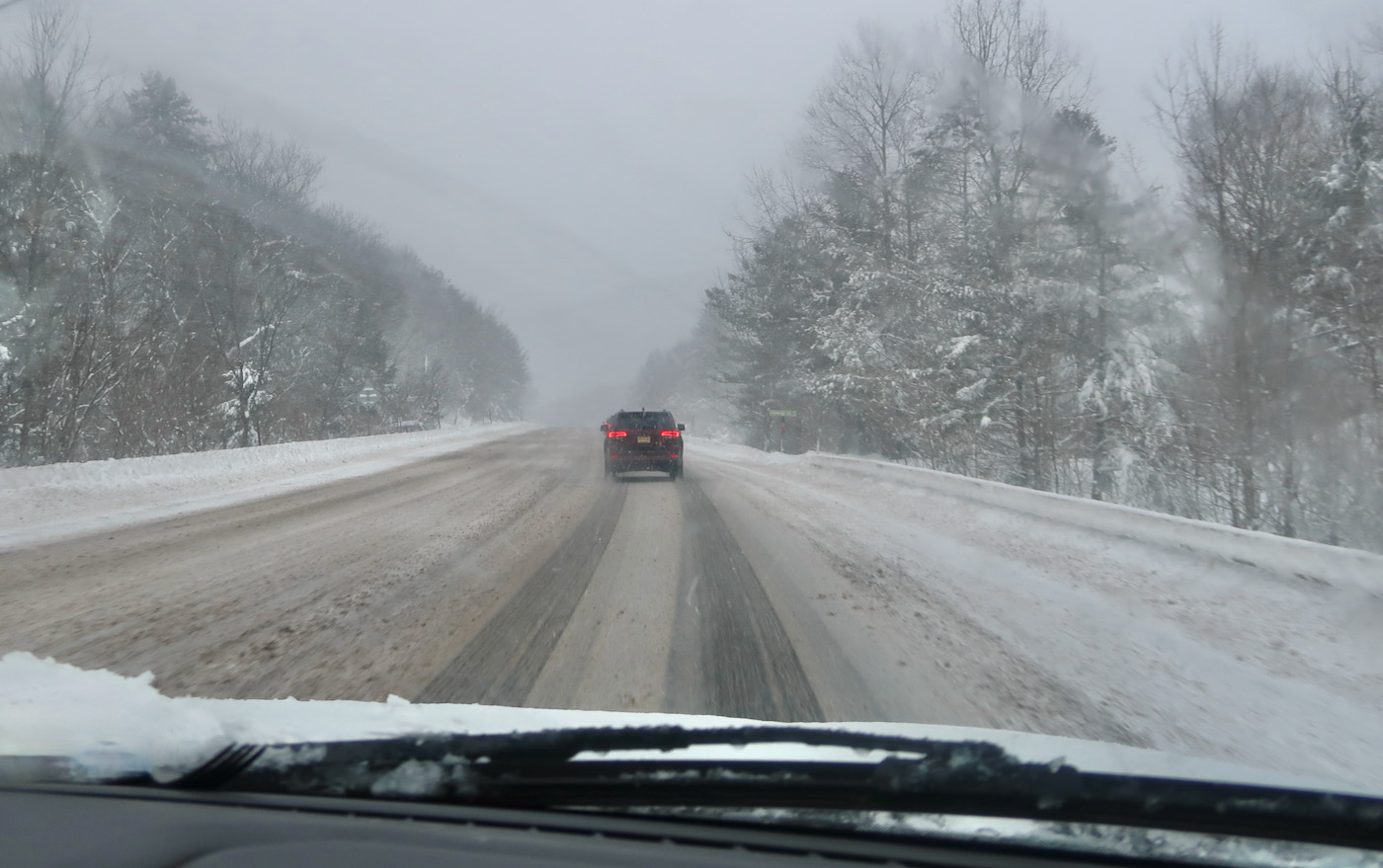 To push this back to skiing, let's talk about Plattekill's Powderdaize, a gift from the heavens above. If it's going to snow big in the middle of the week, and the mountain isn't rented, Laszlo makes the call to spin the lifts. It's a balancing act, getting the staff ready, while watching the snow totals and p-type. When the storm delivers, it's a nice reward for both skiers and mountain.
This last storm was huge. And it was the coldest thing we'd seen all season, with no real risk of mixed precip in the Cats or Southern Vermont. Tuesday's storm may have been in the top five for widespread snowfall in the northeast. Personally, I didn't understand skier doubts about the mountain opening. Everything was in place, with new snow falling overnight, right before a mountain rental that had been cancelled.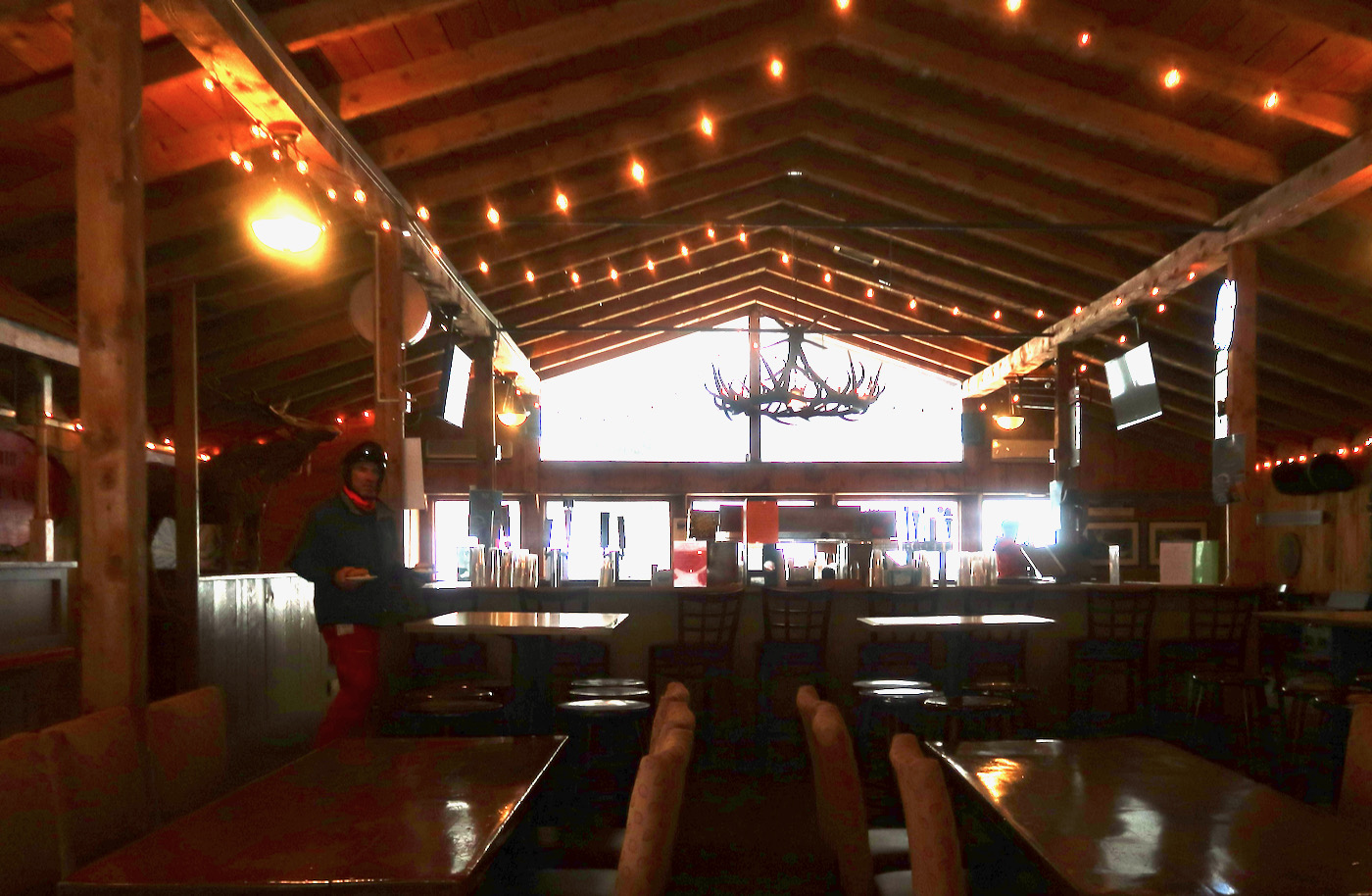 My ski car is now a 2012 Prius; it's a long story, forgive me if I skip it. Suffice it to say I've had to rely on the kindness of others, to ski these last two beautiful snowfalls at Plattekill Mountain. To be more accurate, it was actually the kindness of my friend and ski partner Scott, who allowed me to drive my car to his house, park it, and then head west with him, into the mountains, in his 4wd pickup.
That first day, Saturday, Scott and I did a double take when we arrived. There was eight inches on the walkway that goes from the parking lot to the bar's bootup area. Just a few miles away, it looked like three wet inches on the side of the road. This was blower snow, and we looked at each other like woah. At the top, there was more, maybe a foot. That day was excellent, all day long.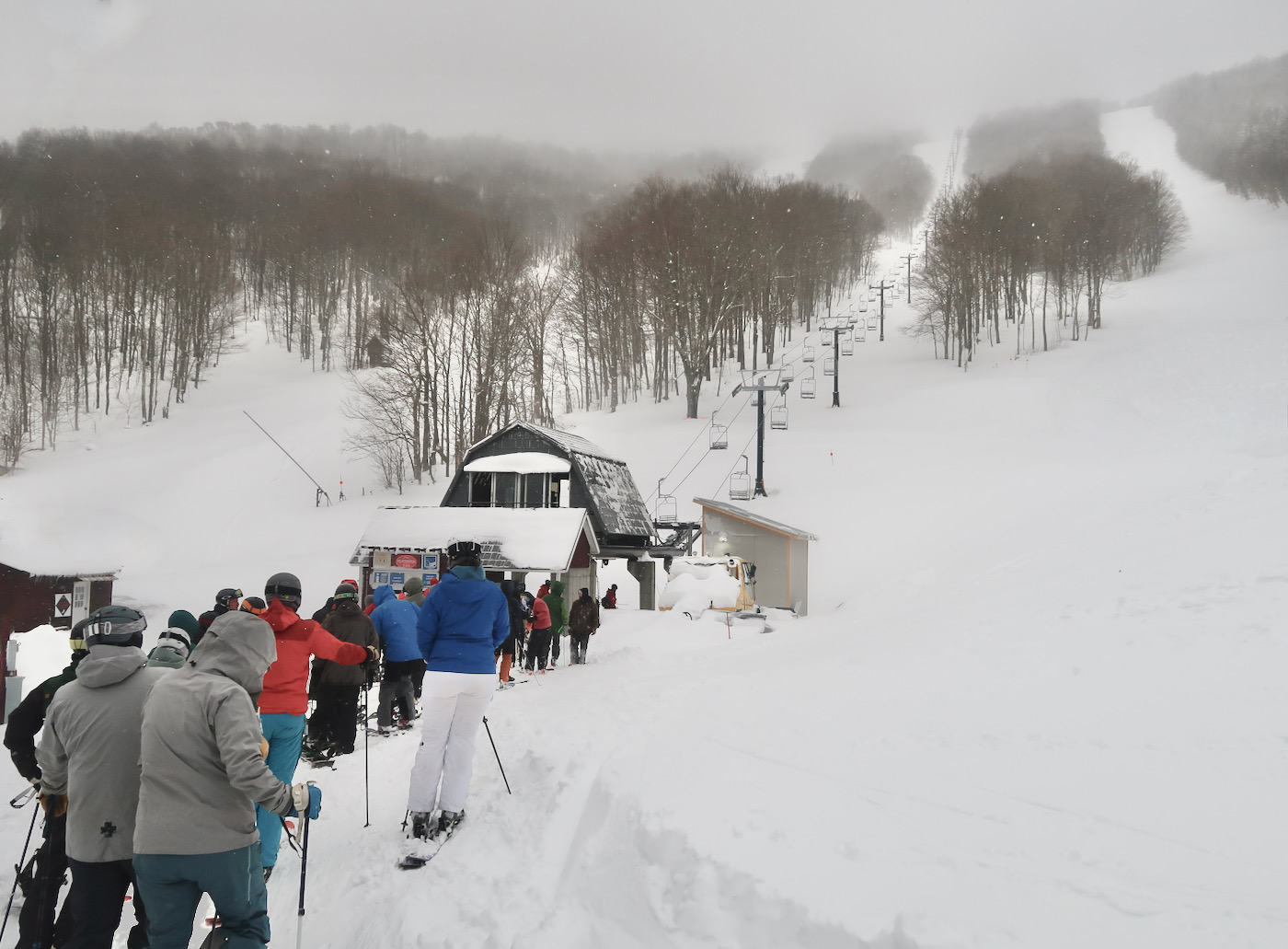 The second, bigger storm was a true nor'easter. From what I'd seen around the east, the snow was best during the storm, as it was less wind affected. In some kind of weird reverse kismet, I had commitments on Tuesday, and Plattekill wasn't open. Wednesday was it, and the storm was done down in the Hudson Valley, by early morning. I pointed the Prius north to Scott's house, and then we traveled deeper into the snowy mountains together.
The excitement ran high before first chair. Instead of my usual, booting up alone an hour before lifts, we were surrounded by 15 or 20 equally powder-crazed powderdaizers. Scott and I weren't even close to first chair, we were maybe 20th. The first line took maybe six minutes after the lift started to spin. We never waited more than two or three chairs after opening.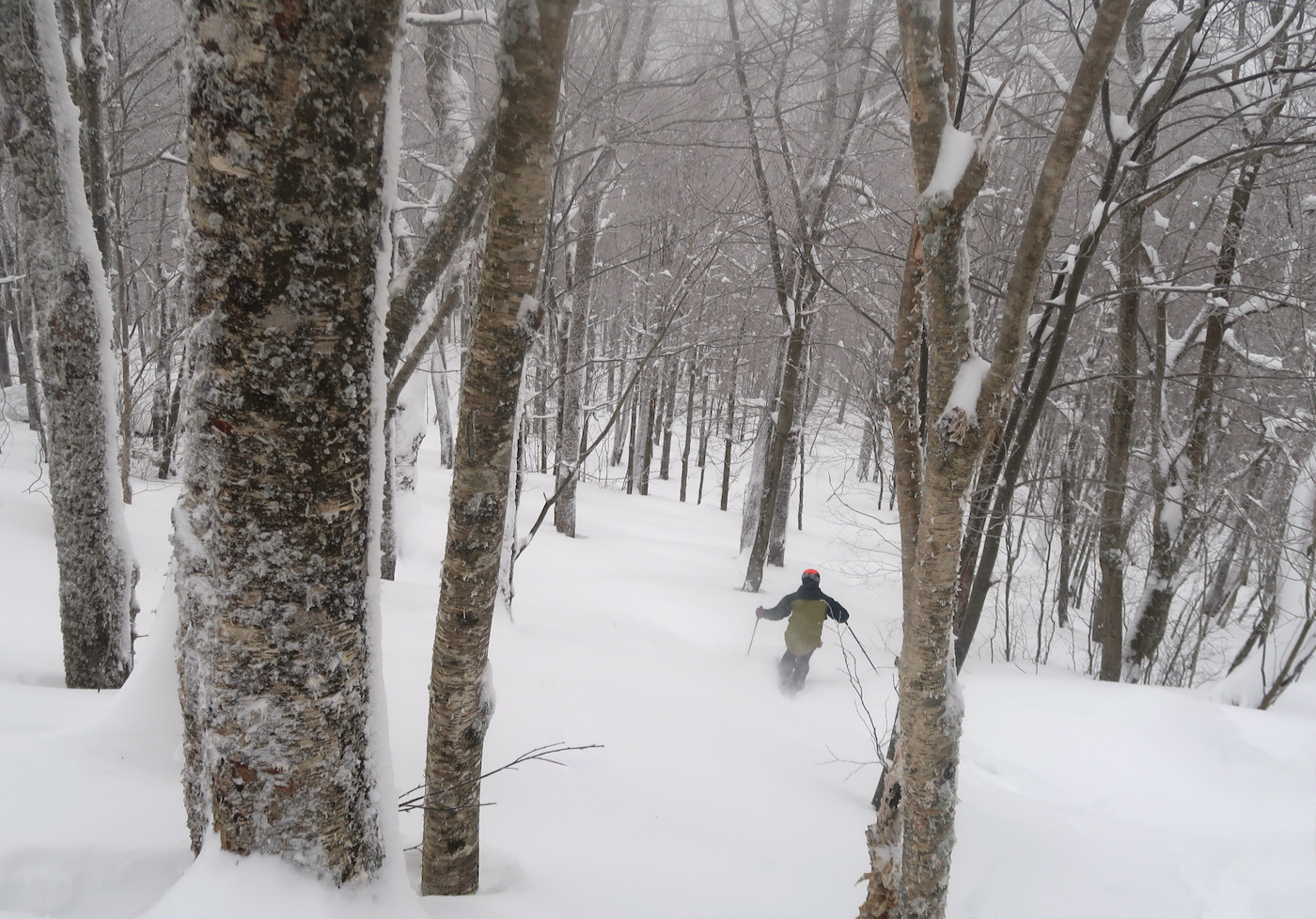 The Double went first, which is very cool on a powder day. Plattekill's Double is arguably the best individual lift in New York for a tree skier on a powder day. It's certainly one of the best. When all is in play, there are so many options to consider as you ride up. Scott was actually thinking of going right to the trees, foregoing the traditional rip down the front of any mountain, on a powder day.
Thirty inches of snow were reported, and up top I believe it. We bent to convention wisdom and took our first rip on North Face. It was tough for me to stay upright. I managed to carve some turns and Scott actually looked pretty good. But we were both whipped at the bottom of that run. I knew if I did four or five more runs like that, I'd be done for the day. After that we skied exclusively in the trees.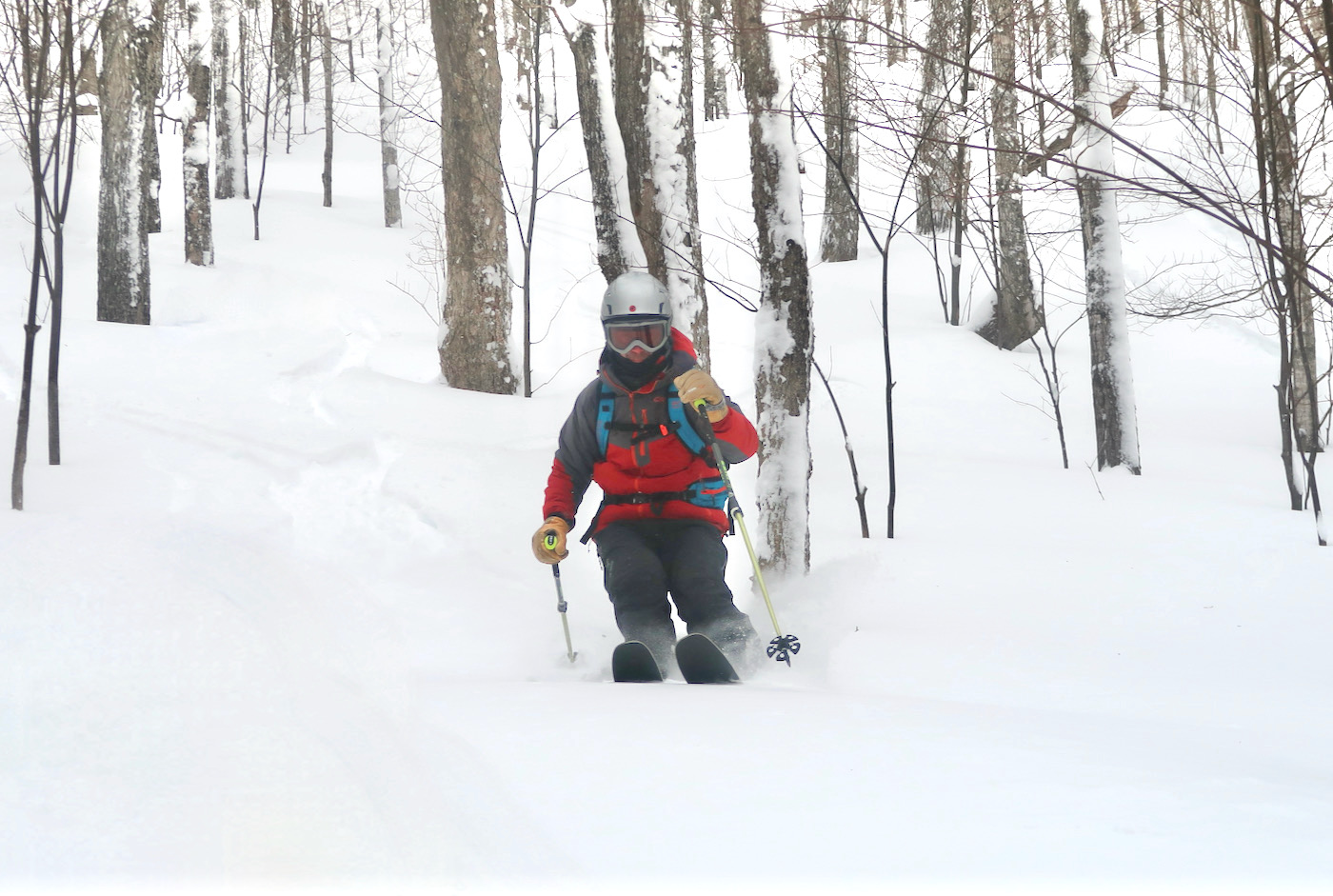 We started with the low-angle inbounds stuff off the double that NYSB skiers maintain in the offseason. It was beautiful and enticing, but you had to pay attention. It's somewhat natural to stop in a flat spot but in snow that deep it was a mistake. Your goal had to be T2B runs or at least no stopping until you popped out back onto a groomer. Carry speed or you'd get stuck.
While the snow in the woods was much more skiable, it was still a challenge. Things were relatively consistent in the trees, but not completely. And snow was still coming down, so the light was flat.  Depths ranged from very deep to "I fell and I can't reach anything solid with my pole" deep.  Plattekill is generally loaded with good skiers, and if you looked around you'd see them crashing.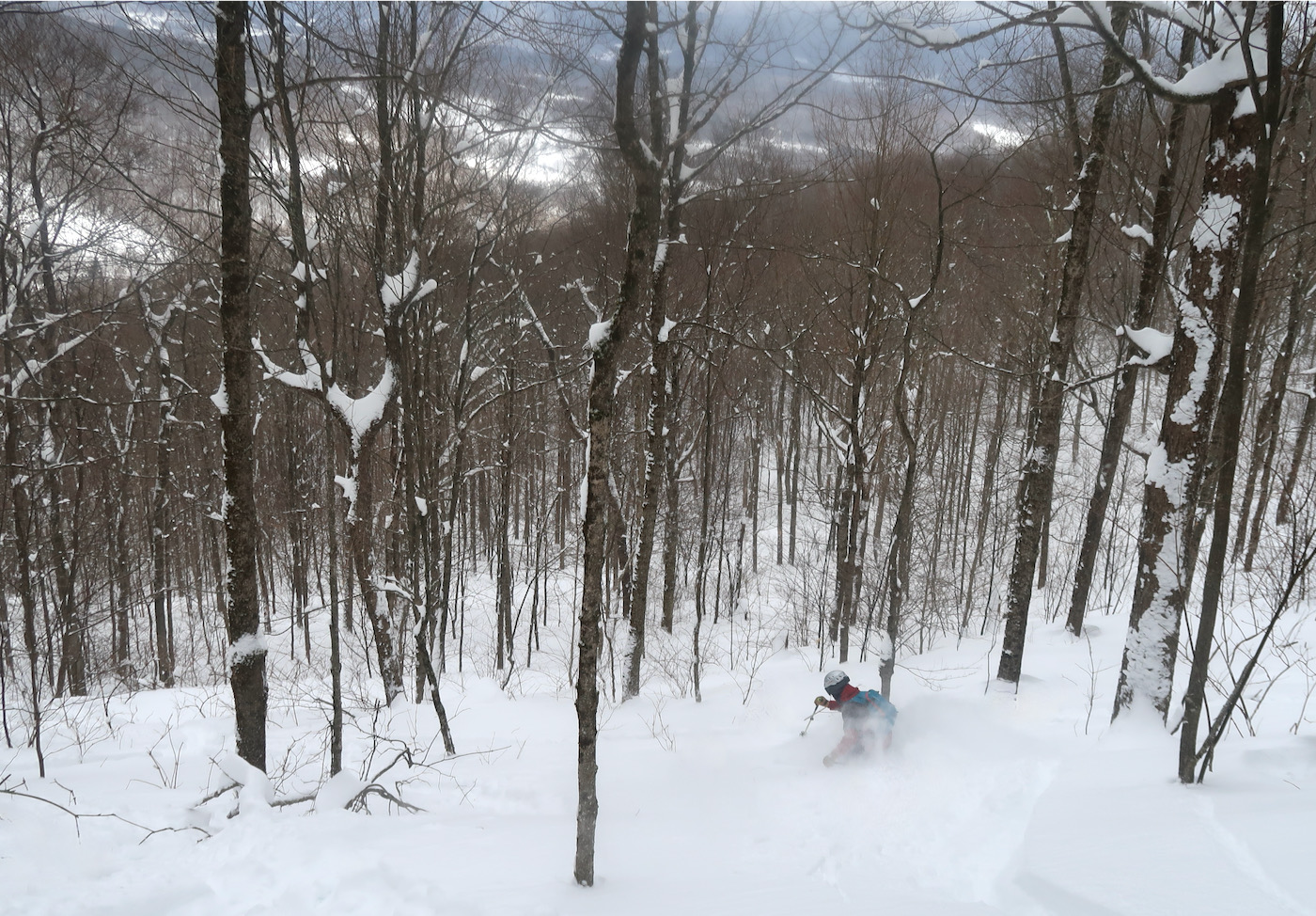 I didn't see Rip crash. Sometime around 10:30 we connected with Ripitz, the noted adventurer who authored two recent classics: the Hudson Highlands Double Double and the Bike Ride to Belleayre. I first skied with him on that groomer day at Belle, and yea he could ski. But I wasn't expecting the schooling we were to get, in the trees at Plattekill. All without a trace of hubris.
For all of us, the steeper the better. The snow was lighter up high, and with more pitch you could ski more continuously.  This information lead us to woods near the center of the mountain, early in the day.  We ran into Sig at the top of the double. I guess he liked the look in our eye, as he changed direction to ski with us.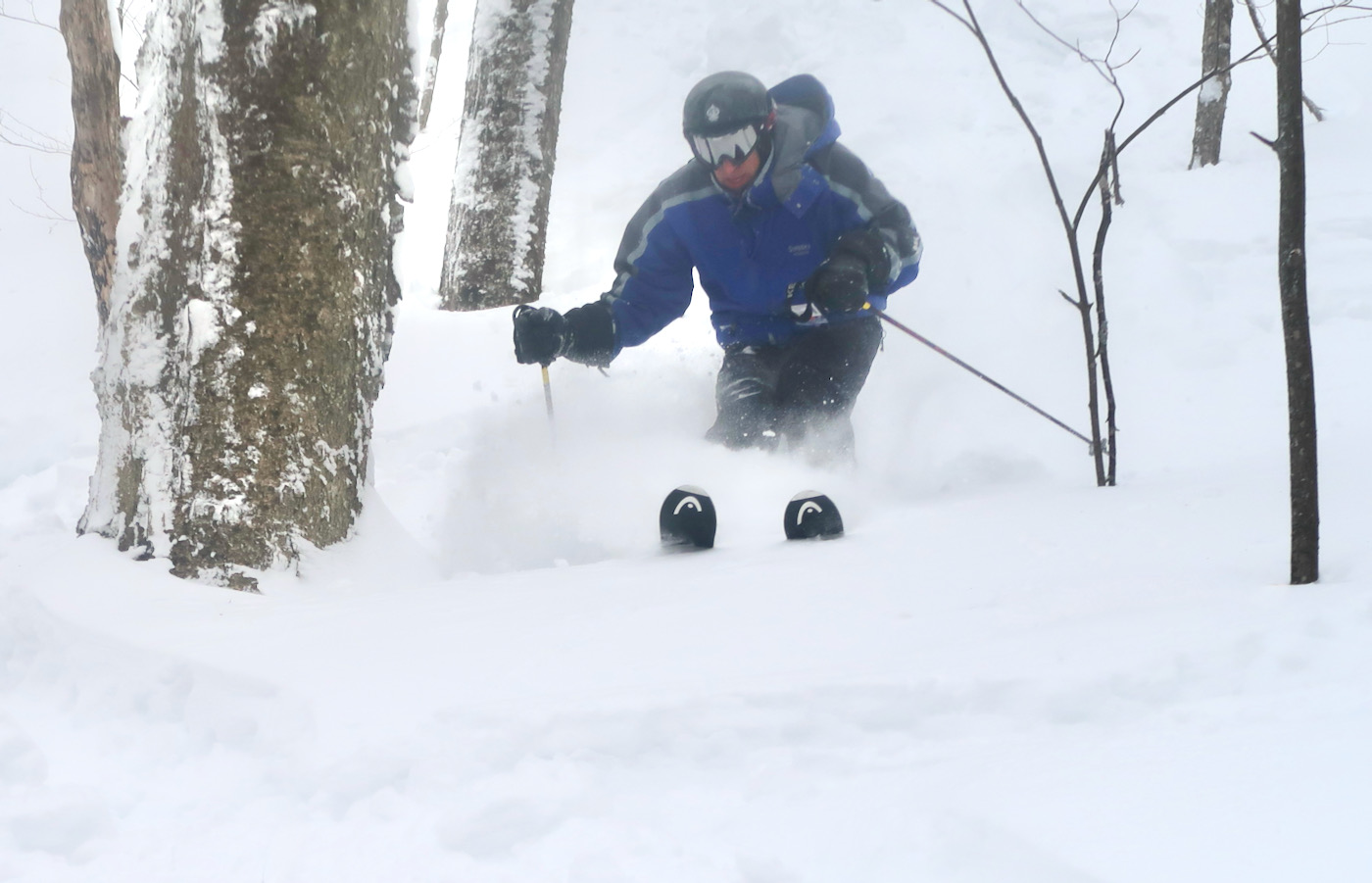 After we hit all the steepest stuff we could find on that side, we went over to triple. For me, the trees off Powder Puff are a bit like Twister Glades at Gore.  When you are skiing them, you know it's a big day on the mountain. In fact, the last time I skied those trees was on the Powderdaize in 2021.  After multiple runs through the trees on the sunny side, we moved back to the double, re-skiing some of the semi-tracked lower-angle stuff.  You could now get through it more easily by choosing to follow tracks where required.
Then, finally, we set our sights farther along the ridge.  By this time the climb up had been tracked, making it significantly easier to get out there.  There was plenty to be found. Without guidance from those who really know their way around (Chris and Riley) we dropped lower than planned.  Still, when you are walking up Meeker Hollow Road in ski boots, with boards on your shoulder, it's a good day.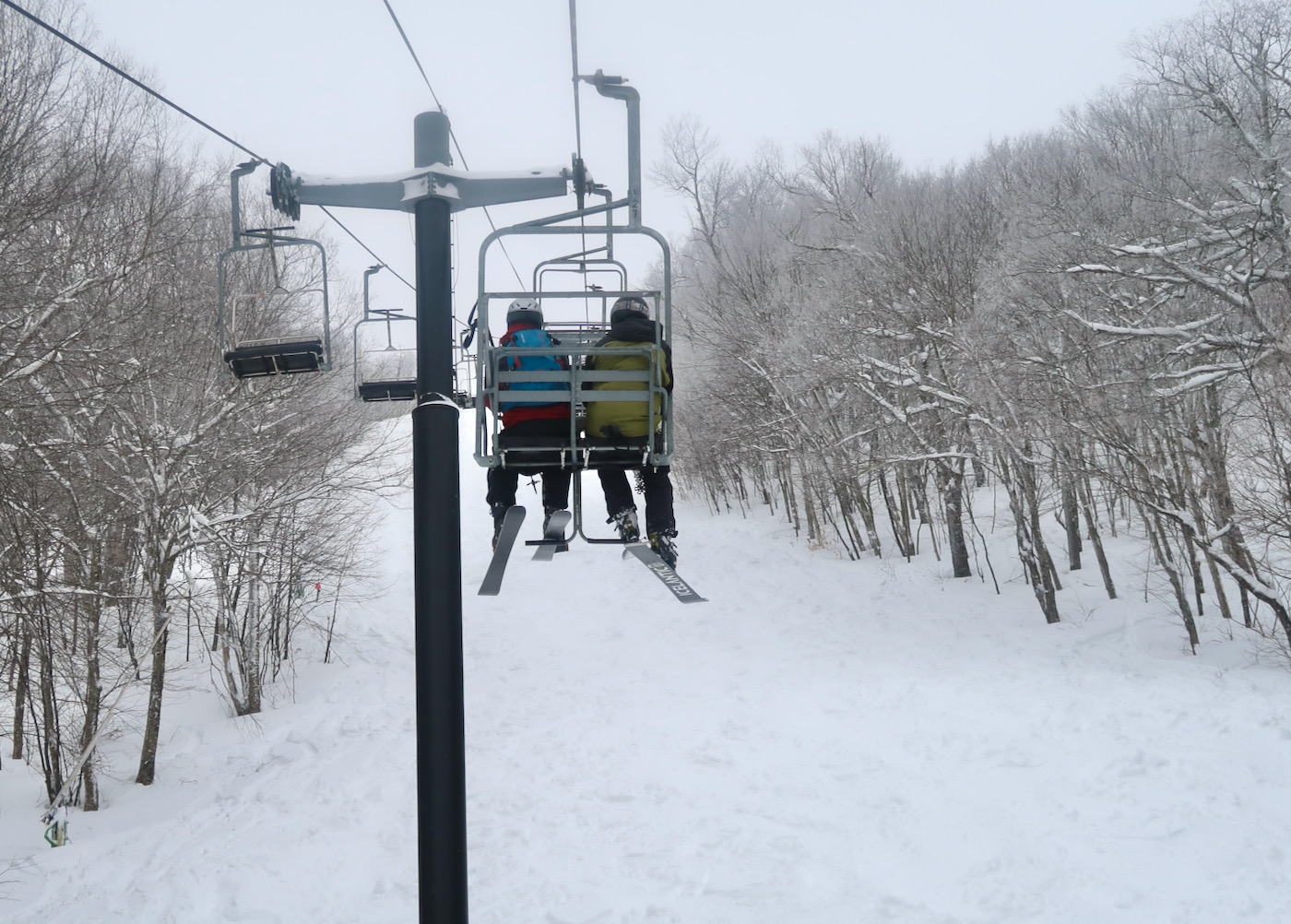 Down low skiing was getting harder, and Scott and I were tired.  I fell a few times during the day and getting up was a big energy suck. We gave it all we could, from first chair until 2:30. Rip went all day, posting a shot of last chair just after closing.
Generally I'm not a guy who invests in "experiences" like vacations.  I'm not proud of it, maybe it's narrow or cheap, but it's who I am. The only real exception to that in my life is skiing. I moved heaven and earth to ski at Plattekill's Powderdaize 2023 and for me, it was worth it 100%.