Steam poured out of the roof of the Frost Valley YMCA sugar house. I could see the sugarman tending the boil through the open door. I wanted to spend all day there hearing stories of sap runs from years gone by. But there was no time for maple lore and syrup as I had other plans.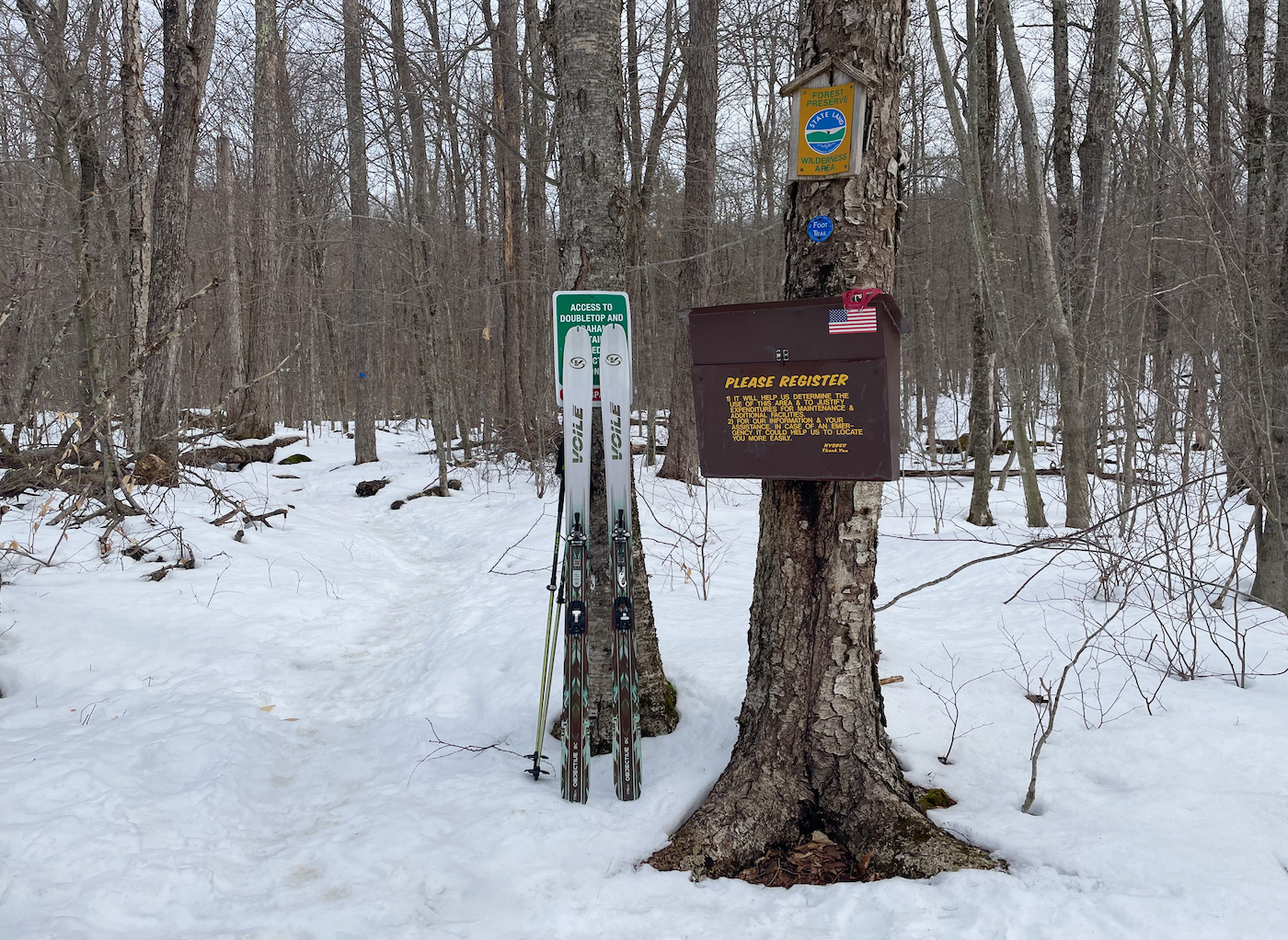 My long time ski bum friend, M.G. Sickman dropped me off at the Biscuit Brook parking area. He was headed off to Belleayre to ski for the day. We had been to Plattekill for their Powderdaize exactly a week before and conditions were now very different. My objective was a point-to-point ski traverse along the Catskill Divide on the 15 mile Pine Hill West Branch Trail ending at Belleayre.
I was hoping to make it to the summit of four of the 3,500-foot High Peaks, Fir, Big Indian, Eagle and Balsam. The sun was strong and I readied myself for a long day.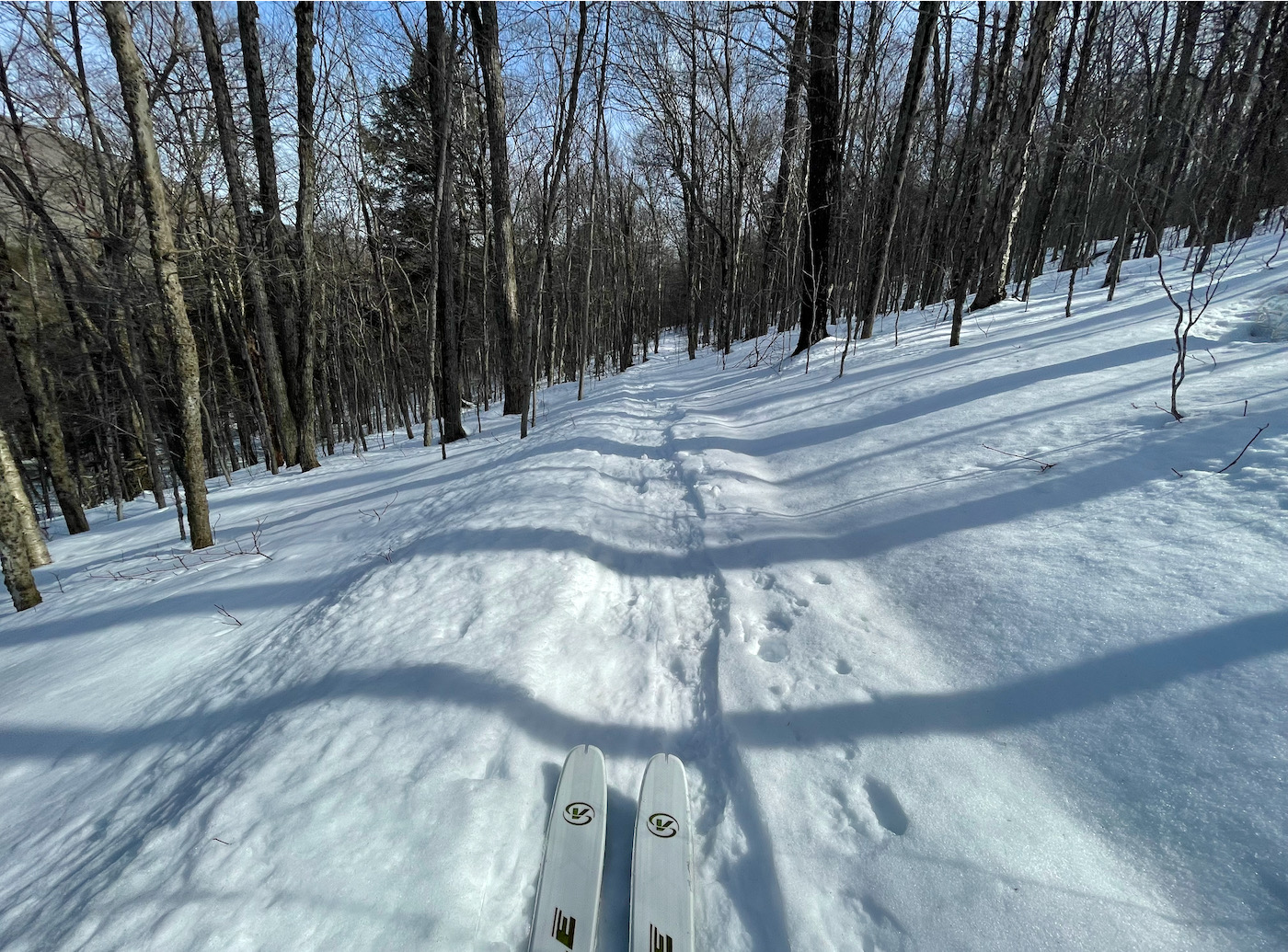 I brought a light weight alpine touring setup with a fishscaled traction base for climbing. I had skins, ski crampons and walking spikes if the going got tough. I brought snowshoes too in the event of a broken ski or binding.
My kit contained a cell phone with downloaded maps, backup battery, walkie talkie, personal emergency locater, two headlamps, three liters of water and a filter, extra clothes in a dry bag, first-aid kit, some Kind bars, two PB&Js, two clementines and a helmet.
At the bottom of the pack was a pair of running shoes and a hi-vis vest just in case I had to bail out and commit to a road walk. I popped a Ricola and figured I was ready.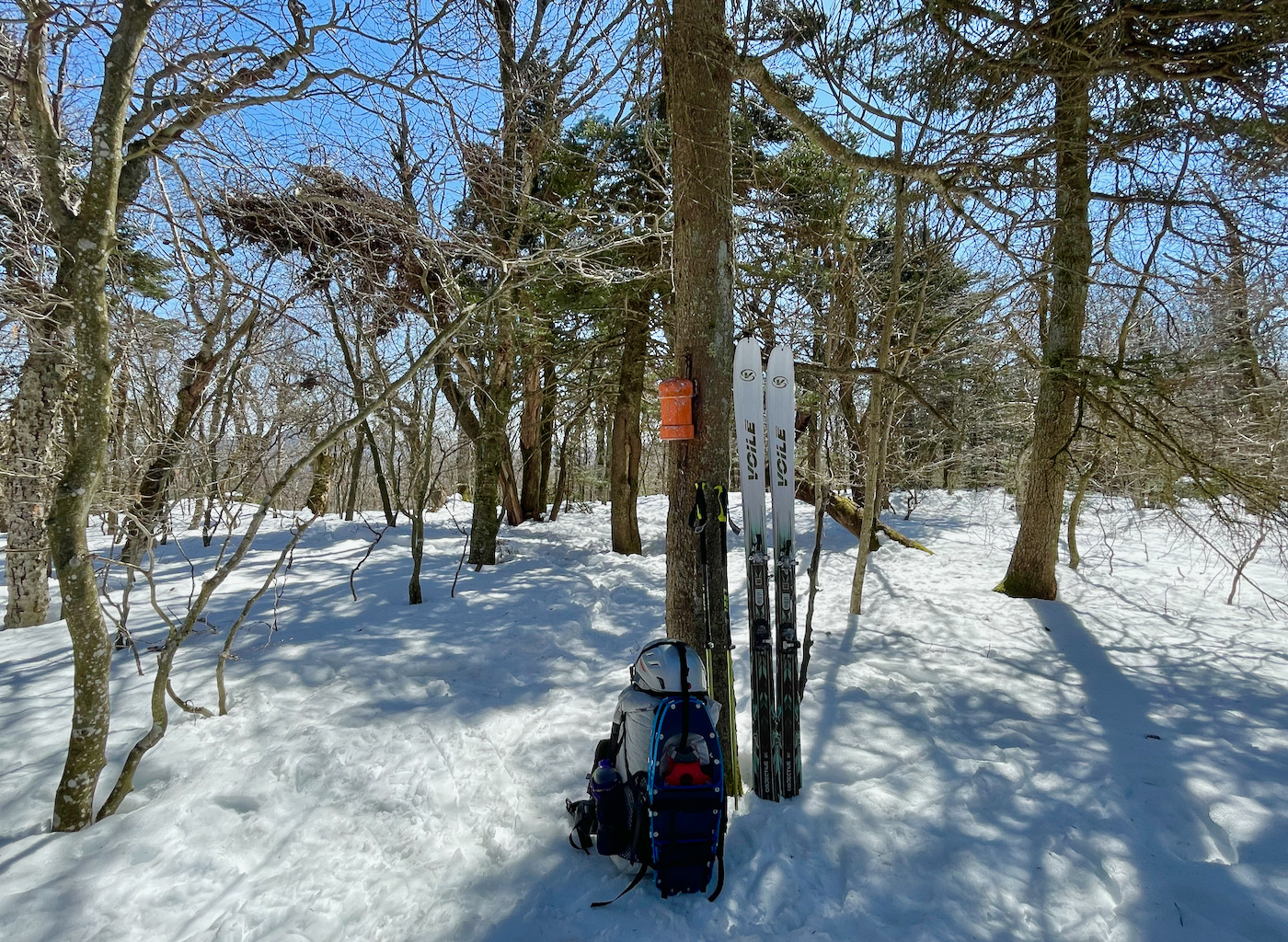 Two miles in, after crossing Biscuit Brook, I turned off the trail and headed up the bushwhack to Fir Mountain. A dozen or so of the 3500-foot peaks have no marked or maintained trails to the summit. Two of them are Fir and Big Indian. There were some stale snowshoe tracks that I could follow but I was content with setting my own.
The sun, combined with my effort, warmed things up quick as I zig-zagged up the southern slope. I stopped a few times to admire the forest and regulate my temperature. Eventually the incline eased and I made my way to the first summit of the day.
The summits of the bushwhack peaks have canisters containing notepads. If you choose to, you can sign in to declare you were there. I chose to sign and added "on skis" in hopes of someday joining the elusive club of High Peaks skiers. With no time for chilling I pressed on towards Big Indian. Hiking the bushwhack peaks is quite an adventure. Skiing down them takes it to a whole new level.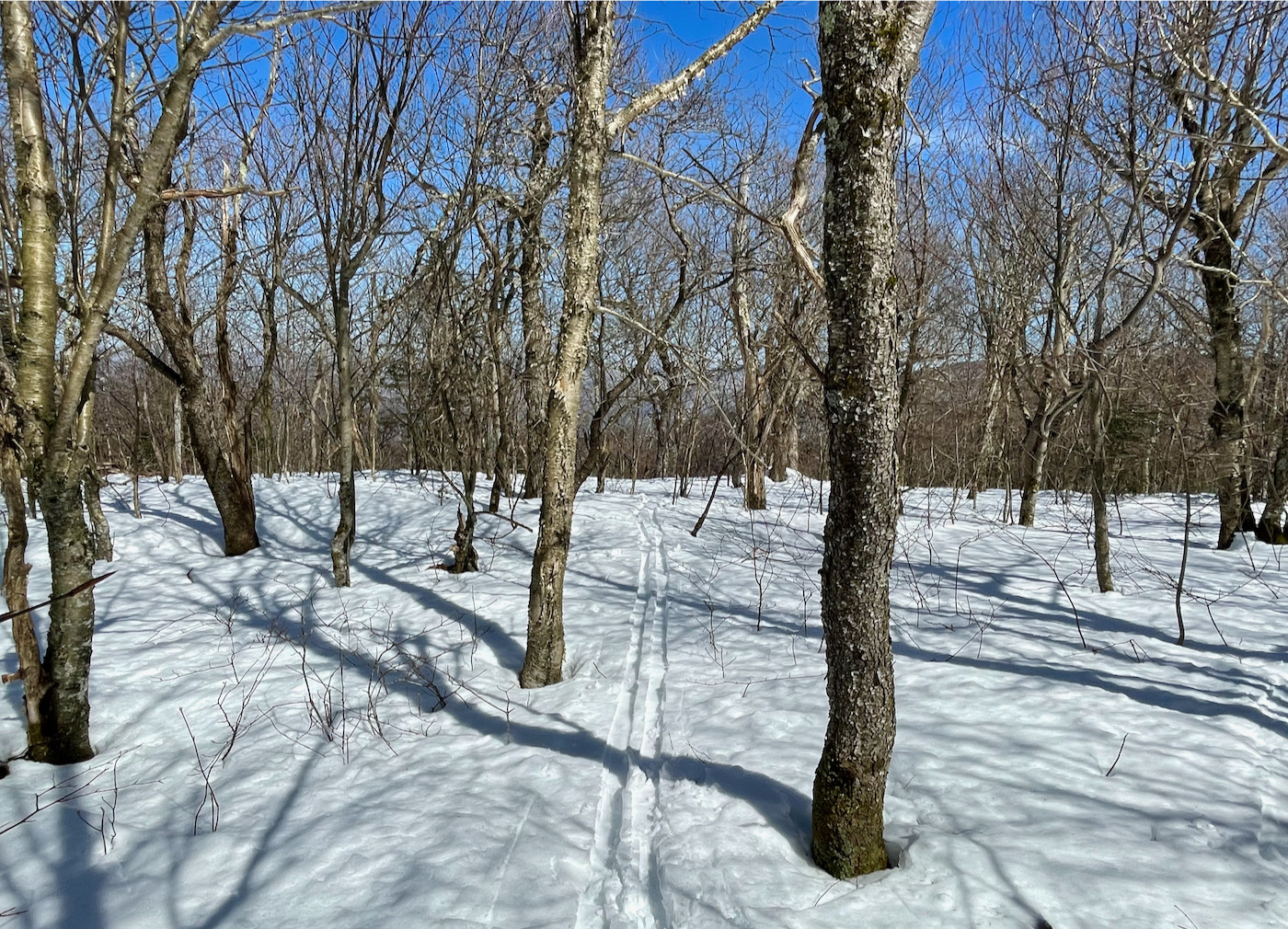 Flying through the scrub I tried to control my speed and read the terrain. I loosely followed some tracks and took advantage of technology to make sure I was headed in the right direction. Sunny glades opened up and I preferred choosing my own course using natural navigation. Once unbound it was skiing in its purest form.
I met a gentleman at the bottom of some cliffs surveying what was now ahead. We climbed our way up through the crux and were soon standing together at the summit of Big Indian. We chatted for a bit and took pictures. He was twenty years my senior and had been hiking in the Catskills since the sixties. I asked if he had noticed some changes since then. He replied that the mountains are noticeably cleaner which was pleasant to hear.
He was setting up a tripod as we said goodbye. He explained how he takes a video from each summit to share with his grandkids. I asked him how many he has been to and he said "all of them." It is always inspiring to meet up with the kick-ass old timers. I could have hung out with that guy all day.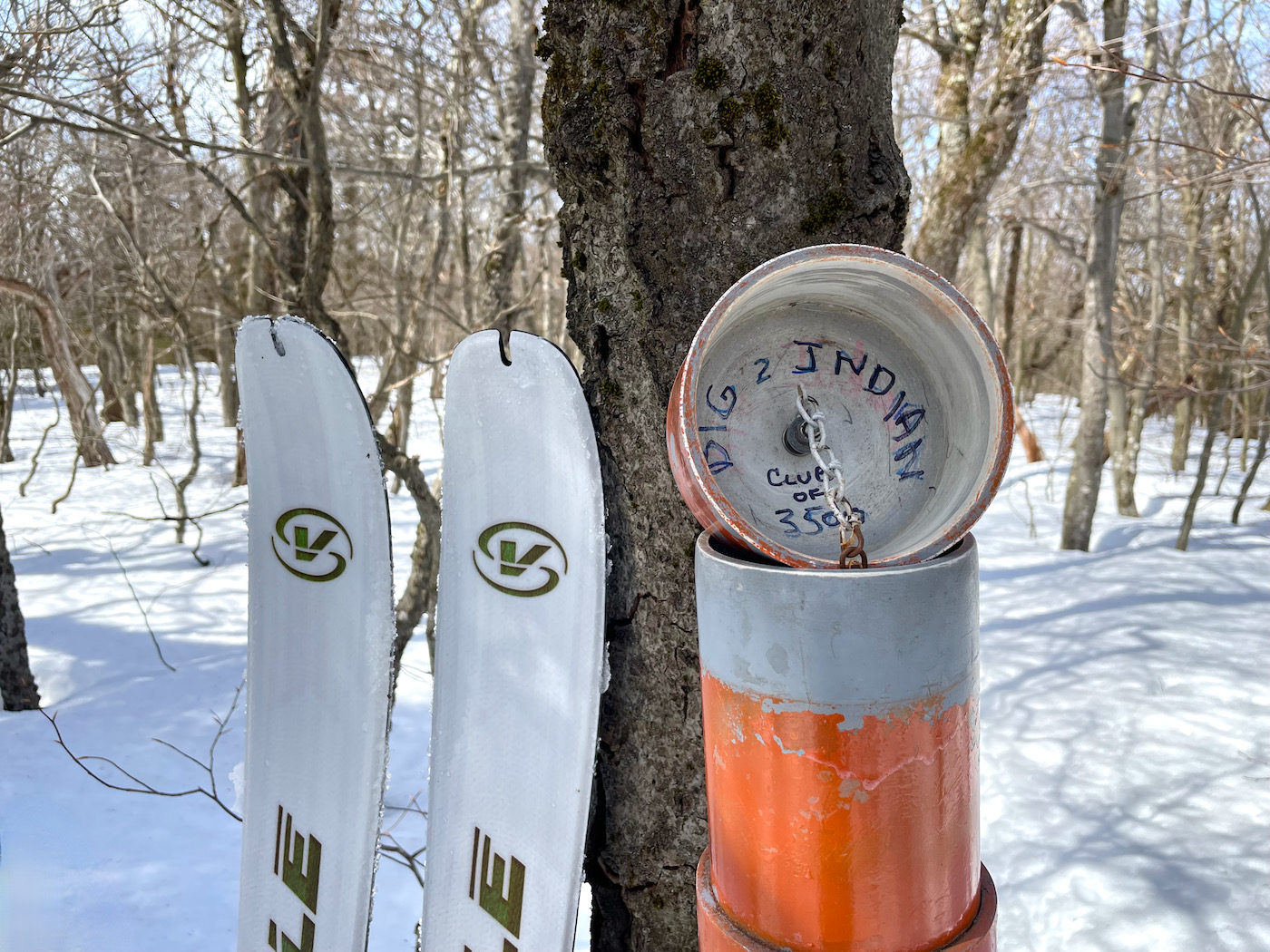 I left my new friend and skied off towards Eagle Mountain. I quickly rejoined the Pine Hill West Branch Trail marked with blue blazes. The bushwhacks had taken a long time and it was already late in the day. I figured I could make up some time now that I was on the trail so I swung my skis north.
Nervous that I was behind schedule, I thought about turning around and skiing back to the Biscuit Brook parking area. The problem was that I had no cell service to notify Sickman of a change in plans. Then things got a little complicated.
In a vain attempt to take some pictures I balanced my phone on a log. It slipped off and fell in the snow. When I picked it up I realized it was on low power. Sensing that it had gotten wet it wouldn't accept a charge from the backup battery. I still had no service so I turned it off and started tracking with my personal emergency locater. I hurried off down the trail with the hope of getting a signal on Eagle.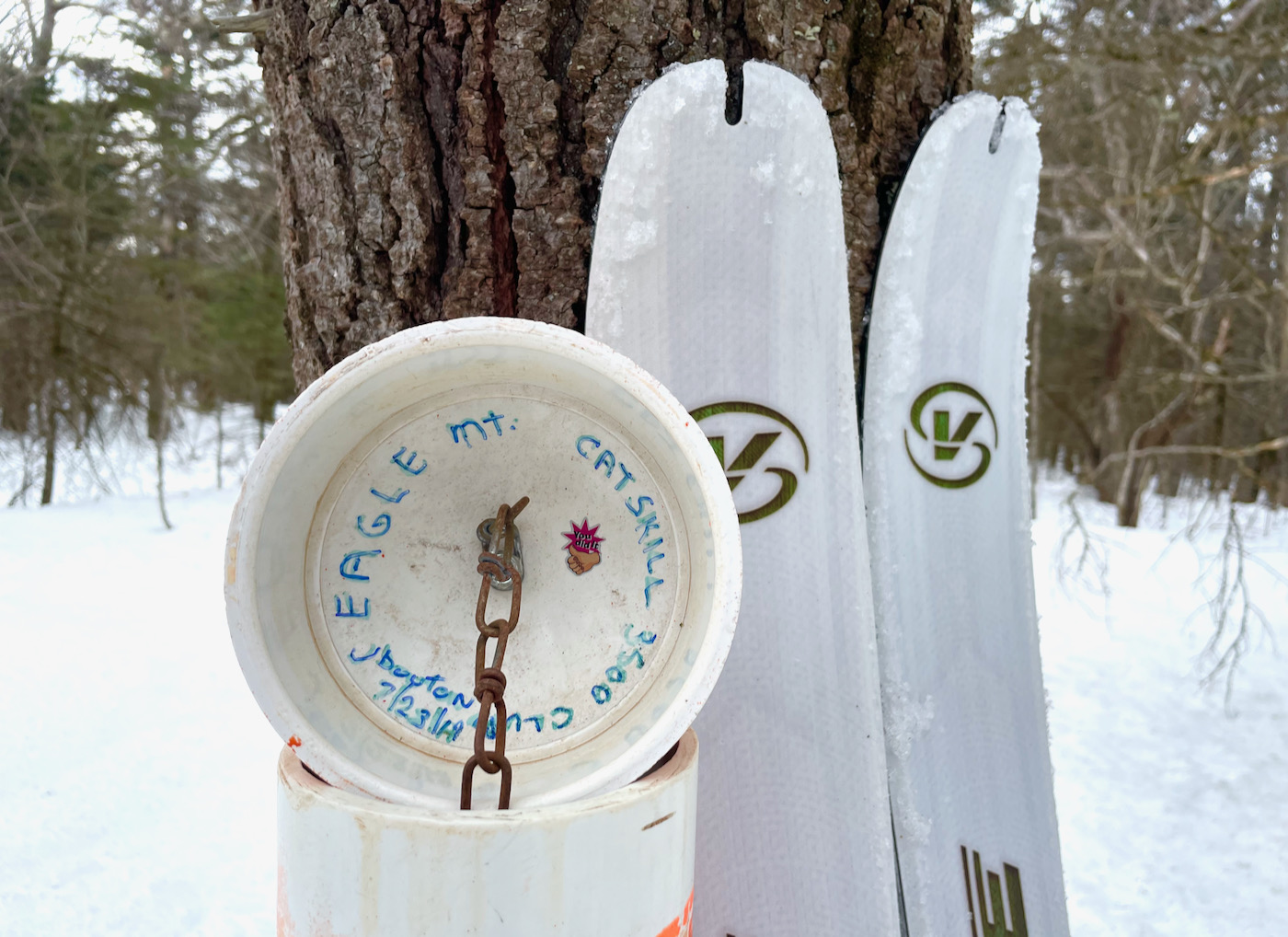 Just before the summit I turned the phone back on and acquired a signal. I fired off a quick text message to say that I was OK but would be late. Eventually, I was able to override the liquid sensor and it accepted a charge. I then made a phone call and he picked up. After a quick discussion we agreed to meet in Pine Hill. I was now halfway so the distances were equal. At least he could chill in town since Belleayre would be closed. My new ETA was 6:30 pm.
Technology is a tricky thing in the backcountry. I try to make it a point to never rely solely on it. It does help facilitate things but I find the best experiences are the ones without.
My main concern was to communicate that I was OK. I feared a search party unnecessarily looking for me and was relieved after we made contact. I did my best to shake off the hiccup and enjoy the rest of the journey.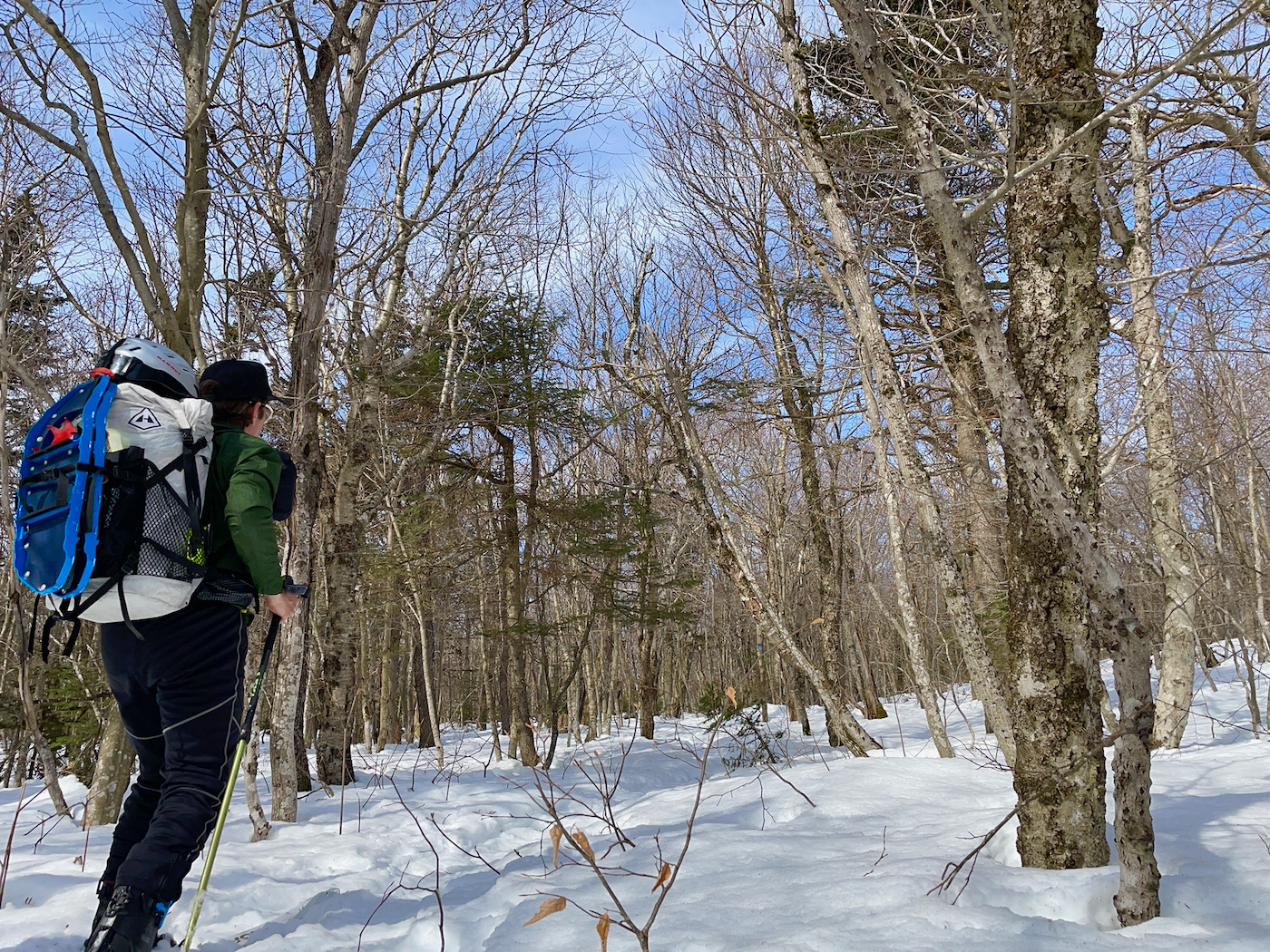 The snow was stacked up high on the divide. Soon it would all be melted with one side of the the trail trickling its way to the Delaware River and the other side towards the Hudson. It was a glorious experience sliding along the ridge through the forest. The all day effort had become immensely worthwhile.
Sometimes in life there are moments of extreme clarity. When all is well with yourself and the world around you. They may be brief but the weight of their gravity endures.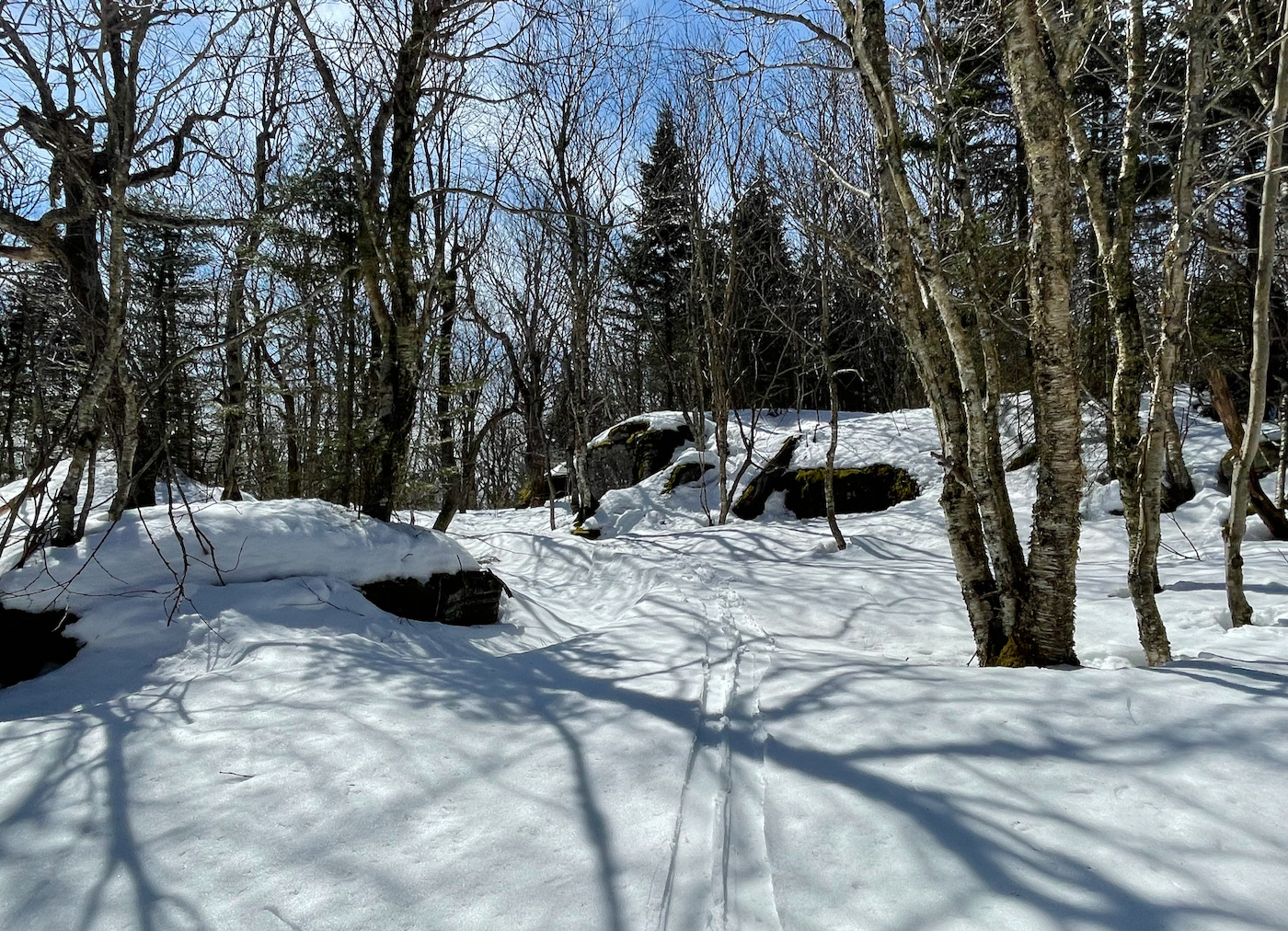 Immersed in my surroundings I dedicated myself to the grind. The miles were a blur as I flew down the hair raising descents.
The summit stone for Balsam was a welcomed sight. I shuffled some gear and refilled my water bottle. I was now 9 hours and 12 miles in with at least 3.5 more miles to go. I called my friend again and offered to buy him dinner in Pine Hill while he waited. Unfortunately there was nothing open.
The new plan was to ski down Giggle Hollow and meet at the covered bridge near Belleayre Beach. With no time to waste, I slid off the summit stopping briefly for the one great view of the day at the Balsam Overlook.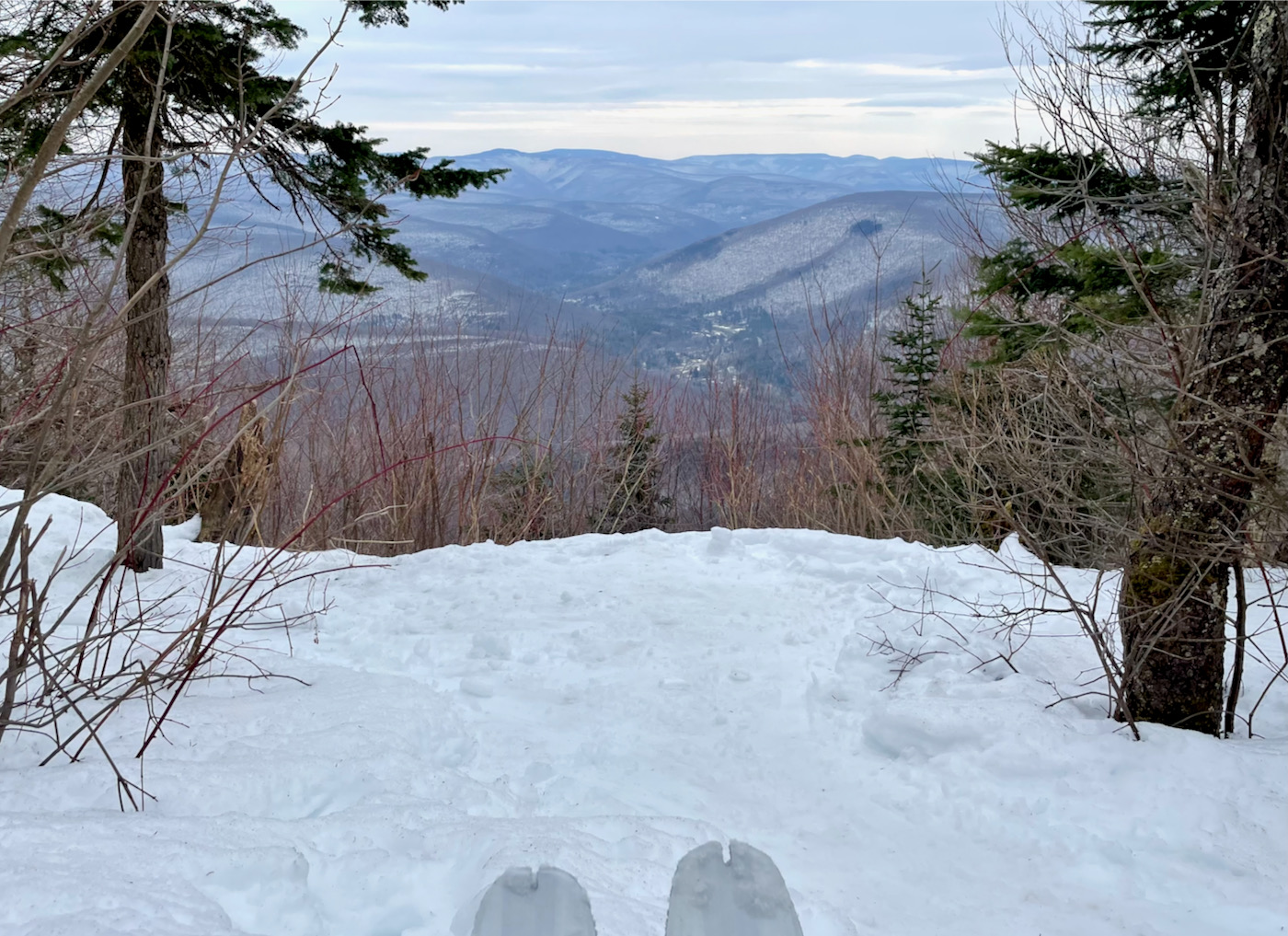 Upon descending I gained a better perspective of the next challenge. I was standing on some cliffs looking at the backside of Belleayre and its eastern summit. I called again to describe the scene. I had to descend to a saddle and then make a 400-foot climb to the site of the old fire tower. It would then be 2.5 miles downhill to the Beach. It was all doable but it was already 6:30 pm and would require more time.
I decided then that it was best to bail to Lost Clove and meet at its parking area. Unsure if we could maintain cell service we agreed on using the radios if needed. I left the trail and made a cross country beeline into the unknown.
It is one thing to navigate a cliff drop at a ski area with friends. When you are solo skiing in the wilderness it becomes something quite different. This was not a time for second guessing and I committed myself to the plunge.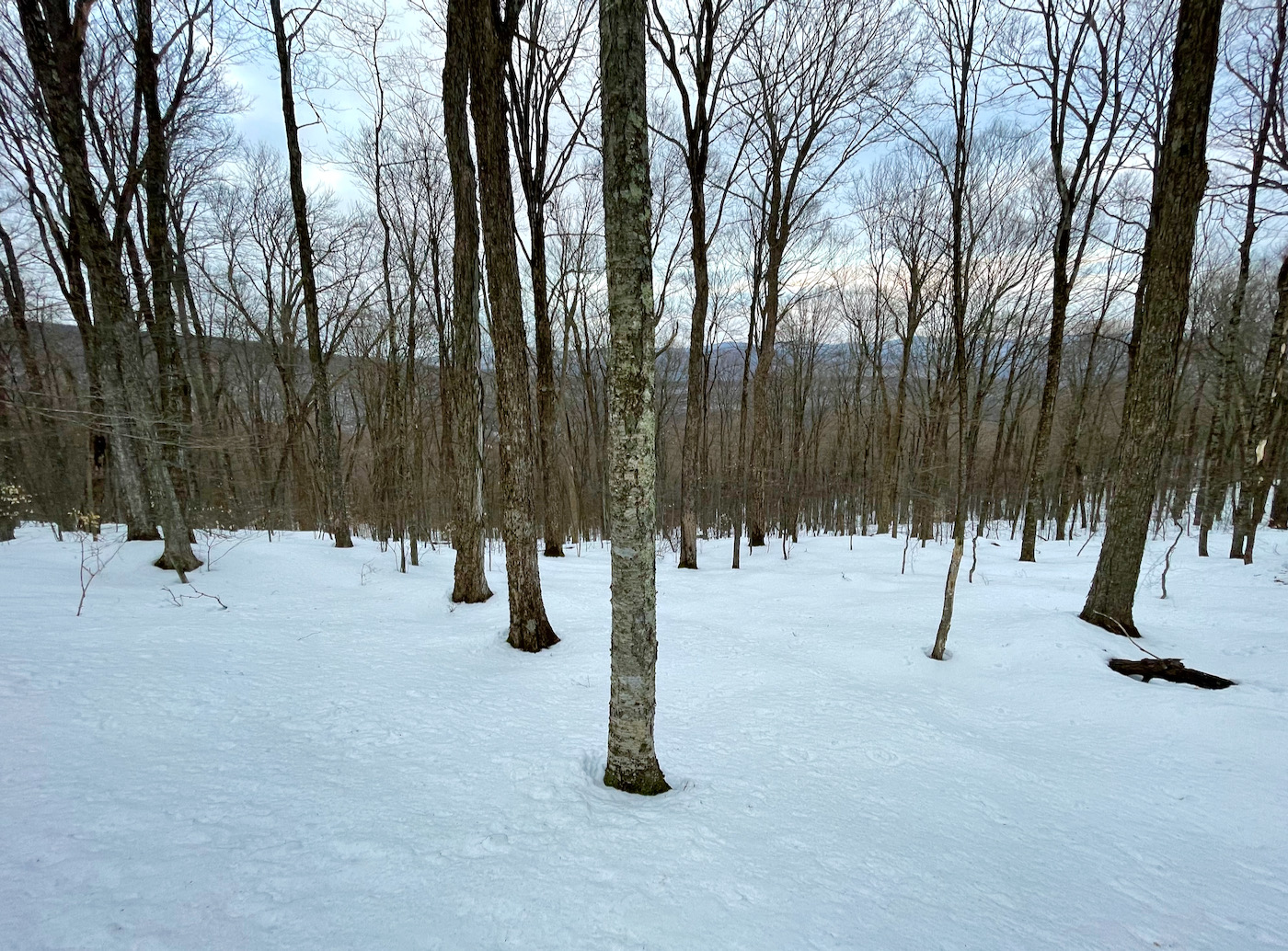 Relying on years of experience, intuition and a little faith, I dove deeper into the clove. Along the way I discovered a magnificent glade of towering maples as if it were made for skiing.
Sickman radioed that he had arrived at the parking area. Not knowing exactly where it was, I radioed back asking him to honk the horn and give a shout. I pointed my tips toward the sound of his reply. My good friend was patiently waiting for my safe arrival.
Arcing a few last turns through the old maple grove, I tapped into its flow. Spring does not last forever and neither do we. But, if you take lessons from the sugarman, life is pretty sweet when you boil it all down.