This spring ORDA approved a plan to invest $91.7M in Whiteface, Gore, Belleayre and Mount van Hoevenberg. Funds were appropriated for a variety of projects including new and improved lifts, lodges, snowmaking and other infrastructure. The most high profile projects include a $19.7M lodge at the North Creek Ski Bowl and a $16.5M two-stage detachable quad at Whiteface.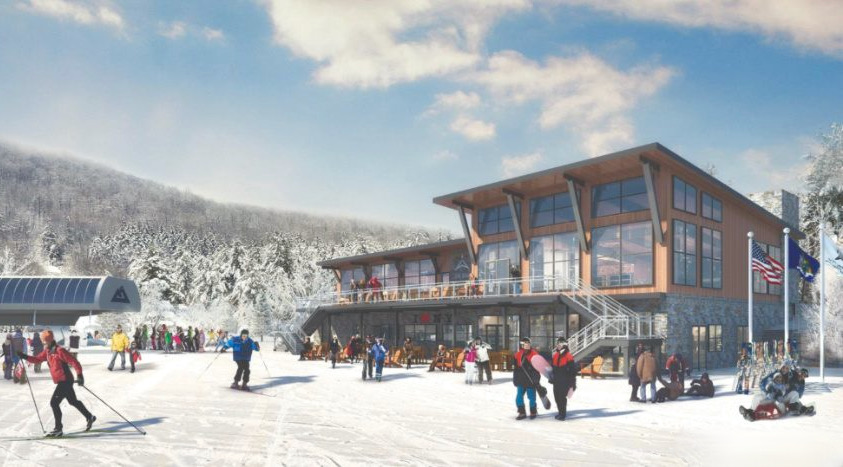 This is the latest in a series of transformational infrastructure upgrades for New York's state-run ski areas that has spanned decades, dating back to the 1960s. Since that time, marquee projects have included gondolas, lifts, lodges, snowmaking, new terrain, and access to water from the Hudson River.
Public reaction to the announcement of the current plan included a mixture of excitement and stunned disbelief. Some hailed the vision, while others questioned the scale.
How much should the state spend over time to maintain their investment in skiing? How does NY best promote regional development? At what level does spending on public ski areas make it harder for private ski areas to compete? These questions aren't easy to answer.
All in, ORDA is pretty big mountain; combined the ski areas have 33 lifts, 260 trails and nine lodges on 1000+ acres. Most people I've spoken to accept the fact: if New York is going to own ski mountains, they're going to have to invest in them.  If you're maintaining 30 lifts and lifts last 30 years, you'll always be replacing or upgrading something.  And lifts are only one part of a mountains infrastructure, in this case $38M or 40% of the total budget.
I spoke to Peter Landsman of LiftBlog and asked him to help me put this expenditure in context. He believes the size of the investment is appropriate for New York's state run ski areas. He added:
"Skiing is a capital intensive business. Every ski area wishes it could spend a high percentage of revenue on capital improvements. Most private ski areas can't afford to make the kinds of infrastructure investments ORDA makes at the frequency ORDA makes them."
It's a question of scale or maybe, the perception of scale.  What is the right level of investment? How often should an investment of this size happen? I'm not qualified to answer those questions, and I'm not going to try. Instead, we propose an approach that allows NY to maintain its investments while further encouraging regional development, across the entire state.
Please note: While I've used specific numbers to illustrate the thinking, I leave the final numbers to engineers, operations and leadership in Albany. We're proposing an idea, not a specific project or budget.
---
The idea isn't a new one.  We've proposed similar ideas before, first in 2013 and then again in 2017.
Then, in 2018, NYSERDA rolled out groundbreaking incentives  — for all NY ski areas, both public and private — to upgrade snowmaking.  Led by Scott Brandi of SANY, this plan was a great step forward, an investment in New York's future. Thirty private ski areas took advantage of the program to improve their product quality and energy-efficiency.
The positive effects of that initiative will be long lasting, but ski areas need a steady stream of investment. This latest ORDA package is more evidence that at the highest levels of government, New York understands the importance of skiing as an economic driver. The state invests something in ski area capital each year. Then every so often, a bigger investment, like this one, is approved and it gets a lot of attention.
We believe snowmaking is still the low hanging fruit, here in New York. Snowmaking directly impacts the value of the season and the profitability of the business. How much snow can you make in a short window? And a directly related followup: how much terrain will you have open by Christmas? The answer to that question can make or break a season.
---
Proposal: NY Snowmaking Efficiency Initiative 2.0
The 2018 NYSERDA program was structured in a way that worked for both government and business owners. Our proposal uses that initiative as a model. Private operators would have skin in the game, investing 20% of the total invested.
We propose expanding the current spending to include funds for private ski areas. And we'd like to take that further. When the state invests $100M in publicly owned assets, it should trigger a response that encourages the private areas. An additional 20% or $20M could ensure that every ski area in the state has a chance to be included.
This money would be distributed through a simple application and approval process, with plans being reviewed by a state-appointed engineer. Awards could be limited to a maximum of $600,000 per ski area.  Each application would outline the improvements to insure that they fall within pre-determined guidelines.  Projects would focus on efficiency: snowmaking, electrical infrastructure, system engineering costs, snowguns, pipeline, compression, pumping and water storage.
Private ski areas in New York cover more than 4500 acres of terrain. That's five times the size of New York's four state-run ski areas combined.  NY ski areas are upstate and spread out, across rural parts of New York where modest investments can really make a difference.
With everyone included the program, it would be likely to garner more universal support.  Taxpaying ski areas would see return on investment in their own corner of state. New York has a history investing in winter sports to drive economic development. This could expand that impact across the entire state, for a relatively modest additional investment.
---
Sources:
• ORDA plans 91.7 million in improvements
• SANY and state collaborate on new snow gun program
• Quebec to offer loans for capital improvements