I really did think I was done for the year when I skied Gore on the first day of May. I guess the accounts I was seeing from skiers' social media inspired me. The pictures of Killington's Superstar were especially enticing.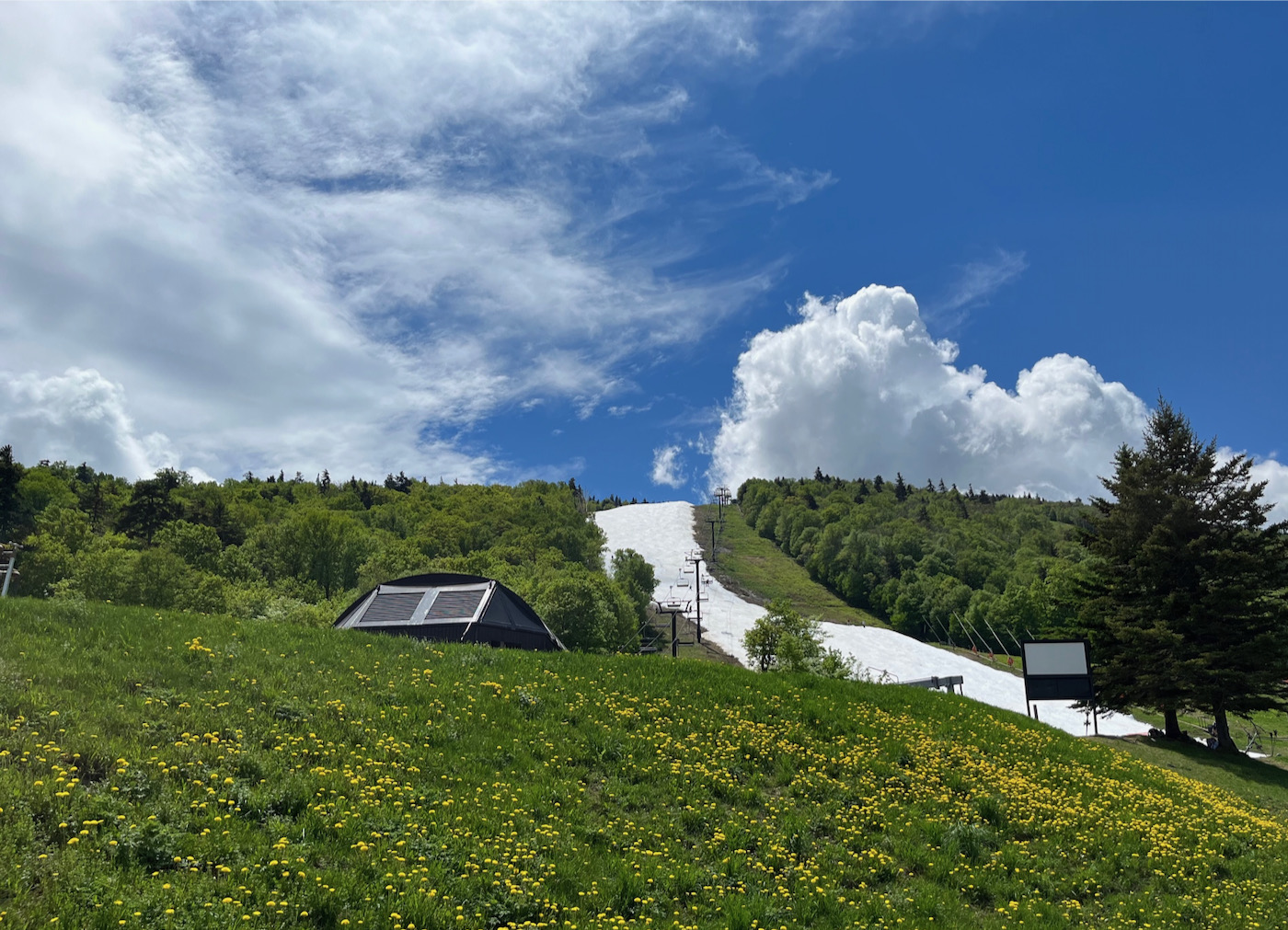 As much as I enjoy watching video of people climbing and skiing Tuckerman Ravine or stitching together sketchy lines on the remaining patches of snow at closed resorts, I don't really have the time to squeeze that kind of trip into my schedule. I live too far south. With a little driving, Superstar is attainable. The Killington snowmakers really seemed to have outdone themselves this year: Superstar looked THICK.
The trail was covered deep and wall-to-wall. In early May, the snow looked like it would last forever. Maybe I had a typical case of modern day F.O.M.O. or just some old fashioned envy but I decided I needed one more day.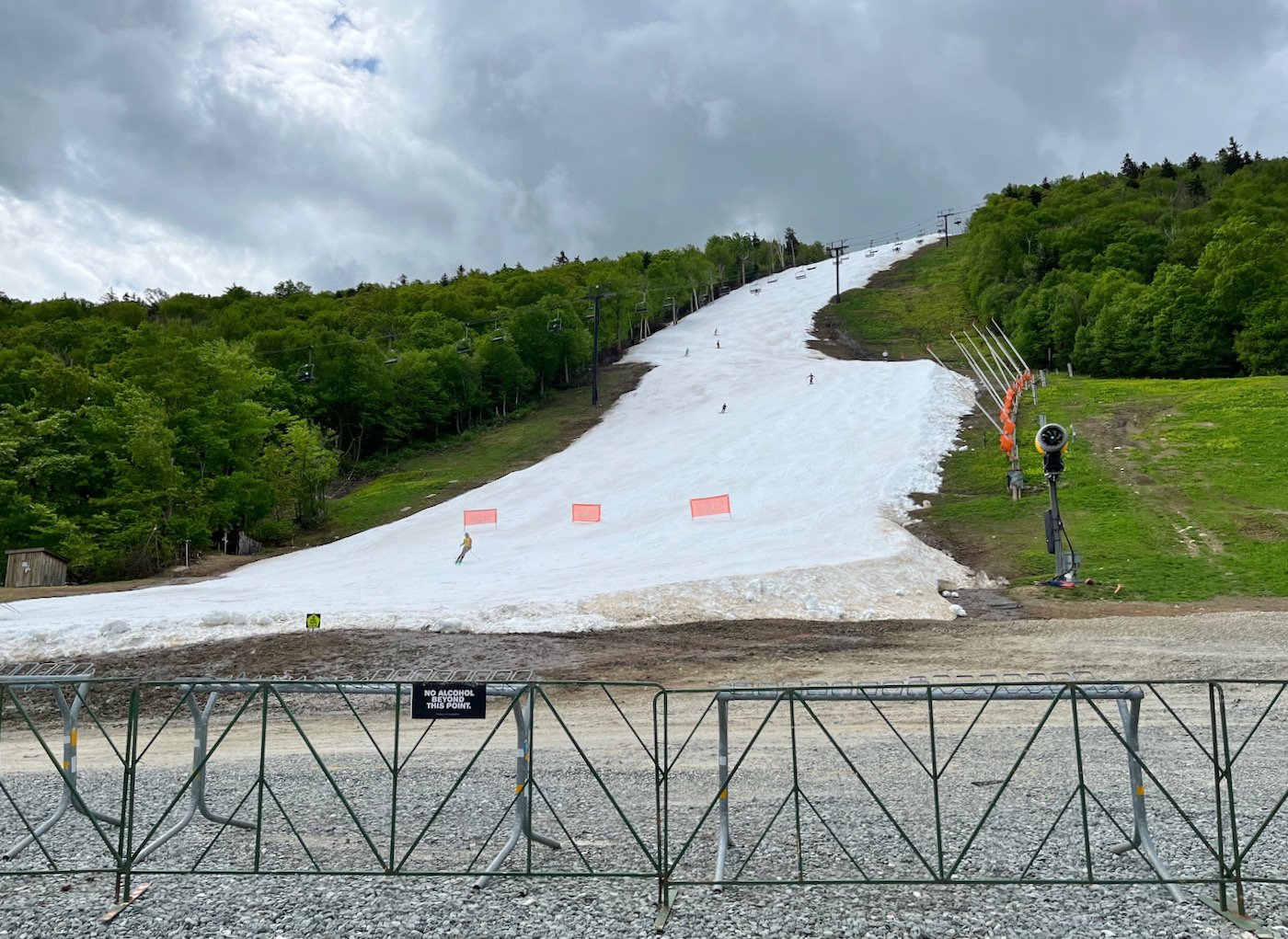 I asked my boys if they wanted to go. Junior was in, but Dangerboy rejected the idea based on our planned departure time and his innate common sense. On Friday night, I loaded Junior's gear into the car with mine and told him I'd be waking him up before 4 AM. We were on our way.
The morning went as planned. We got out of bed with the first alarm and made our way north in the dark. My son slept the first couple hours but took a turn driving between Glens Falls and Rutland so I got to rest my eyes a little. We arrived and parked on the access road just after eight and could see the chair already carrying skiers up the hill.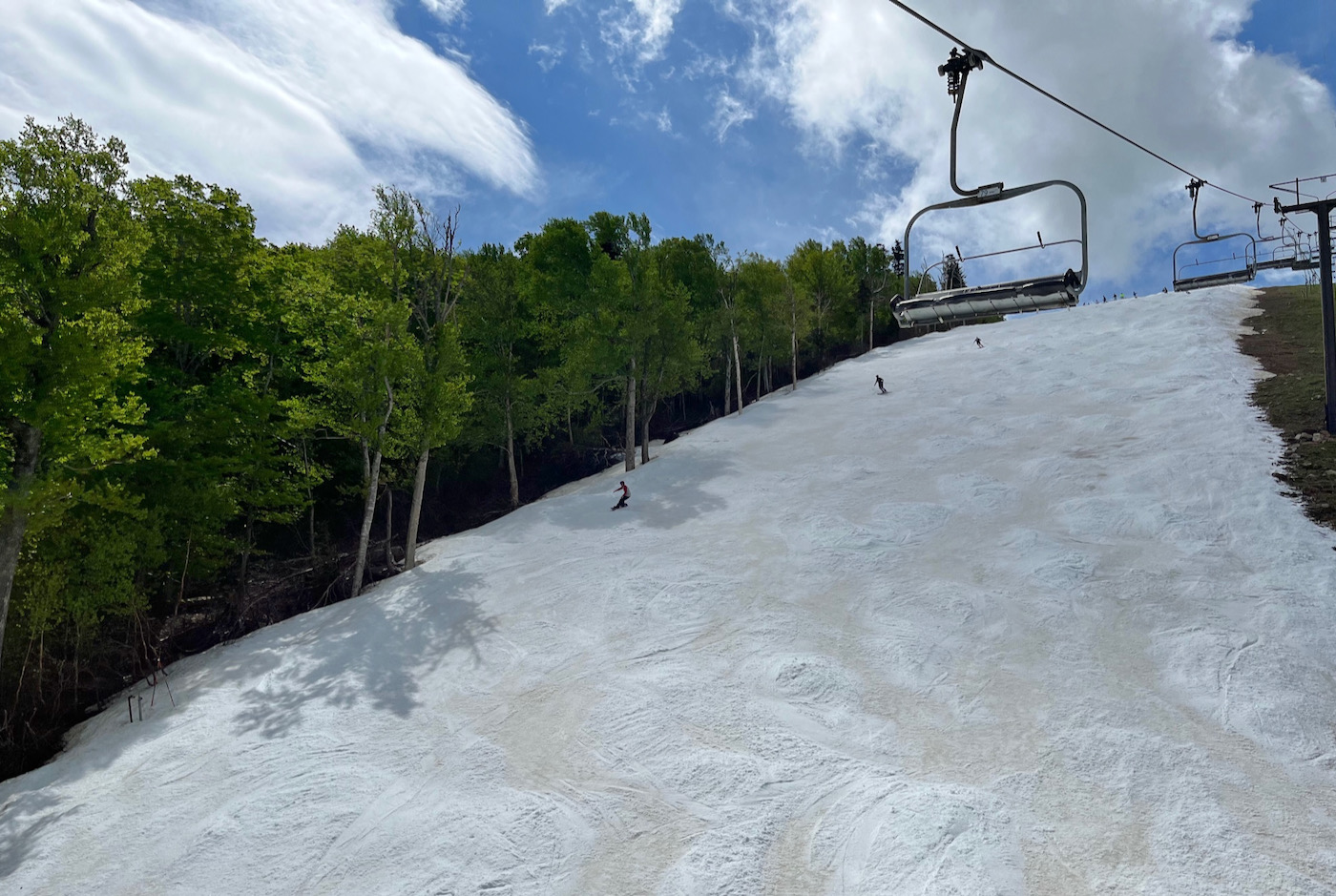 Figuring out our gear took a minute. We both went with uninsulated shell pants and T shirts. It was in the high sixties already and looked like it would still get warmer as the day went on. I put some water and a few other supplies in a daypack and tossed it under a tree at the bottom of the lift.
The atmosphere was electric. We were surrounded by like minded fanatics (and possibly some less fanatic locals). The juxtaposition of the white snow and lush green vegetation was beguiling. Skiing is always fun but it's supposed to require you to endure cold, wind and other unpleasantness in order to get to it. Skiing in May in warm temperatures is pure fun, with no downside. It makes me feel like I'm getting away with something.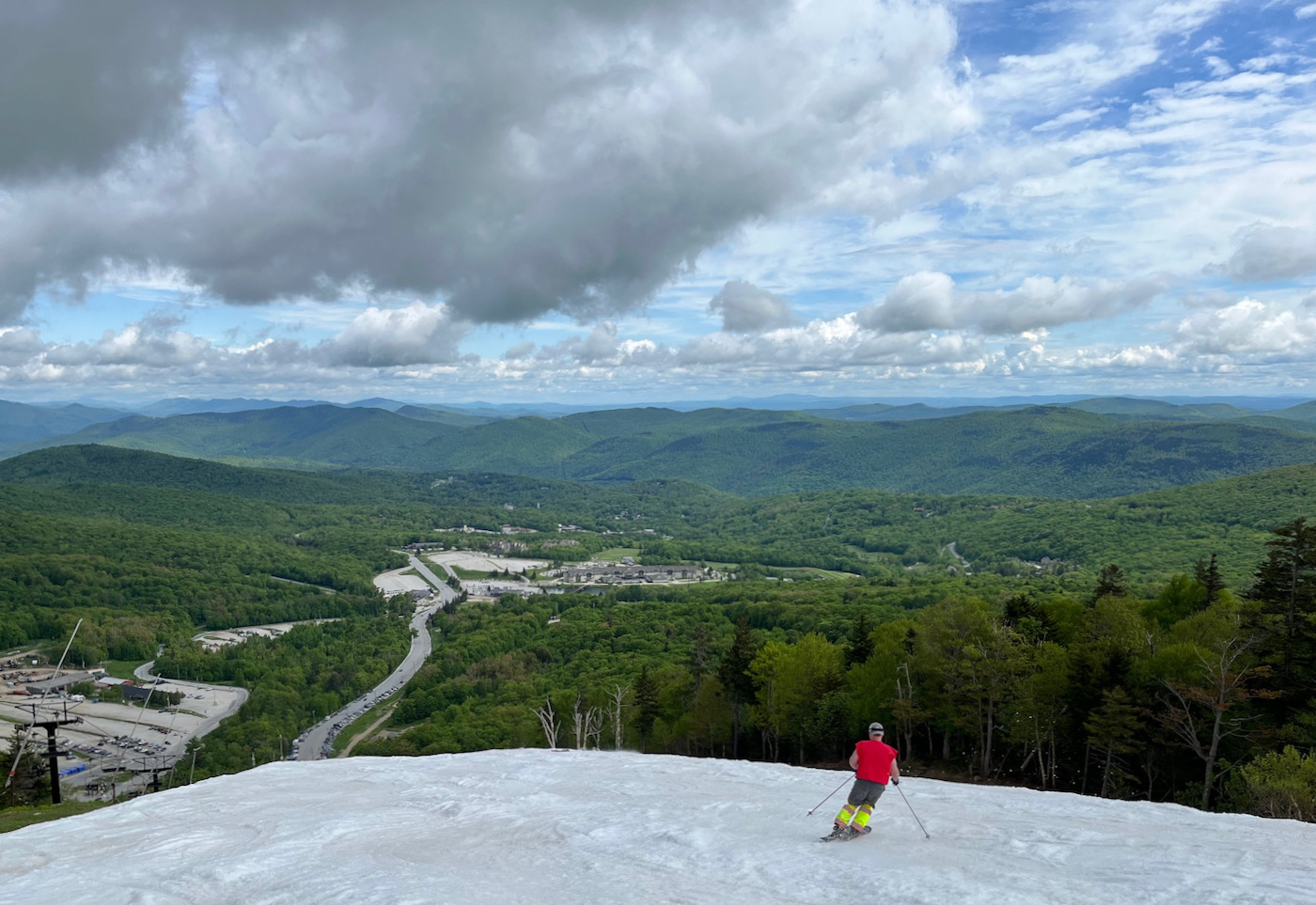 Then again, my legs didn't feel like I was getting away with anything. They felt like I hadn't skied in a month. We stopped to gawk and rest at least three times on our first run as my legs burned. Then we started to get the hang of it again. We had one lift and one run to work; fast laps would be the order of the day.
I didn't push it. I skied, big arcing turns for the first few runs. Then slightly smaller turns as the snow got a little cut up. The sun and the warm temps were great but dried us out pretty quick. A couple of times, we stopped at the backpack to grab water bottles and hydrate on the lift.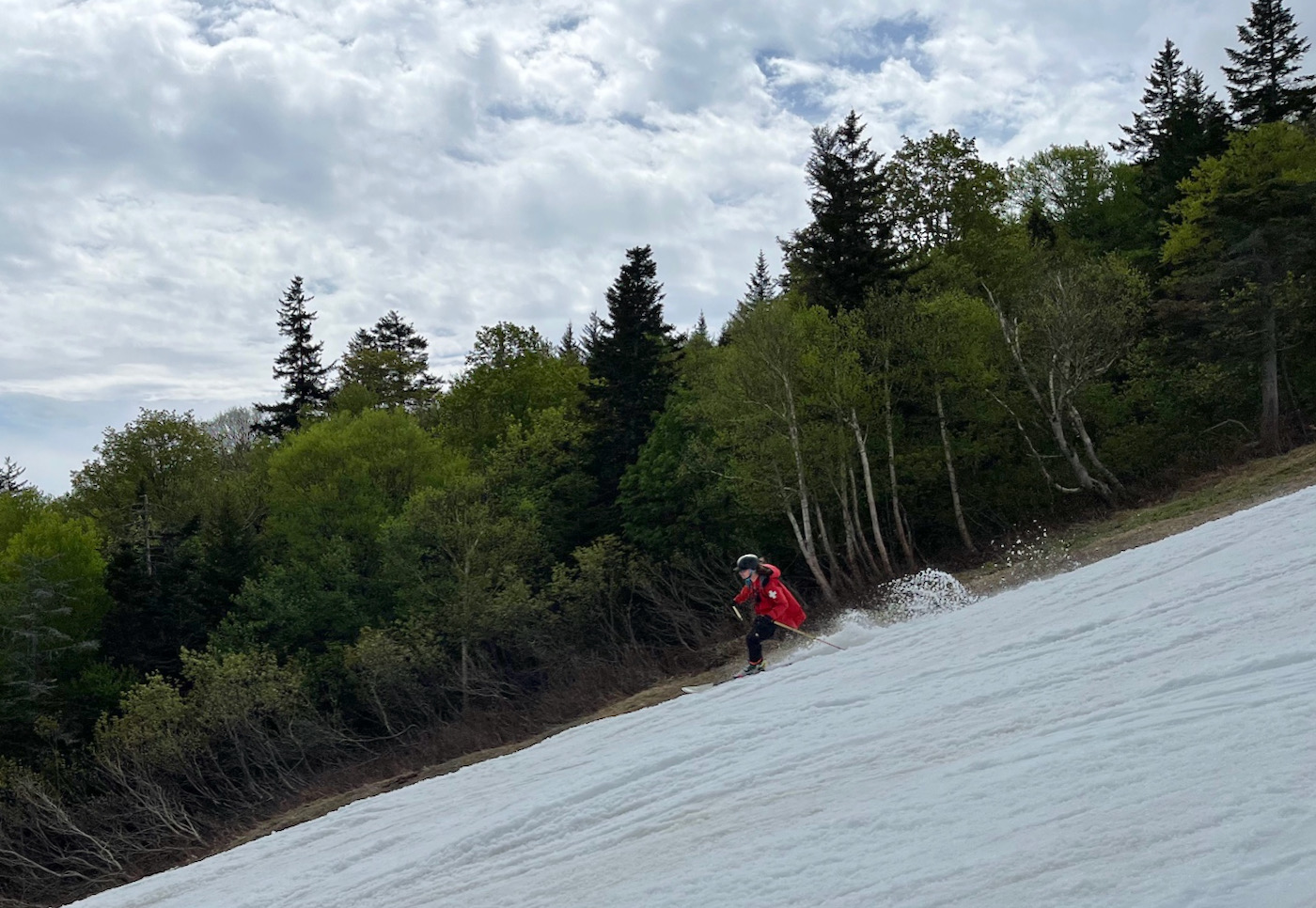 It wasn't crowded so the huge mogul field that spring skiing on Superstar is known for didn't really develop, just a short section of little bumps on the head wall at the top and another group on the steeper section at the bottom. We went for about two hours before taking a break. We retrieved my backpack and sat at a picnic table, taking in the view. A few granola bars and more water was just what we needed. Then it was back at it.
We enjoyed ourselves immensely. By early afternoon, my tired old legs had enough but the atmosphere was so positive and chill, we decided to hang around for a little while and soak it up some more. We debooted and put our skis back in the car. Then we set up some camp chairs by the tail gate and let things simmer a while more.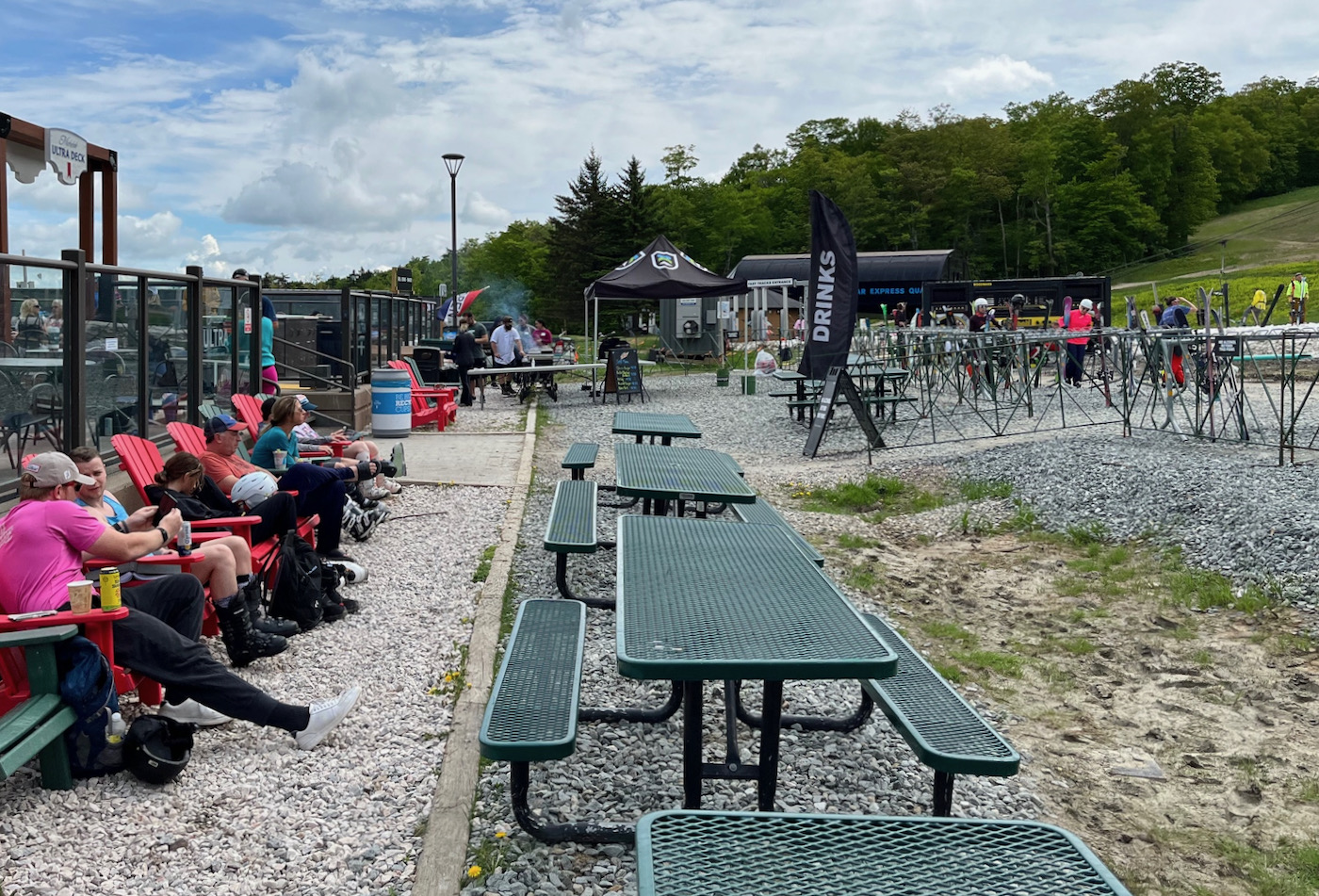 We watched more skiers arrive for the afternoon shift as mountain bikers from the Snowshed lift went by on a trail next to the access road. Skiers and bikers alike were hanging out by their cars, some grilling and others just chilling out like us.
Eventually it was time to go so we got on the road reluctantly for the long drive home. It was well worth the trip. Killington has announced that they are going to try to open this coming weekend, for their latest closing date since 1997. Props to Big K.