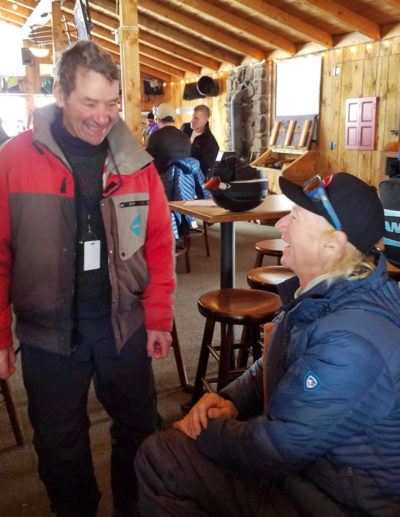 ROXBURY NY Gary Allen Hinkley passed peacefully on Sunday, May 15, 2022 at the age of 84.
Born on Sept. 27, 1937, to Harold and Ethel Hinkley of Meeker Hollow NY, Gary was a lifelong resident of Roxbury. His love for his family and the town ran deep. In 1957, he married the love of his life, his favorite dance partner, Bonnie Price, on Easter Sunday.
Gary had a long career of building homes and commercial structures in the Catskills and Downeast Maine. In 1963 he built the original Roxbury Motel. The motel allowed him to share his love for Roxbury with everyone who came through the doors. Gary and Bonnie lived next door to the lodge.
Gary and his brother Sanford founded Plattekill Mountain in 1959. He brought his vision to life creating a family-oriented ski center featuring some of the best terrain in New York. He was part of a renewed surge in tourism that brought generations of families to learn and love to ski.
In his later years, Gary set out annual challenges for top-to-bottom ski runs; memorably achieving 1,200 runs during the 2018 – 2019 ski season. Laszlo Vajtay — current owner of Plattekill — granted Gary and Bonnie lifetime privileges at the mountain for their lifetime contribution. Laz remembers Gary's determination:
"Three years ago, at age 82, he skied every day, achieving his goal of 20 runs per day, each of the 60 days we were open. 1200 runs, all completed before noon, when Bonnie would meet him in the lodge for a hot dog. Then they would both go home together. He would wait for no one and lived by the creed — you talk on the lifts. His runs were nonstop top-to-bottom. He did this every year."
Gary's greatest joy came from his extended family. They plan to continue this tradition in his honor.
Gary was predeceased by his parents; six brothers; and five sisters. Gary is survived by his wife, Bonnie; brother, Glenford; three sons, Allen Hinkley (Jo Hinkley), Kenneth Hinkley, and John Bolger (Lorrayne Bolger.) He is also survived by eight grandchildren.
A funeral service was scheduled for 11 am at the Jay Gould Memorial Church in Roxbury on Thursday, May 19, with burial following at Roxbury Cemetery. The family gathered at the Kirkside Barns following the service to celebrate his life.
In lieu of flowers, please consider a gift to the Jay Gould Memorial Church or the Roxbury Volunteer Fire Department.
---
If you have memories or stories of Gary, please share them in the comments below.