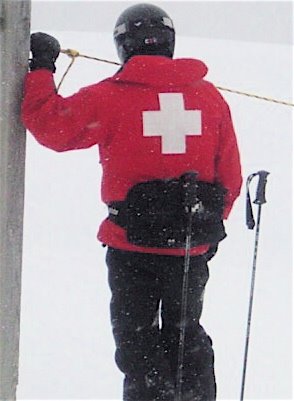 Early in 1934 the Mount Mansfield Ski Club formed a safety committee to act as hosts and guides on the mountain. They informed skiers about trail conditions and waxing techniques. Members wore a triangular yellow shoulder patch that became a badge of distinction, and many volunteered to wear the emblem. By spring, the club learned that an educated squad with first aid training was essential requirements for an effective patrol.
That season, skiable snow was in short supply in the southern Adirondacks. Finally in late winter significant snow fell, and on March 4, 1934 the first ski train headed to North Creek from Schenectady carrying members of the Schenectady Wintersports Club.
Two months after the formation of the Mansfield's safety committee, New York's first ski patrol was born at Gore Mountain. Lois Perret, a registered nurse, arranged to have ten strong skiers carry first aid kits in their knapsacks. A first aid station was set up in one of the cars of the ski train in North Creek. Toboggans for transportation of injured skiers were located in strategic places on North Creek's ski trails. Eventually, members of the Schenectady Wintersports Club's patrol joined the National Ski Patrol and procedures developed by the club's patrol were incorporated into the NPS System.
---
The following narrative, taken from a placard in Gore's Northwoods Gondola, was originally published in Ski News in December of 1939:
"The Ski Patrol at Gore Mountain, formed in 1934, was the first of its kind and served as a model for patrols all over the world. Lois Perret headed up the volunteer first aid committee, and was highly efficient, with first aid kits, a doctor, toboggans, and emergency plans laid out. Their slogan was, "Be careful, and think while you ski."
At the end of the day she and her members, nicknamed the "Clean-Up Crew," would "sweep the trails," making sure there were no injuries or slackers. Being that many skiers overestimated their ability and underestimated trail length, they would find themselves trying to ski in the dark. The patrol warned early winter skiers not to start down the trails after 3:30 pm. If a train was leaving North Creek that afternoon, information was reported to the railroad station. Sometimes the train was delayed until everything was reported clear.
By 1939, the committee had become 20 "husky boys" identified by a triangular orange and black insignia. Their main duties were providing trail information to guests and providing first aid in the event of an accident, which remain objectives of our outstanding ski patrol today."
-Ski News, December 1, 1939
Vincent Schaefer