Monday afternoon. On the Northway, the sun in our eyes as the shooting brake ate miles, heading back to the flatlands. My arthritic feet let me know they were unhappy with the day's three-hour ski.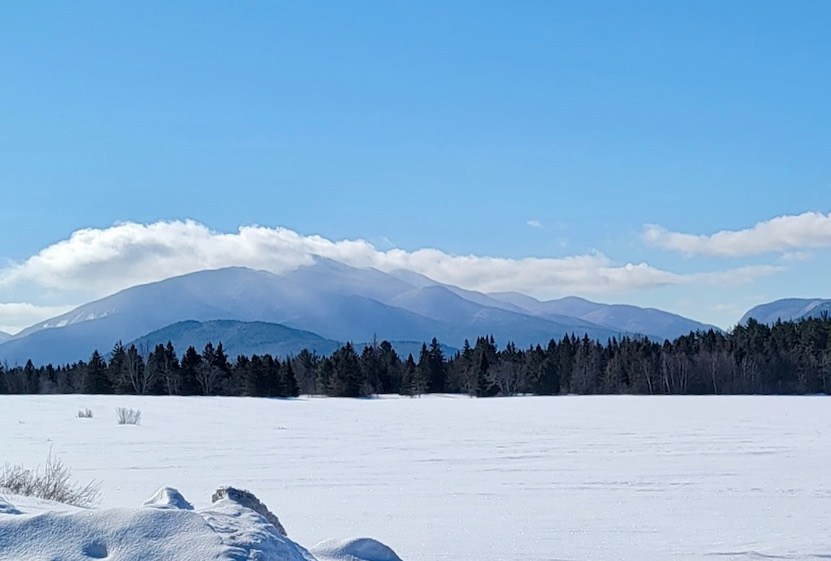 I said to Lars, "I used to think that if my fairy godmother offered me a choice of a 25-year-old cardiovascular system or 25-year-old feet, no contest. It'd be the motor. Anymore, I think I'd rather have 25-year-old feet." Too many birthdays, and the wear and tear catches up with you.
Having company on a ski expedition was a welcome change to my usual solo missions. Lars and I first met in Prospect Mountain's lodge over 20 years ago.
He was bummed out over results in his first cross country ski race. I said to him something like, oh, you're the other guy here from Jersey! He mumbled something and packed up his stuff.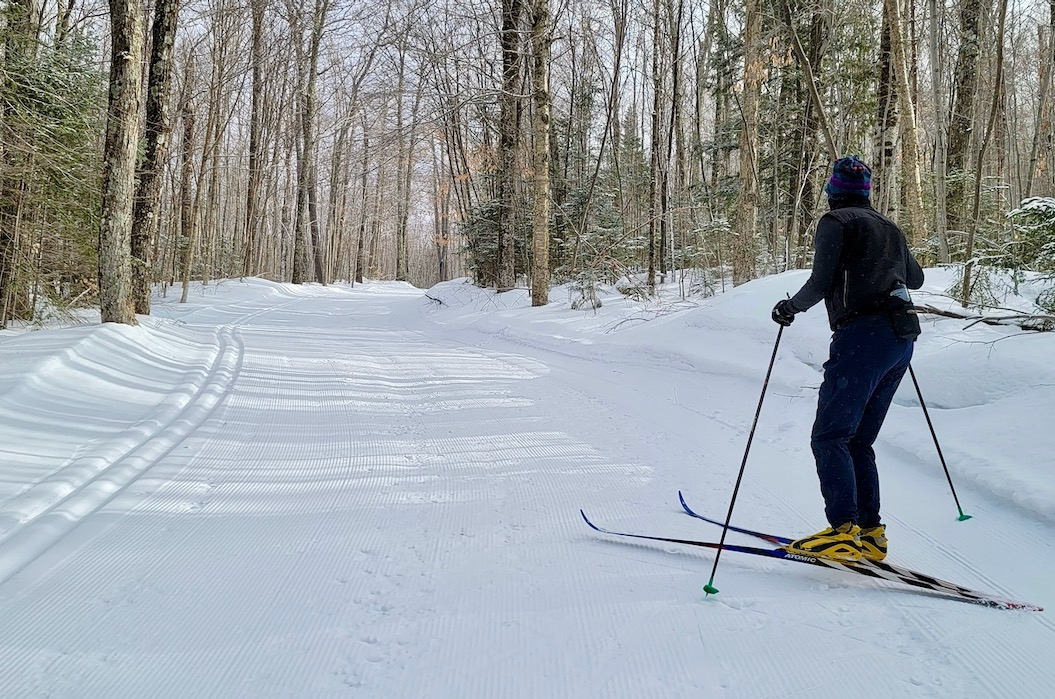 Lars came to cross-country from alpine skiing. His dad had been a ski jumper in the Odin Ski Club in Lake Telemark. In his 20s, Lars lived in Vermont for a few years, teaching at Mount Snow and trying his hand at the pro mogul circuit. He's got a tremendous motor honed from mountain bike racing. He gravitated to cross country skiing.
By that summer, we had decided to go for a three-hour run in the woods on a Sunday in July. The appointed day dawned, and it was pissing rain. We talked on the phone. Neither of us wanted to be the one to crap out, so off we went. Within three minutes, we were completely soaked and continued through the hills and dales of Jockey Hollow. Three hours of that, and you become friends.
We did a lot of road trips and workouts together after that. In his first Lake Placid Loppet, Lars finished in just under three hours, a feat I've never managed. He grabbed an age group medal at the New England Masters Championships. I'll admit to being a tad jealous. With his alpine background, he'd tuck and shred sketchy downhills, waiting for me at the bottom. And going uphill was never a problem.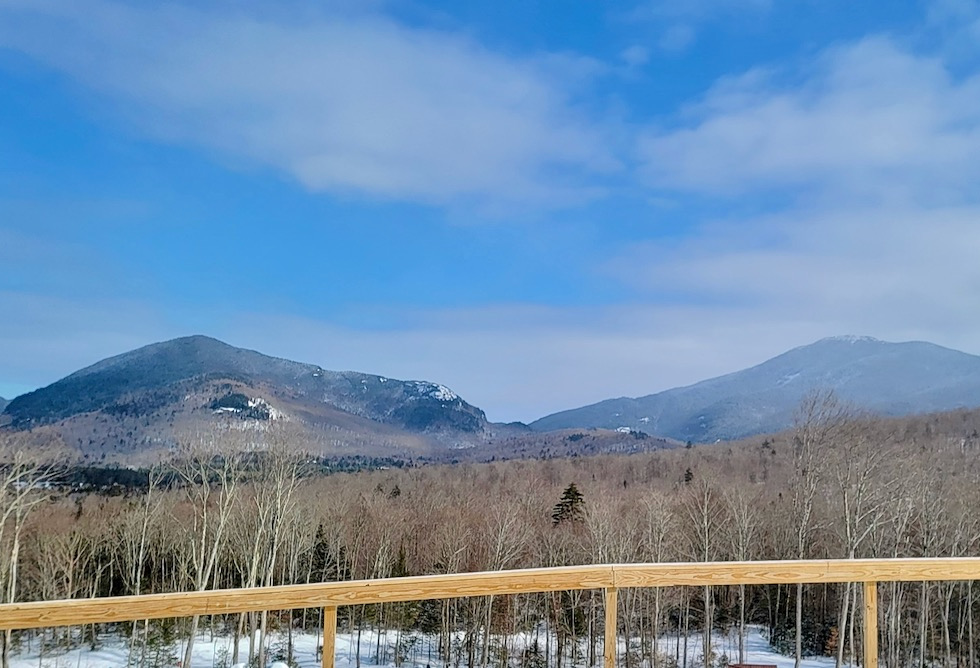 As most of you have experienced, life gets complicated. We had kids, our schedules and lives diverged. At one point, Lars worked two jobs, and drifted away from skiing. We stayed in touch on the phone, but didn't get together for several years.
Out of the blue a couple weeks ago, we had an intense phone convo. Lars sounded ready for a change, so he signed on to last weekend's mission to the Adirondacks. After work late Saturday night, we lit out for Lake Placid.
We left NJ at 9:30 PM and arrived in Lake Placid at 1:45 AM. When I get in that late, my body clock gets totally out of whack. Bleary-eyed, we brewed coffee and got breakfast and arrived at Mt van Ho around noon.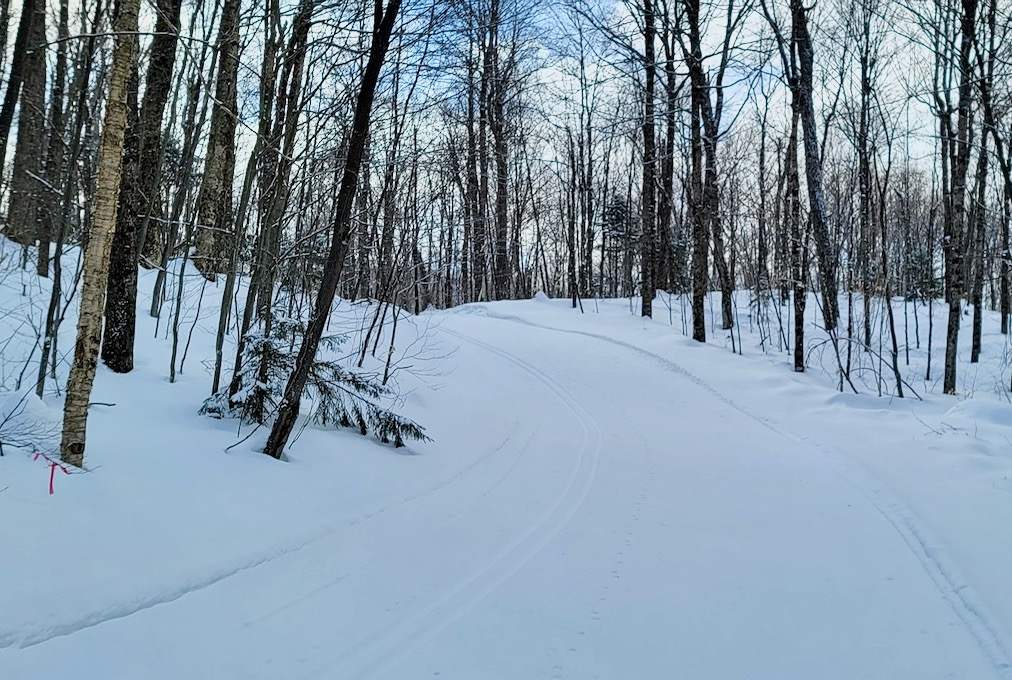 After booting up in the lodge, we headed out. We skied a few kilometers around the Flatlander section of the trail system to warm up. Then we split up for a bit. He went to re-acquaint himself with the trails. I beat the crap outta of myself over a hot lap on the new competition trails. Then we reconvened to warm down. Dinner, conversation, and early to bed.
Monday dawned bright and cold. A half inch or so of snow had fallen overnight. The temperature, four below zero, is the FIS cutoff for cross-country ski races. The upside of wicked cold is that the kick waxing was easy: Swix Polar, which I break out once every five years or so. We clipped into our boards and set out.
Freshened by the new snow, the set track was sweet. We took a short cut, climbing Main Street, to cut over to Porter Mountain. Having not been here in probably 20 years, it was all new to Lars. Skiing is like riding a bicycle: you don't forget how. Lars skis with a grace that I've never achieved, and he hit the downhills with style.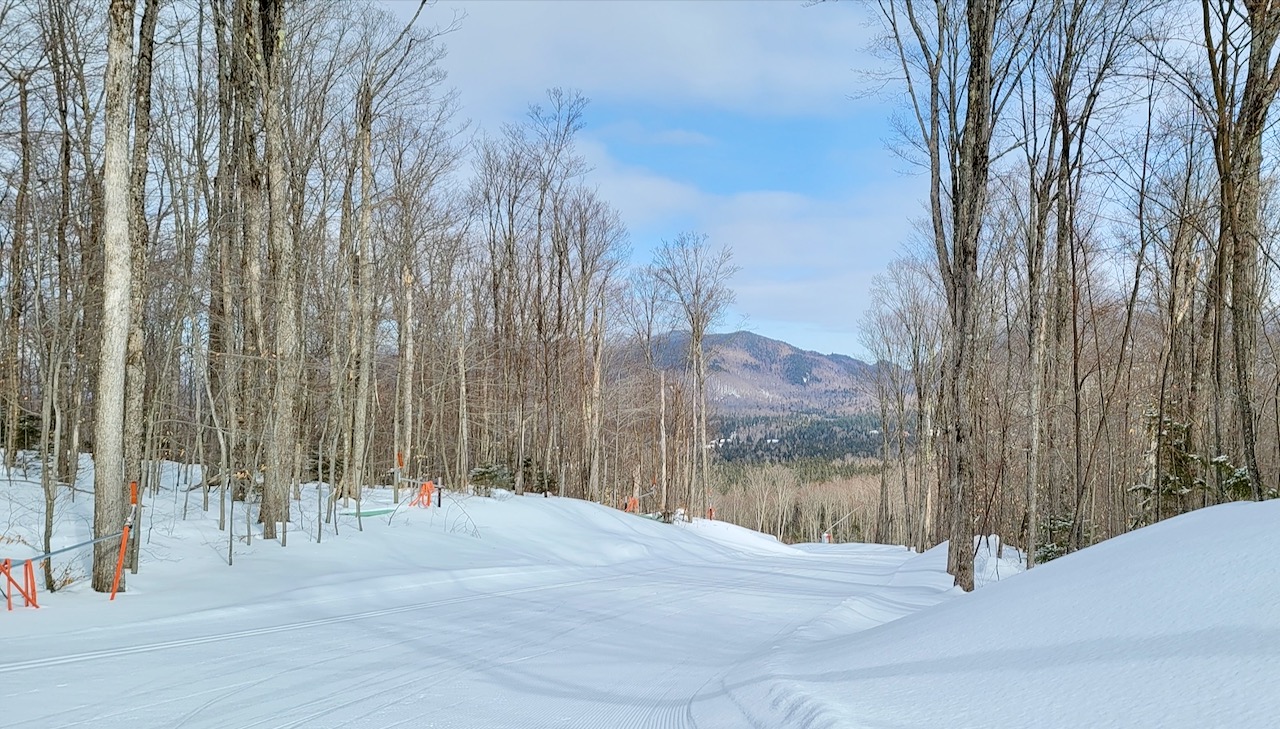 Porter hadn't been groomed, but rock-hard corduroy was evident under the dusting of snow. Where we had to herringbone uphill, getting an edge in was tough. Tough when it was designed — and still tough for one with too many birthdays under his belt — Porter Mountain was designed in a different era. Back then, there was a "one-third flat, one third uphill, one-third downhill" design ethos. There weren't any other ski tracks, but we saw bobcat, hare, and deer sign.
We got to the height of land on Porter and dropped in, cutting left to Big Rock, the outermost loop on the Porter Mountain section. Our skis chattered on the corduroy on Big Rock's plunging downhill. We climbed out of the hole back to the main loop, descending the Rollercoaster Hills. We bagged the Horseshoe Loop, because it was there, before returning to what I like to call The Hill With No Pity: a stiff climb that I've always found demoralizing after you come off that descent.
After that, a rocket descent to the base of Russian Hill, what had been the hardest climb here prior to the construction of the new trails. We dropped off Russian Hill to the flats and warmed down for a bit around the old biathlon stadium. By that time, we were toast, but in a satisfying way. It's always good to get up to the Ho. And better with company.