Mount van Hoevenberg, December 6th: my first day on snow. You can't control the weather, so while my drive to then north country on the preceding day was sunny, 6th December was anything but.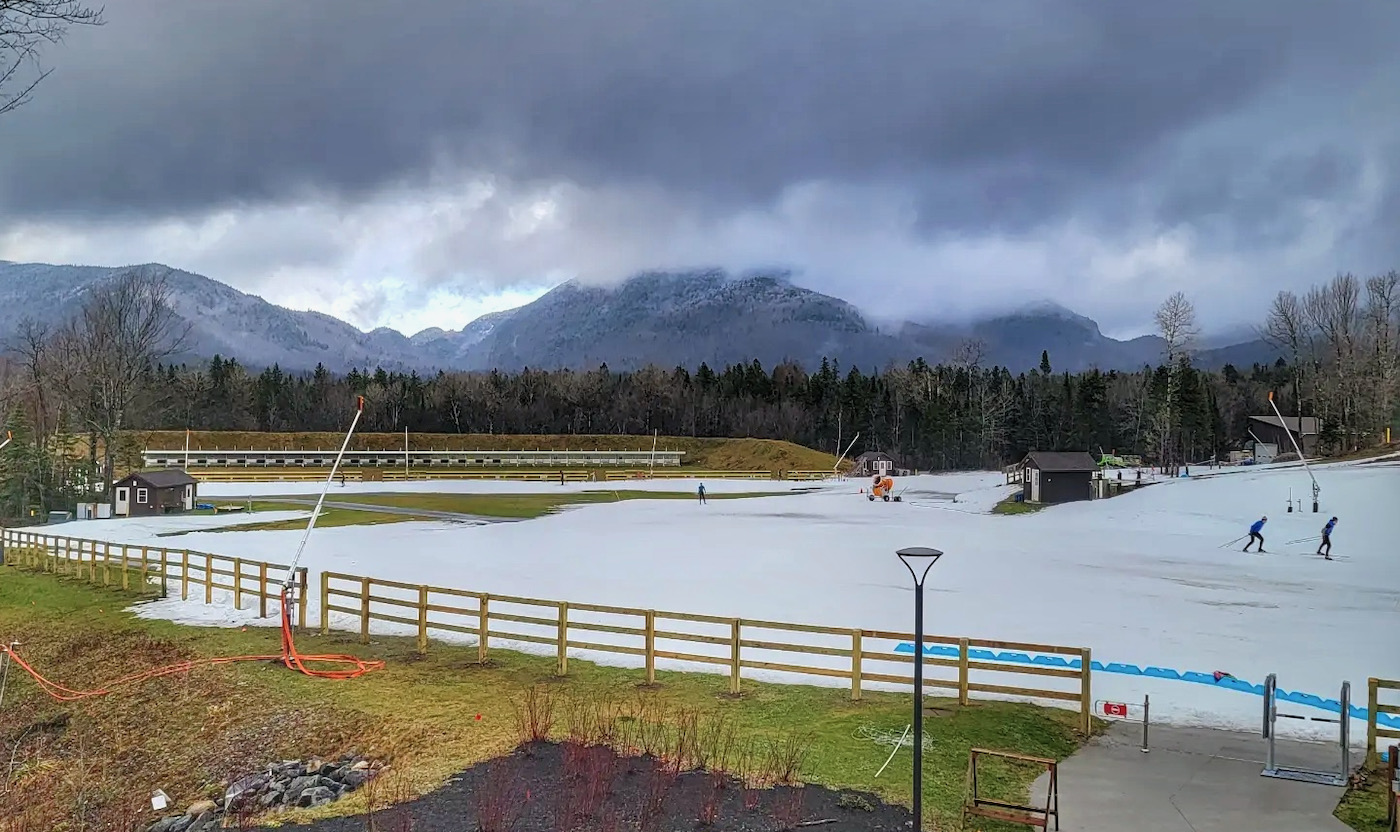 After driving up on Monday, I woke up at 1:45 AM after 4 hours' sleep. I couldn't relax, so I dropped a Xanax (DEA, I have a scrip). Invariably, I sleep well but wake up later than I would like. I moved slow in the morning, and by the time I arrived at the Ho, it was raining.
The gloom was offset by the sliding athletes I saw as I hauled my gear to the lodge.
Athletes from all over were here to train for the bobsled and skeleton World Cup races Van Ho is hosting in mid-December. I felt like a local when a woman from Quebec accosted me to ask where the skeleton practice start house was.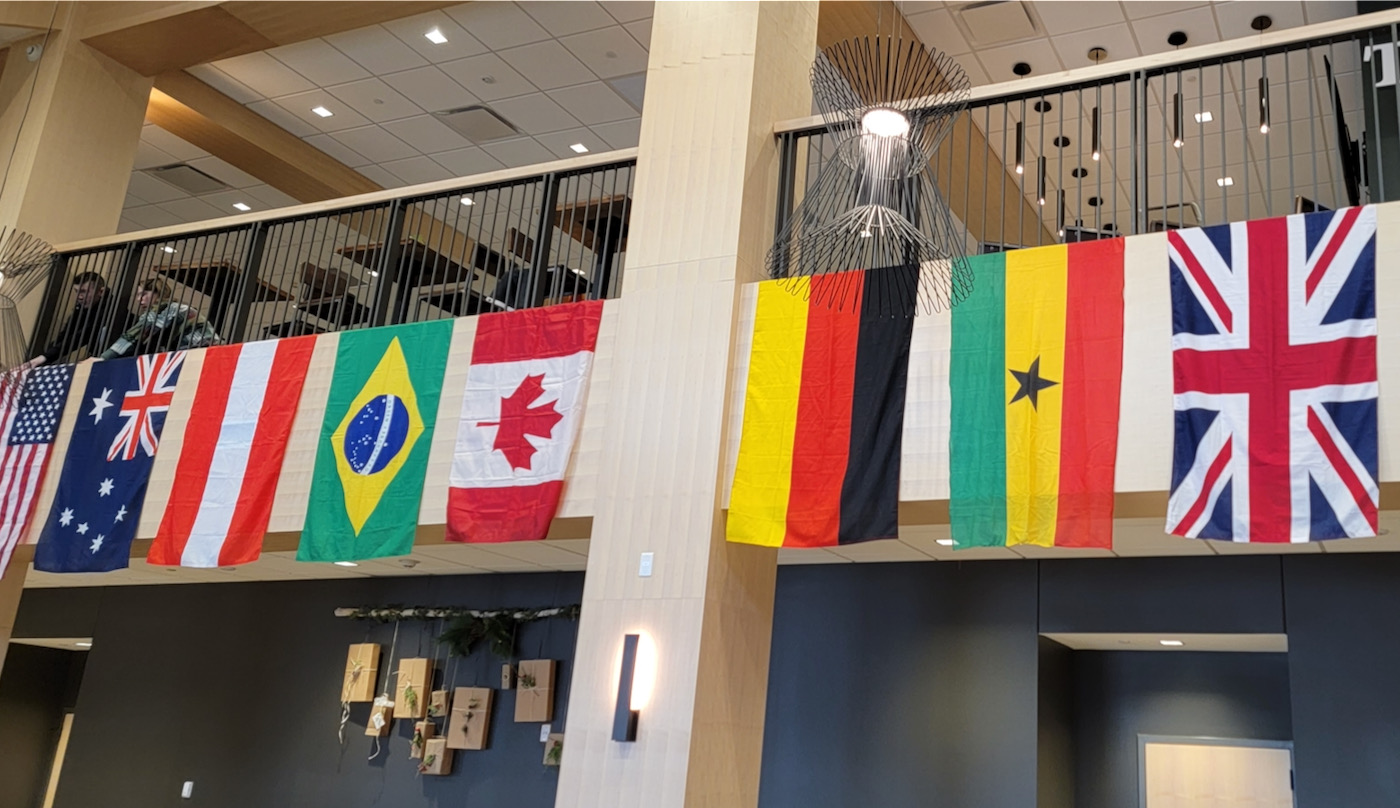 It was cool to see the flags of all the nations displayed in the lodge: last weekend, a Ghanaian athlete took a bronze in a men's skeleton race. I stopped to chat with a British skeleton rider and offered that my dad had been a long-time volunteer for USA Luge. He quipped, "I'd rather be on the skeleton, mate. At least I can see where I'm going."
At this stage of life, I figure that I've paid my dues training in shitty weather. But I was here for only three days, so I pulled the antique Atomic skate skis outta my quiver, clipped in, and off I went.
A couple weeks back, weather permitted the Ho to blow snow, and some natural snow fell too. While the flatlander trails are now bare, a solid 12-18 inch base remained on the sprint loop.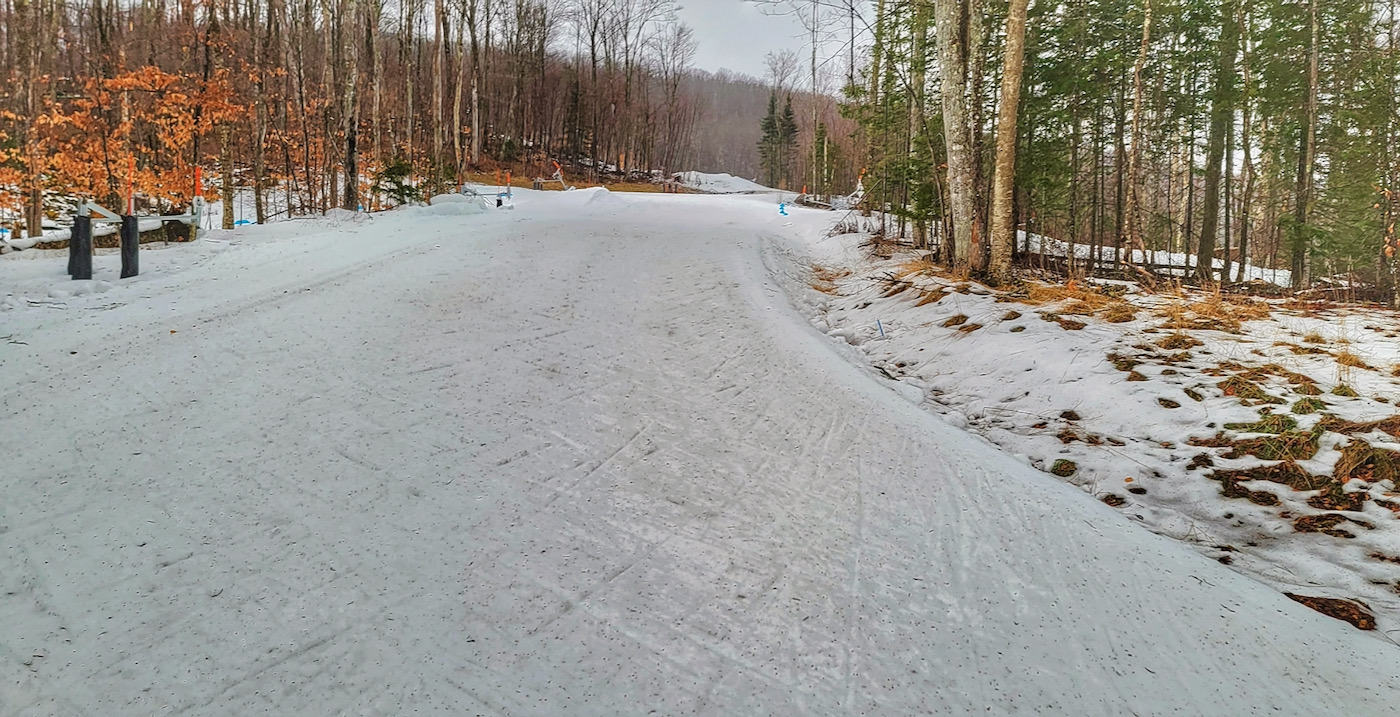 Driving up, I'd expected conditions to be a bit soft and slow. But no, machine made snow is more ice crystal than actual snow. Although it was well above freezing, it was fast, frozen granular conditions. Not the friendliest conditions for my first day on snow.
After warming up on the flats by the biathlon range, I did three laps around the sprint course, punctuated by loops around the flats to recover. All the training I do in the off season counts for nothing here. My heart rate skyrocketed even though I was trying to go easy. That was plenty for day one.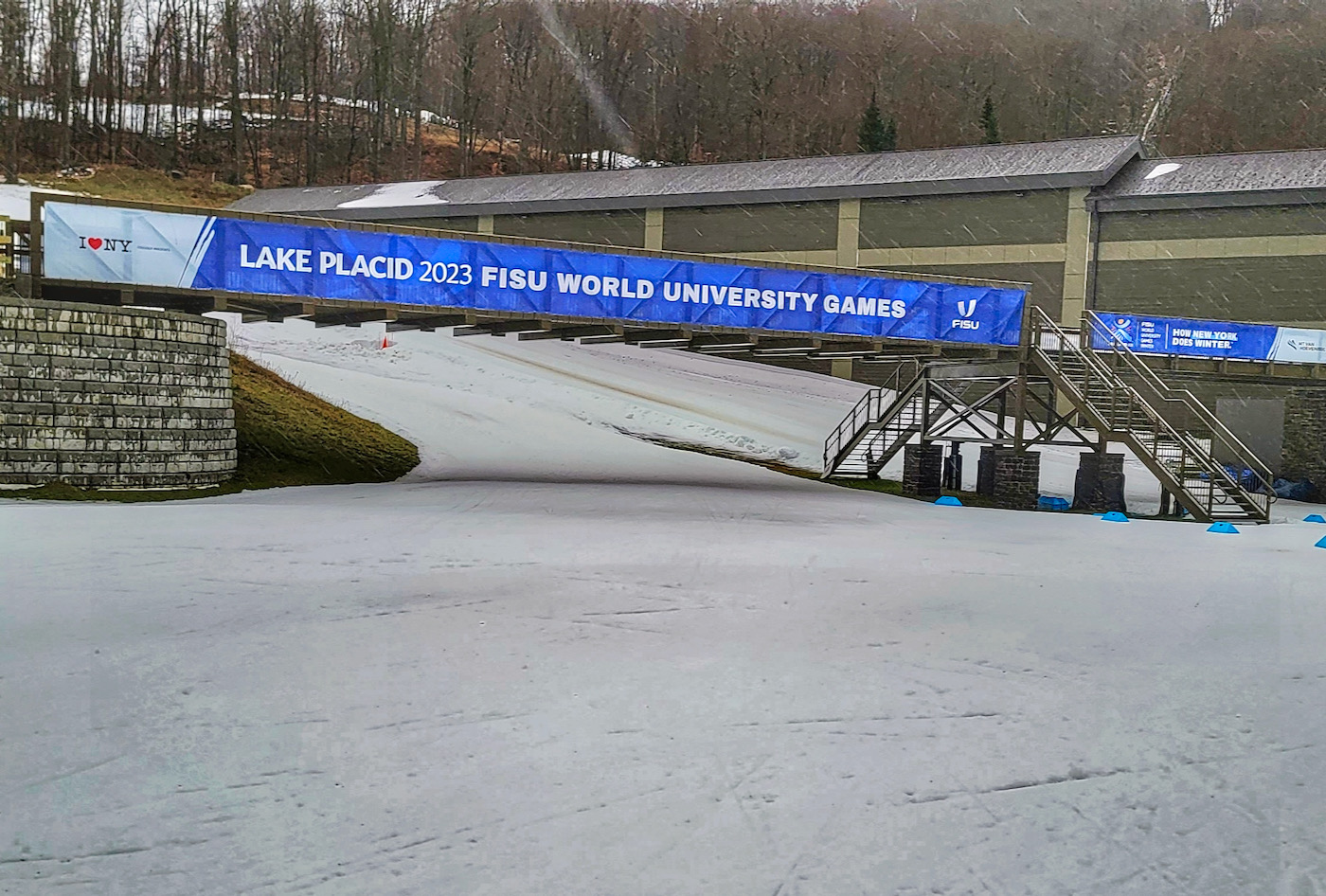 Some of you may have seen my current travails about ski prep space. The civilian wax room was unavailable, as it was converted to space for sliding sports volunteers. Kris Cheney Seymour, Mt van Ho's manager, kindly allowed me access to the rental center. The employees getting ready for tourist season were similarly accommodating.
Music blared as people unpacked dozens of pairs of new rental ski boots and sorted rental poles. Usually drudgery, pre-season ski prep had some real stoke.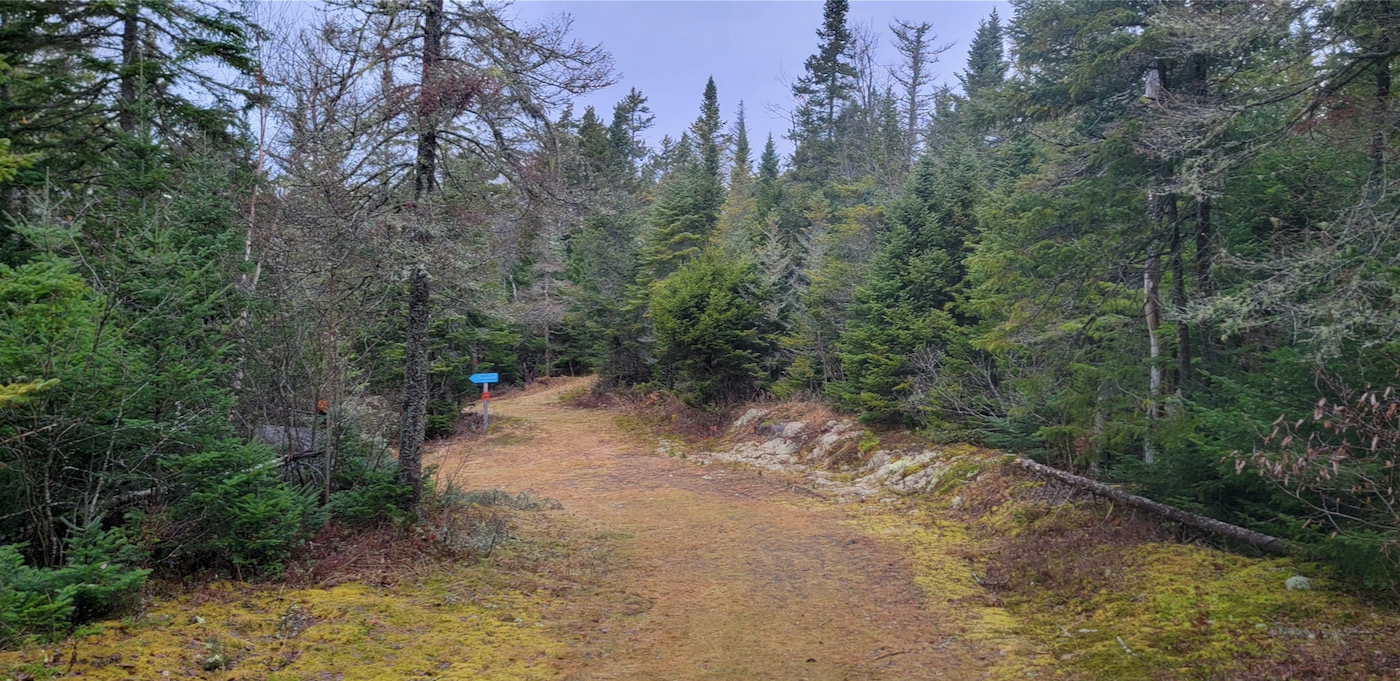 Tuesday I arrived early, just as Duncan Douglas and his better half were leaving. "The track is frozen solid," he said. When a two-time Olympian tells you the skiing isn't safe, he's probably right. Sure enough, the base was frozen solid. I put on running shoes and headed out to the Three Trails loop for a recovery run.
Wednesday morning dawned much colder, with tantalizing snow flurries. Overnight, the trails had been tilled. Frozen granular in some places; elsewhere, mashed potatoes with exposure to the sun. I gritted my teeth and walked up most of the hills to manage my heart rate, and hit the downhills as aggressively as I dared. On Monday, my Garmin recorded a top speed of 48 mph; Wednesday, it showed 21 mph even though I was going just as fast. Put that top speed somewhere in between.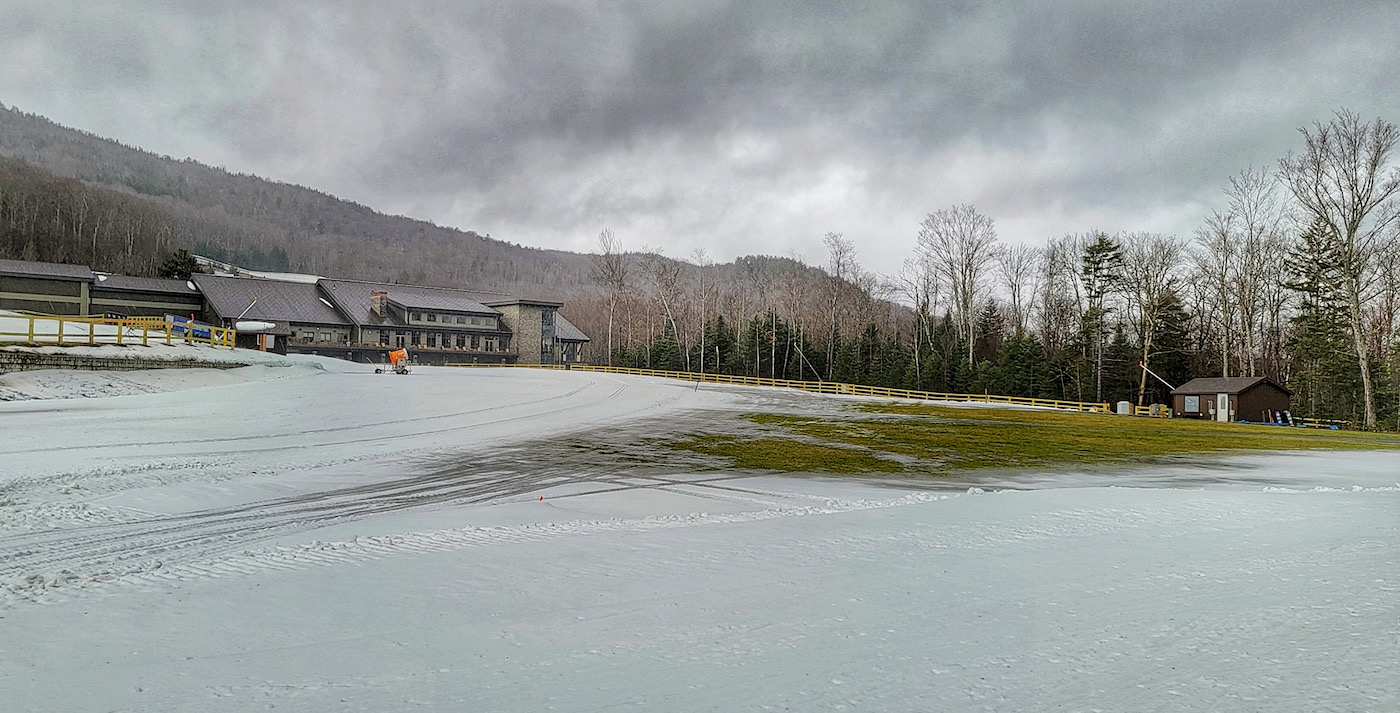 I had hoped to get in three hours on one of my days here, but 90 minutes turned out to be plenty. At the rollerski sprints a couple of months ago, only one athlete looked like they were worked over at the top of the main hill. Oh, to be young and bulletproof again.
While the first ski of my year was on quite limited terrain, the weather coming from the west bodes well for the future. If NOAA forecasts verifies, it is bound to open up much more terrain. The continued cold temperatures will let ORDA build a bombproof base for next month's World University Games.
Whether it's the new World Cup trails, or the legacy trails from 1980, skiing Mount van Hoevenberg doesn't get old, even after 40 years. It's a never-ending puzzle that needs to be solved. Stoked for my return.