I did without a lot of things last season. Ski buddies. Random chairlift conversations. Booting up in the lodge. Skiing out West. And, until my last day, Vermont.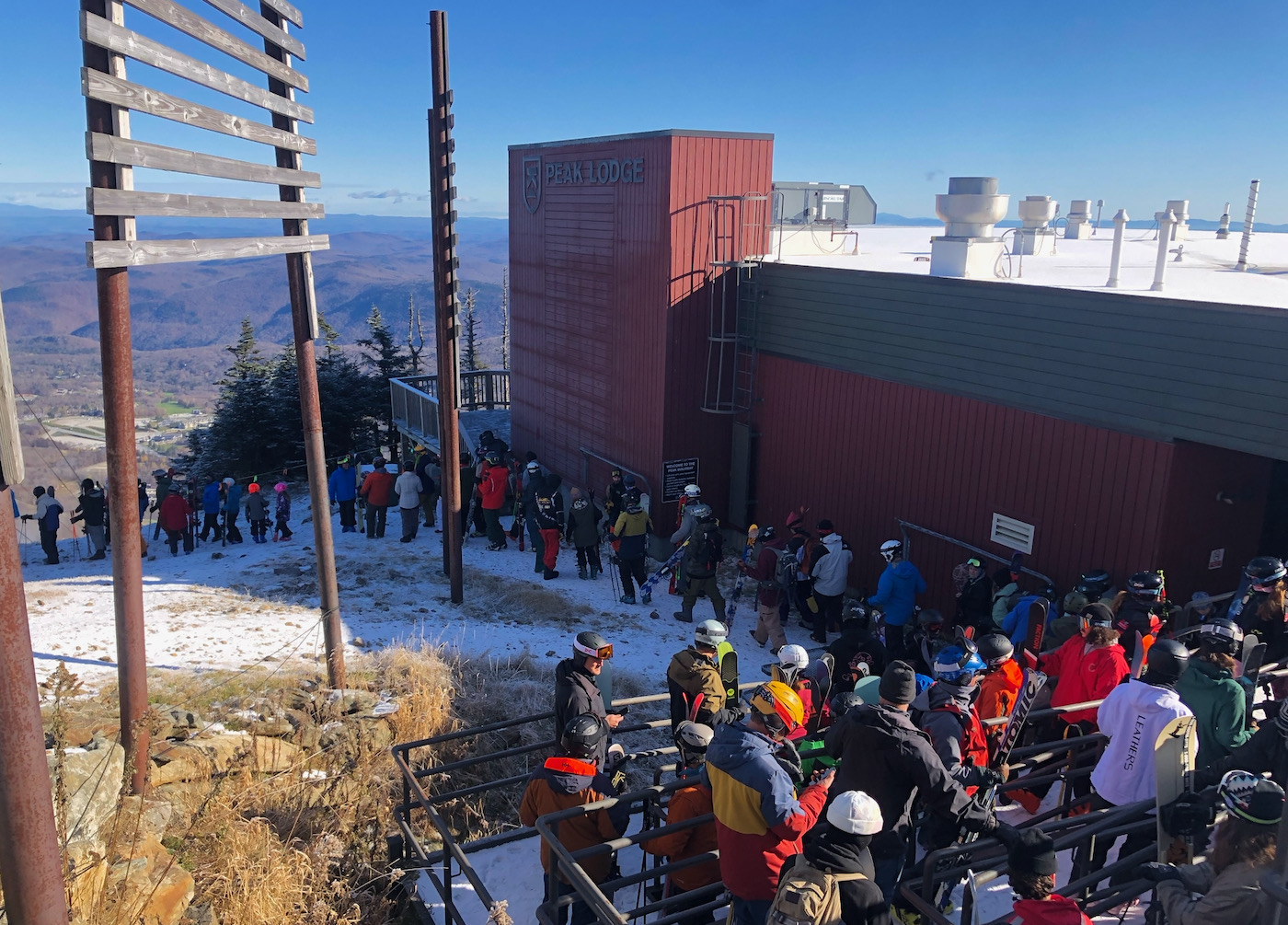 When the 2020-21 ski season wrapped, with an improbable bomb of an April snowstorm at Mount Snow, I thought that would be the end of Covid-era skiing, of masks and staggered lift-loading and travel restrictions and ski-area reservations. And while I had come to like booting up in my minivan, music blasting and heat cranking, I was done with the rest of it.
But as summer wore on and Covid surged once more, I didn't know if skiing would or should be done with it. Perhaps this was a thing and we would just have to learn to live with it.
And it is, in a way. The world we left in March 2020 is not coming back. Most ski areas will still require masks indoors this coming ski season. Some will require proof of vaccination to enter certain areas. A few will continue to require reservations. But: lifts will load to full capacity everywhere. We seem to be done with masks in liftlines. And, crucially for Northeast skiers, the race to open returned.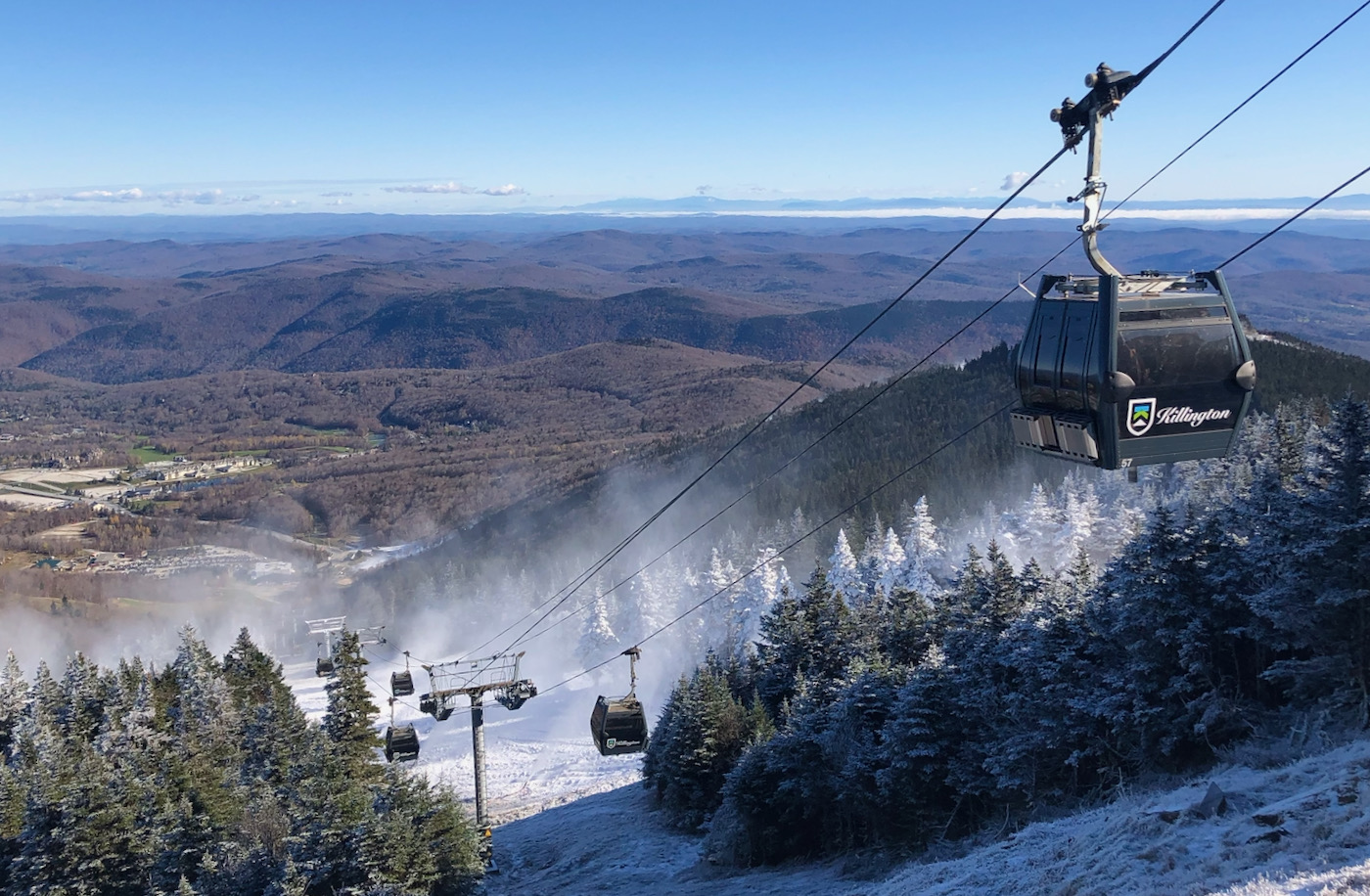 Word dropped Wednesday evening at 5:00 pm that Killington would open Friday. With its usual two trails, remote and improbable at the top of the mountain, a layer of manmade caked 500 vertical feet to the bottom of the North Ridge Quad.
I'd taken Friday off, on speculation and hope, two weeks before. Nothing would stop me from going. I dug out and organized my gear, a mindless task at midseason that eats up two hours each November on skiing's eve. On Friday, I woke up at 4:30 and left by 5:00 and at 9:35 I pulled into the K1 parking lot. The sun hung blooming in the sky and the snowguns boomed on Superstar, already blanketed top-to-bottom in preparation for the World Cup on Thanksgiving weekend.
I parked and booted up and 15 minutes later there I stood with Manhattanskier, on a hillock overlooking the K1 and its line backed uphill. I took some video, captured the moment: with some scattered cheers and skis hanging off fully loaded gondola cars, the 2021-22 Northeast ski season was live.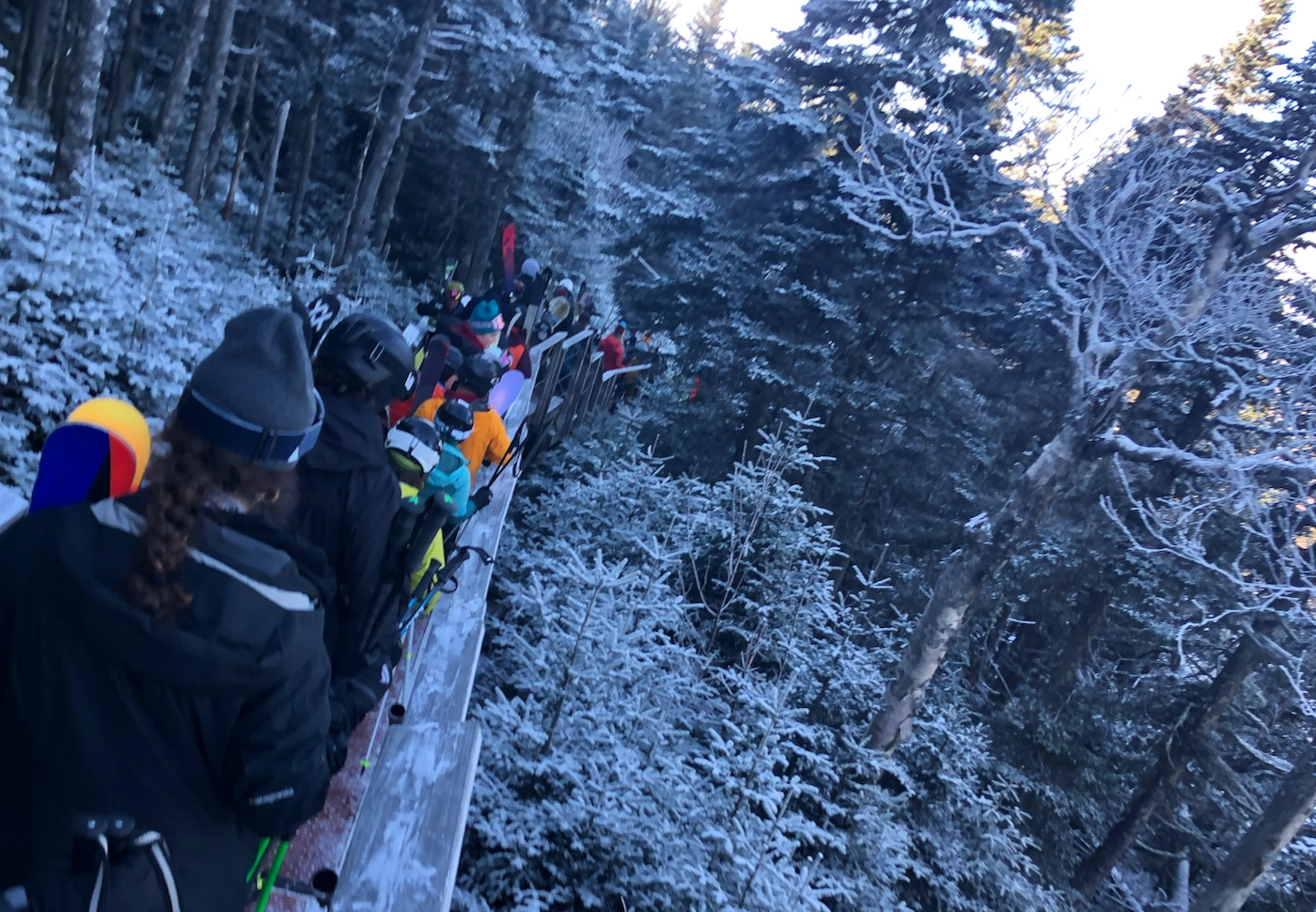 Neither of us was in any hurry to get to the summit. We watched the crowd and enjoyed the weather. Anyone who was skiing anywhere East of Colorado was there. It was a scene, and we were happy to be a part of it. At 10:30 we lined up and by 11:00 we were stepping off the K1 at the freezing summit. Snowguns blasted. The line for the walkway down to North Ridge stretched up to the top of the Peak Lodge staircase. It took another half hour to work our way down the long wooden stairs, stepping aside occasionally for upward-bound early-risers already wrapping their ski day.
"Was it worth it?" I asked one woman with her skis hoisted over her shoulder, slow-stepping up the incline.
"Oh yes," she answered, grinning.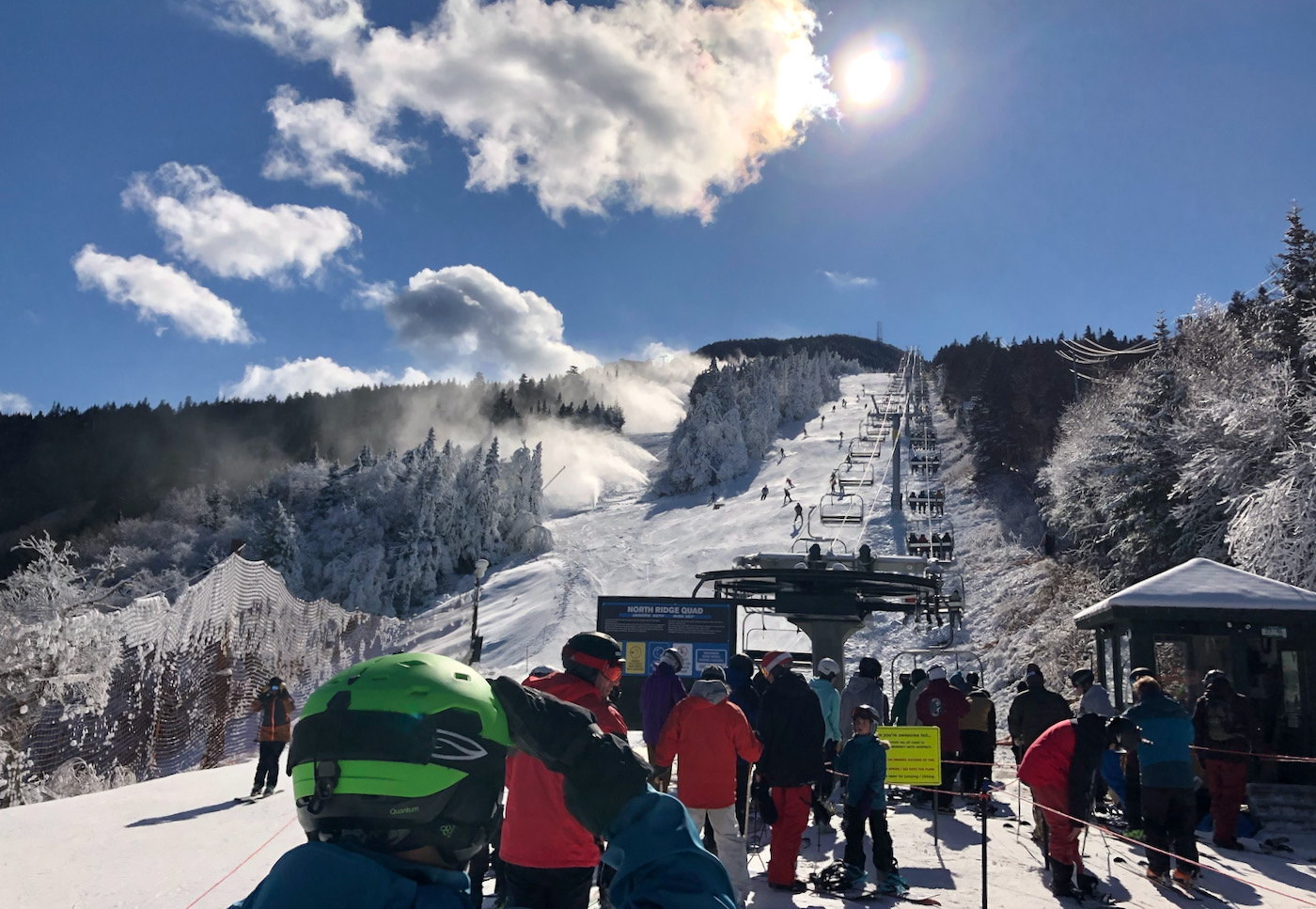 The best part of the walkway is the anticipation. You wait all spring for skiing and all summer for skiing and all fall for skiing and finally there's skiing but finding it is a great quest. And the end of the odyssey is the final turn down the stairs, the snow below, the North Ridge Quad spinning and people – my people, skiers – sliding off and down for another run.
The summit was mobbed. Happy people. A bluebird day. Trees choked in manmade. The Canyon Quad frozen solid and still. We stepped to the side and I fussed with my boots and made sure all my pockets were zipped and took a deep breath.
And then we we skied. And it was an icy mess. But it was skiing.
Att the bottom: a stilled lift, a line backed up nearly uphill. A drive belt issue. We lined up and waited.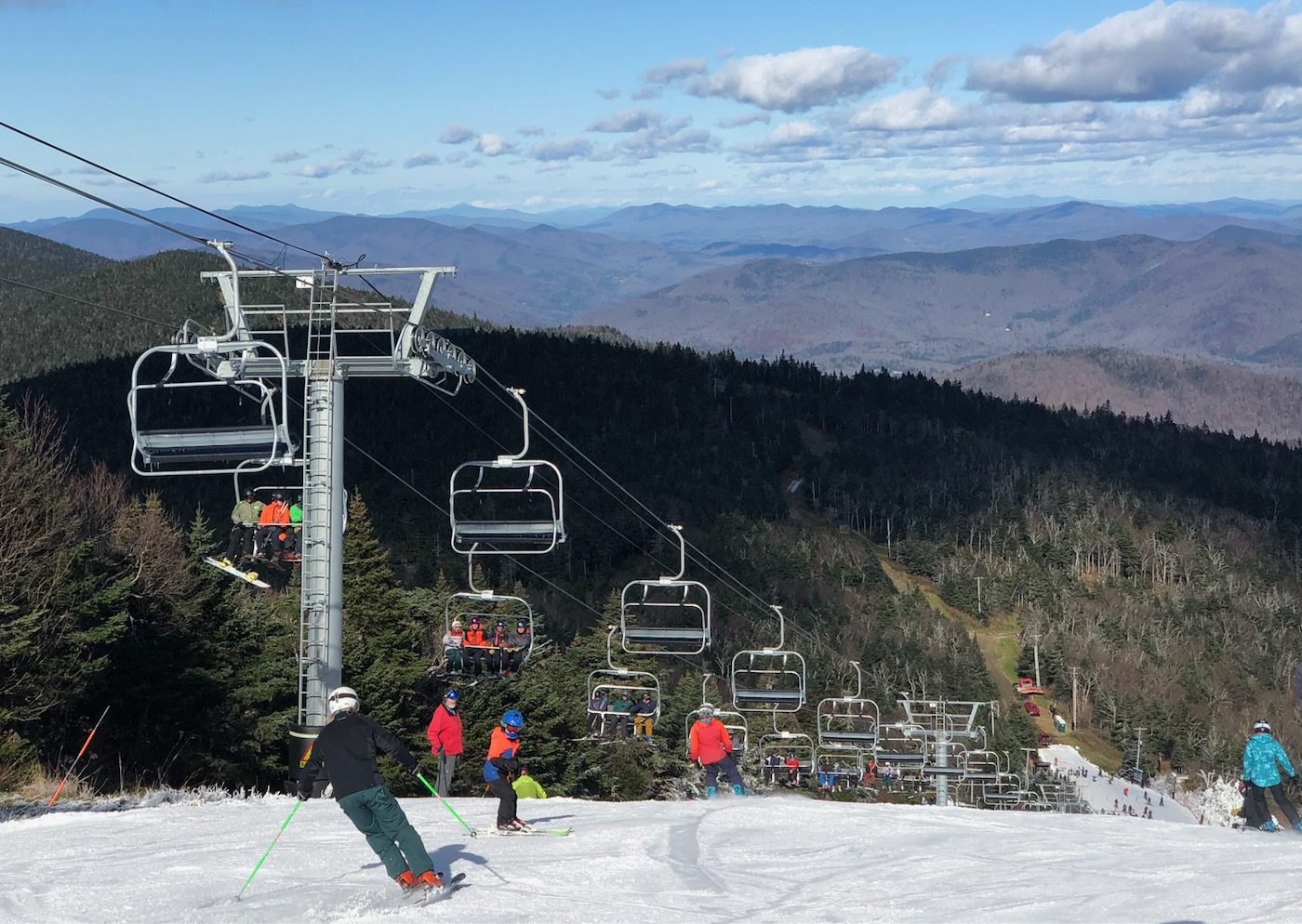 I was thirsty. The wait dragged on. Some people began hiking down and some began hiking up. An insane activity in ski boots. I was accustomed to past years on North Ridge: no bathrooms, no food, nothing but skiing. But the resort had dropped a pop-up bar near the lift maze and a grill where a small team arranged a seemingly endless supply of hotdogs. The dogs were free. A water was $5.50, which annoyed me. But I grabbed a dog and stood in the sun and it was pleasant enough that when the lift started spinning I returned for another. Under a tent was a table stocked with free Subaru swag but I had to prove I owned a Subaru to get it and I would never do that. I've been trapped behind them on two-lane highways they seem incapable of speeds exceeding 35 miles per hour. So I didn't get a free hat.
Finally we realized no one was skiing down. We loaded the lift and skied up and stood in the sun. Little kids, skis slung over their shoulders, stepped up the ridge above us and skied 25-vertical-foot runs down. A Very Serious Killington staffer ordered Manhattanskier out of his skis because we were "on a closed run" as he prepared to run tape across the top of Double Dipper.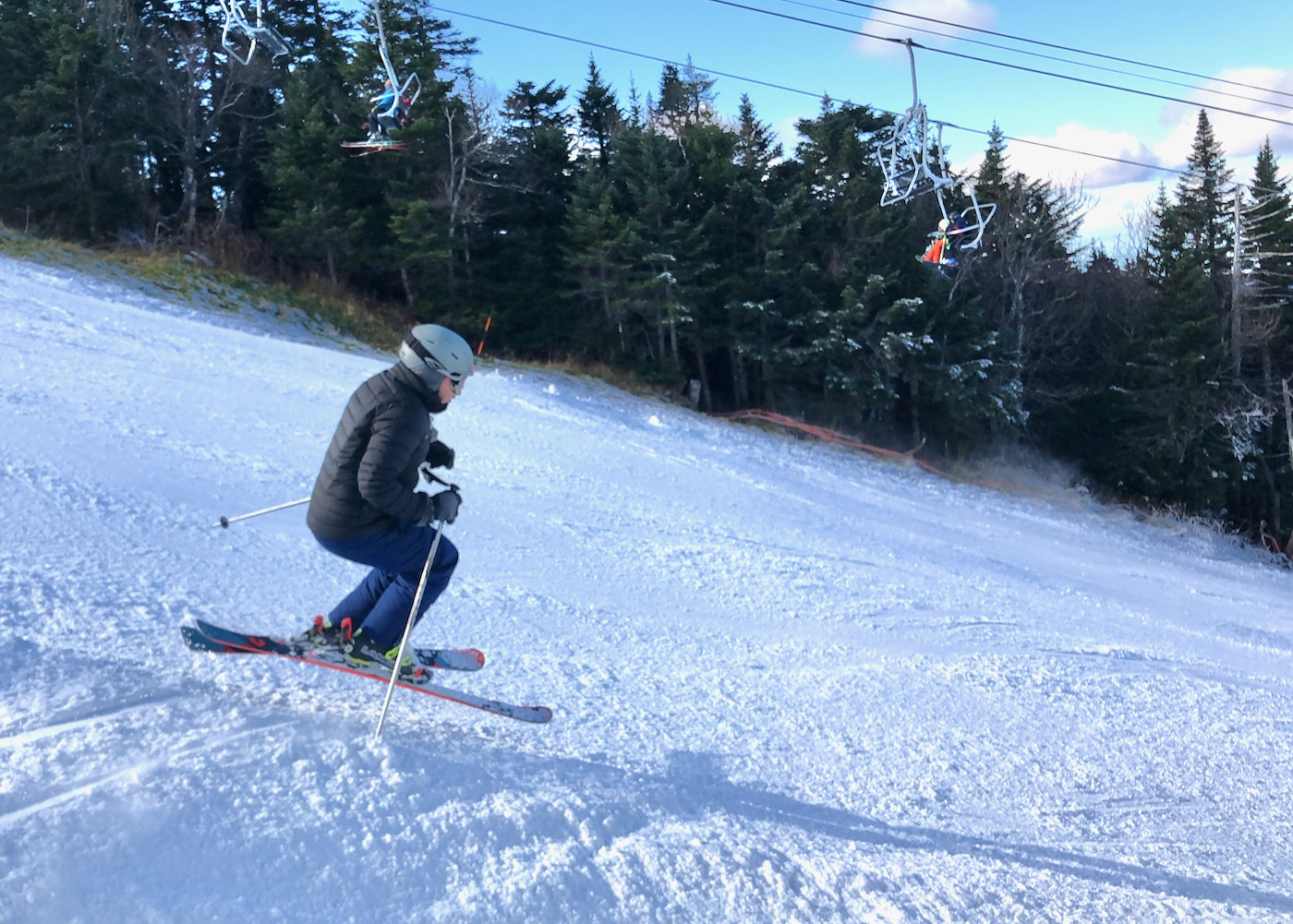 After 20 minutes the lift reopened. Like an evacuation everyone lurched downhill. On Rime the snow remained icy, sloughed off and bulletproof. But on Reason it was better, chunky but soft and turnable. We skied this over and over until 2:00, when we called it, on the first day of the season.
At the end of a lot of great ski days I ski back to my car. The snow is so good and deep and relentless that it coats everything. But sometimes a great ski day comes with barely any snow at all. It comes with a long uphill staircase walk and a downhill gondola ride and a slog back to the car. It's Killington early season, and it's something we haven't had in a very long time. And when it's back, it's glorious.
---
Stuart Winchester is the editor of the Storm Skiing Journal and host of the Storm Skiing Podcast.
---