This past week snow riders gave thanks. It's not often lifts in New York spin in mid-November. I got some early season action at Gore last weekend and this weekend hit Greek Peak on opening day too. It felt right to be back at Greek after closing them out on ski-for-free day. On April 15 2018, only a single white ribbon remained. This year, on Black Friday, I found a lot more.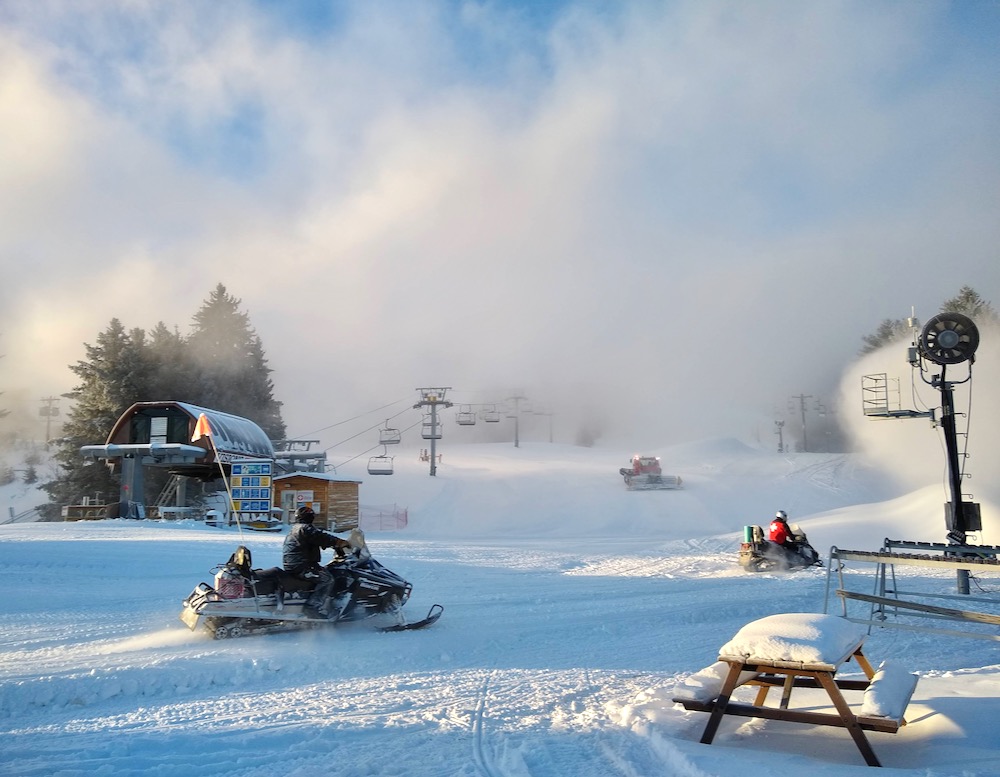 I woke from my long Thanksgiving nap shortly before 6am. With a -6f temp reading outside, it felt more like February than November. I loaded my gear and drove from the Finger Lakes to Greek Peak. The only cloud in sight was steam rising off Seneca and Cayuga Lakes.
When I arrived I found one more cloud. Greek was taking advantage of frigid temperatures to blow as much snow as possible. I walked into the lodge before 8am, as snowmakers and groomers were making one more pass.
I was early, but in 15 minutes the lobby started to fill up. It felt a bit like Christmas, with smiling skiers waiting in line to see santa and get their passes.  Hardened vets were reminiscing about skiing natural snow early in the season.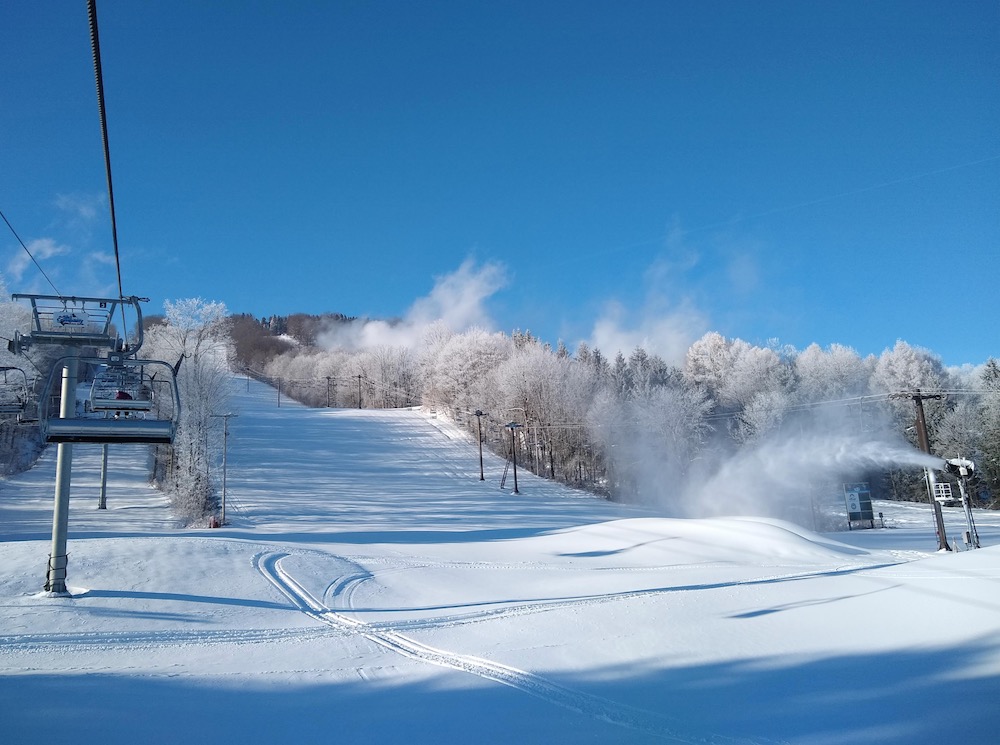 I was second in line and chatted up patrol while we waited for lifts to spin. She had just taken her first run of the season and I could see the excitement on her face.  As I neared the top of the 1A lift, I saw something I wasn't expecting, untracked snow. The groomers laid cord on the left side of Elysian Fields, but had left quite a bit of natural snow on skiers right.
I certainly wasn't sure it was pow, it had been a few days since the last nor'easter. It was tempting, I got a little speed and dove in tips up. It was heavy but soft and not really crusty. I floated, took a hard slash and got a shot of snow to the face. At that point I was thinking, I'm counting it pow.
Eventually the Fields get too flat for deep snow and I popped back on to the groomed. Over to Stoic, I tested the edge I could lay, in the soft snow being put down by the guns. Stoic was a fun mix of corduroy on skiers right with rollers and bumps on the left.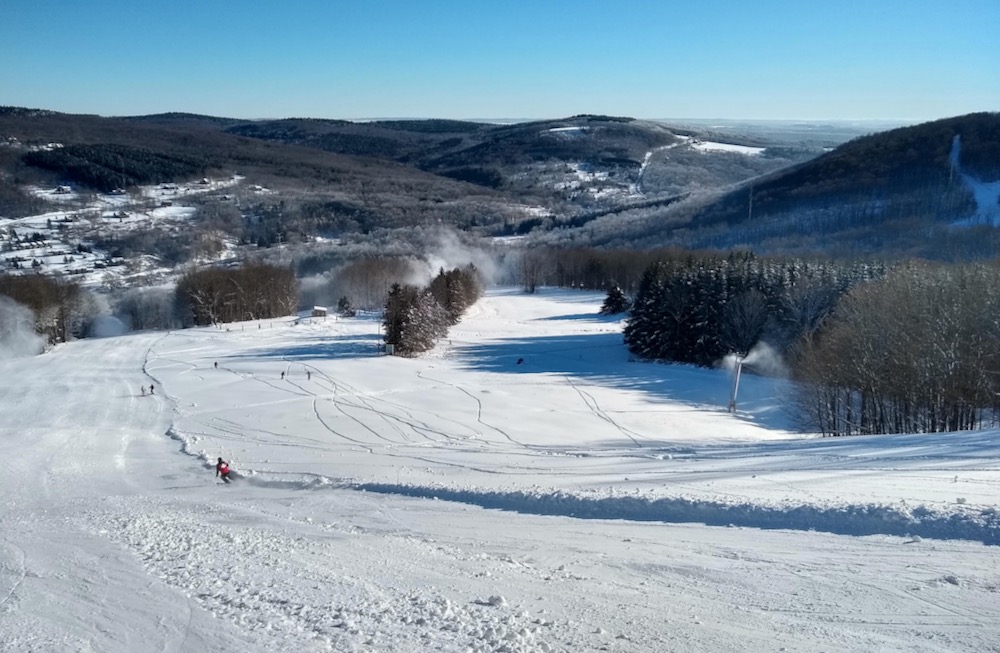 I lapped Elysian Fields until it was tracked out. On one of those lift rides I met a passholder who was struck by the mid-winter feel. He was right. The trees had a good layer of snow on them and trails were wall-to-wall.
By 10am the Fields were mostly tracked. I took a break to connect with late arriving friends. A cruise down the groomed up Karyatis Way to let them get their legs warmed up, and then back to the Fields to find more soft snow.
Traversing Epicurus Way, we gathered as much speed as we could. I was surprised to find some un-skied lines in Aesop's. We watched some kids meander through. The cover looked legit and we dropped in too. I darted in, gaining speed in tracks, then jumping out to float the deep snow. Hey I was riding the trees in November, and not hitting bottom.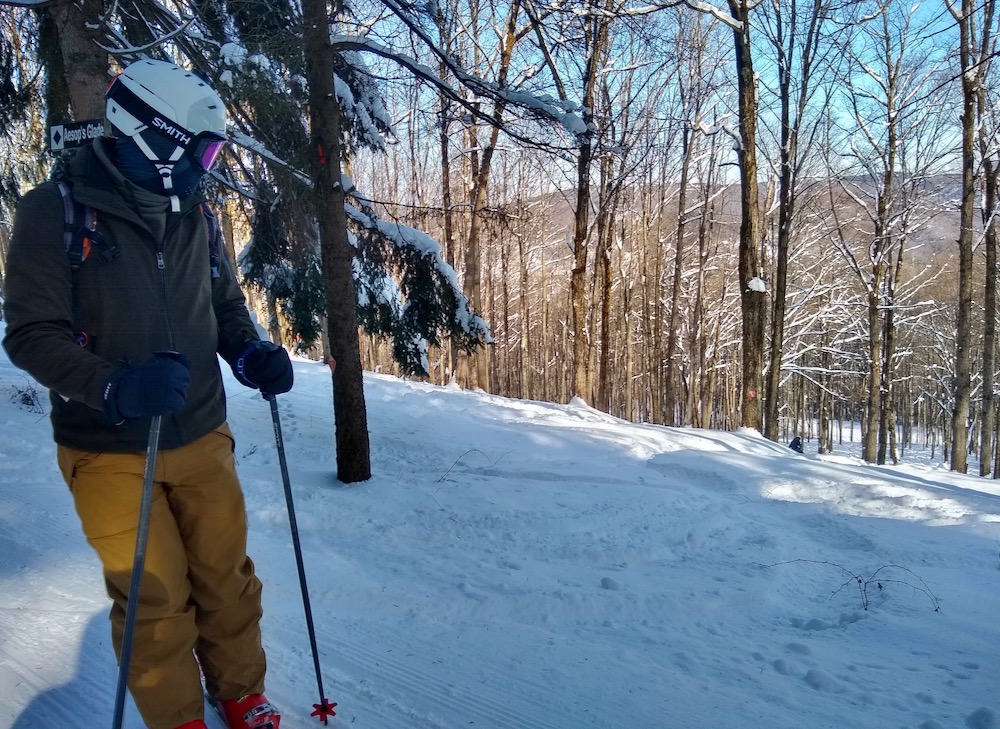 Eventually we headed in for F&B. The lodge was busy and the atmosphere lively. I recognized Jon the bartender. Trax has good choices that include — and go beyond — burgers and pizza. I had a Korean BBQ short rib sandwich and sweet potato fries.
After lunch it warmed into the mid-twenties. By 1pm the bluebird skies were gone, but that didn't deter late arriving families. Liftlines grew, but somehow it always felt like we were moving. After a few more top to bottoms we called it a day. No need to overdo it with the whole season in front of us.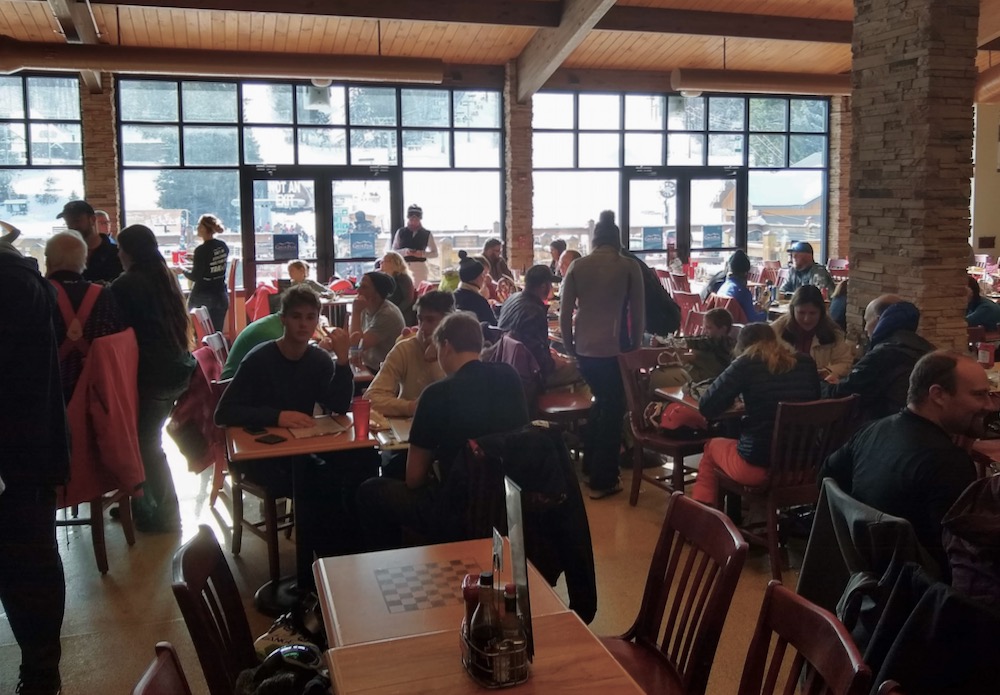 Before I left, I stopped by guest services to meet Kaitlyn, the DoSM. Having grown up across the street, Greek was always in her front yard.  She's been working at mountain since she was 14 and has been in her current position for four years. I congratulated her on opening day and asked her what was new this year.
Capital improvements totaled $1.5 million this summer, including 2 new groomers, lodge renovations and 60 new snow guns. It sounds like Greek is well-positioned at this point in the season. I hope to come back when they spin East.
---
Shout out to the Greek Peak Adaptive Sports Program. They do an amazing job helping people with disabilities get out and enjoy winter. They've been around since the 70's and have some of the best instructors in business. If you're interested in getting involved volunteering or donating, check out gpadaptive.org.