Embracing change isn't exactly my specialty. My life can be boiled down to a handful of things I do year in and year out, over and over. Work, eat, sleep, deal with responsibilities in summer, and ski and blog about my favorite hills during the season.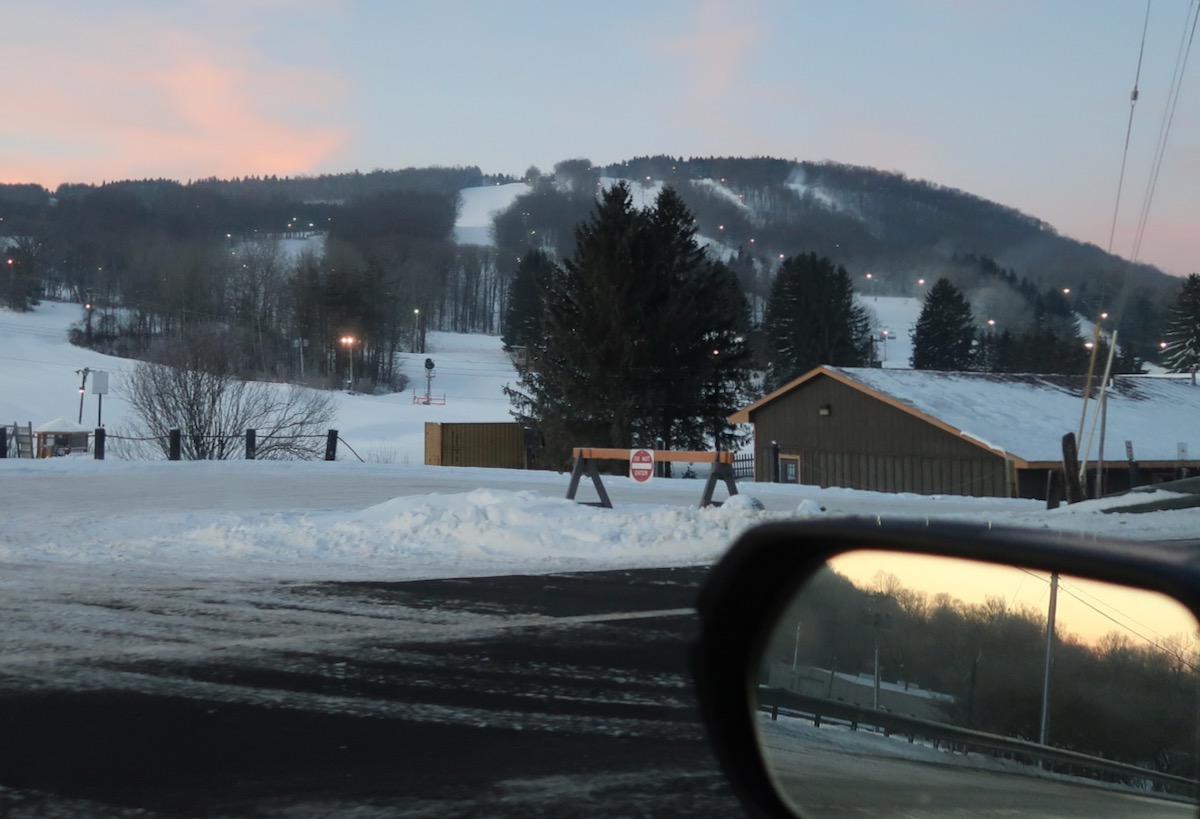 I've been planning to ski Greek Peak for almost ten years. I certainly had my chances. From my desk at work, I've watched the mountain experience some great lake effect snow cycles. I remember a stretch a few years ago, when a persistent upper-level low lingered for more than a week, dropping — as they say in the Virgil Valley — "two-tree" inches a day, until it was game-on across the mountain.
I wanted my first trip to the hill to be all-time and I'd been waiting for the right moment. But it seemed the search for the perfection had become a justification for another season of reruns of the Harv show.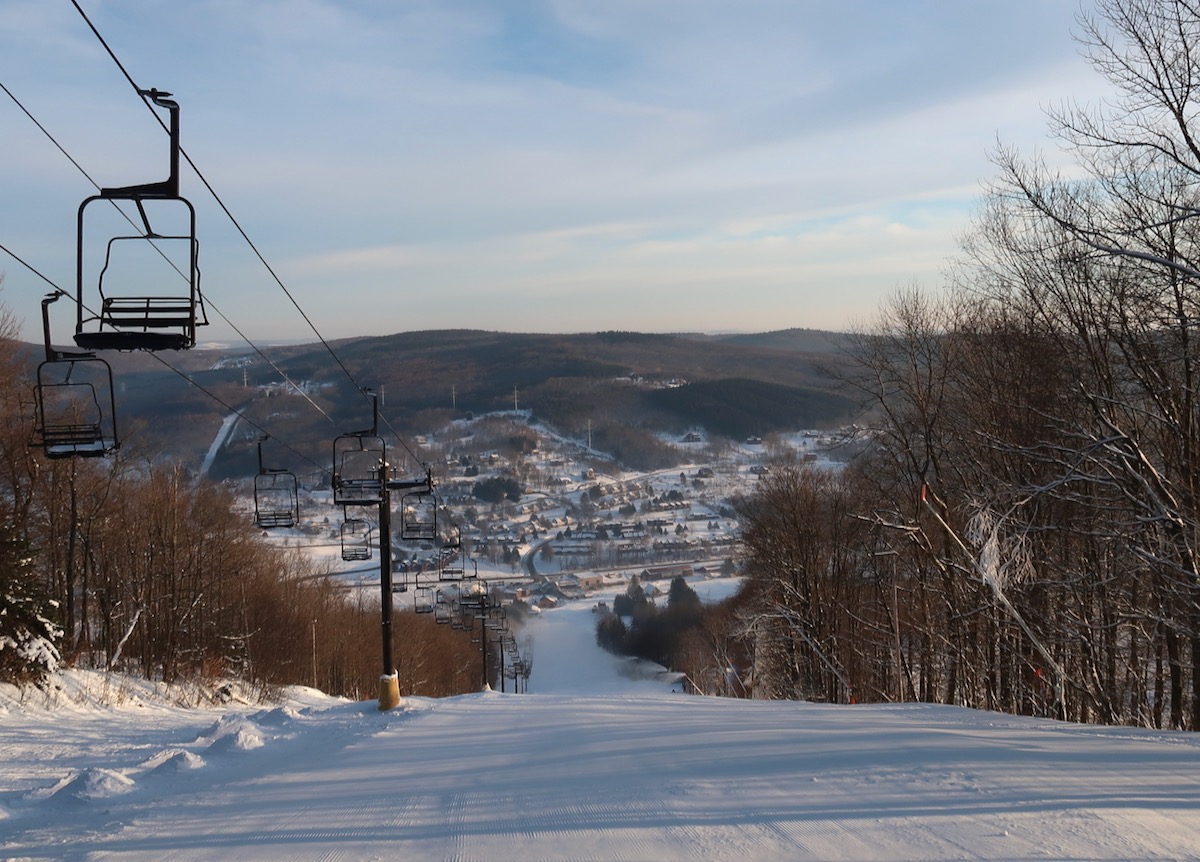 Something changed this season, when Skiology Matt connected me with Doug Fish of the Indy Pass. Doug and I talked about how NYSkiBlog could support the upstart pass. It seem to me that doing my thing — skiing and writing about a bigger list of eastern independents — was a logical part of the plan. Now I had an assignment, so no excuses.
Saturday night I created a new alarm to get me out of bed and up to Virgil NY in time for first chair. I woke at the appointed moment and headed off into the wilds of northeastern PA, through the southern tier and into the parking lot at Greek Peak.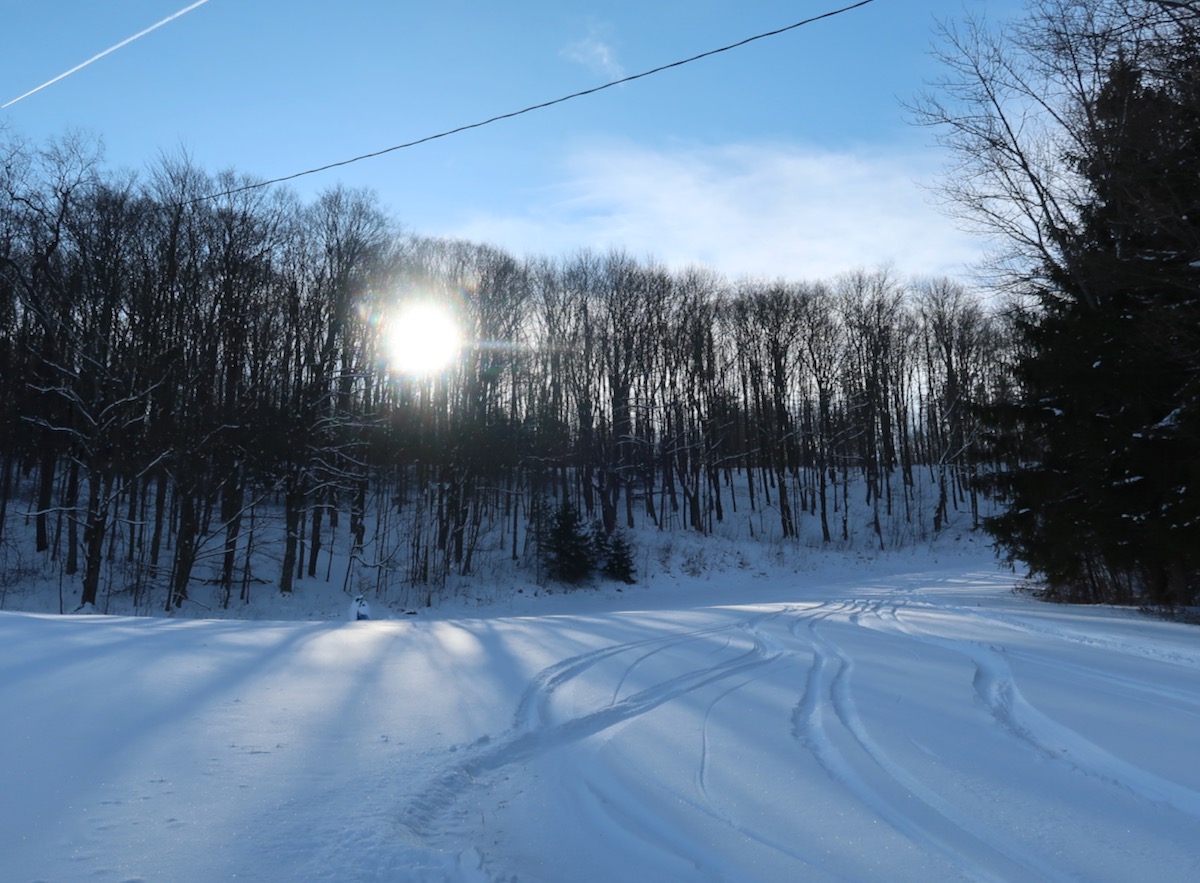 It was 7:30 and the mountain was lit like a Christmas tree, but things looked pretty quiet.  I ran into one other skier and asked him where I should boot up.  He told me to drop my skis in a rack next to the deck for Trax, the legendary Greek Peak bar. He assured me they would be safe.
I never even think about someone taking my skis. They're mounted with tele bindings and they say nyskiblog.com in big gaudy letters. I don't think they'd be useful to anyone other than me. I dropped them in the rack and looked for a way into the building. The doors I tried were locked, but I saw an employee coming out, and slipped inside. He said to me "you know we aren't open until 8:30, that's an hour from now."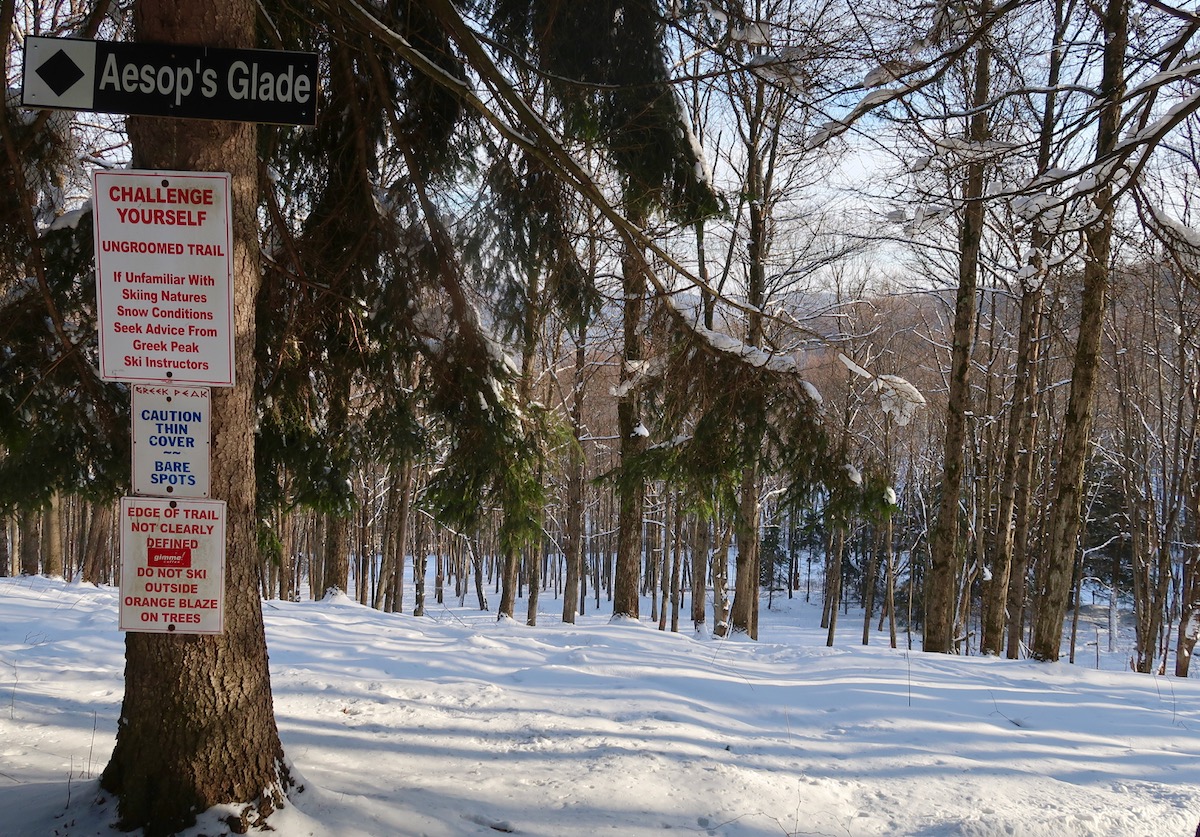 It was a cold morning, maybe 10 degrees. I booted up, added an extra layer, grabbed my ticket, and headed outside. Sure enough, my skis were gone. Back at the ticket window, they were convinced that someone seeing skis in the rack at 7:45 would think they'd been left overnight. A quick call to lost-and-found, and in a minute, my boards were handed to me by Brandon from the shop. Virgil Valley, meet Harv Early. I need to learn how to relax.
I got in line for the quad and I wasn't even first. At 8:05 they let us go up, right behind patrol. Underneath us Iliad and Odyssey were groomed out and guns were adding some 10 degree pixie dust on top. I was skiing alone, so I did what I usually do — started under the lift and worked my way towards skier's right.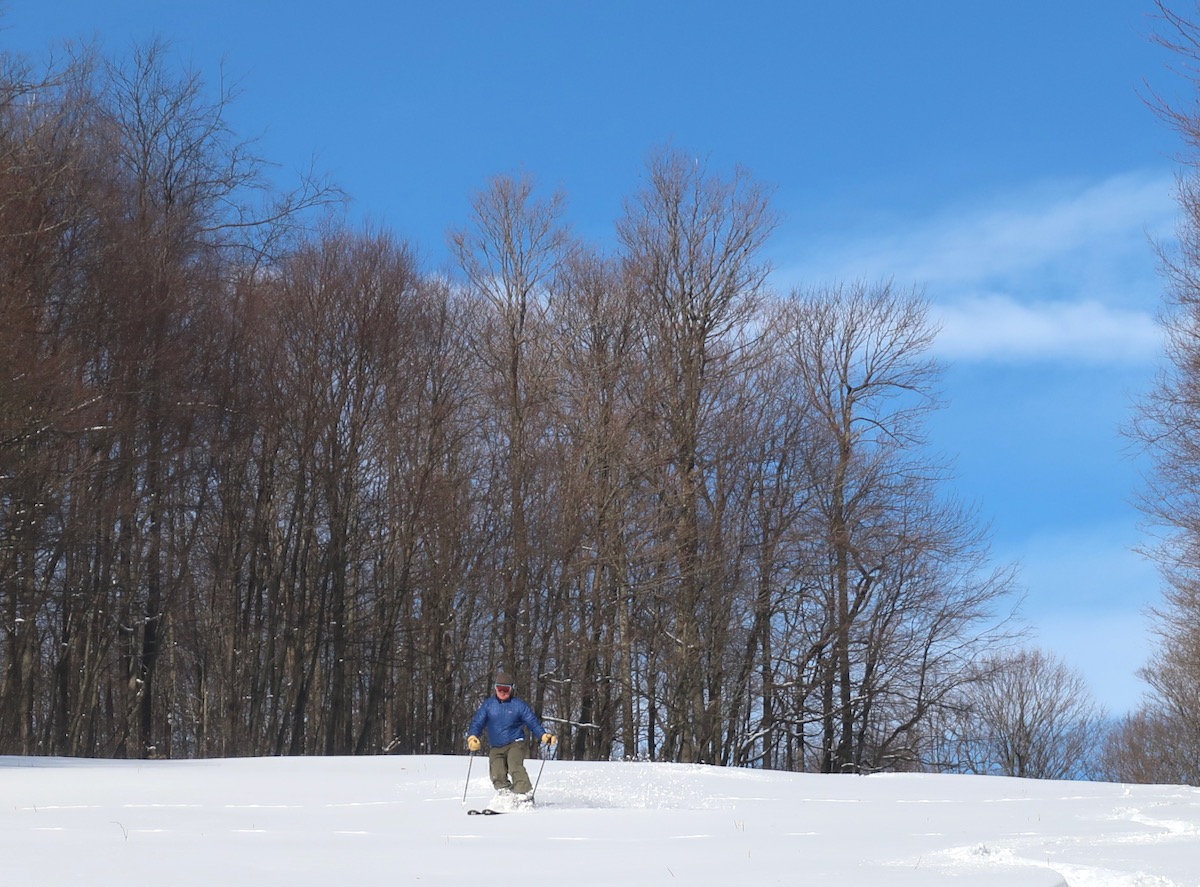 The cord on Iliad was rippable, if not trenchy at that temperature, and the snow from the low-E guns was primo.  I moved over to Elysian Fields and halfway down I noticed some untracked pow in the Meadow. Low Angle Al taught me well: mellow pitches hold snow and are often ignored. Green or blue rated trails, grassy and covered by a crusty base with natural snow on top — can be a lot of fun, if you are into it. I am.
The NYSkiBlog forum has a solid Greek Peak contingent, and I wanted to meet them. Riding the quad, I inserted myself on chairs with other skiers, hoping to connect. On my third or fourth ride I sat down next to a guy who asked if I was Harvey. Two points for my shameless skis, they helped me find "Pro."
We skied together, working our way over to Chair 4. Word was that Chair 5 was to open for the first time this season, and I wanted to check it out. On the way over we got distracted by some snow that looked really good. We dove in and Low Angle Al's formula paid off. The snow we were skiing had consolidated to little more than a foot, but there was a magic layer in there keeping us afloat. I was astonished to be making soft bouncy turns without any noticeable contact with the bottom.
When Lift 5 began to spin it was game on, all over again. We were first, and the entire right hand side of Arethusa was ungroomed and untouched.  At 11am, Pro had to go, but I wasn't ready to stop skiing. There were tracks to be made.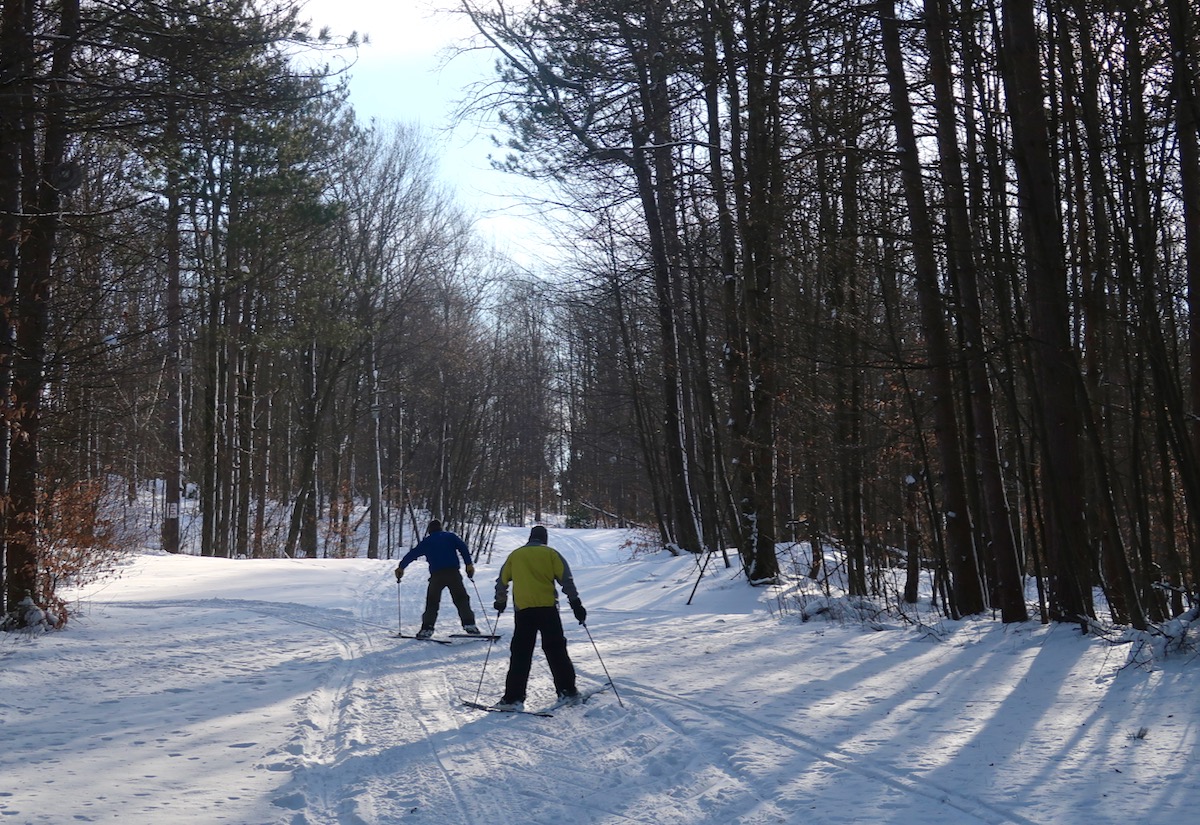 I can't totally recall how the transition happened, but I wasn't alone even for a moment, now skiing with Steve and Joneski, two guys I know from Plattekill. We worked it, skiing everything we could find. We heard the siren call of the trees, and the bottom half of Aesop's looked really nice. Others had dropped in, but we didn't tempt fate. There was so much good skiing on piste, we didn't see a reason to push it.
When I'm day tripping, with an alarm set for the middle of the night, I rarely eat breakfast. Eventually it catches up to me. I skied as long as I could, and at around 2pm I headed in to Trax. I had a loose appointment with the guys from A18, a collection of hardcore locals — who remind me of the Men-in-Black at Gore — the heart and soul of that mountain.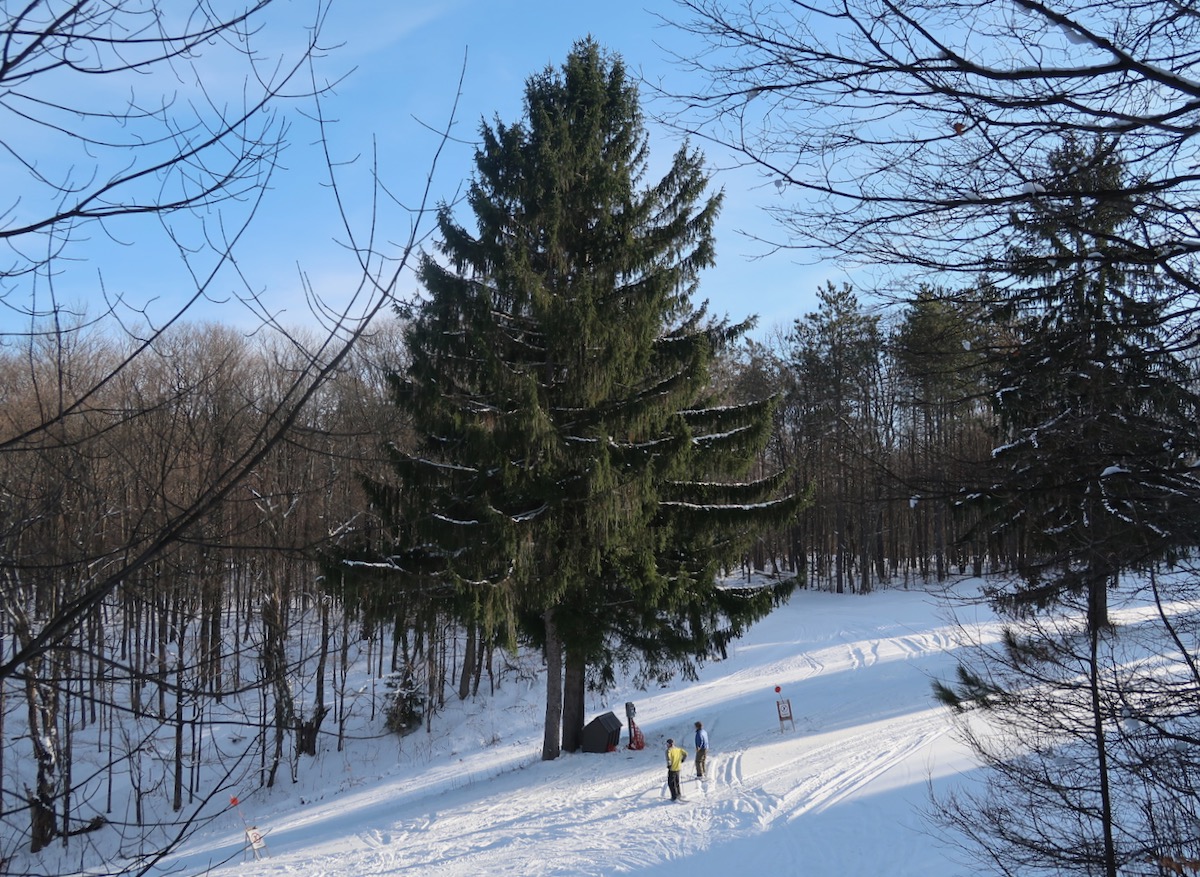 My instructions for finding them weren't exactly specific. "We'll be in our usual corner." Trax is a big rectangular room, so I really only had four corners to try right? As is my way, I wasn't shy, making eye contact with strangers sitting in the various corners. I didn't know what I was looking for, but I did know I wasn't finding it.
I gave up and grabbed a seat at the bar. I was really hungry, and ordered a bottle of beer and buffalo wings. I asked the guy next to me if he knew Camp, one of the ringleaders of A18. He said he wasn't a regular but maybe ask the bartender. Brilliant.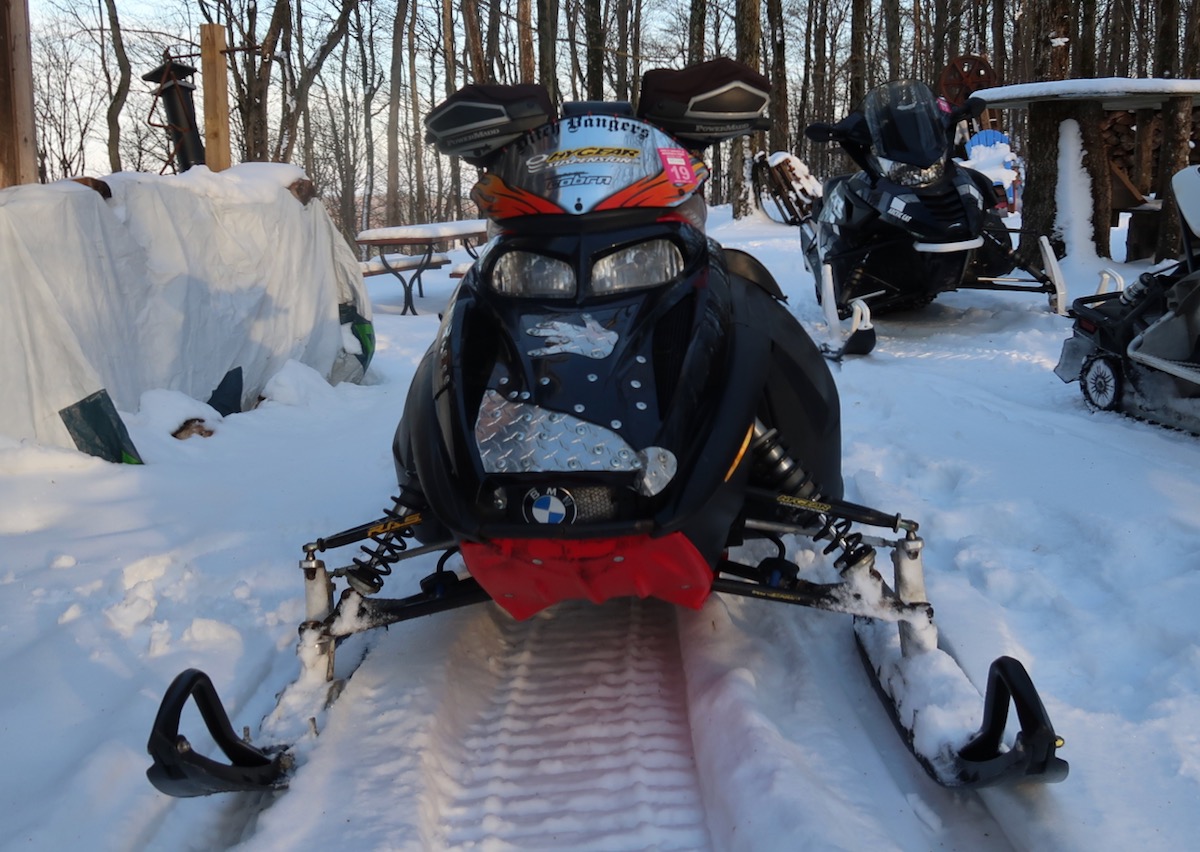 The bartender pointed to a big guy just a few stools away. Big smiles, handshakes and greetings, I got to meet everyone. We had a few rounds and I really felt welcome. This trip was as much about meeting these guys as it was about skiing, so mission accomplished.
The Virgil Valley is a cozy spot, and from the top of the mountain it's a great back drop for photos.  While I was skiing I kept looking at the ridge line on the other side of the valley, thinking those A18 guys must know some cool spots that they access by sled.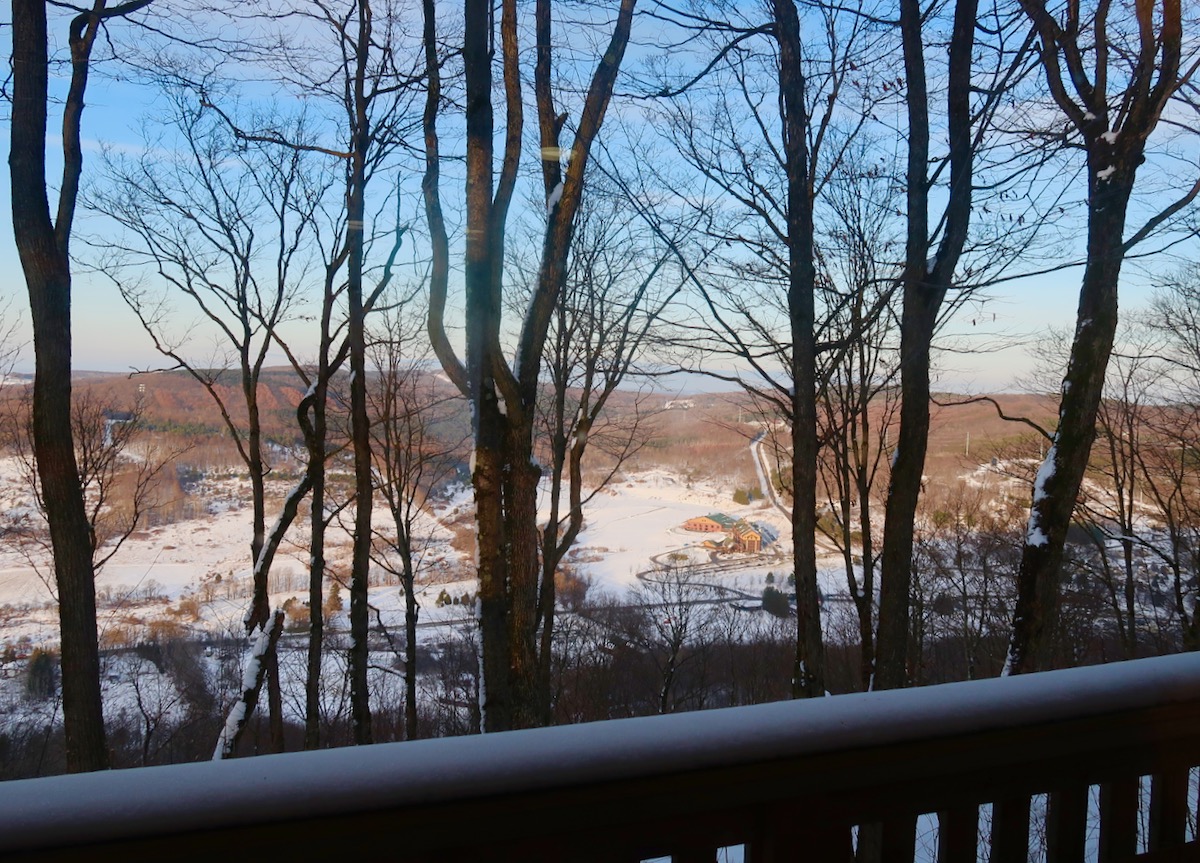 I asked if we could take a ride to a place with a great view of the valley. "Do you want to see the clubhouse?" You're damn right I do.  They gave me some vague directions, telling me to drive my car to the end of a dead end road, where they would meet me. I followed the instructions and ended up in a cul-de-sac near the top of Olympian. With no clubhouse in sight, I wondered if I was in the right place.
In a moment three sleds roared up and Roach told me to hop on with him. He coaxed that machine up a steep trail that was only a few inches wider than the sled. Down to the right… well let's just say, this was definitely do-not- fall territory.  When we got to the top,  I was shaking in my boots and the guys were chuckling.
The clubhouse is my kind of place. I love small buildings at high elevations and the view was inspiring. Standing there, you feel like king of the mountain.  A18 had invited me into their inner sanctum and I was honored.  We raised a glass to the day, and a life well-lived.
At three hours and fifteen minutes from home, I've always considered Plattekill to be at the limit of my range for a day trip. Greek Peak is fifteen minutes further, and I do believe my limit has been extended.
---
NYSkiBlog is joining with The Indy Pass to bring exposure to the smaller independent mountains.
This piece is part of our effort. For more information on the Indy Pass visit the website.