After the weekend we just had, you may well be here to read a tale of Gore Mountain powder. Still, a blogger has to write the story that's on his mind and in his heart. Friday at Gore was incredible. But to tell it, I need to unpack the last three weeks. It's a personal story, I'm hoping you'll get something out of it too. I promise, before the end, there will be snow.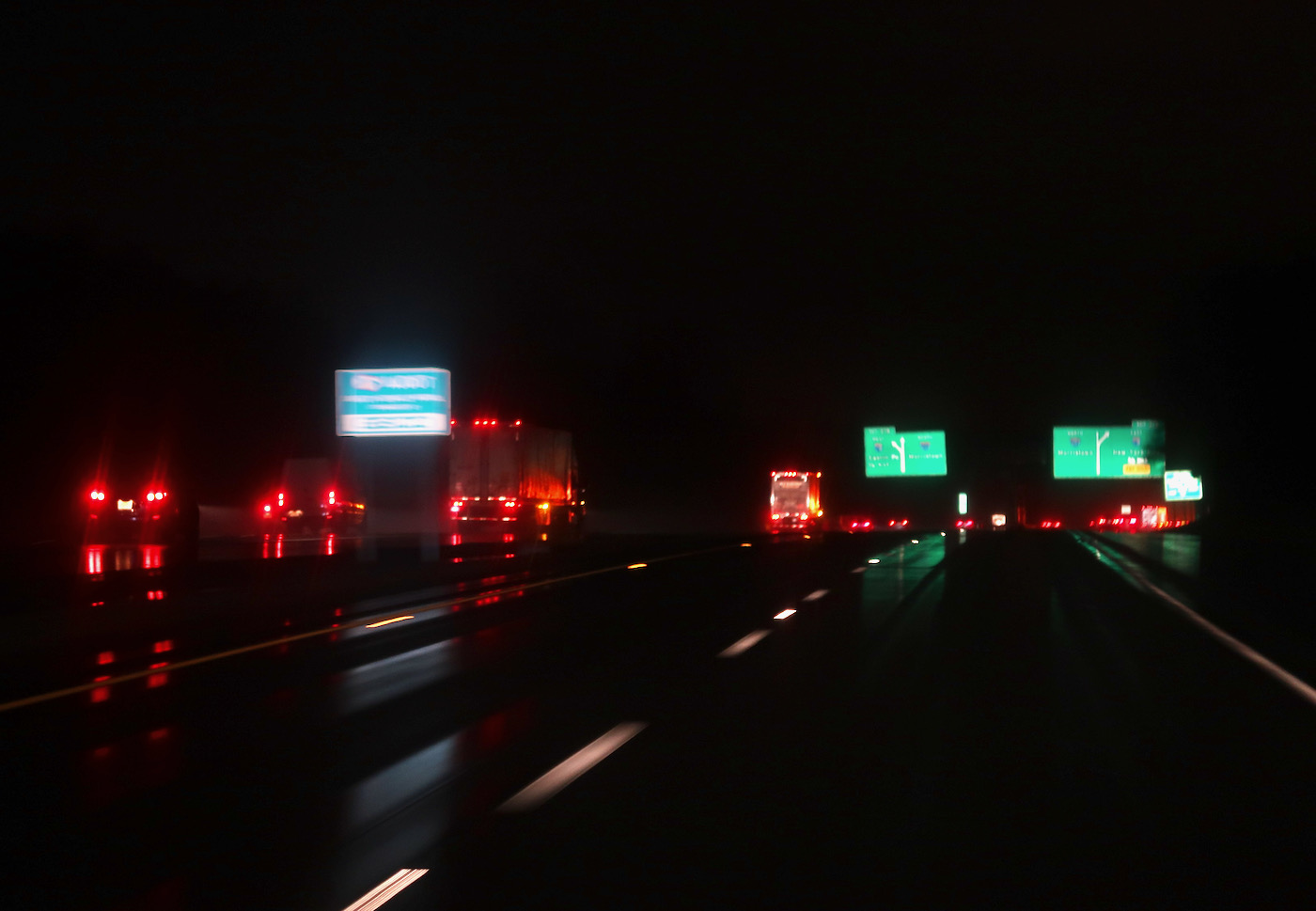 It started January 16, the day before that first 12 inch storm of the year for the southern Adirondacks. I'd done everything I needed to do to put myself in position to ski it, on a weekday, without a white knuckle storm chase. Perfect, right?
But alas, I was thwarted, by my own bad self.
When I was a kid, my dad used to tell me that I was "burning the candle at both ends." Translation: trying to do too much. On Sunday, the day before the storm, I started out with a remarkably sensible idea. I skied half the day at Gore, so I could be well rested for a sweet powder day on Monday.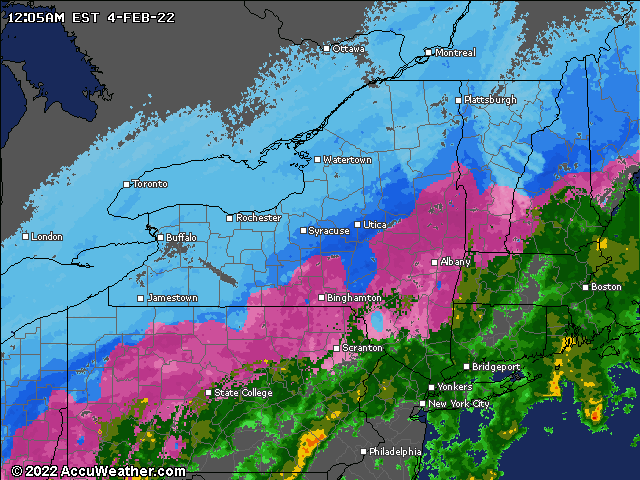 But when I got back to the cabin, I couldn't leave well enough alone. The cover was thin in our woods, but certainly skiable. In the late afternoon I headed out on my skinniest skis to track up our trails. It seemed like the thing to do before a nice dump.
Full disclosure: I have a newer and much turnier pair of skis that was better for the job. The fishscale patterns on them are still perfect, and I decide to save them, in case I was hitting bottom. That turned out to be a colossal mistake.
On our big downhill, I got tangled up in the crust on a step turn, and heard a frightening sound from my leg. I landed in a crumpled pile on the ground. I knew I had blown my chance at the next day, and I was wondering if my season was over.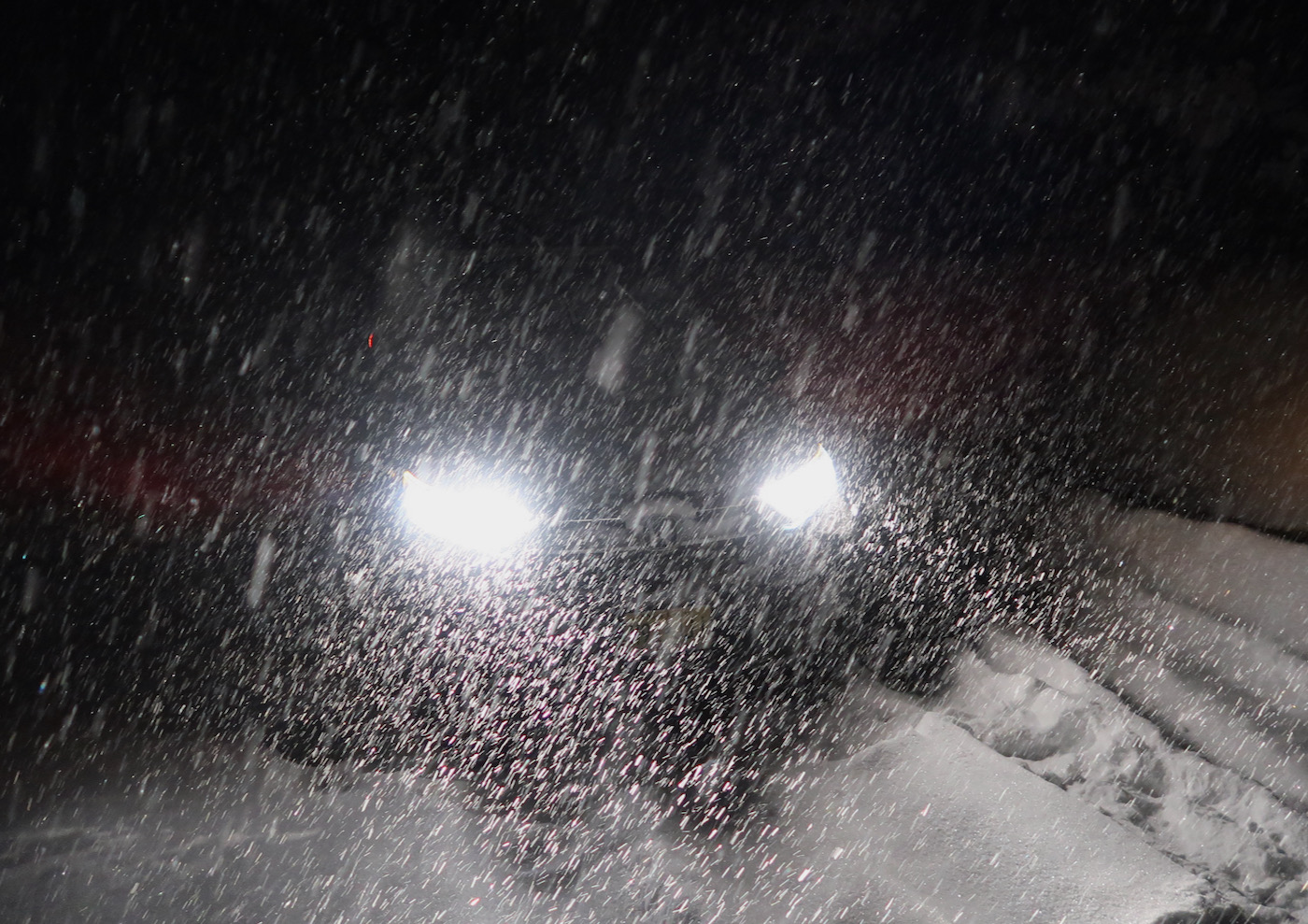 At that moment I had more immediate issues. I was on the ground, in pain, alone in the woods, a mile from the cabin. Soon enough it would start to get dark. There was nothing to do but stand up, sidestep my way back up the hill, and then try to glide back down the other side. It hurt like hell and took over an hour.
The next day was surreal, and I was so bummed. With my injury, it took forever to load up the car. I had to park it at the top of steepest part of the driveway, to ensure I could get out without a plow in the morning. It took three round trips — 300 feet in each direction — to get it all packed. The experience of driving south, away from the mountains, in a blizzard, was almost too much to take.
The next day I got a doc's appointment. The prognosis was that there was no tear, a strain of my hamstring, and I was out for at least a month. I was dejected and told the doc so. He then said "well if you do some yoga, you can probably ski right away." I was like what, wait, what? What did you say? Please repeat!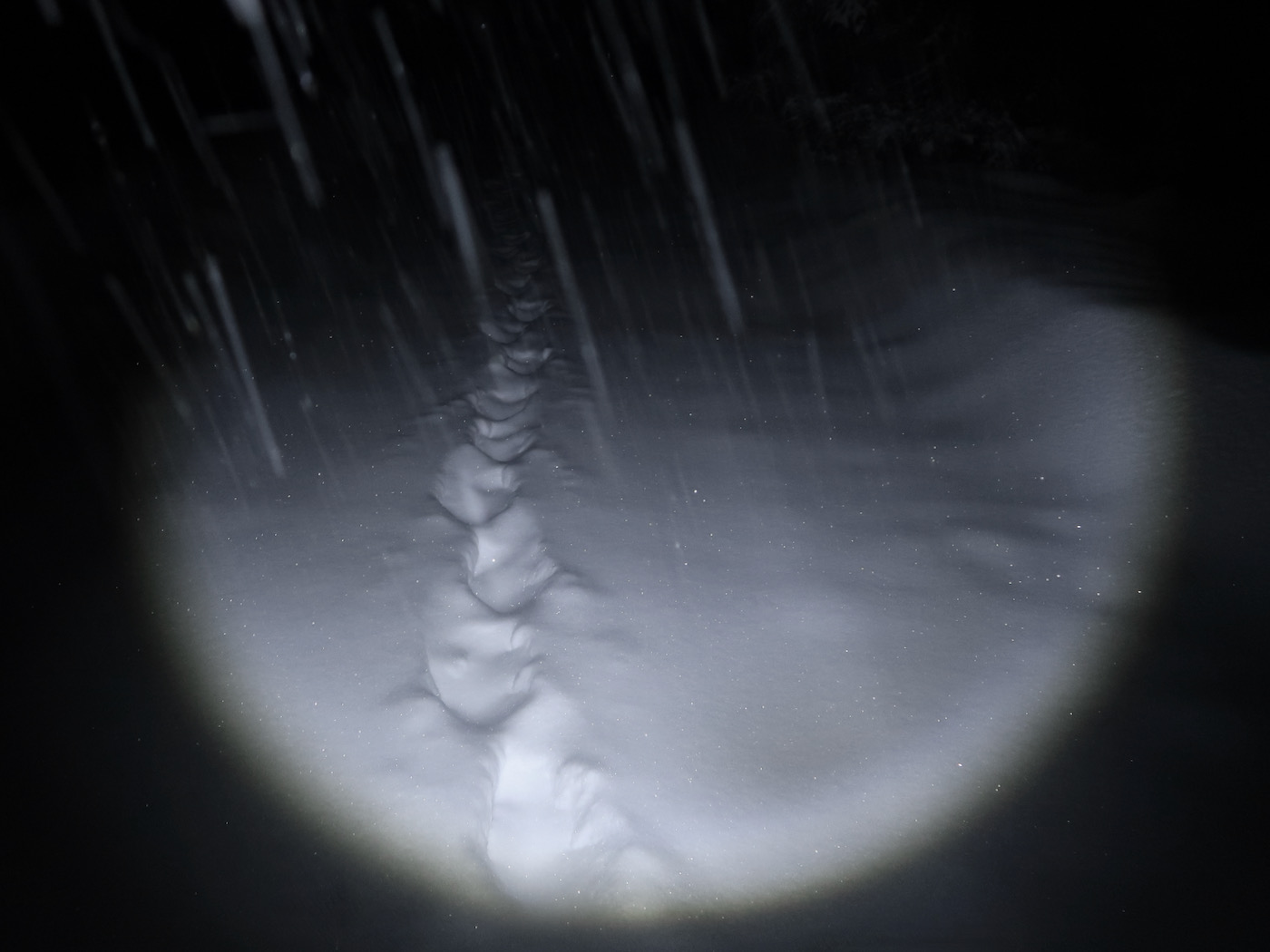 He went to his laptop and googled "yoga for guys who aren't flexible" and found a video. He told me to take a picture of the google search results page so I could be sure to find it later. Honestly, I was impressed with the medical establishment's willingness to recommend a solution outside of the system.
That first link was a ten minute instruction by manflowyoga. Over the next three weeks, I did the workout three times at day, driving home from work at lunchtime to fit in a midday session.
When this storm started to show up on the GFS, I started thinking, maybe I'm ready. I could still feel some tightness, but I was walking normally and testing out small jumping motions, trying to imagine skiing small bumps. I was anxious about it, but when the storm track was locked, I decided to go for it.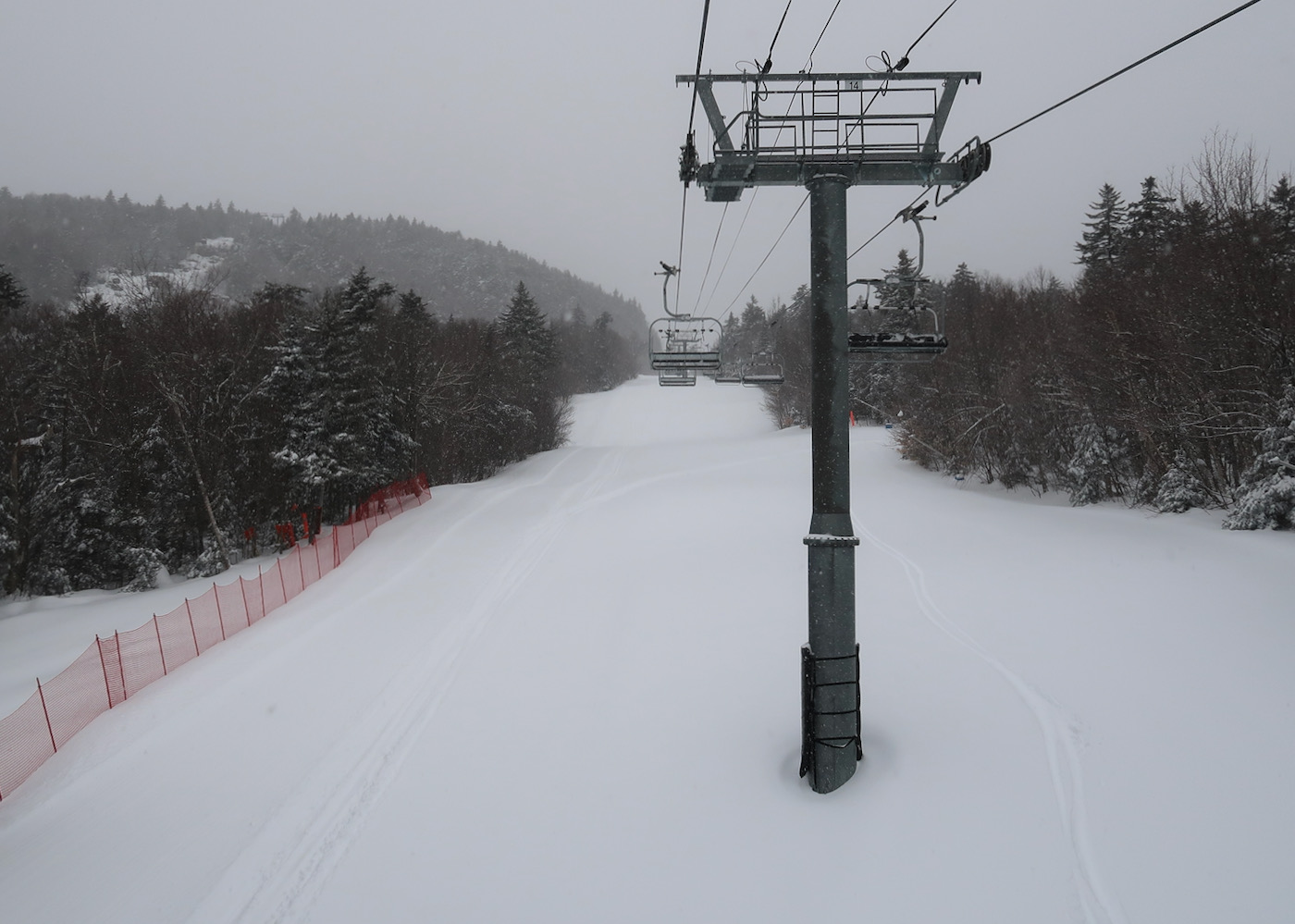 I was imagining two possible outcomes at the same time. Either I'd ski through it and be fully recovered when I was done, or I'd torque it again, and be out of action again, maybe for the season.
Thursday is my night to get my daughter to the gym, so I took off directly from there at 6pm. I knew this would have me driving through the full width of the storm. Based on what I'd seen from the National Weather Service, I was optimistic that a good part of the drive would be in the rain. At some point I'd enter the sleet zone, and if Ullr was with me, I'd be in the midst of a nuclear snow storm as I got close to Gore.
It was 43° when I left home, and every mile I drove without the temps dropping felt like money in the bank. At one point in the mid-Hudson Valley the car thermometer showed 38 and I was feeling better about my chances. But only minutes later I heard sleet bouncing off the windshield and looked backed to the dash for the temp. It was thirty degrees and the white knuckle storm chase was on.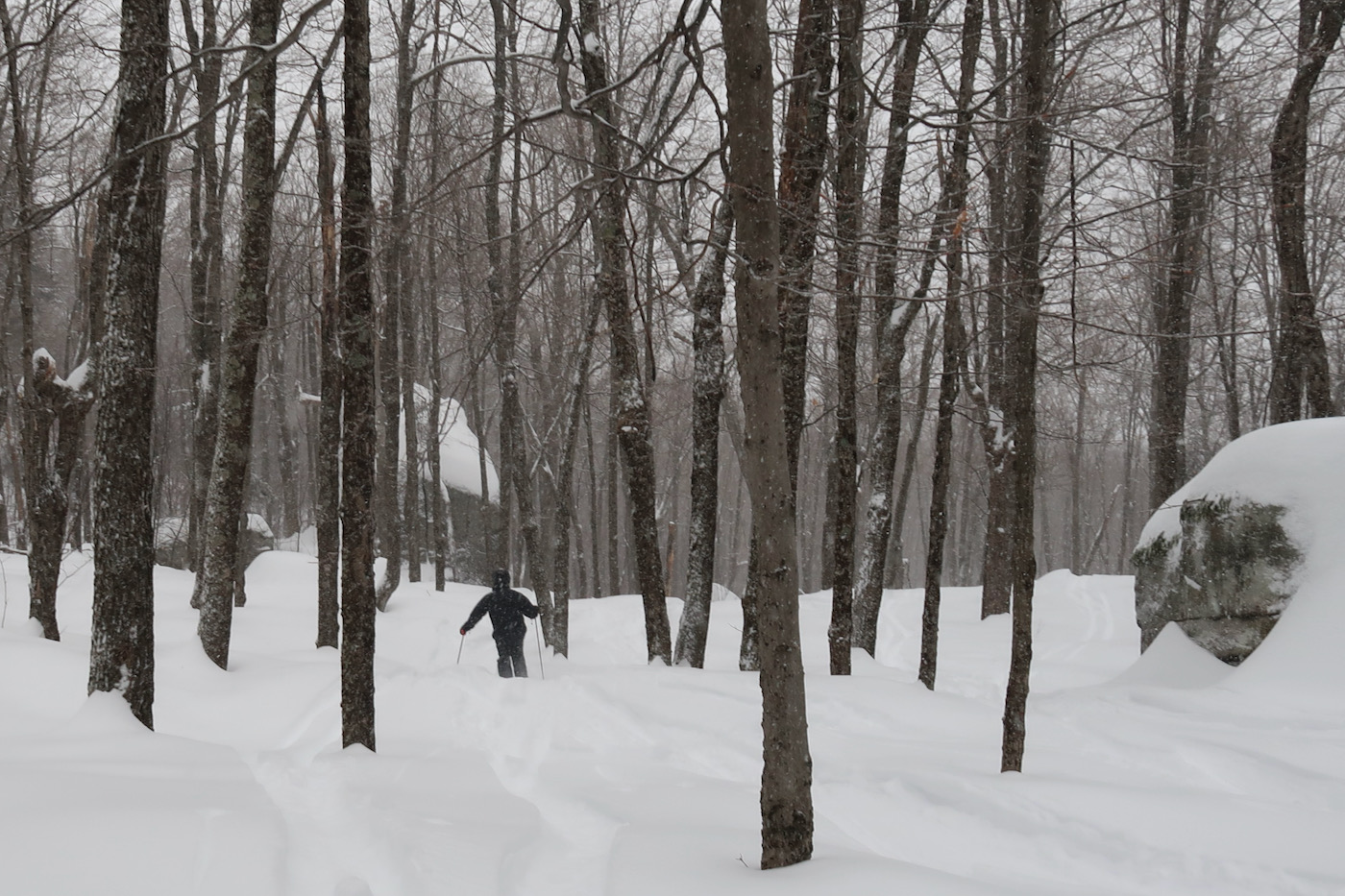 Driving in the rain wasn't easy, but everyone was moving at the speed limit or better. When the sleet really started banging, speeds dropped to 35-50 mph depending on who was driving. If you were going 35 with your flashers on, I was looking for a chance to pass you.
Once I got north of Albany, the road was deserted and I kept myself in middle of the three lanes. I was traveling near the limits of adhesion, but I never felt in danger at 55 mph.
When I hit the big hill near Lake George, in an instant, all went quiet, and I was driving in a snowstorm. Off the interstate, it was evident that the county plows were unable to keep up with the snowfall. I was moving, but I knew that if I got out of the center of the road, I'd be stuck. There was no stopping. No one was on the road and that helped a lot.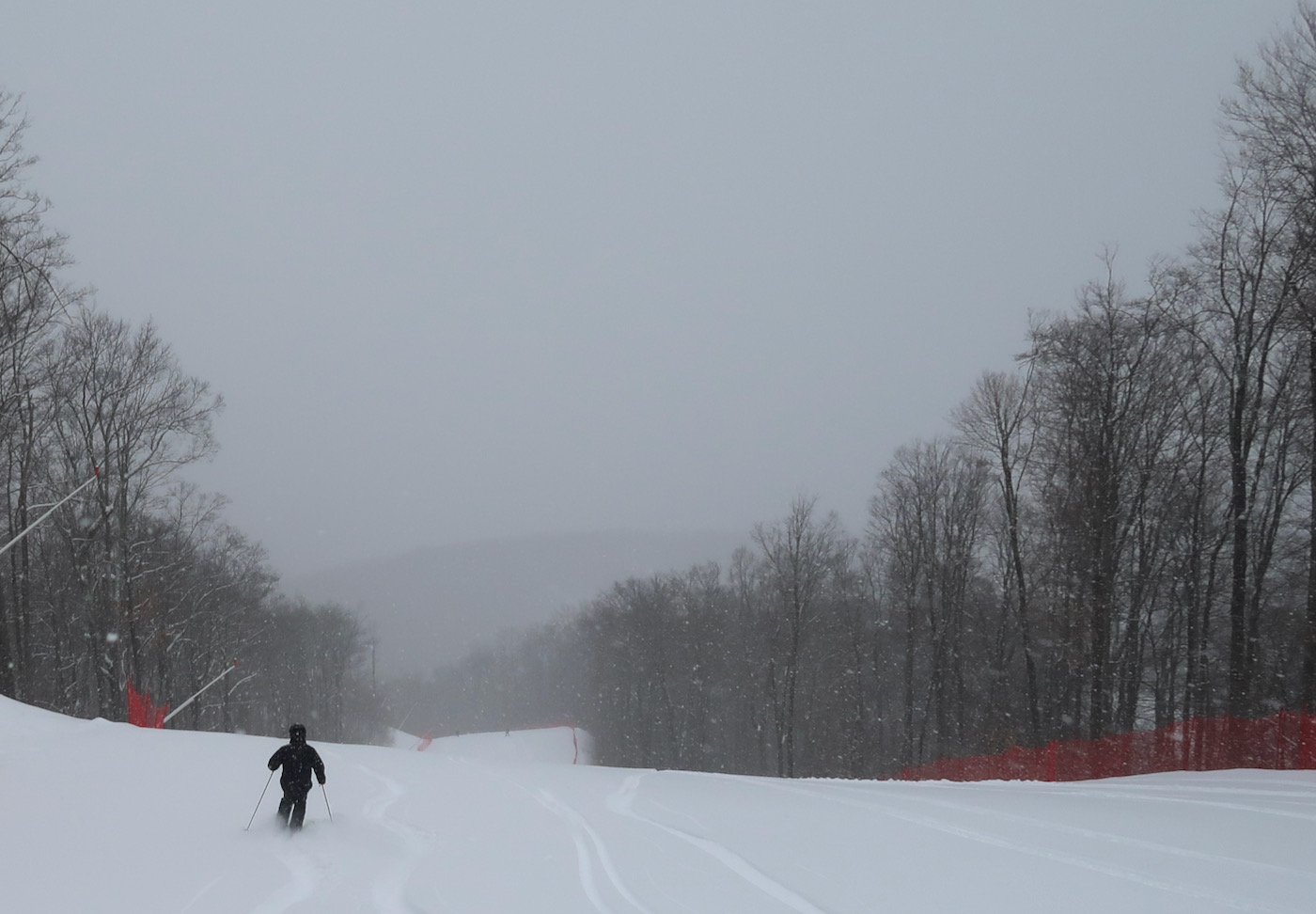 When I finally got to the turnoff onto our road, I got aggressive. I killed the stability assist, put the transmission in 2nd gear and pressed hard on the gas, to gain momentum for the 900 vertical foot climb. I was moving, primary in the track of one other vehicle that had made it up before me. About half way up the hill, there was only the one set of tracks and 6-8 inches of unplowed snow.  I could hear the snow buffeting the undercarriage of the car.
Then, gasp, the tracks I was following turned into a driveway, and I was climbing on my own. I pressed harder on the gas, and somehow made it to the bottom of our property. I had already had a lot of good luck, and decided not to push it, by making a run at 500 feet of steep and deep driveway. I was feeling good about my chances for first chair, and I did not want to get stuck and blow it again.
It was just before midnight. There was work to do before bedtime, getting my gear up the hill, and starting and stoking a fire that would go overnight. I hit the sack around one. I set my Gore Ski Day alarm, 6am, but I woke on my own at 5, after only four hours of sleep. I wasn't hungry but I had a Jimmy Dean Sausage Bowl with a cup of coffee.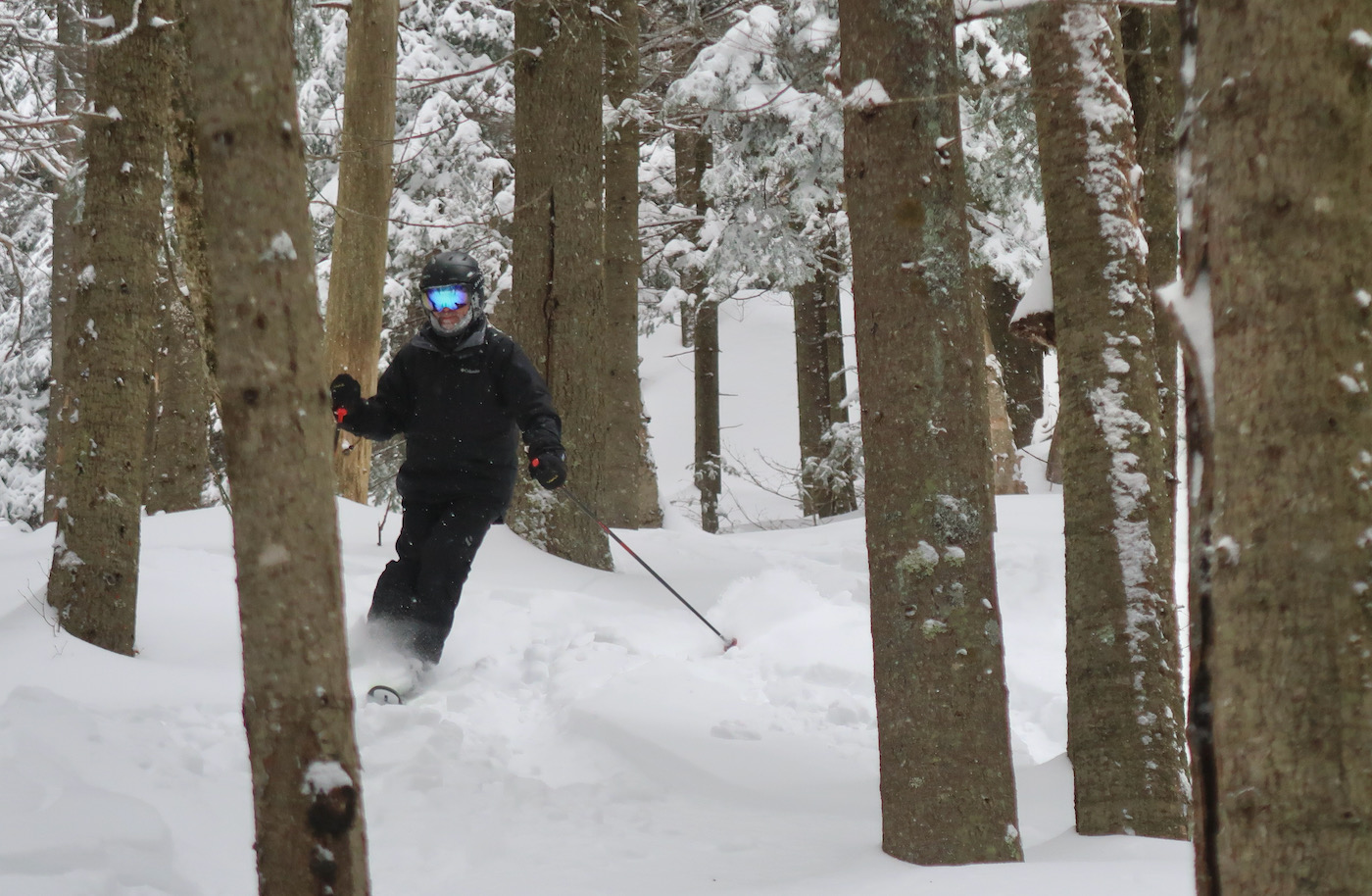 My plan was to meet Duck for first chair, and to keep a channel open for the potential arrival of Scott driving up from the Catskills in the morning. The thought of the three of us skiing together was a big deal to me, with two great ski partners meeting each other for the first time, on a storm day at Gore.
Inside to boot up and when I came out, I saw Duck. He was first in line, with a spot for me. Up we went.
All summer I think about the trees on Burnt Ridge, and before first chair they were top of mind for me. I know those trees aren't for everyone, but for me, when conditions are good, I come out those woods singing the Road to Shambala by Three Dog Night. I was a little surprised and very psyched Duck was thinking the same thing: Twister to Twister Glades and then over to the Burnt Ridge Quad.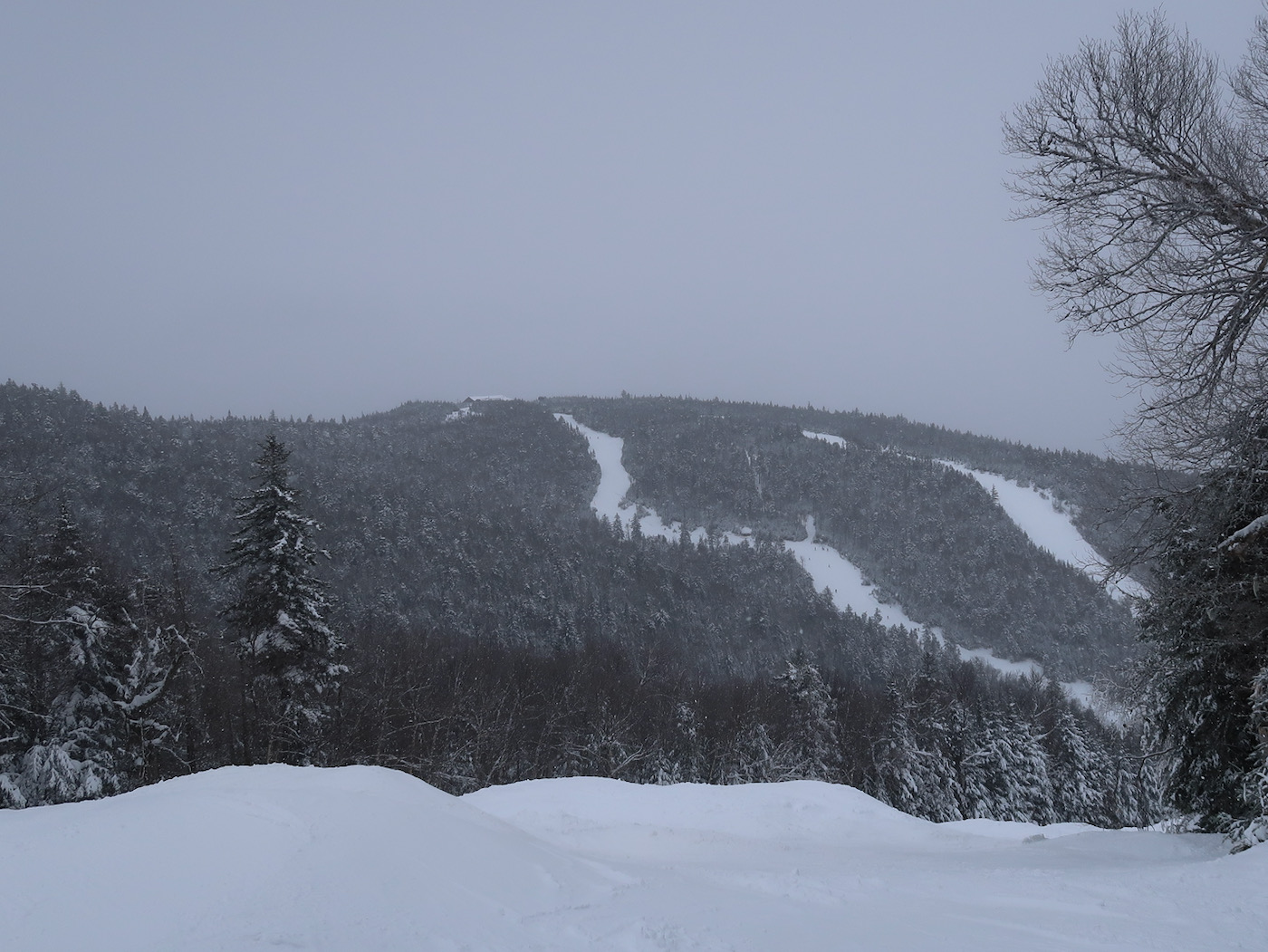 In Abenaki first we got stuck, and then we got rolling. Barkeater and Boreas were a dream. We had a split decision on the greatness of Cirque with Duck voting yea, and I voting nea. It's all good, but it always seems like Barkeater's the one I'd lap.
I'm not accustomed to having phone service at Gore, but now, sometimes, I do. The phone rang and it was Scott. He'd arrived around 8:45, and was up top riding the High Peaks Chair. I knew we'd work our way up there via the North Chair, but I was struggling to articulate a plan to meetup with someone who didn't really know the hill. Before we could figure it out, the call was dropped.
Duck and I skied down through the Tahawas Trees and hopped onto the North Chair. About halfway up I got a signal and called Scott again.He was also on the North just a few chairs ahead. Connecting at Gore on a storm day can be tough, and we had just lucked out. We joined forces in the Saddle and went into our tuck, down the traverse over to the summit lift.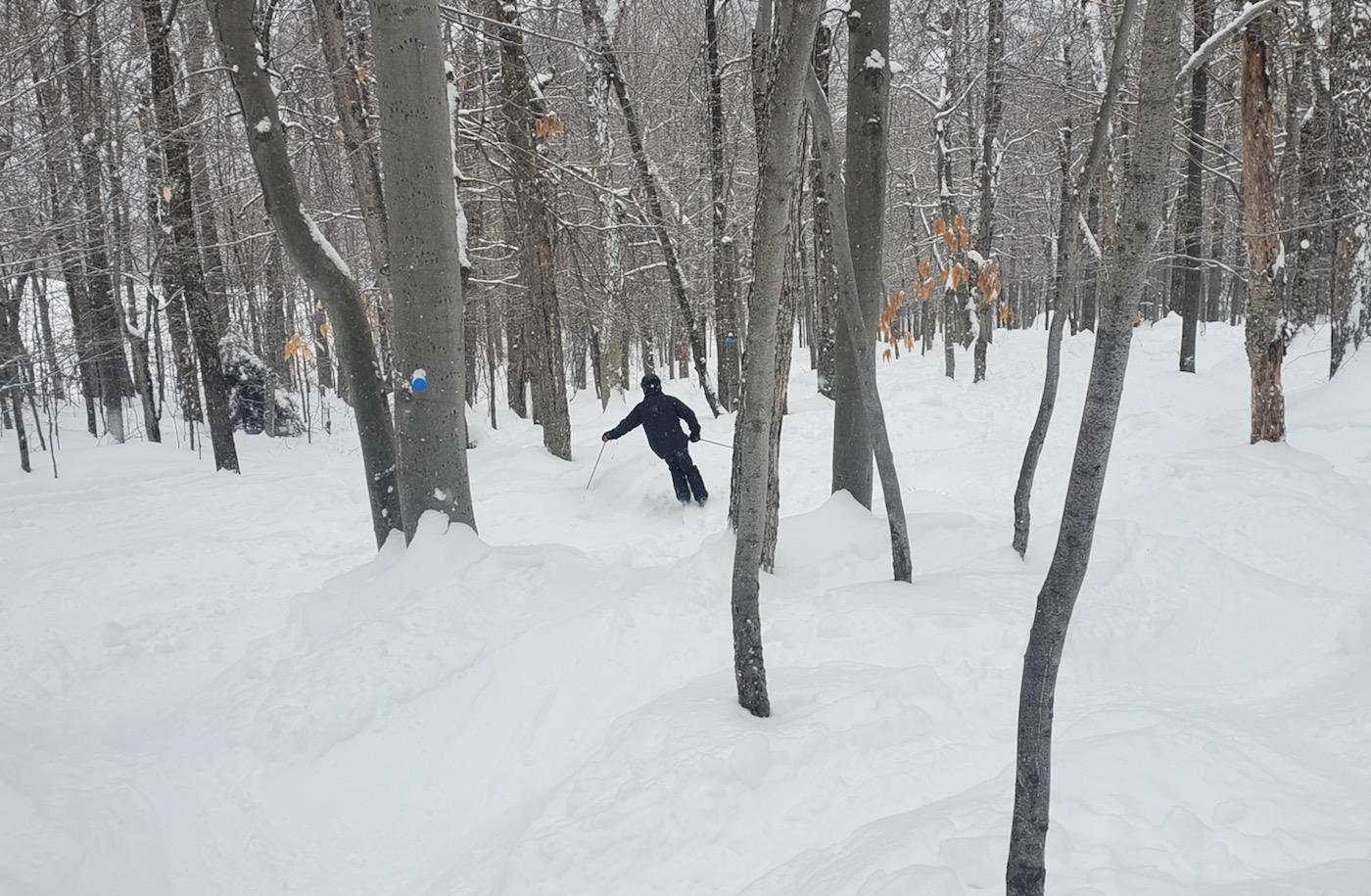 Everything up top was good. Clearly it had been skied harder, but it has also had more snow, 100% snow since the beginning of the event. Lower elevations, below 2000 feet started Thursday morning with some light rain before the changeover.
We skied all the trees we could imagine. There are glades all across Gore's beautiful and protected summit bowl, some of them are surprisingly long. When there's a big storm, you can charge, and it's a big lot of fun.
Most of Scott's visits to Gore were years ago, before Burnt Ridge was put on the map. In recent years when he's come up it wasn't open or the trees weren't in, so he'd never been to Burnt Ridge before. We skied Tannery to the Topridge Chair and up to the Saddle. Then something rare and smart; we had a cheeseburger and a beer for lunch. With a bit extra energy, I'm convinced that made the rest of the day that much better.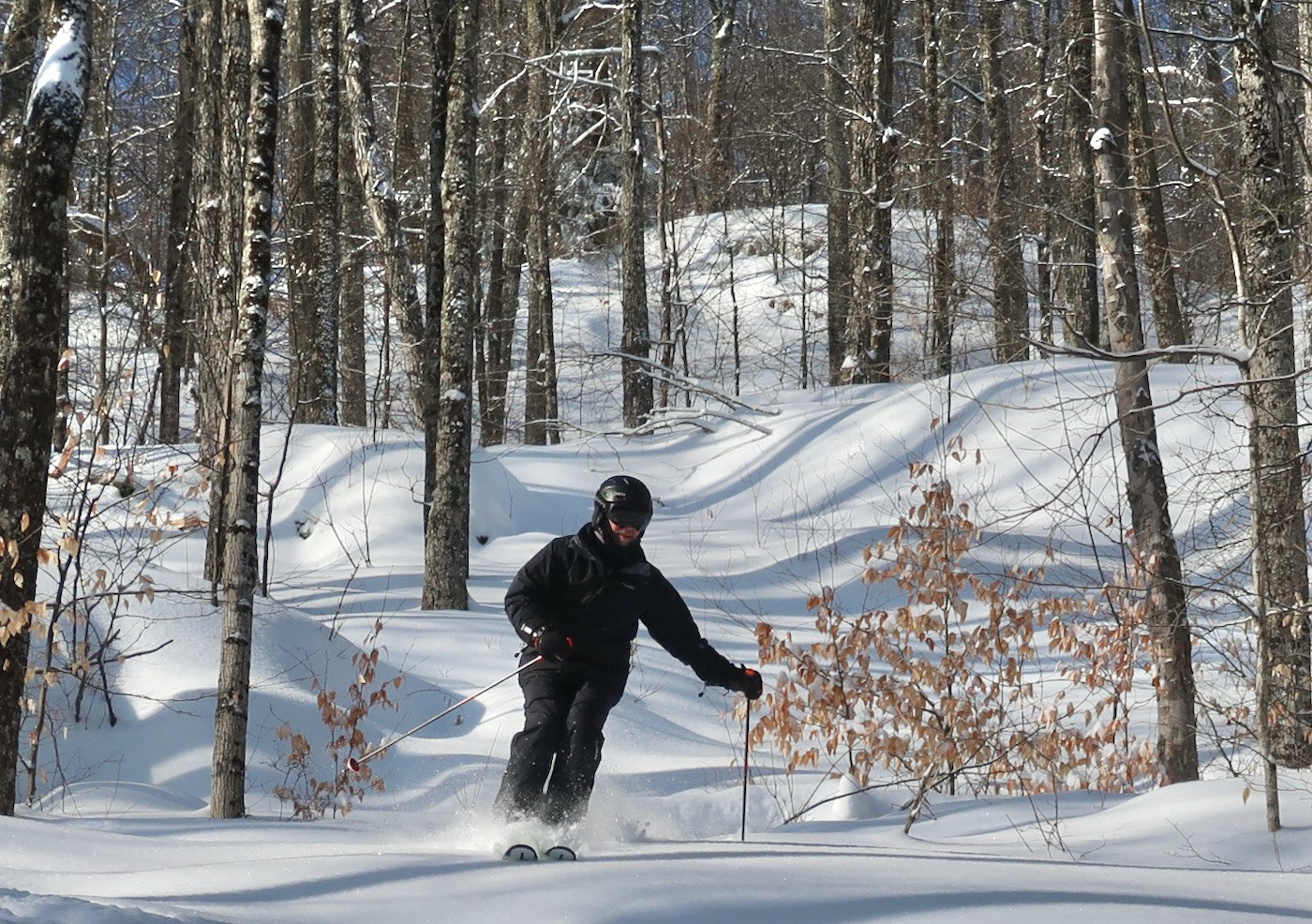 Warmed up and with a full belly we went back down to Burnt Ridge to reprise Barkeater and Boreas. So much fun.  On our third lap we dropped into Tahawas and headed back to the Saddle.  I was lobbying for a finish on Ward Hill or Little Dipper, but Duck made the call to go right down the middle.  One of the day's best runs to close it out.
It wasn't really over as there was good amount of untracked snow the next day at the Ski Bowl. In the afternoon, I headed back to the cabin to ski our trails, closing the circle by finishing the loop I got hurt on three weeks earlier. Then I drained the pipes and hit the road.
It was a day I'll never forget, because it was so good, and because I wrote it all down. What I will remember most clearly will be the comeback from injury, driving through the storm, storm skiing and scoring, all day long, with the two of the best ski partners, Duck and Scott. Scott my apologies, I have no images of you, by the time we connected, the camera was in my pocket and it was time to ski.
Reading this now, I can see the insanity of it all. If you made it all the way through, thank you very much.