"Man, you always make the best faces at the finish line," laughed NENSA competition director Justin Beckwith at the finish of Sunday's Climb to the Castle.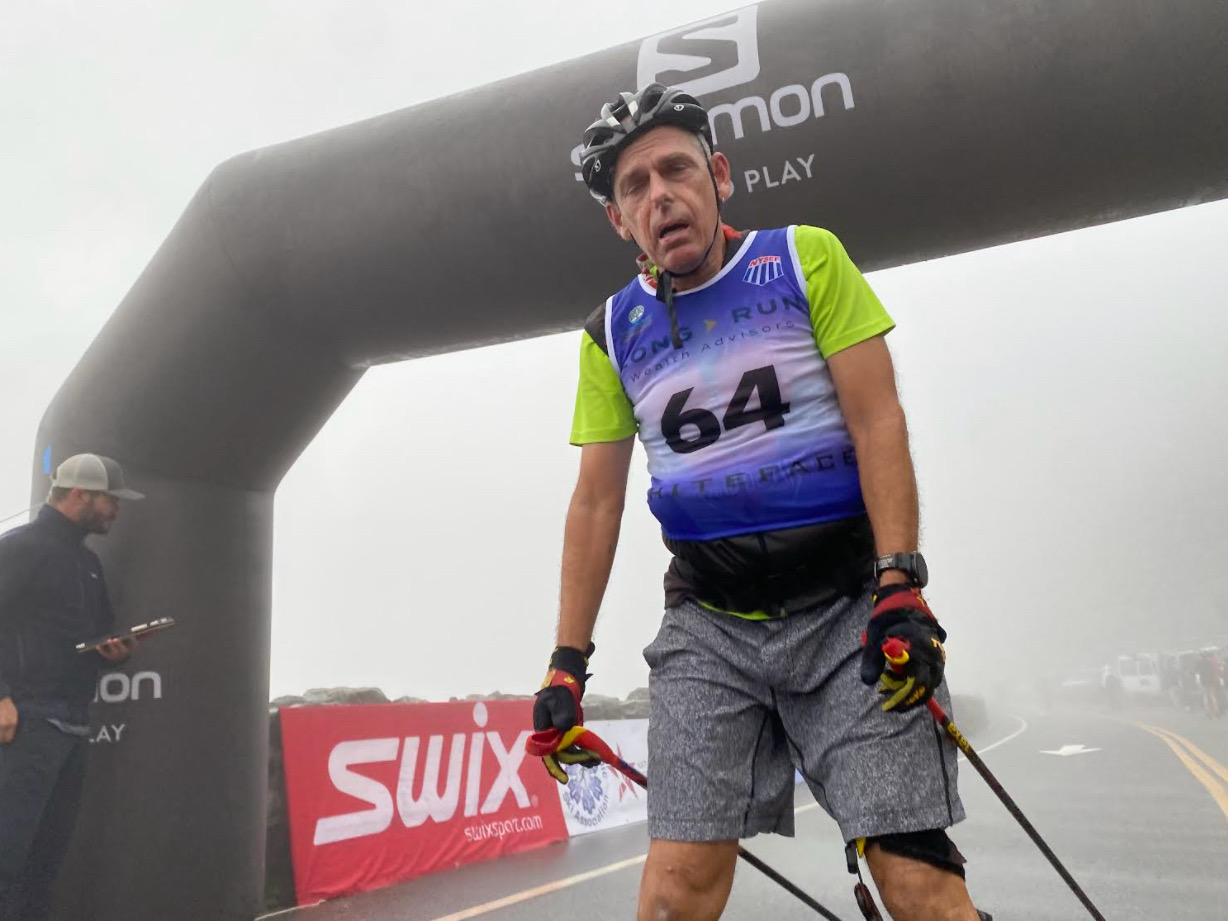 Utterly fried, I gasped for air. Someone asked if I needed help getting out of my roller skis. I shook my head no, even though back pain had made it difficult to clip into them down at the toll gate.
Another sufferfest on the Whiteface Mountain toll road. Just one hill; how hard can it be? Five miles, an eight per cent grade, 2300 feet of vertical. Unlike the previous year, mild temperatures, negligible wind, and dry pavement should have made for a good race.
But also unlike last year, where I'd felt like superman, this year I felt like crap and damn near dropped outta the race.
As I mentioned in my previous contribution I'm going through some stuff and things are both official, and unsettled, at the same time. Factor in caring for aging parents, and it's funny how one's time is no longer one's own. Uneven training regimen pretty much since having covid last winter, which has been exacerbated since moving to my garret. In retrospect, I'm wondering how I did as well as I did at the North NJ Trail Festival and the Whiteface Sky Race.
Then, the week before the race, Bleu, my cat, passed away. Those of you whose pets are part of the family, you know what we went through. My ex was kind enough to let me come by a few hours early to hang out with him before we took him to the vet. He'd changed big time even from two days before, getting out of his bed just long enough to head-butt me. As if to say, I'm glad you're here. My boy, my wonderful boy, went over the rainbow bridge.
Still wrecked from that experience, I drove up the Thruway on Friday. Saturday, I had to put it on the back burner to cover Saturday's sprint races on the paved rollerski loop at Mount van Hoevenberg. About 50 college and high school athletes showed up. There was heavy action on the 1500-meter loop. No matter what kind of a breakaway people made early, the final, and biggest climb was where the skiers made the move that would stick. Mind you, only one of these athletes looked fatigued through a prologue and then five heats.
Athletes in tight formations leading into downhills where one wrong move could give you a bad case of road rash, at the least. On the big downhill from the high point of the course, men's winner Fin Bailey was clocked at 35 mph. Maybe not Ted Ligety fast, but trust me, that's wicked fast on pavement.
It was cooler than I expected as I loaded the shooting brake for Whiteface early Sunday morning. No worries, I told myself, the race starts in two hours. Plenty of time for warm temperatures.
This was the first year that I didn't have butterflies in my stomach the morning of, and the days leading up to the race. Maybe I was like, meh, I've done this so many times. My own warmup was okay, but not great. When I rolled up to the start, I felt unsteady on my boards. What the actual.
Then the starting gun went off. Double pole for the first 50 meters, then we could skate. But when I started skating, I felt terrible. Legs flooded with lactic acid, not moving fast, heart rate not getting up where it needed to be. A couple of times, I thought I was lose balance and fall over. After that, I just felt like crap.
In that first mile, I was sure I wouldn't be able to finish. Somewhere around 1.5 miles, I saw Paul Smith, the NYSEF's head nordic coach, at the side of the road. I told him I might need to drop. He said, just let someone know as they're driving up the road.
I stopped to catch my breath for 30 seconds. I haven't stopped in this f'n race since the first time I did it.
Around mile two, there was a feed run by former Olympian, and NYSEF biathlon coach Maddie Phaneuf with a bunch of youth volunteers. I drank a cup of water and heaved and clawed for air before continuing.
A few minutes after I left the feed, Paul Smith came up in his truck, slowed down, and looked at me. I guess I gave him the wrong signal, because he figured everything was good and cruised away.
That was it, then. I was halfway up the road, only thing to do was keep plugging away. Over the top suffering is the best suffering. Down below, they opened the road to tourists, evidenced by a BMW with out-of-state tags cruising past me slowly. Then an SUV.
Further up, I overhauled Erin MacDonald.
"I feel terrible," she said.
"Me too," I gasped. "Listen, at the turn where you can see Lake Placid, it levels out for around 500 meters and you can make some time."
I put a modest gap on Erin, and when I got to that Lake Placid turn, I switched from V1 to V2 as the road flattened, gaining momentum. The gift went away as the road kicked up.
The next 500 meters took forever, but when I reached Windy Corner, there was thankfully no wind. Halfway through the tunnel, I had to stop again, gassed. Erin caught up with me and pulled away. With parking spaces and the Castle in sight, I picked it up again. It wasn't pretty, but I finished. I'm grateful to be able to do this, even on my worst days.