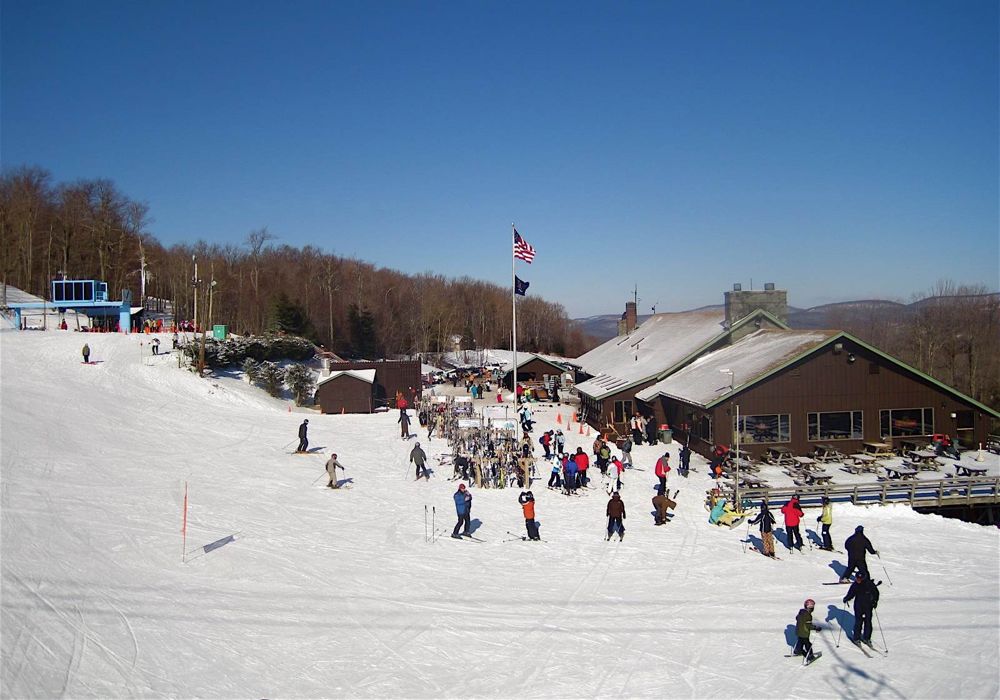 As Belleayre ramps up for its 2010-11 season, we haven't been hearing much news from the Catskills' only state-owned ski area. While there have been no rumors of potential cutbacks due to state budget issues, neither have we heard about any major upgrades — certainly nothing on the magnitude of what's been happening at Gore and Whiteface the last several seasons — so we felt that it was time to check in with Joe Kelly, longtime founder and chairman of the Coalition To Save Belleayre. For more than a quarter century, Kelly and his watchdog group have advocated on behalf of the ski area to ensure that it remains a vital part of the western Catskills economy.
What is Belleayre's operations outlook for the 2010-11 season?
We're going to be in full operation this season. There's a clear recognition that without Belleayre being fully open, the Route 28 corridor would be in big trouble. I'm confident that our full budget will be provided this year.
Did state budget cuts have any impact on Belleayre last season?
Given the status of New York State's finances at the beginning of last season, there were concerns about cuts impacting operations, but I skied there at least twice a week through closing day in mid-April. All of the trails had great cover, and all lifts were open. Just like any other ski area, Belleayre scales back its workforce after the peak part of the season. Last year's labor cutback occurred earlier than usual; however, it didn't cause any major disruptions in ski operations.
What happened to the plans for a new Discovery Lodge at the base of the hill? Wasn't it shovel-ready a few years ago?
The Discovery Lodge was not only shovel-ready, it was supposed to be completed a few years ago. But with all the budget machinations in Albany and the fact that former Governor Spitzer left office and wasn't able to push through the Agreement in Principle that he signed, it never got off the ground.
Instead of rebuilding that lodge, there are now plans to renovate it to make it more functional. It's not what we had hoped for, but we'll have to live with it.
Is there any news about the Belleayre Resort?
The resort is the victim of the same economic conditions that have stymied developments nationwide. As I'm sure you're aware, there aren't a lot of condos being sold anywhere, so many major construction projects are taking a wait-and-see approach until the economy improves. Not to get ahead of ourselves in the election process, but if Andrew Cuomo becomes governor, we're hoping that he'll advocate for the ski area and region the same way that former Governor Spitzer did, and create incentives for businesses to invest in the western Catskills.
Are slopeside accommodations still a big part of this plan?
Every study points to the importance of creating a base of beds directly alongside the ski area in a concentrated area, instead of spreading them out and disturbing the environment. The developers came up with a compromise plan that was approved by such organizations as the Natural Resources Defense Council, the Catskill Center for Conservation and Development, and Trout Unlimited — they all wanted to see this happen. I'm confident that the resort will get built, but because of the current economic circumstances, we may need to wait a bit longer.
Do you believe that not being part of ORDA has negatively affected Belleayre's ability to get state funding for operations, trail building and infrastructure?
I would say that is painfully obvious when you consider the massive terrain additions, snowmaking, and new or upgraded lifts and infrastructure that the northern ski areas have added over the past decade. Both from an equality point of view and at a time of tremendous economic challenges to our region, I'd love to see some of the money that's been poured into Whiteface and Gore be shifted to Belleayre. It's long overdue, especially when you consider that Belleayre has more skier visits than Whiteface and is only a bit behind Gore.
The problem is that we're hamstrung by two different but related issues: the DEC's unwillingness to approve any proposals that will help Belleayre become a more attractive ski area, and the fact that we don't have the ORDA lobbying machinery behind us. The result is that most of the state ski money from Albany flows north.
What do you think about giving Belleayre season passholders reciprocity at Whiteface and Gore?
New York State had a three-mountain season pass years ago, before Whiteface and Gore broke off into ORDA, and I think that it's an idea we should revisit. Belleayre passholders would get additional value from their pass by being able to use them at Gore and Whiteface, and it would help the Adirondack economy by attracting people from downstate who would otherwise head to Vermont for a multi-day trip.
In addition to providing the Lake Placid and North Creek regions with more destination visitors, they would get additional visibility from Belleayre passholders returning from the Adirondacks with good word-of-mouth. Gore and Whiteface are trying to attract new revenue streams — not just daytrippers from the Albany area — and downstaters are, in my opinion, the low-hanging fruit. I don't see any downside to this idea.
To play devil's advocate, wouldn't Gore and Whiteface be less than thrilled to receive non-revenue ski visits from Belleayre passholders?
If you're running a private, for-profit ski area, it's all about the bottom line. By definition, you're going to watch out for your own self interests. State-owned recreational facilities, on the other hand, are owned by the people of New York State for the people of New York State. Thus, they exist to provide two things: 1) affordable public recreation to people who may not otherwise have the opportunity (and the same goes for state-owned golf courses, beaches, and other facilities), and 2) an economic boost to rural regions that otherwise wouldn't have much activity during the winter months.
In my opinion, too many people at New York State's publicly-owned ski areas are taking a myopic view of things, and are concerned only about keeping or increasing their piece of the pie. We need everyone to see the bigger picture. Whiteface, Gore, and Belleayre are there to support the surrounding region, not to become money generators or profit centers in and of themselves.
What's maddening is New York State's three ski areas provide a very compelling ski product — each mountain has a very specific personality and selling points — but they aren't being promoted as effectively as they should. Out west, Vail Resorts offers a hugely popular season pass (the Epic Pass) that includes several resorts instead of only one. New York State should be doing something in the same vein. The fact that Belleayre is, as far as passes and marketing are concerned, kept separate from Gore and Whiteface is symptomatic of this problem and, in my opinion, a big mistake.
We have a massive market of skiers from the New York City region who regularly bypass the Catskills and Adirondacks in favor of Vermont. By leveraging our three ski areas as a combined force, we create a perception of value to skiing in New York State. For example, a combined pass would allow someone from downstate to hop up to Belleayre for a quick weekday trip, and then plan a longer destination trip or two each season to Gore and Whiteface without needing to factor in the cost of lift tickets. It's a perfect example of "the sum is greater than the parts."
Last year, the Catskills ski areas put aside their considerable differences to offer a region-wide discount card. You have to wonder why a combined effort like this can't be mounted by the three state-owned mountains.
The overall ski industry in New York State is just beginning to learn the benefits of joint marketing to increase the overall ski population. I was very encouraged that the Catskill areas (Belleayre, Hunter, Plattekill, Holiday, and Windham) worked together to create a combined marketing and discount program targeted at skiers who would otherwise drive double the distance to southern Vermont. These efforts are still at an early stage, but it's a good start. I'd like to see the state-owned areas do the same thing. Even if we assume that each ski area's percentage of the pie remains the same; by increasing the size of the pie, that's more revenue for everyone.
While the SANY Gold Pass (a transferable pass valid at any ski area in New York State) is, at $1,100, too expensive for most people, I think that it's a great idea and is moving in the cooperative direction that I was talking about.
You mentioned the DEC's unwillingness to approve Belleayre proposals.
The DEC overreacts to virtually every proposal from Belleayre, and monkey-wrenches even the most innocuous requests. Without equivocation, we go through a far more onerous environmental review than anywhere else in New York State. Look at the real-estate developments that have been built at Hunter and Windham over the past few years. To provide a comparison, the approval process for the North Creek village took two years start to finish. The proposal for the Belleayre Resort has been on the table for more than 11 years!
The amount of money and time spent on these reviews is absolutely mind-boggling. The Belleayre Resort Agreement in Principle from Governor Spitzer occurred three years ago. He wanted shovels in the ground the following year, but three years after the Agreement in Principle was signed, it's still in limbo. Millions of dollars have been spent carrying out two incredibly detailed Unit Management Plan reviews — one for the combined ski area/resort and one for just the ski area, and we can't get either approved. How are we supposed to move forward and plan for the future?
Do you feel that public opinion is turning toward an approach that balances environmental protection with economic activity?
There is a pervasive view that while protecting the environment is extremely important, the economic conditions in rural areas like Ulster County have become equally significant. The worst thing that can happen to a region is poverty. When people have no economic alternatives, they often start undertaking questionable environmental practices because they can't afford to do the right thing.
The DEC has been saying "no" to virtually everything in this county for so long, and look at the result on the Route 28 corridor: closed businesses and places of worship, declining school enrollment, foreclosures, for-sale signs, and inhabitants moving elsewhere for better opportunities. People are reluctant to invest in Upstate New York, and until we strike a balance between the environment and economic activity, this downward spiral will continue. Jobs need to be created so people can earn a living.
It's not just the Belleayre region, it's all of Upstate New York. The problem with our region is that we're under such a microscope environmentally, due to it being in the New York City watershed.
Given all these environmental constraints, along with the economic conditions that are prevalent statewide and locally, being in Tony Lanza's shoes is not easy. The fact that Belleayre runs as well as it does is a testament to his talents as a manager. However, no mountain can stand still in the ski business and survive.