Since my last trip to Lake Placid in March, I've stayed close to home. But recently, being fully vaxxed and in need of a change in scenery, I headed northwest. There's a last segment of the Shawangunks that I've not explored, southwest of Sam's Point.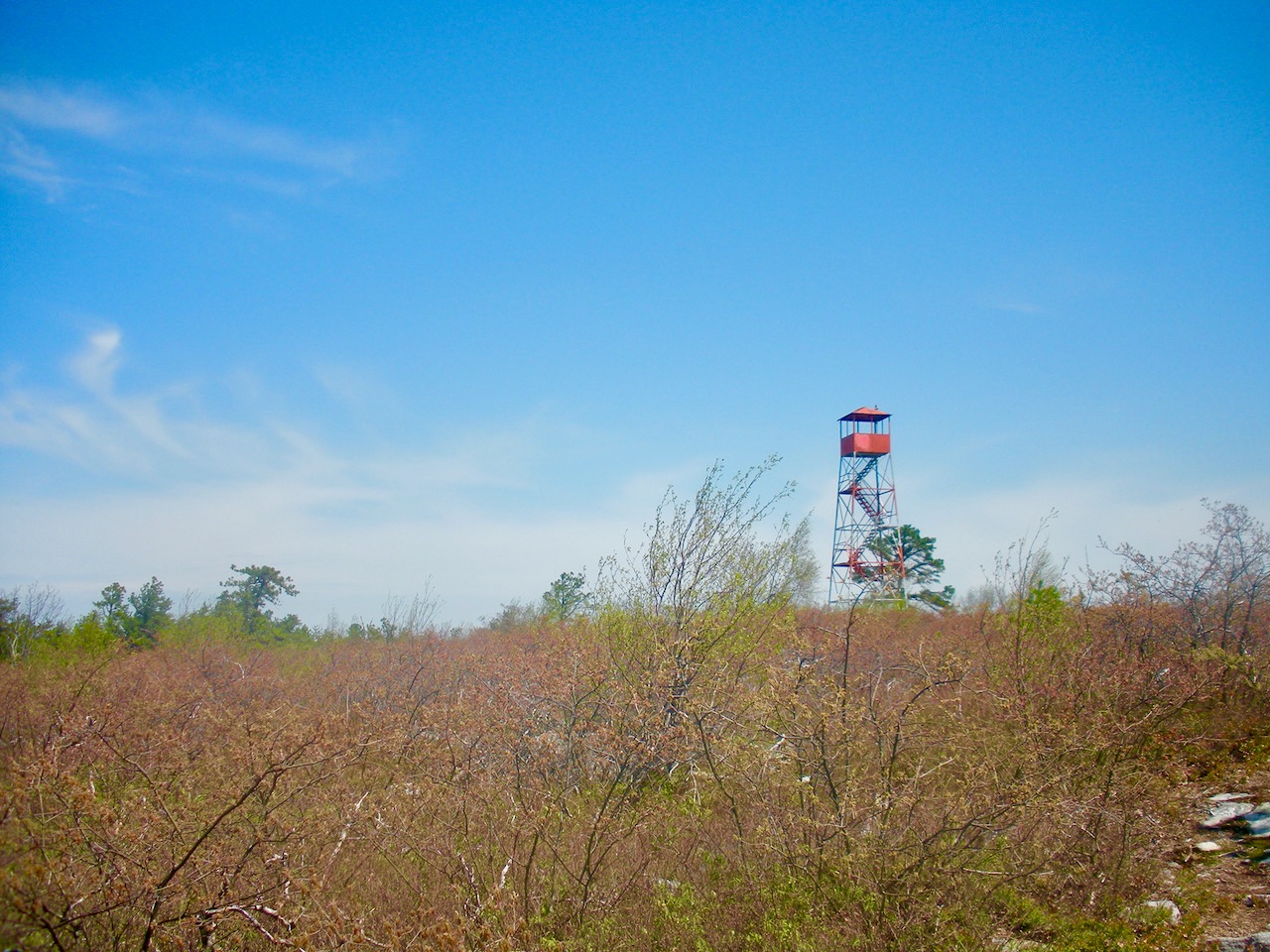 Diving off Route 17 on to Roosa Gap Road, I picked my way up to Wurtsboro Ridge State Forest. The roads here are narrow, with blind rises and blind curves. For a change, I was content to drive below the speed limit.
Parking at the trail head, I set out. On a rough trail, In the first kilometer, I descended a rough trail to a valley floor. At the bottom, running through a dry stream bed littered with glacial rubble, I ran into the Long Path and took a hard right.
The Long Path runs from New York City to Albany. It was originally conceived in the 1930s as a list of points of interest; hikers found their own way with topographical map and compass. As Rockland and Orange Counties were developed after World War Two, it morphed into an actual hiking trail.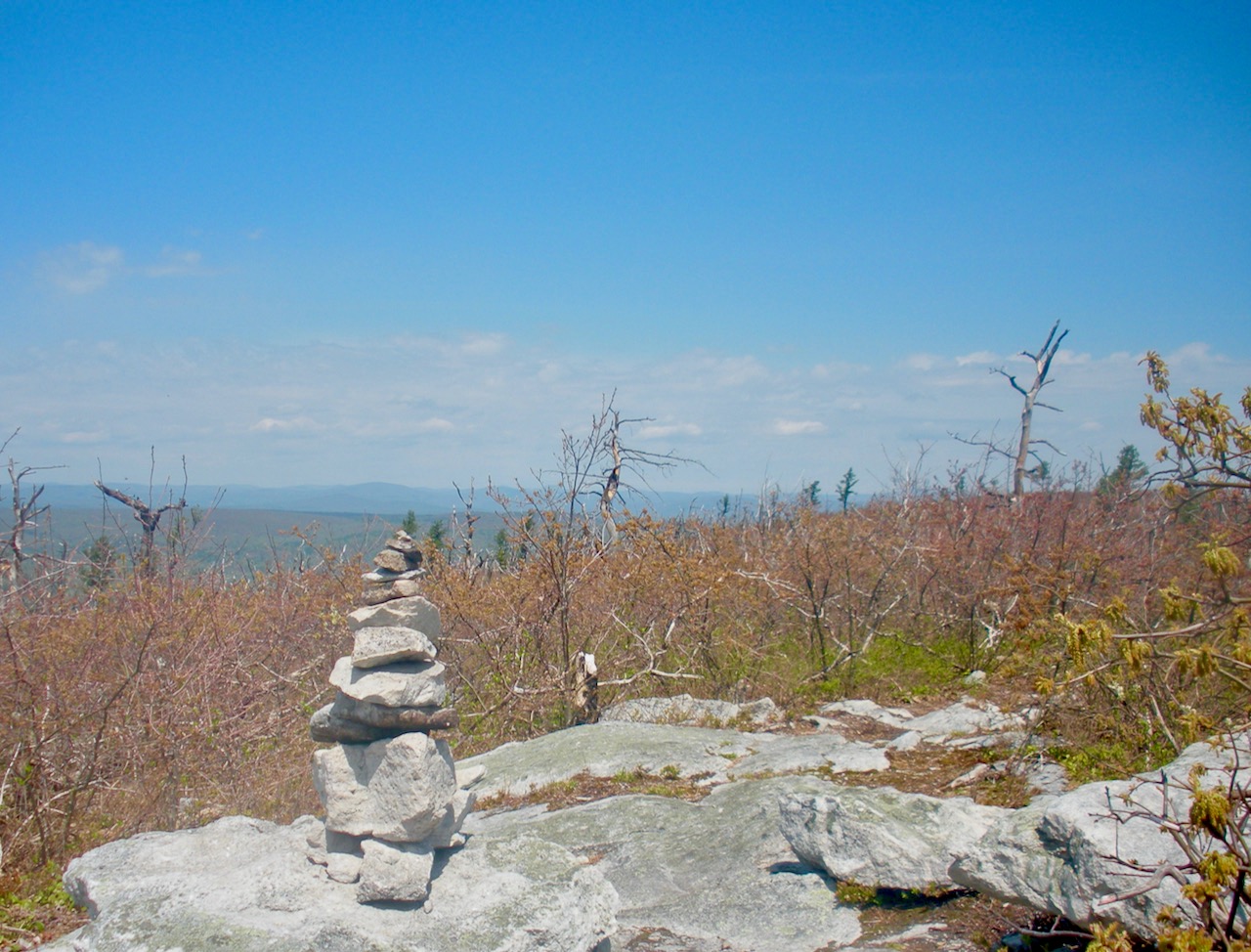 The trail run became a hike, as next .8 mile went straight up the fall line. From the trail head down to the valley floor, all the trees were leafy and green. As I went up, green trees gave way to trees with buds optimistically waiting for warmer weather. Gaining 800 feet of vertical, I topped out by a graffiti-covered fire tower on Shawangunk Ridge.
For the next mile, I had spectacular views all around. Blueberry bushes grew beside the trail, though not in the proliferation further north. A stiff breeze ameliorated the heat and bright sunlight. The many dead trees indicated that I was running through some of the area scorched by a wildfire in 2015.
At a height of land beyond the fire tower, I could see the southern redoubt of the Catskills. To the right, I saw the cell towers on Sam's Point, and beyond, the Trapp escarpment. The trail dropped through a gap, and I was back in forest. Saplings grew among scorched tree trunks devoid of bark. Back in the day, this might have been farmland, as I saw a latticework of stone walls and crossed eight of them.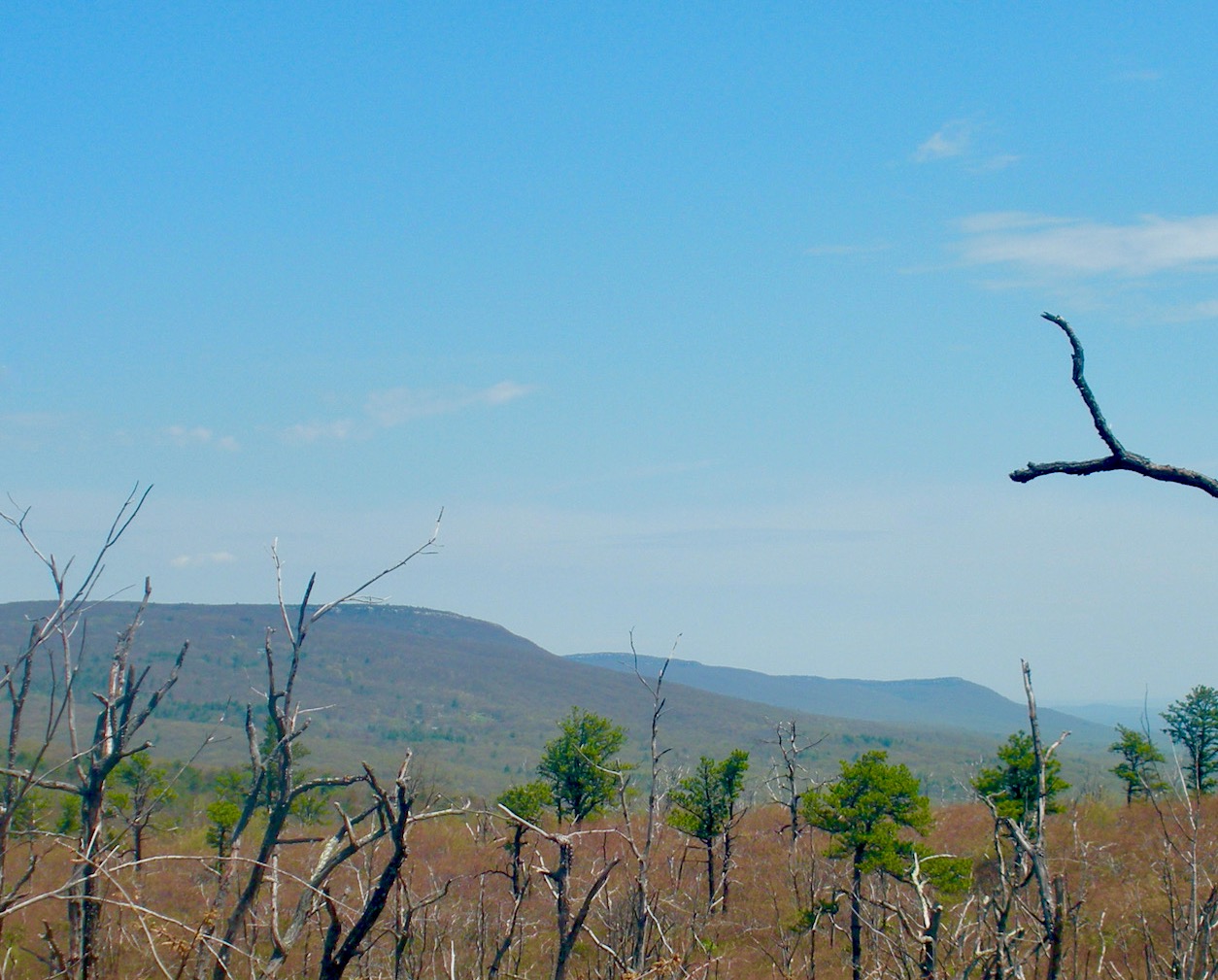 After another mile, I came to an intersection. The trail to the right led down to Cox Road and back up, but it was late and I didn't fancy returning to my car at 5 PM. I turned around and headed for the shooting brake. The last uphill bit back to Rheinhardt pulled my cork.
Even though it was less than four hours and nine miles, it was a hard day. More technically demanding than much of what I run at home, this trail beat me up pretty good.There were plenty of runnable bits, were interspersed with technical stuff that I tend to pick my way carefully. It was a good day, with more new trails to explore until mud season clears up in the Adirondacks.