It's been a long time since I set foot in the city of Beacon NY, not since I left a Hudson Valley sales territory for a new job in the metro area over sixteen years ago.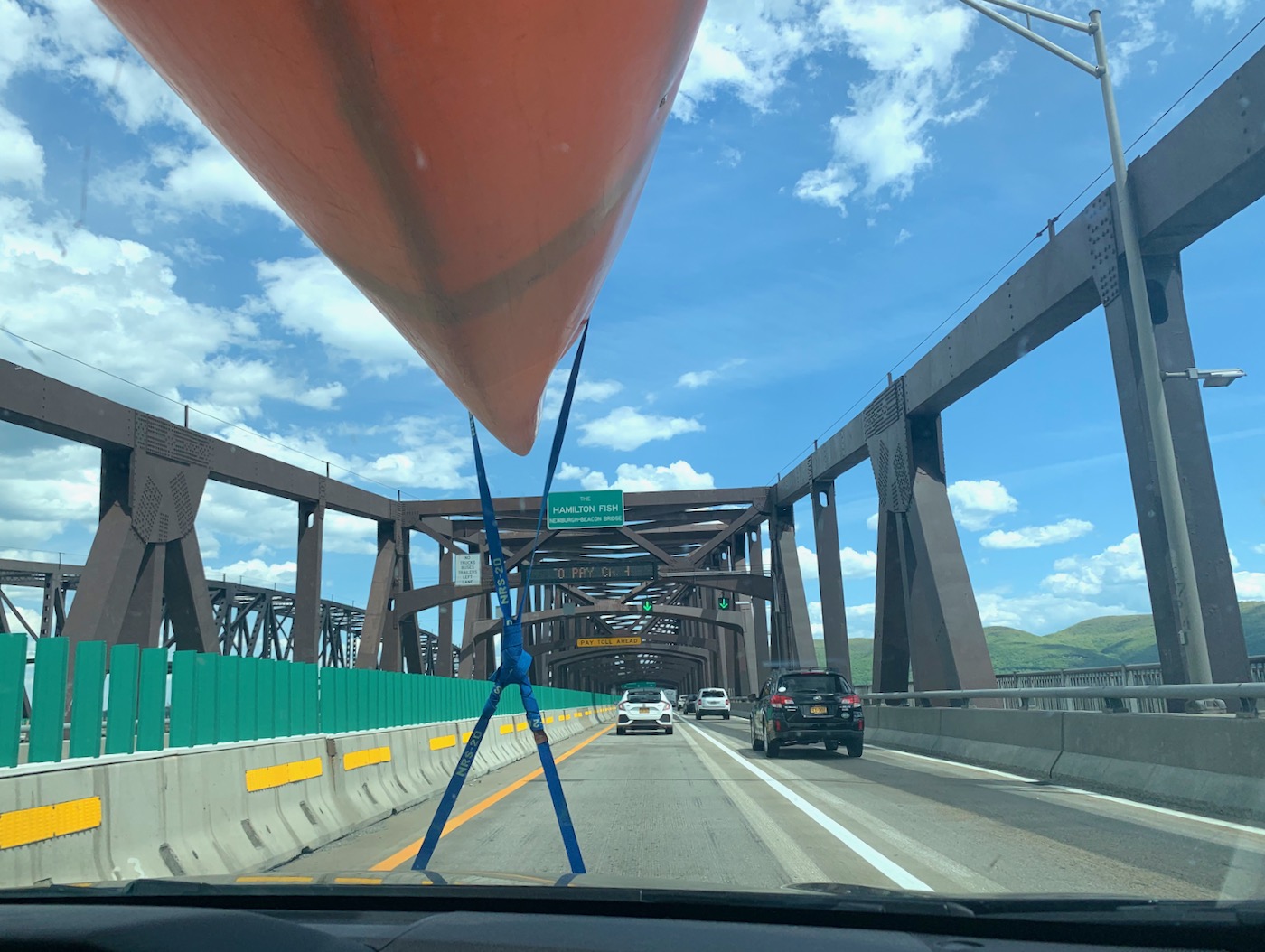 I wasn't very impressed with Beacon back then but I can't say I was avoiding the place either. Over the years my kayaking excursions have brought me to Newburgh, Cold Spring, Cornwall and other spots nearby.
In the meantime I'd been hearing about all kinds of new developments and downtown revitalization going on in Beacon. I figured it was about time I planned a return visit. We drove up the Thruway and across the Hamilton Fish Bridge and arrived at Beacon's Riverfront Park right around two thirty.
High tide for the Beacon area was a little after two PM on Saturday. This whole section of river is prone to powerful, fast moving tides so I usually try to paddle it at either high or low tide, when the river is relatively motionless.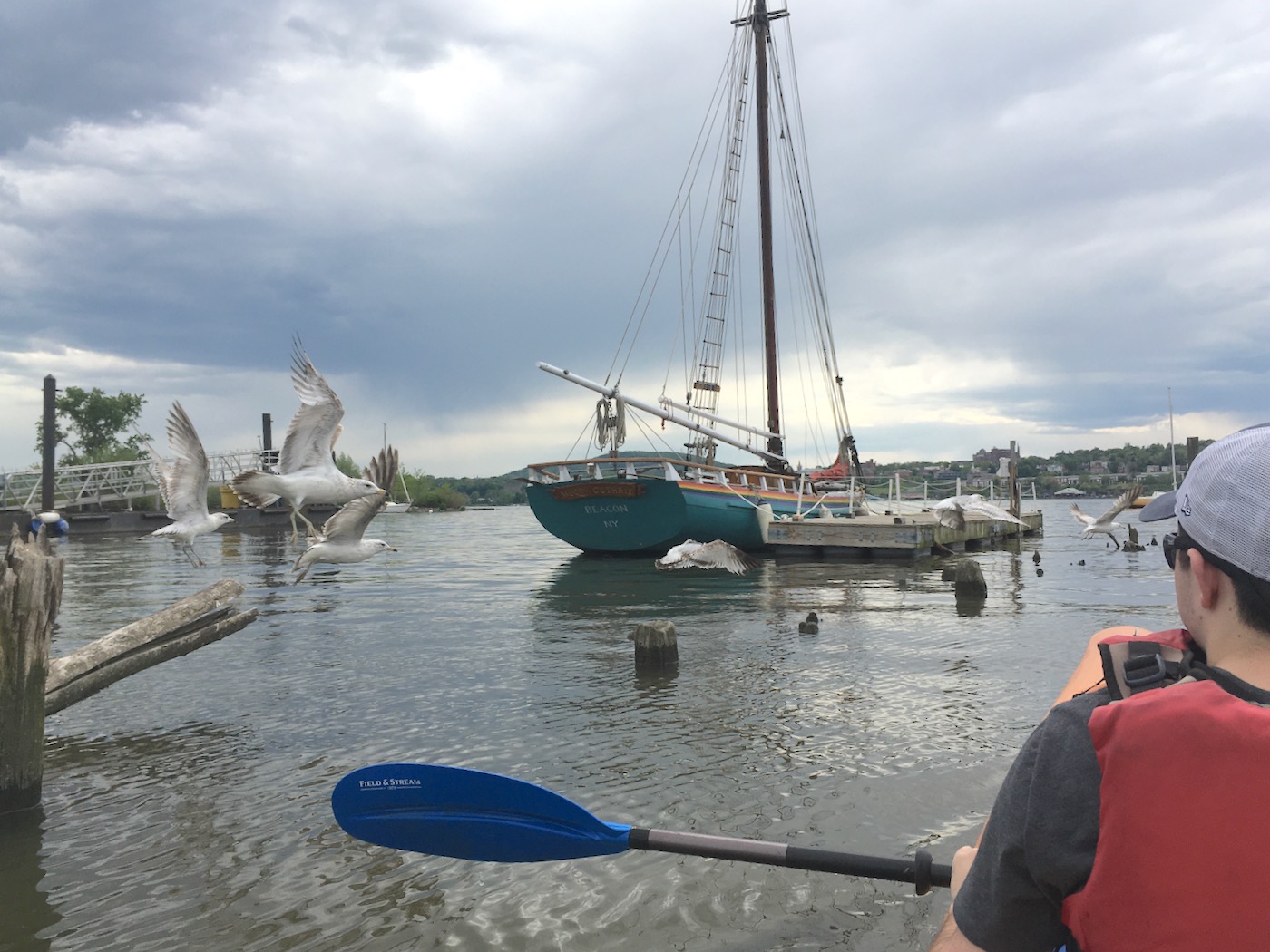 The waterfront was hopping when we arrived, lots of people out and about enjoying the nice weather. We parked in the train station lot, right next to a small concrete boat ramp, and got busy taking the kayak down off the car. We've gotten out every weekend since I brought my new-to-me tandem kayak home so Junior and I have the drill down already.
With all our gear in the boat where it needed to be, we suited up and pushed off. We made our way past a dock and a few moored sail boats and out into the Hudson.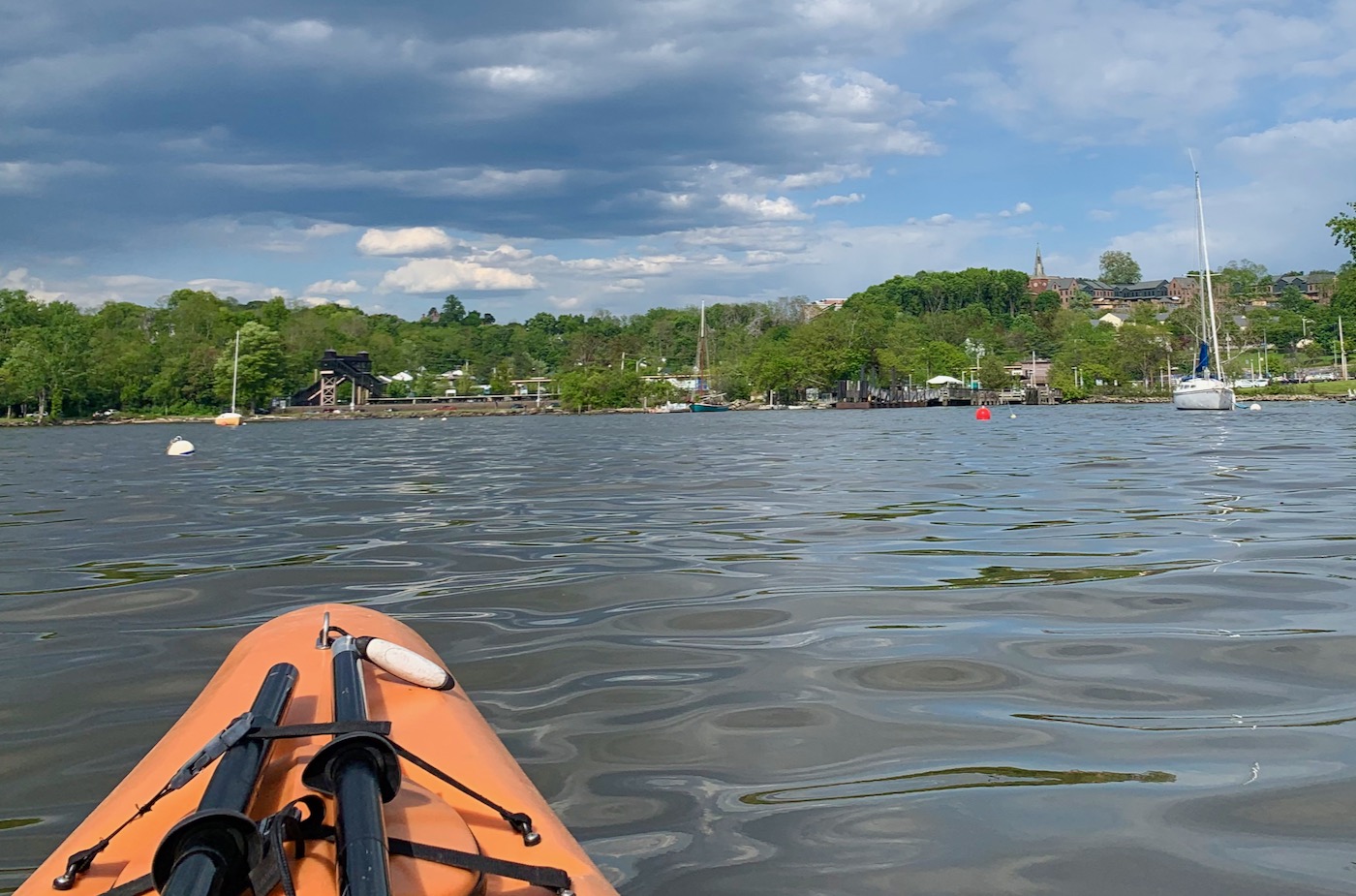 As we turned south, Bannerman Castle, which I have paddled around in the past, was visible in the distance. We weren't going that far this time. Our mission was to explore around the Beacon waterfront and Denning's Point.
To that end, we got our paddling in sync and got ourselves up to a good speed. There were a lot more people out enjoying the river then there were on our first few forays of the season. The shoreline was full of families walking on a footpath or fishing. The horizon was dotted with motorboats and we passed a guy on a paddle board and a couple in another tandem off the shore of Denning's Point Park.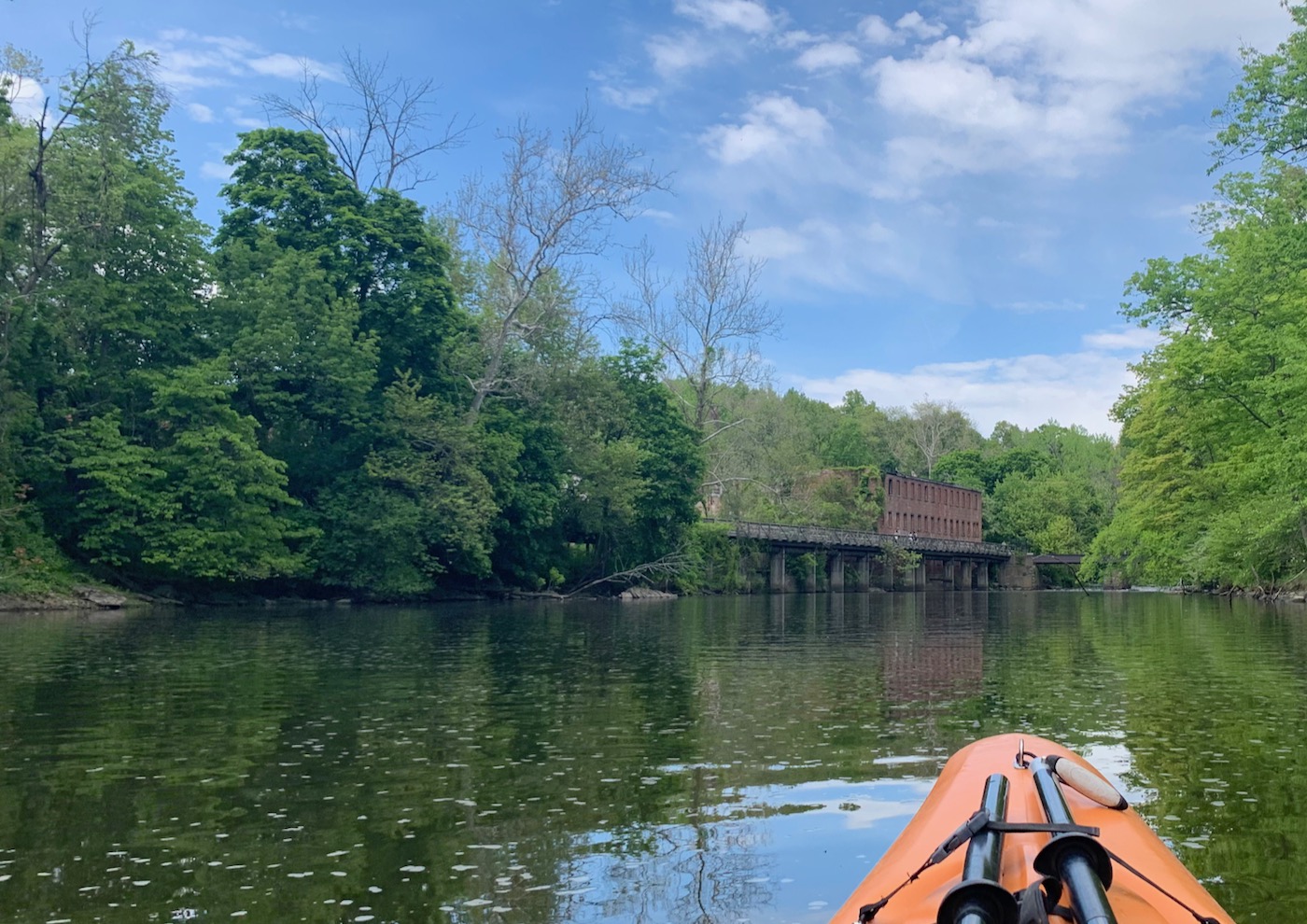 We passed around the southern tip of Denning's Point and paddled across a little bay toward the mouth of Fishkill Creek. Like most of the lower Hudson, there is a train track on the edge of the water here. When we were still a few hundred yards away, an Amtrak whizzed by. I don't think it even slowed down for the Beacon station. We paused to take a picture and proceeded to paddle under the tracks into Fishkill Creek.
On the other side we found three guys fishing from a tiny motor boat. It looked like maybe a grandfather, father and son. We said hello and were careful to steer around their lines as we passed.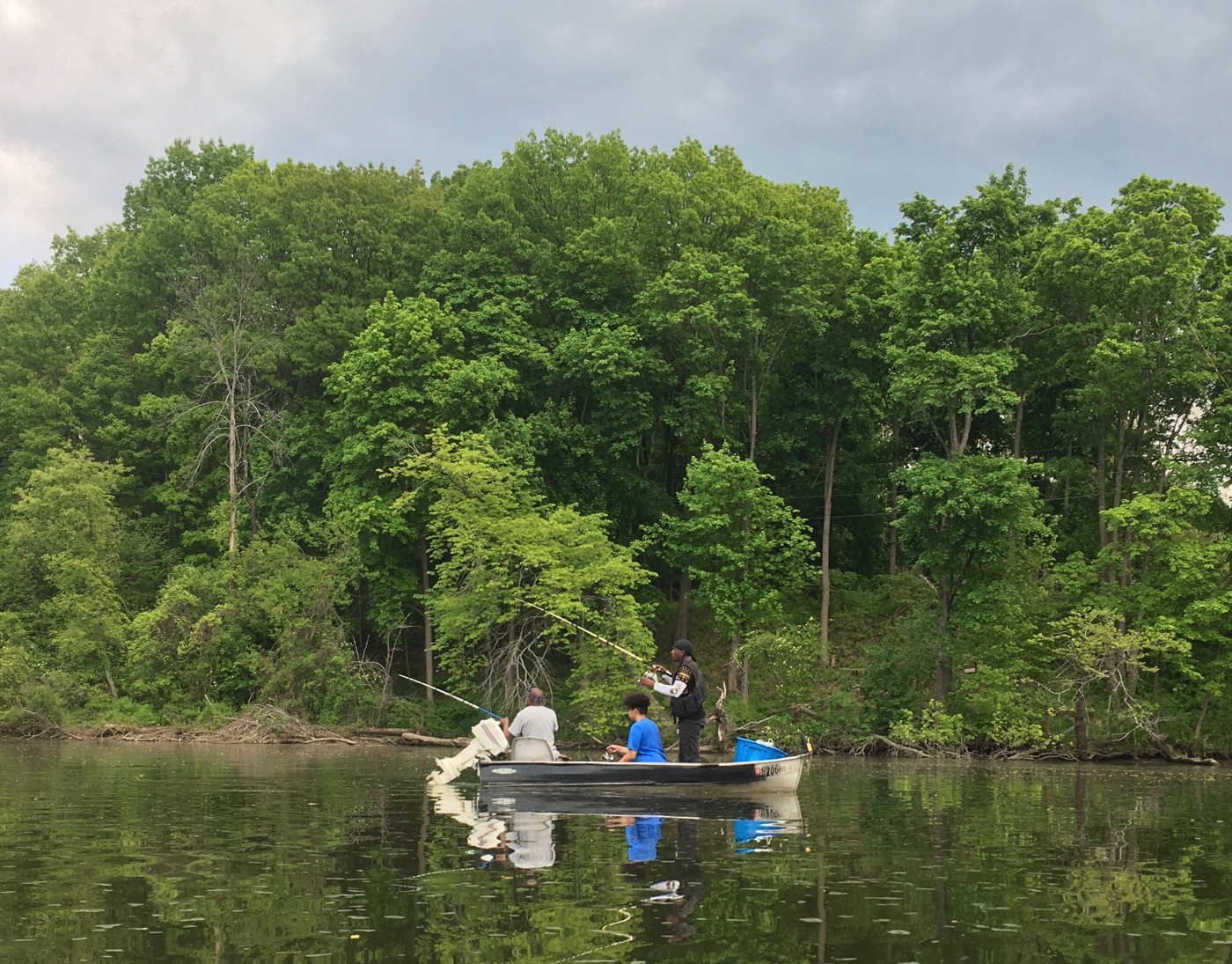 A little bit upstream we came to a small rapids blocking further progress just past where a pipeline of some sort was suspended high over the water and there was yet another park with a elevated walkway on the south side of the creek, along with some seemingly abandoned buildings. We lingered a bit and then turned around to head back to the river.
The paddle back to Beacon was uneventful. We hugged the shore a bit closer to see if we'd missed anything interesting on our first leg. In a sheltered area between Denning's Point and Beacon, we encountered a family of Canada geese. Canada geese are generally loathed around here for the way they treat sports fields, bike paths and parks but the baby geese paddling furiously to keep up with their parents was pretty cute.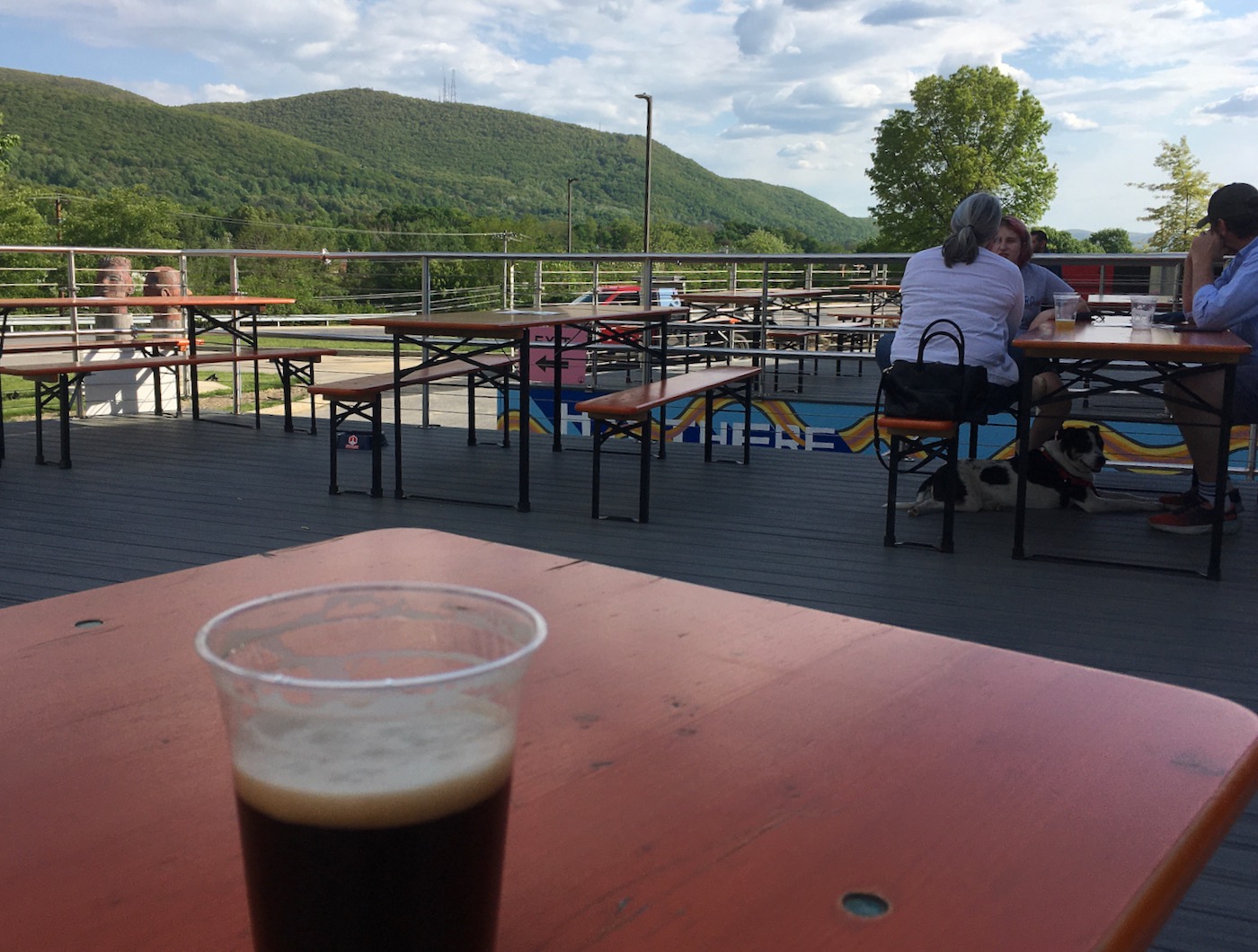 We landed about an hour and a half after launching. An app on Junior's phone told us we'd gone a bout five and a third miles. All in all it was a good little trip. Once the kayak was back on top of my car, we explored Beacon a little, ending up at Industrial Arts Brewery's second location on the outskirts of town.
It was another cool discovery. I had a plastic cup of coffee porter on their deck and enjoyed the view. I am not sure why I stayed away from Beacon for so long but I'll be back soon.