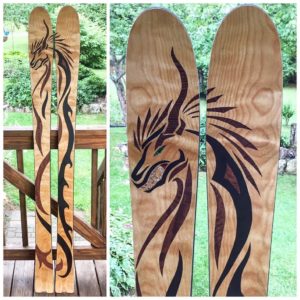 Contest Update
We picked a winner!
We assigned each of 922 subscribers a number, and using a random number generator, chose the email address of Paul Menaldino of North Creek NY.
Paul has been notified and is currently considering ski design. 🙂
Congratulations Paul!
---
Originally Posted on February 27, 2019
NYSkiBlog is giving away one pair of fully custom skis — made for the winner of our subscription contest — by Vin Faraci of WhiteRoom Skis. Read on for details on how to enter.
Plenty of manufacturers say they are offering custom builds. But Vin is different. He'll listen to you to understand how and where you ski. Then he'll present you with a design to meet those needs. Front side carver? All mountain? Full on pow ski? He's got it covered. Rocker, camber, both? Got it.
This is a custom approach top-to-bottom, built specifically for you. Every single pair of skis Vin builds is unique to the owner in dimension and top sheet design.
Vin will contact you for a consultation, listen to your needs and submit a design within a few weeks. Once you approve the ski design and custom topsheet, Vin will build your skis for delivery before Thanksgiving 2019. You pay only shipping, or you could pick them up at his shop in Northern Vermont.
"I came to skiing late in life and have worked hard to become an expert. It's a judgement call at this point, but I'm certainly getting close. I bought a pair of Whiterooms the the summer of 2017 and now — at age 60 — I have upped my game.  No question my Whiterooms have had a big impact. Made to the highest standards, these are quality skis, made specifically for me.  Whiterooms are not prone to the manufacturing defects that plague many small volume manufacturers."

—Harvey, Editor-in-Chief, NYSkiBlog
To enter SUBSCRIBE by email to the blog. If you are already a subscriber, you are already entered.
On September 13, we'll assign a number to each subscriber, and choose one lucky winner, with a random number generator.
We'll announce the winner here, and reach out by email to get your phone number, on September 4. You must still be an email subscriber on that date to be in the drawing.
---
Authors with a post on the NYSkiBlog front page in the last two years are not eligible.
One entry per person. If you know people who are interested, send them the link to this page so they can subscribe. We reserve the right to eliminate duplicates or delete entries from those who try to game the system or are otherwise not in good standing with NYSkiBlog or NYSkiForums.