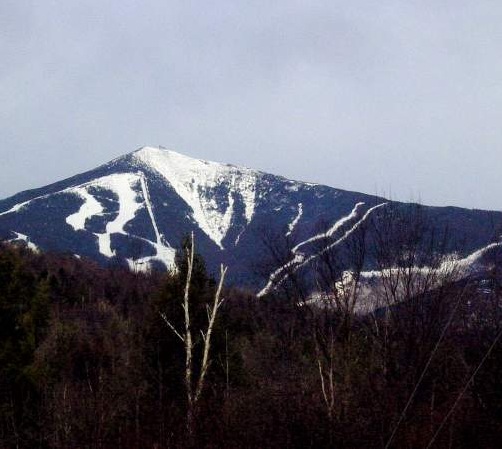 After blowing out of work at 2:30 yesterday and driving to our place in North River, I was excited and anxious to get a shot at The Slides. It was not to be. We asked whoever we could find: what is up with the slides? Nobody knew, or would say.
After a few runs on the summit quad, ski patrol at the top gave us the bad news… Slides are closed FOR THE SEASON.
James, Steve, Patrick and I made the best of it. I didn't look at the map much so I'm not sure of the names of a lot of what we did. But here is what I do know: Slightly overcast but somehow sunny… things were corning up nicely by 9:58 when we loaded onto the facelift. Hit Upper Skyward, Cloudspin and some terrain off Little Whiteface.
One tree run was open, and the cover was dicey. Lost lots of snow since yesterday, according to James and Steve. For me, highlights were the bumps on Upper and Lower Mac, the obstacle course on Empire and Blazers Bluff. By the end of the day we were, at times, water skiing in runoff. My camera died. Possibly in response to some impacts. I did get a few pics out of it.
And Patrick RIPS. He's super smooth through big corny bumps. And he THRIVES on steepness. I had a tough time keeping up with both Pat and James and I was whipped by beer thirty. Great to meet those guys and thanks to them for letting me invite myself along.