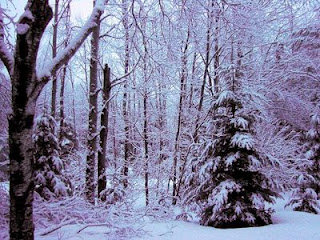 My plan was to get up this morning, finish up some of the cleanup and head out, and maybe grab a few turns on the way out. When I woke up… around 6:30…3 inches of dense new snow had fallen. I wasn't expecting it…local npr radio had called for a dusting to half an inch. I thought there must be more betta snow up higher…so ski day 26 was on. Driving down to the Hudson…the snow turned to rain. But as I started to climb up the Gore access road, it went back to sleet.
It was a race day…cars in the parking lot and no space in the ski racks next to the Gondi. These racer kids must come with 5 pairs of skis.
I got on the Gondi as soon as it opened. At the top of Bear Mtn the snow was noticeably less manky, and more powdery. I wanted to wait for the rope to drop for the summit. But Skipat said that they were working on the bump run for the contest on Sunday and it was going to be a while.
I took a run to the bottom. Good move as Sunway was sweet. Anywhere that was untracked was better than carvable. If you looked back you could see your own rooster tails. The snow that fell was dense enough to cling to yesterday's corn. As I got closer to the bottom, the new snow got thinner and thinner…making me that much more anxious to get to the top, where I thought it should be deeper and fluffier.
Next Gondi ride…the rope to the summit had been dropped…and I ran it in the my usual counterclockwise order. Actually not quite. I usually take Pine Knot to the Summit Quad, but today I took Uncas …thinking the less obvious choice would have more fresh on it. Good call on my part. Just a little mank and a lot of energy to ski it. Next was Chatiemac, Hawkeye…over to the Dark Side…Hullabaloo, Open Pit to Lower Darby and then Little Santanoni. I didn't care about pitch…I just wanted untracked. Best was probably Open Pit to Lower Darby, as I was 2nd man through.
I took Headwaters down past the Quad, to Tannery. Rode the Topridge chair and then Topridge the trail. Plenty of untracked if you were willing to risk it all skiing in 6 feet at the side of the trail. It was all good. Everything was in a fog, so I've got no pictures to speak of. By 11 am I was outta there, and I got home to downtown NJ around 6pm. Couple of nice days, and a big relief to find out our place was ok. Not sure if I'll hit my goal of 35 ski days this year. It's been a good year, but I think we need just a bit more magic for this to be considered great, in our Adirondack corner of the ice coast.