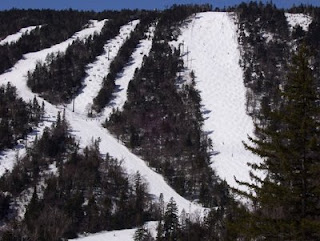 Up this morning and off to Gore, after skiing Whiteface yesterday. I was curious about the condition of Gore, and the coverage. I knew it would be interesting to compare the two mountains side by side under basically the same conditions.
Actually it was bad couple of days for electronics as my iPod died on the drive home too. Man I hate listening to the radio driving through the Catskills. Despite yesterdays really warm temps, it did go below freezing last night. At the cabin, all the puddles had a thin layer of ice.
Gore, unlike Whiteface — was closed all week — since Sunday. So instead of getting pounded by skiers in the warm temps, Gore's base was sitting there draining. It's apparent to me now that Gore has much better DRAINAGE than Whiteface. Yesterday at the face, there were many spots being washed away by runoff. Gore's seasonal tribs were raging, but the natural layout of the summit bowl and the manmade drainage improvements really keep the water off the trails.
Conditions at Gore, from 8:30-12:30 today were really significantly better than yesterday's at WF. (Hey, I'm just telling it like it is.) I have such a "first tracks" mentality that I find it hard to take it slow and wait for corn to soften. That really didn't matter today. The Gondi ran for almost an hour before they opened the summit, so I hit, in order Sunway, Showcase and Twister. That was the right order as each trail was basically lightly tracked corduroy, and incredibly smooth. It's great when you are carving corduroy, and your ski is cutting in almost a full ski width. You're on your edges AND your bases. Even my noodly K2s seemed to have some snap.
When they dropped the rope on the summit, I took Uncas as it's in the morning sun more than Pine Knot. It was still very hard due to it's more northern exposure. When I got to the SB quad…I was thinking…maybe I should head down for a few more runs until things got softer up here. Skipatrol skied in at that moment, and mumbled something to the effect of "awesome" so I went for the top. Hawkeye was groomed and surprisingly almost as soft as the bottom. Second I hit Chatiemac, which hadn't been groomed or skied for 4 days. Joegm would have been proud of Gore offering nice 24″ intermediate bumps on a single black run. Probably the best continuous bump run of my season.
I hit the Double Barrel Jr (under the quad) and ran into another tele guy – Greg – who gave me a five-run lesson. He starts off the conversation…."man you're really a good skier…you've got great balance…but you are leaning way too far back." Tell me something I don't know. He actually gave me some drills to do. We hit Rumor and Lies. I do think the top of Rumor has more pitch than anything on piste at Whiteface. (Slides excepted I'm sure.) The bumps on both Rumor and Lies were perfect spring corn bumps. I've skied Rumor maybe 25 times in my career…probably never did it top to bottom through bumps this big…under this much control. God it was so much fun.
I hit Open Pit which had the only spotty coverage I saw all day. And really it was fine…easy to pick your spots and get through. For my last run from the summit I hit Chatiemac again. My favorite for the day. Did some big GS turns down Tannery… then rode the Topridge Chair and was going to head down. BUT…they dropped the rope on Topridge and at noon I was getting fresh corduroy again. Another soft single black. Back to the top of bear mountain…I took Fairview to Twister… I really savored that final run to the bottom on Twister, hoping I'm not done for the year. What a day.