I started alpine skiing in 1999 at age 40 and early on I wanted to be an expert. I wasn't sure what defined an expert other than a vague idea about being able to "ski anything." What is an expert skier?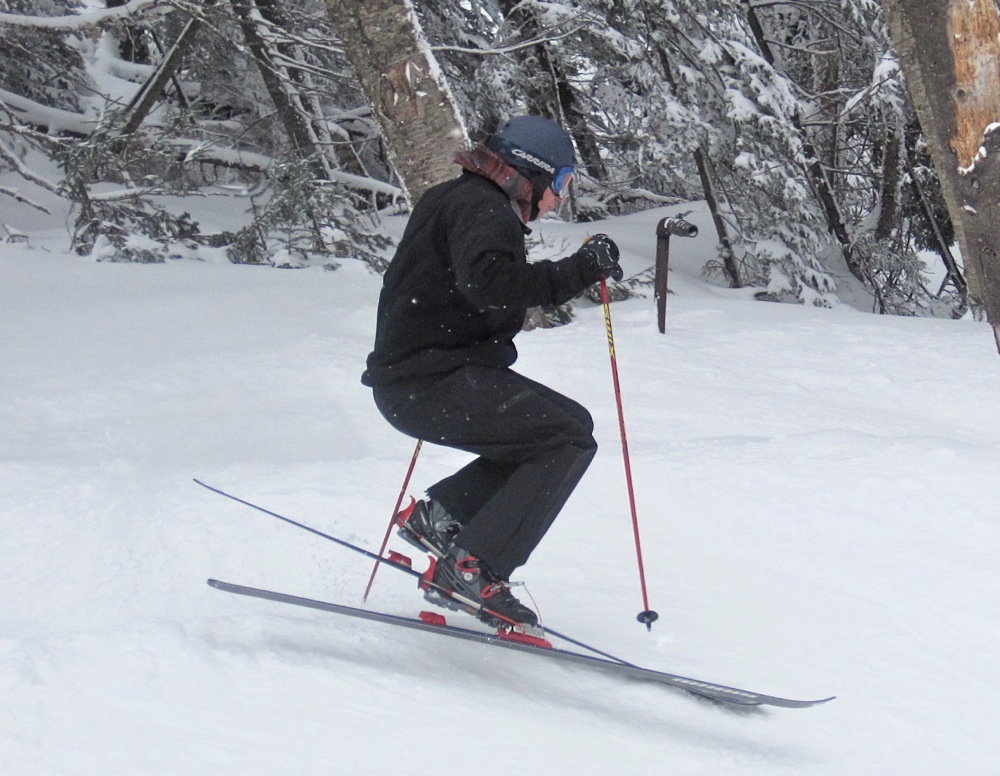 I recently skied with my six-year-old for the first time on a black rated trail. Gore's Sagamore is essentially a long blue trail with two black pitches. Skiing it doesn't make my daughter an expert. She's an advanced beginner who skied expert terrain. Expert status is about how you get down not what you get down.
I did a little research and found a definition: "Expert skiers are adept at handling varied terrain and different snow conditions. The terrain may include steeps, trees, and moguls, or a combination of the three. Snow conditions might include hard pack, ice, crud, or powder, as well as groomed or ungroomed snow. Expert skiing requires quick adjustments to speed, turn radius, and balance to maintain control at all times."
The first part of this definition leaves me unsatisfied. While true, it's not helpful. It might as well say "adept on all terrain" and be done with it. What I'm after is a clear understanding of the mechanics of "adept" skiing. The second part — the definition of expert skiing — comes a little closer to providing the information I'm after.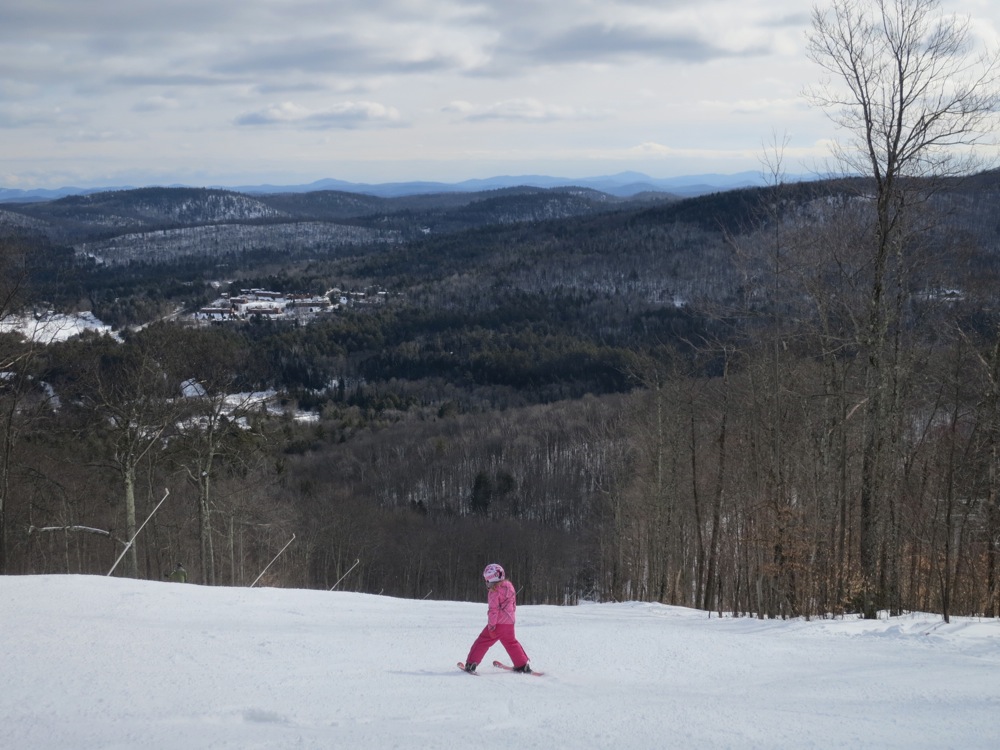 When I started lift-served skiing, my ski partner was a local, so he skied a lot and improved quickly. Soon he was taking runs on the Gore's black terrain on the summit leaving me to my green and blue laps down below.  One day he came back down and said, oh yea, dude, you could ski up there.
As my gear got burlier, I got braver, and then one day in March, it dumped 20 inches of beautiful, skiable snow.  I went to the top and skied all the single blacks. I even skied some trees. Under the right conditions steep terrain is less difficult and more fun.
Each year since I started skiing, I've felt that I improved as a skier, getting closer to expert status each season. Until last year. I really didn't ski well last season and in the end, it caught up to me. Not intended as an excuse, last season's marginal conditions, really didn't allow me to get into my groove, and practice good skiing. When I'm not skiing well, it's usually because my head and hands are back. It tilts my body back and throws everything else off. This is caused by fear of commitment to the fall line.
---
Here's my attempt to add to the definition of an expert skier: "Adeptness" comes from being in balance. When you're balanced, you can practice, learn and use efficient body movements to quickly adapt in changes in terrain. You can't practice or learn precise and efficient body movement until you are in balance. When you become an expert you'll use less energy to ski the same terrain as intermediates.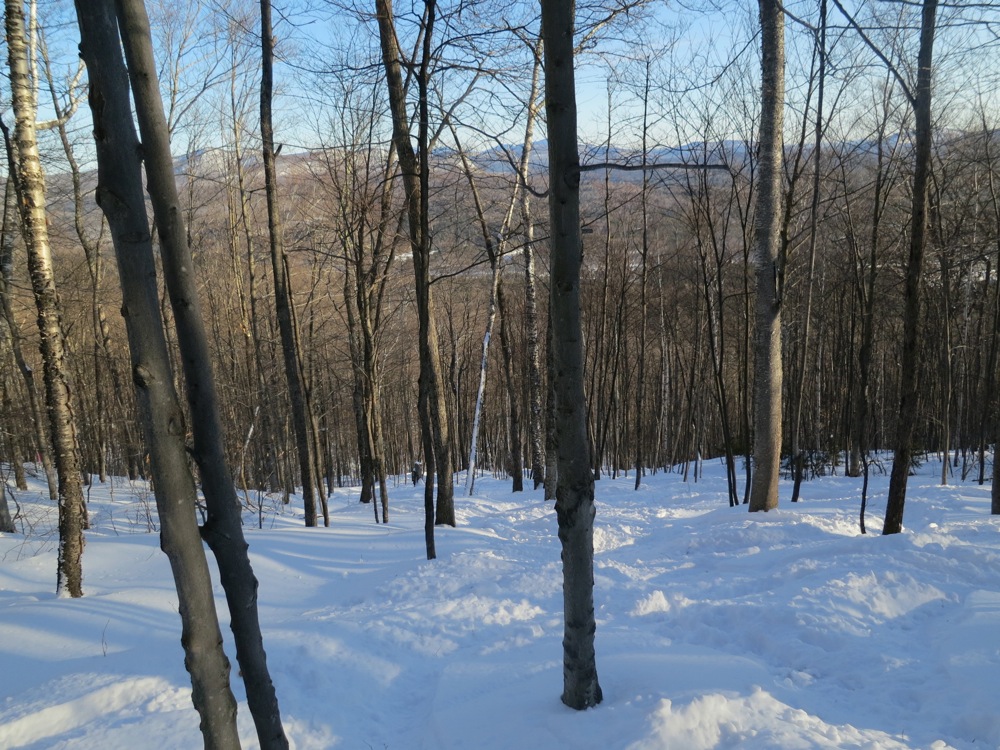 My own corollary: Good or great conditions allow us to put our fears aside and commit to the fall line. Skiing good snow helps you become a better skier. And when you ski good snow, what you learn is actually transferable to more marginal conditions. For me, it's hard to remember instructional advice when I'm attacking challenging terrain.
My friend Riverc0il is a great skier and a quick study with an analytic mind. He gave me one tip: "Uncle Tony Knows."  It's designed to be a simple reminder.  Keep Toes, Knees and Nose (Tony Knows) vertically aligned to stay in balance. That position allows you to make quick adjustments without using too much energy. It's really helped me this year and I think I'm back on track. Maybe I'd add one thing to it: "Uncle Tony Knows, Ski Soft Snow."