It's not uncommon to see people snowshoeing at a cross-country ski center. But near the end of my tour of Paul Smiths College Visitor Interpretive Center (VIC), I espied a veritable gang heading towards me on snowshoes. Thirty or 40, mostly guys and a few women. They were all wearing hard hats, and Carhartt or buffalo plaid and Malone pants. Heavy gloves. They were all on one side of the trail, so I had no worries gliding by.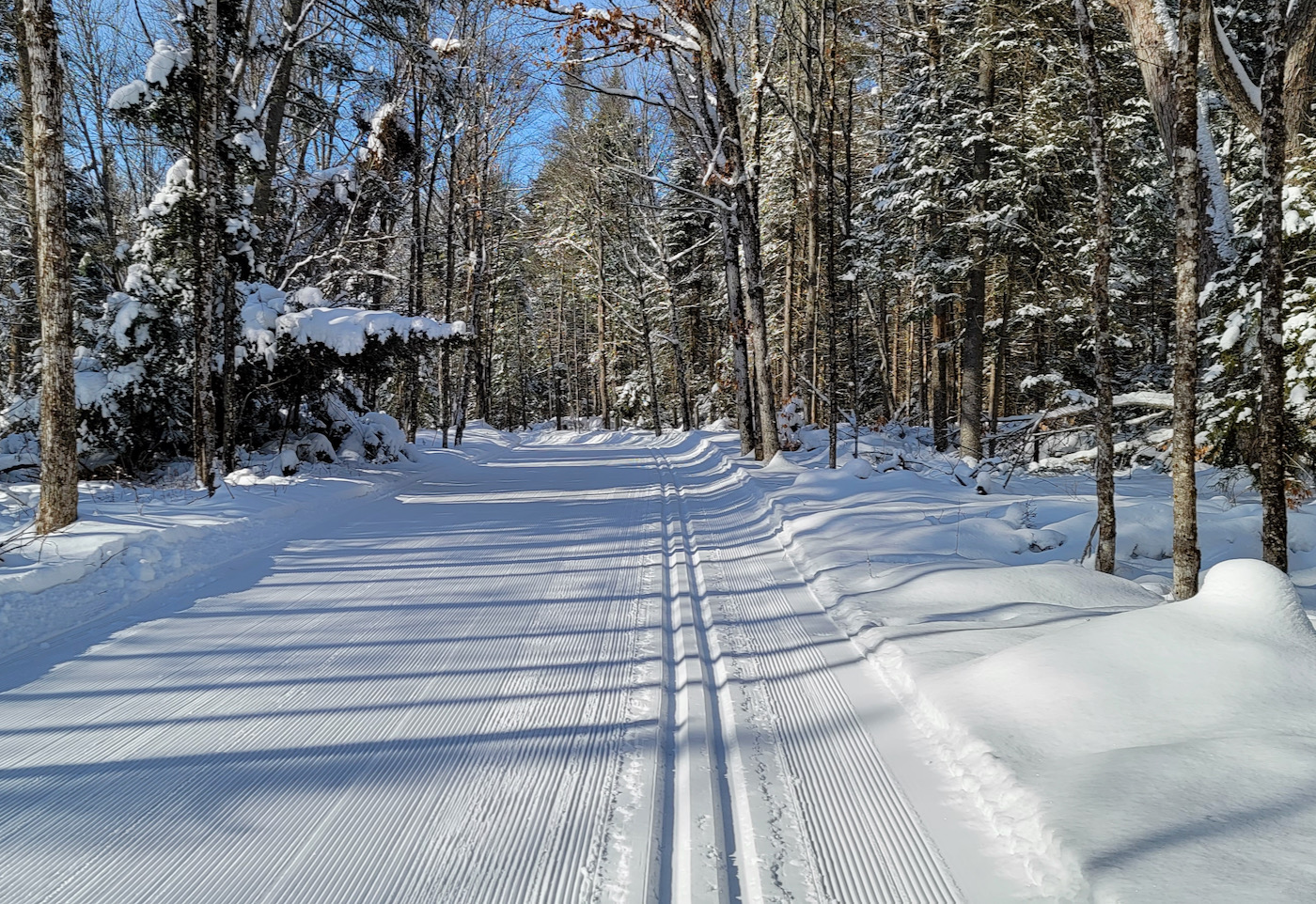 I accosted a straggler adjusting his snowshoe bindings. They were doing an outdoor session for a class in civic culture: How to manage a woodlot for a client. With a name like that, one would think the class covers polite debate, or how to hold a cup of tea with your pinky finger sticking out.
Early Sunday morning, I drove up to Lake Placid just in time to jump into an informal time trial at Mount van Ho. It left me wrecked. On Monday, I wanted to ski somewhere a bit more forgiving. After breakfast, I slipped the clutch on the shooting brake and headed for Paul Smiths.
On a frigid bluebird day, Whiteface Mountain, abiding in isolated majesty, was visible as I drove north on Route 86 from Saranac Lake.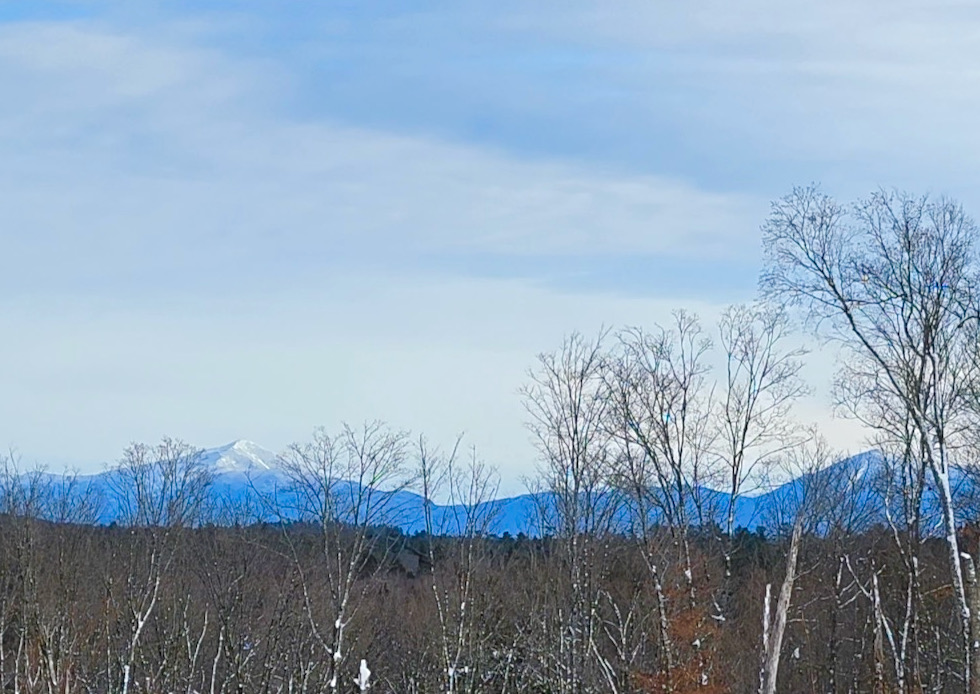 Paul Smiths is a college that also lends its name to the hamlet where it's located. The school's calling cards are its strong forestry, environmental sciences, and hospitality programs. In 1989, the 3000-acre VIC was established with state funding. After the state withdrew funding in 2010, the college continued to manage the VIC. There are 25 miles of trails one can use both in summer and winter.
A few years ago, I skied here on a day when the Ho was closed and the VIC was marginal at best. According to my north country friends, the VIC is further north and at a higher elevation than Mt van Ho. When conditions are sketchy in Lake Placid, the VIC might be a better choice. This day, with what I would call good early season conditions, seemed opportune.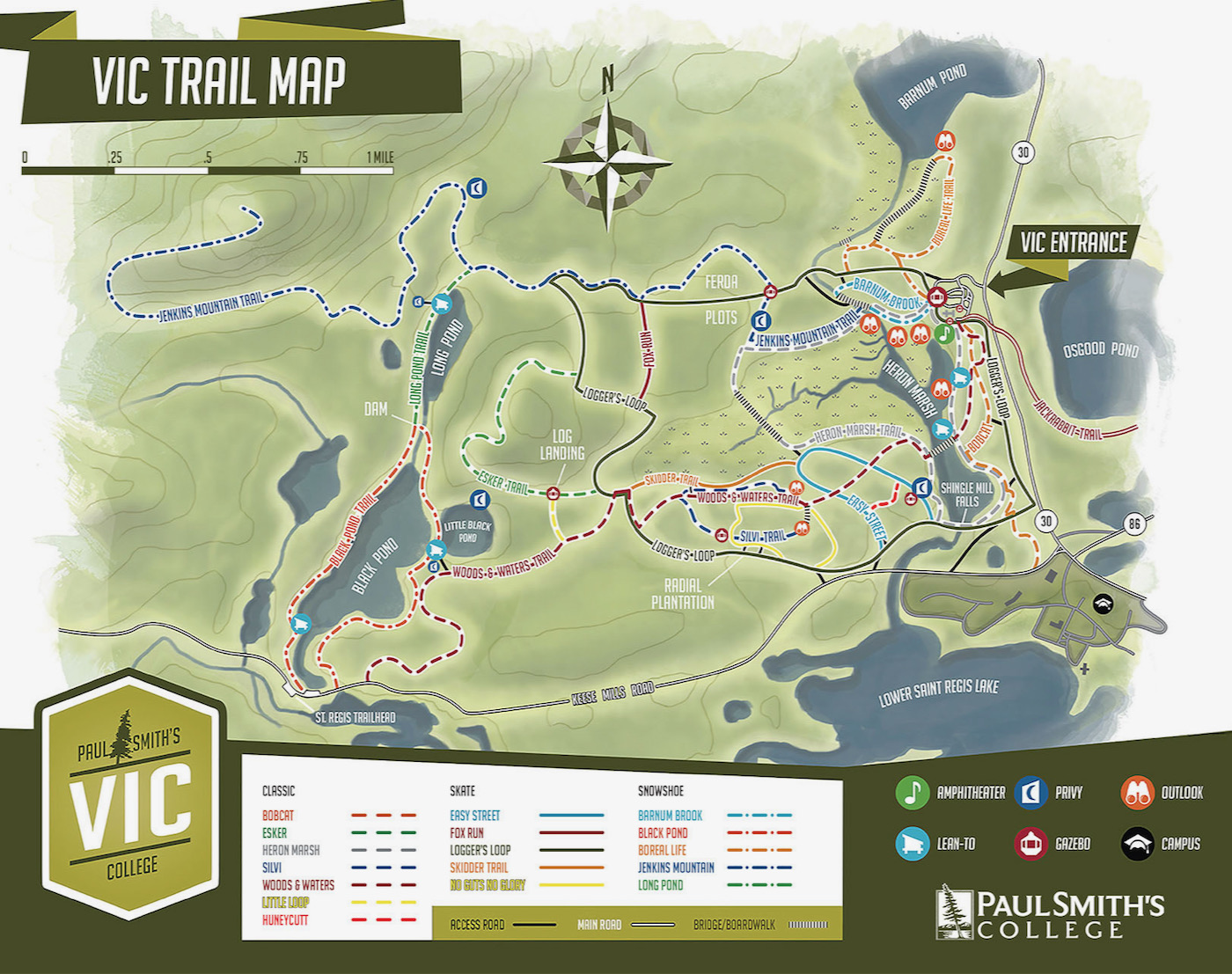 When I arrived, the temperature was all the way up to two degrees above zero. After buying a pass and corking in five layers of kick wax, I set out. A Pisten Bully rumbled past as I headed out the Loggers' Loop. To avoid tailgating and huffing diesel fumes, I dove into the woods to check out something narrower.
Not single track, and not quite double track, I followed a brook and came to the Jenkins Mountain Trail. Undulating and bumpy, I picked my way over it for half a mile before concluding that race skis were wildly inappropriate.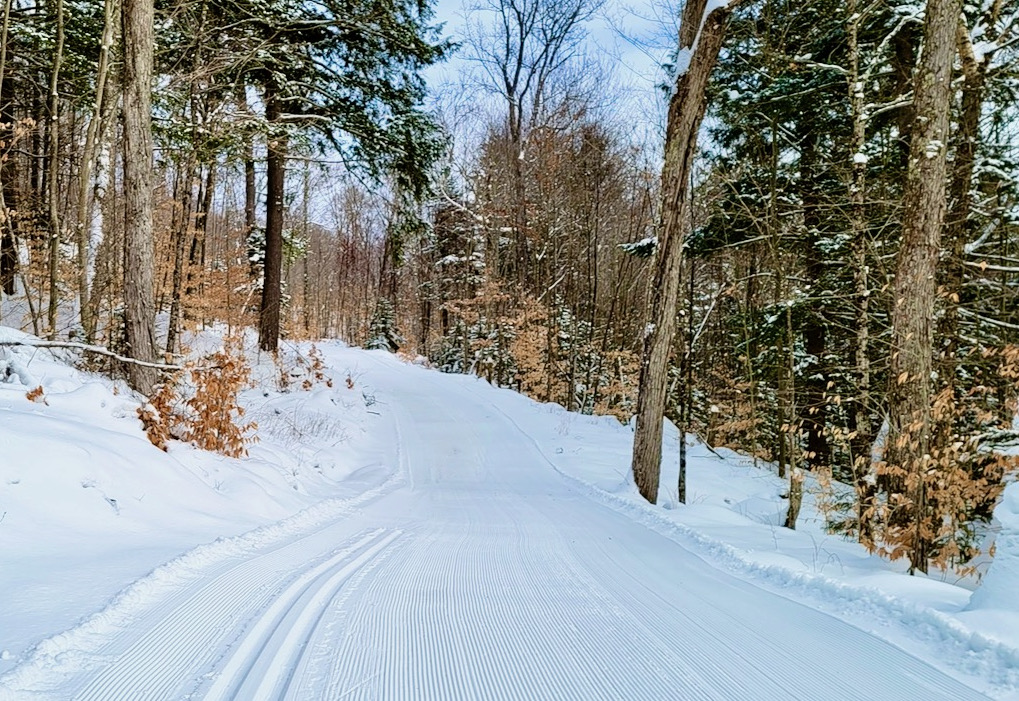 I retraced my steps to the Loggers Loop, and voilà, the Pisten Bully was gone, leaving fresh corduroy in its wake. There was only the squeak of ice points digging into cold snow and the hiss of my skis in the tracks. The Logger's Loop is wide enough for two people to skate abreast, with a classic track to one side. This trail is well proportioned between rolling flats, climbs and downhills.
I climbed one big hill, then went down a gradual descent to an intersection. A few years back, Paul Smiths College partnered with USA Nordic, the leadership body for ski jumping and nordic combined after USSA defunded these programs in 2014. In the last couple years, the college put in new competition trails designed by former Olympian John Morton.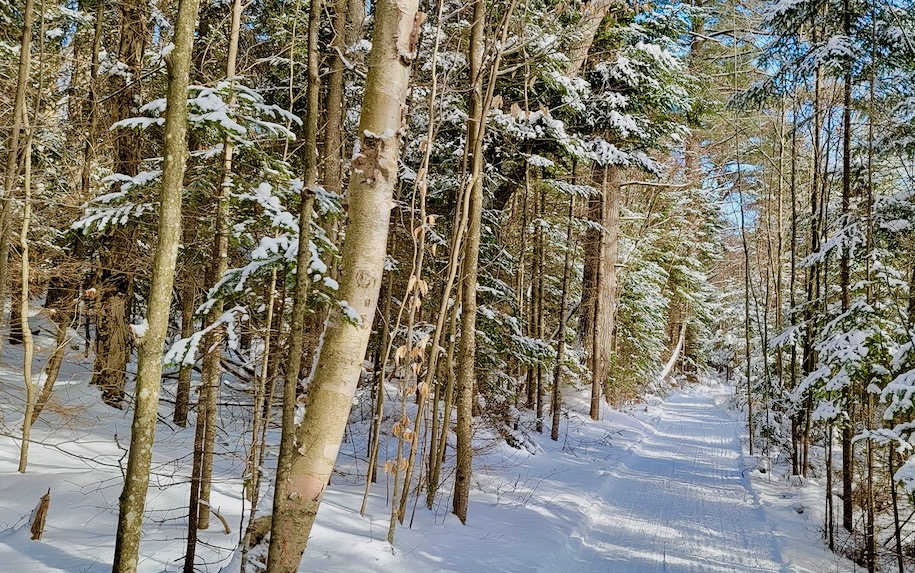 I hit a downhill that was harder than what I'd been on earlier, and labored uphill to Log Landing. In the sunshine was a modest biathlon stadium, with eight shooting stations and a penalty loop. Did the targets come from the old biathlon stadium at Mount van Ho? Who knows.
I set out down the Draper Lussi Loop. It was noticeably harder than what I'd been skiing. But the climbs were kinder, and the downhills were more manageable than the hairy descents on the new trails at Mount van Ho.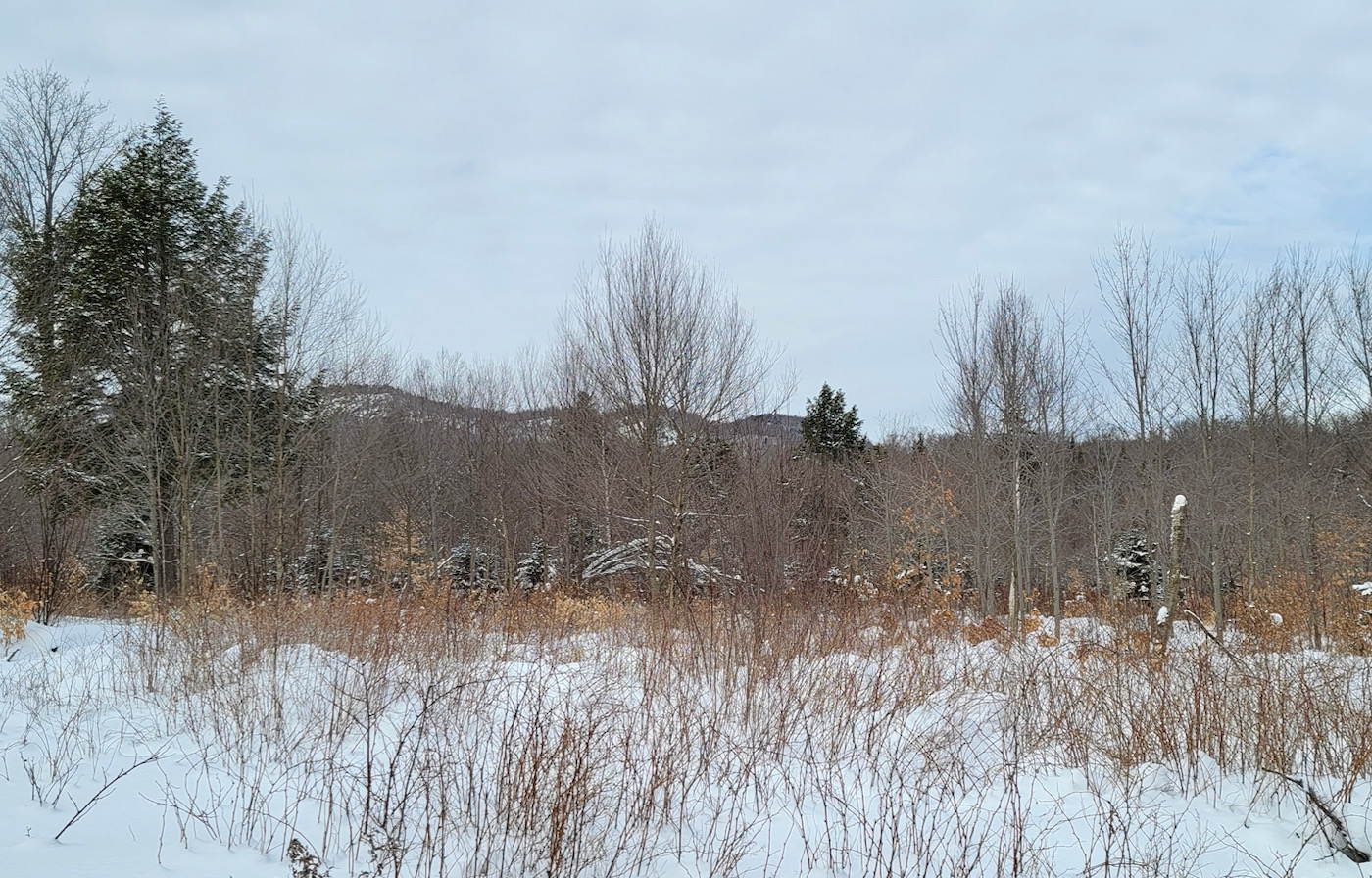 When I got off the comp trails, I thought I was continuing to go all the way around Loggers' Loop, which circumnavigates the VIC perimeter. From a meadow on a height of land, I was sure that I could see Whiteface. This was notable: the woods are beautiful, sometimes deciduous, sometimes evergreen, sometimes mixed. But there aren't a lot of huge views here.
But I ended up in the intersection where I had cut over to the comp trails earlier. So I skied back the way I came. No worries: all day, I'd felt like I was right on the edge of a bonk, and that feeling was intensifying. Except for having to stop to check the map a dozen times, it was a good day.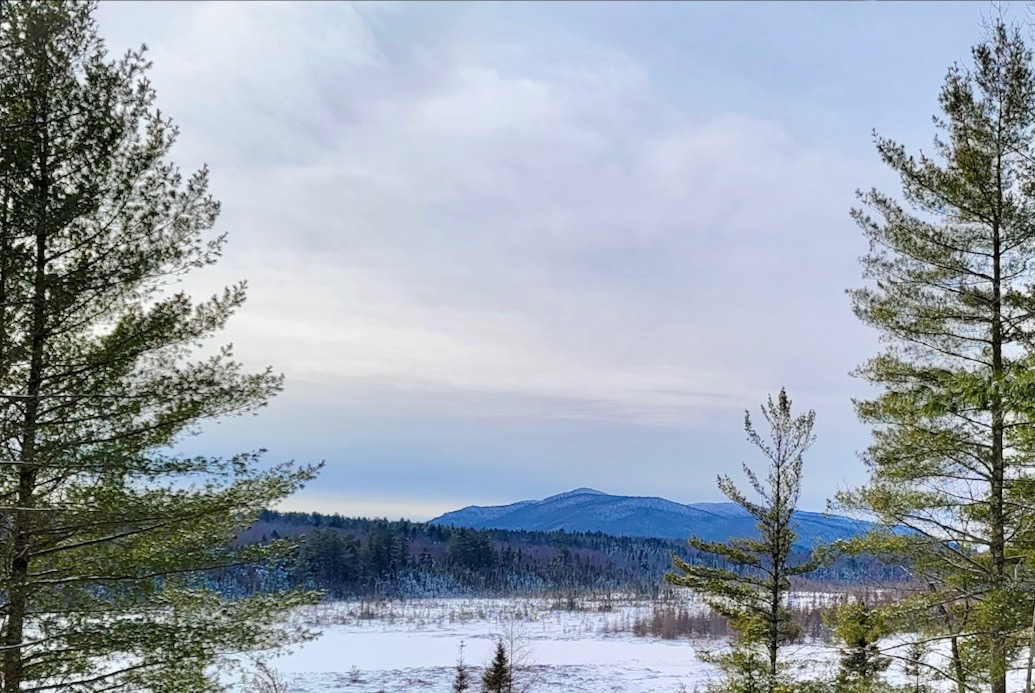 The VIC's lodge is closed Monday through Wednesday, and on those days you pay self-serve for a trail pass. When the lodge is open, there's no food service, so prepare to brown-bag lunch if you're making a day of it. The trail intersections have signage, but the map could use improvement.
It's pretty enough, and there's enough terrain here, to warrant a return trip. Some of the narrow bits might warrant skis with a partial metal edge. But those are on my wish list already. I'm stoked to return here again soon.