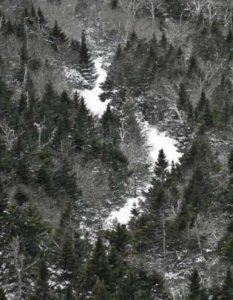 Vermont Life just published an article on the effect of tree skiing on the woods.
I never thought twice about the impact of tree skiing until the Big Jay Cut. It's definitely hard to face the fact that something that I live for, could be harmful.
Naturally occurring tree skiing exists in very limited quantities in the east. If you are talking about tree skiing on today's alpine, AT or telegear. At today's speeds. On most pitches, the spacing to ski at those speed just isn't there.
I skied for years on much less aggressive gear, softer boots, longer skis at slower speeds. Mostly in the Siamese Ponds Wilderness in the Central Adirondacks. Much of the time we'd ski places that hadn't seen another skier for years. We'd take the long way around witch hobble or pines or whatever. If something was wide open we'd remember it, but we never cut anything.
Don't get me wrong, I love skiing at the fastest speed I can safely handle through the trees. It's an adrenaline rush. If you've skied Tahawas or Twister glades at Gore — they are glades that you can fly through — low angle and they have definitely been thinned. Not just clipped.
No question about it gladed terrain tends to move from "off the map" to "on the map." This is clearly at pattern at Gore. At least in that case the ski area boundary is a limit. Within the boundary I'm ok with it. It's an intensive use area. It's a playground for humans, not a wilderness.
I never really understood, until the Big Jay cut — that as I went from leather to plastic and to more sidecut, and shorter skis — that I could be part of the problem.
There is great coverage and interpretation of the Vermont Life article and the Cut at Big Jay on TheSnowWay.